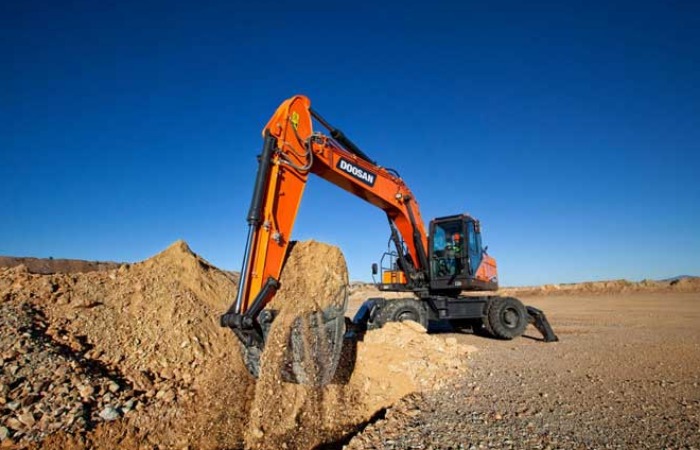 Doosan Infracore North America is rolling out its next-generation -7 series wheel excavators as it continues to refresh its -5 series models.
The next-generation wheel excavators, including the DX140W-7, DX190W-7 and DX210W-7, feature higher digging forces and fuel efficiency than their predecessors. They are equipped with smart technology to assist operators with jobsite challenges.
"Each day comes with unexpected challenges, so Doosan excavators must be equipped with machine features that help our customers take on whatever comes their way," says Joel Escalante, senior product specialist. "With our new wheel excavators, customers can achieve powerful digging and more maneuverability, all while reducing fuel consumption. We've also enhanced the excavator cab with additional comfort features and now offer an all-around-view monitor camera system for even better visibility of the jobsite."
The new excavators have a modular design that allows owners to easily configure the machine's undercarriage to backfill material with the front dozer blade or stabilize the machine when digging. Owners can choose from four independent outriggers or a front dozer blade and independent rear outriggers.
Used often used in highway and street development, building, manufacturing operations, site development and land improvement, Doosan wheel excavators can drive on the shoulder of a road to dig in an adjacent ditch or use a bucket with a hydraulic thumb or tiltrotator to pick up materials and load them into a truck for disposal.
In addition, a tiltrotator working mode and a priority valve enable the use of mulchers, grass cutters and other specialty attachments.
The redesigned cabs are built for all-day operator comfort with features to reduce noise and vibration. Standout features include automotive-style heating and air conditioning, an optional suspension seat that heats and cools, and new 8-inch Smart Touch screen displays that are common with the company's other next-generation machines. The cabs also get more glass for better visibility,
The multilingual Doosan Smart Touch screen, standard on -7 Series excavators, enables operators to monitor machine functions and control machine settings, rearview camera, heating and cooling, radio and Bluetooth wireless technology.
Smart Power Control (SPC) is designed to improve efficiency while maintaining productivity through variable speed control and pump torque control. Each of the four power modes will function with SPC engaged or disengaged.