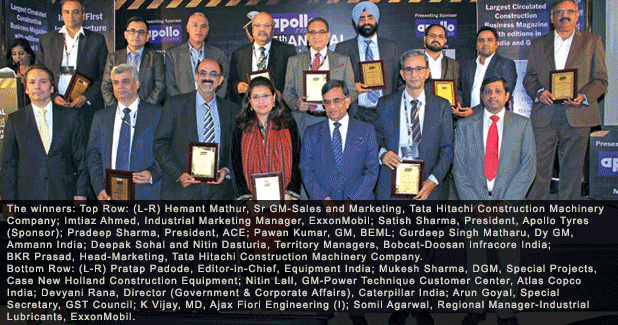 Outstanding performers from India's infrastructure equipment sector were once again honoured in 15 different categories at the
5th Annual EQUIPMENT INDIA Awards and CEO Forum, held in New Delhi on February 16, 2018.
After the bitterly cold days and nights of the famed Delhi winter, spring is
said to augur good tidings. Or so it is believed. Maybe, it was in continuation of this tradition that the city successfully held yet another edition of the Equipment India Awards.
The hall at The Lalit was filled to capacity by the time the event got underway. There were easily around 200 people in that space. The who's who of the country's construction and infrastructure equipment sector were all well-represented. After the economic uncertainty surrounding the rollout of landmark reforms such as demonetisation and Goods and Services Tax (GST) over the last couple of years, the mood this time was quite upbeat. In fact, the energy lit up the faces of those in attendance.
The fifth edition of
EQUIPMENT INDIA Awards
was hosted by the non-profit Foundation of Infrastructure Research Studies Training (FIRST) on February 16. Since 2003, FIRST is engaged in researching out and tracking India's infrastructure development initiatives. It monitors infrastructure-related projects, right from the conceptual and planning stage to implementation and commissioning. It regularly releases sector reports that provide timely and credible information on emerging business opportunities.
In his special address, the
Guest of Honour, Arun Goyal, Special Secretary, GST Council
informed the gathering, 'Many of you who are into sales of industrial or construction equipment in different states must have had to deal with a number of authorities earlier. The tax rates, forms and procedures were different. The process was quite mind-boggling and difficult, and companies had specific departments to deal with it. All that is past now as we have been able to merge central taxes, particularly service tax, excise and VAT under GST.'
'Now you just have to be on the IT platform, and the way the system has been designed, you don't have to interact with the tax authorities at all,' he added. He urged stakeholders to feel free to reach out to him if they had any concerns.
Referring to the gradual improvement in the economic sentiment,
Pratap Padode, Editor-In-Chief, Equipment India
, observed, 'The weather is now pleasant and the mood upbeat. The budgetary expenditure on infrastructure has risen by Rs one trillion over last year. Given the momentum of projects and thrust on infrastructure, the sale of construction equipment units is likely to cross 90,000 units by 2021.'
'The government obviously knows that if it has given the pain of the kind of demonetisation and GST, it now needs to push up public spending as much as possible and press the paddle for the economy,' he added.
EQUIPMENT INDIA was launched in 2008, a few months after the US subprime mortgage crisis blew up on everyone's face to send the global economy into an extended tailspin. Touching upon that period of great economic uncertainty, Padode reminisced, 'In networking event following the launch of the magazine, people asked what would we be writing on the equipment industry month after month. Today with the magazine and website, there is so much of content that we need to actually slice it to make it more readable.'
Ten years and 120 issues later, EQUIPMENT INDIA seeks to fulfill the information needs of the booming construction equipment industry. Today, it is a strong brand that serves as a reference point to provide best-in-class information on technologies, trends, projects and industry professionals.
The next edition of awards is going to be held in October this year. The idea is to factor in sales in units for 2017 as those figures are released only after the first quarter. Also, with the world's biggest festival of democracy, the Indian general election scheduled early next year, most government contracts will be awarded well in advance.
But there is an added element to this advancing of dates. 'We have taken our brands to the world. But now we intend to bring the world to India. The 'India Construction Festival' is slated for October, where the EQUIPMENT INDIA Awards will be held along
with the CONSTRUCTION WORLD Awards and the 'Global Construction World Leadership Summit',' informed Padode.
TECHNOLOGY TO DRIVE THE FUTURE OF CONSTRUCTION AND INFRA
A CEO forum on the theme of 'Technology to Drive the Future of Construction and Infrastructure' was organised before the awards ceremony got underway. The panel discussion was moderated by
RK Pandey, Member Projects, National Highways Authority of India (NHAI).
Initiating the dialogue, Pandey observed that there had been a consistent increase in allocation for infrastructure in the past few years. The allocation for infrastructure in the 2018-19 fiscal is around Rs 6 lakh crore, roughly 21 per cent more compared to last year. In the roads and highways sector, the allocation has been increased to Rs 71,000 crore from the previous Rs 61,000 crore. 'We have already achieved the target of 22 km per day in highway construction and now our target is 40 km a day. But this can't be achieved using conventional methods,' stressed Pandey. He spoke about the ways that were being used to prevent delays. 'Apart from the use of technology, which enables us to interact with our field units on a day-to-day basis, we have a number of other systemic improvements. For instance, we have analysed our last few years' data and realised that the biggest reason for our delays were the pre-construction activities. Therefore, new contracts weren't awarded until the completion of pre-construction work.'
Discussing the financing options available to the infrastructure industry,
Rajeev Mukhija, Chief General Manager and Chief Financial Officer, India Infrastructure Finance Company Ltd (IIFCL)
said, 'One of the important aspects to have been introduced in the Indian market are the new innovations in the form of various trust kinds of financing structures. These could be in the form of alternative investment fund, which is constituted as a trust fund, or a mutual fund, which is constituted as an infrastructure debt fund. We have also created the regulation for the infrastructure debt fund by way of non-banking finance companies (NBFCs). All these vehicles would be basically financing infrastructure.'
He observed that these developments were also helping the market become more matured.
Emphasising the growing importance of technology,
Satish Sharma, President, Apollo Tyres
said 'There are changes that are happening with respect to the product, processes, end-users and business models. Technology is the common underlying driver that is helping us do all these things.' Sharma pointed out how some tyre companies used to earlier derive lion's share of their revenues from overseas sales. 'Now almost all tyre companies have created a third vertical of highway tyres. And there is a huge amount of focus that has been put behind this category. The R&D spends have been going up significantly. They have almost gone up by three to four times in the last five years, which is a testimonial to the fact that technology is the way to go ahead.'
Speaking on the government incentives to the infrastructure from the industry perspective,
Chandrashekar V, Vice President (CE), Gmmco Ltd
opined that technology must be imbibed in construction methodology. 'Technology can then be adopted in all the implements to increase the speed of operation and to reduce costs,' he said. Speaking about monitoring of equipment he said, 'The construction industry is changing. Most of the sub-contractors are becoming owners. They like to monitor equipment performance and operational costs. The equipment will be connected, with its performance being viewed on laptop, sitting in a room.' He also said that most organisations were using customer relationship management (CRM) and enterprise resource planning (ERP) software to analyse data, and these were the benefits of technology being adequately shared with their customers.
Girish Jaggi, CEO, Hire My Machine
said that he was increasingly making use of Uber as that spared him the hassle of either driving or finding parking space. 'That's why it's the need of the hour that we start utilising the equipment which are lying idle. Being a part of the construction business, I believe that our assets become a liability when we don't have work. At such times, those assets can benefit us by being hired out,' he said. In his view, the only challenge was to work on enhancing the 'faith factor' between the supplier and hirer.
SP Rajan, Head - Plant & Equipment, L&T Construction
said, 'We now need to go to the next level of the competition in the industry. That's possible only by embracing digitalisation and technology as well as automation. There is immense opportunity in the industry that we can utilise to shrink the completion cycle of a project.' He cited how in Australia a single motor grader is effectively utilised to do the same amount of work that ten do in India. He attributed this gap on a reluctance to try new things. Rajan also sought the GST Council's intervention in addressing the issue of lack of uniformity on taxation on construction equipment across states.
HONOURING EXCELLENCE
This year's Awards recognised the achievements of people and companies and honoured the excellence in 15 categories. Sandeep Singh, Managing Director, Tata Hitachi Construction Machinery Co. was named the EQUIPMENT INDIA Person of the Year. Singh was unanimously chosen for the honour by an eminent 11-member jury for his notable contribution to his organisation by engineering a turnaround of sorts, thereby winning the coveted award for 2017.
'I would like to dedicate this award to my team at Tata Hitachi as also dealers and vendors who have really supported us to produce good quality machines and take care of our customers,' Singh said in a video recorded message that was played on the occasion.
The EQUIPMENT INDIA Special Recognition Award was conferred on
K Vijay, Managing Director, Ajax Fiori Engineering India
for his contribution to the industry during the past year. Receiving the award, he said, 'I am truly humbled that I have been chosen to receive this award. I see this as a token of recognition of the organisation that I have been privileged to lead for a very long time.'
JCB India was chosen for the EQUIPMENT INDIA Award for Leadership in Construction Equipment for its contribution to the construction equipment industry over the past 39 years.
Awards were also conferred on Bestseller products in 12 categories: Compactors, Backhoe Loaders, Mobile Cranes, Crawler Dozers, Wheeled Loaders, Skid Steer Loaders, Rigid Dump Trucks, Asphalt Finishers, Crawler Excavators, Mobile Compressors, Motor Graders and Mini Excavators.
Copies of the 10th Annual Issue of EQUIPMENT INDIA and MHE INFOBANK edition were also released on the occasion.
The 5th Annual EQUIPMENT INDIA Awards and CEO Forum 2018 was presented by Apollo Tyres and powered by ExxonMobil Lubricants.
Ending on a positive note..
Post the awards ceremony, the audience dispersed for dinner and conversations with old friends and acquaintances from the industry. But as the evening melted into night, there was one comment that had brought a smile on everyone's face. In his speech receiving the award,
Nitin Lall, General Manager, Construction Technique Centre, Atlas Copco (India),
remarked, 'Pratap, your magazines are genuinely outstanding and that says a lot.'
It is such heartfelt acknowledgements from the friends and associates in the industry that keep one going 24x7.
5th Equipment India Awards: Jury
Mitesh Shethia, President, Crane Owners Association of India
Nand Kishore Taori, Ex-Managing Director, Petron Civil Engg
Neerav Parmar, Vice President, Shapoorji Pallonji
Nishant Shah, India Head, Imaginarium (India)
Rajesh Nath, Managing Director, VDMA India
Ranjeet R More, Vice Chairman & MD, Universal Construction
Prof. Satish Chandra, Director, Central Road Research Institute
Sameer Malhotra, CEO, Shriram Automall India
Samir Bansal, General Manager-India, Off Highway Research
Satish Sharma, President, Apollo Tyres
SP Rajan, Head - Plant & Equipment, L&T Construction
5th EQUIPMENT INDIA AWARDS: Winners
EQUIPMENT INDIA Man of the Year: Sandeep Singh, Managing Director,
Tata Hitachi Construction Machinery Co
EQUIPMENT INDIA Special Recognition: K Vijay, Managing Director,
Ajax Fiori Engineering India
EQUIPMENT INDIA Award for Leadership in CE: JCB India
-MANISH PANT