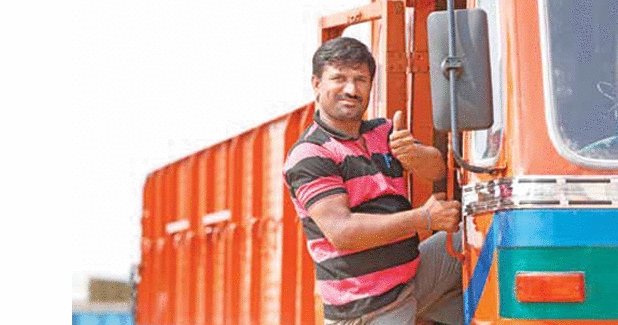 Shriram Automall India, the complete solution provider for the acquisition and disposal of pre-owned vehicle and equipment, has reached every corner of the country with its over 150 bidding locations pan India.
Two decades ago, India opened its doors for multinational automobile companies allowing them to penetrate the market, modernise the Indian transportation picture and make it beneficial for the end-users. Since then, several firms have established their production units in the country, offering a wide range of vehicles to the vast population. The Indian commercial vehicle market has grown by leaps and bounds due to economic liberalisation and it has bright prospects as production and sales are reaching new heights.
Since the last two years, the commercial vehicle segment of the Indian automobile industry has shown great recovery after withstanding the effects of the global economic crisis. Contributing to this recovery, Shriram Automall India Ltd (SAMIL) has also played a unique and important role on its part that has empowered people in every nook and corner of the country to own a pre-owned truck and other used vehicles easily.
The overall pre-owned sector of the automobile industry was always occupied by an unorganised and completely opaque sector. ?SAMIL entered this industry with sole aim to remove every layer of this opaque system and serve a completely transparent platform which was grounded on the roots of our core values and authenticity,?says Sameer Malhotra, CEO, SAMIL.
Hailing from Shriram Transport Finance Company (STFC), Shriram Automall?s journey has been inspiring throughout, within just four years of its inception the company has been through to commendable growth. Addition of features like online bidding and one-stop intranet kiosks are path breaking in their own way. Today, SAMIL is ISO 9001:2008 certified and have received AA+ ratings from CRISIL.
Organised approach
Unavailability of organised dealers in pre-owned vehicle segment in the country had kept people away from investing in the used vehicles for very long, however Shriram Automall with its transparent and safe process has completely changed this perspective as more and more people are coming to bid on their dream vehicle.
Shriram Automall is India?s first and only company that deals in used vehicles and equipment industry with an organised approach to facilitate transactions between its customers. The company aims to provide hassle-free transactions and well planned process of deals. In the financial year 2014-15, SAMIL has transacted around one lakh pre-owned vehicles and equipment that also includes pre-owned cars, three-wheelers and two-wheelers.
SAMIL has been successful in disposing a major chunk of used trucks and other vehicles for India?s prominent banks and NBFCs across the country. ?These tie-ups help our customer to get the best quality of used vehicles at a price much less than the market. With more than 40 strategic tie-ups, we have been successful in addressing their pain points,?explains Malhotra.
Growth story
Every new vehicle sold here becomes a base of used vehicle industry. Used car market is being considered as the most promising space for auto sales in the coming future and with that trend setting up it is important that organised players reach to every nook and corner of the country. Shriram Automall is catering to the needs of customers all over India with it has already established 52 automalls; who aims to target the attention of all regions across the country.
South India: Shriram Automall began its voyage by inaugurating its first Automall in Chennai in 2011 and since then there is no looking back. Recently SAMIL has inaugurated its 52nd automall facility of SAMIL in Patancheru. The company plans to give eight more Automalls to the country by the end of the current year West India: Shriram Automall began its journey in western zone by inaugurating the Baroda (Gujarat) automall in April 2011. Witnessing its huge success, the company has also launched five other automalls in Panvel, Aurangabad, Bhopal, Raipur and Ahmedabad region to make its western zone presence rigid. The Western zone has grown significantly over the years, SAMIL has successfully organised over 1,500 bidding events in the last fiscal leading to over 12,000 successful vehicle transactions.
The major contributing location of western zone includes Maharashtra (Mumbai, Pune, Aurangabad, Vidarbha), Madhya Pradesh (Indore), and Gujarat (Vadodara) that receives a major demand for commercial vehicles and passenger vehicles. As of the expansion plans in the region, Nagpur, Latur, Gwalior, Ratnagiri and Solahpur are to be launched soon.
North India: Shriram Automall marked its presence in the north zone in 2011 with the launch of Manesar automall, which is one of the earliest automalls by the company. Manesar automall was launched on August 13, 2011, followed by Pathankot, Ludhiana, Jammu, Faizabad and many other Automalls in the north zone. SAMIL has 19 automalls in the North Zone and is soon planning to launch Saharanpur, Aligarh, Gwalior and Agra automalls in the coming future. The major contributing locations for the north zone are Delhi, Manesar, Jaipur and Kanpur where the highest demand of commercial and passenger vehicles has been observed. Exclusive events like anniversary and special bidding events attract the attention of people around the area. SAMIL?s impeccable services have provided customers with various benefits and have ultimately gained their valuable trust. We have conducted over 500 physical bidding events along with over 2,000 online bidding events in FY 2014-15 amounting to more than 10,000 successful transactions.
East India: Shriram Automall marked its presence in eastern zone in 2012, launching its Cuttack Automall and made presence stronger with launching Automalls Kolkata, Jharsuguda, Guwahati, Raniganj and Ramgarh. Over the time, SAMIL?s eastern zone has significantly grown and total 700 bidding events have been organised in the last financial year leading to around 5,000 successful vehicle transactions. Malhotra adds, ?Odisha and West Bengal are our major contributing locations of the eastern zone. As of the expansion plans in the region, automalls in Patna, Dhanbad, and Bokaro are likely to be launched soon to make its reach in the region more rigid.?With a major demand for pre-owned small goods vehicles (SGV), Shriram Automall Kolkata is heading towards an impeccable growth. SAMIL has made Kolkata as the special focus zone to make it a hub of construction equipment business. Since the strategic tie-up with major financial and banking institutions in the eastern zone, its tractors and passenger vehicles have gained significant volume of sales.