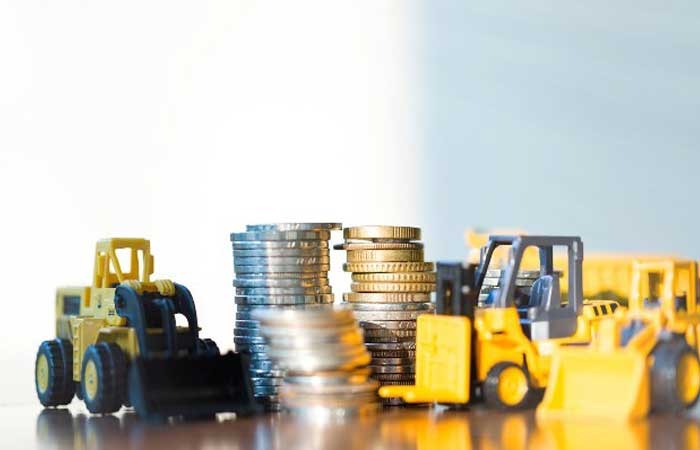 Heavy equipment financing permits you to get a bank loan or lease to buy construction equipment for your business. This makes it more convenient to have equipment without purchasing the equipment outright. The construction equipment that is bought with the loan acts as collateral for the loan. Heavy-duty construction equipment that can be financed includes forklifts, bulldozers, excavators, engineering equipment, and tractors.
From backhoes to bulldozers, construction firms need to have equipment that is reliable, up to date, and capable of performing on the job. Heavy machinery can be expensive to buy and can tie up significant levels of capital if purchased outright. Because of this, more and more companies now lease construction equipment as a means of getting the machinery they need at a price they can afford.
Just about any piece of equipment or machinery can be financed or leased in the construction industry and deciding which is the right approach for your business will be an important decision you will have to make. Each has clear pros and cons, and whether you lease or finance your construction equipment will depend on an array of factors. In this post, we will review both leasing and financing so you can determine which financing method is the right one for you.
Scenario
Says Satin Sachdeva, Founder and Secretary General, Construction Equipment Rental Association (CERA), and MD and CEO, Equipment Planet, "As the construction segment requires large capital expenditure, financing accounts for approximately 80 to 85 per cent of the total equipment purchased. Most financing is procured through loans while leasing is the second most common mode of financing. Traditionally, India has been an outright equipment purchase market for project requirements. However, this is changing as there is a shift towards renting."
"We have a big rural customer base for our products and our aim is to bring prosperity to this section. Most of them are new in the business or recently started. These are known as the FTU (first-time user) or FTB (first-time buyer) customer profile. Since they are new owners of the machine, they require time to understand the financial dynamics of the business. We always try to support these customers, who are struggling with the funding and down payment. These customers are focused and ambitious to grow more. Acquiring ease in fund flows has been an area of concern for the construction equipment demand in this market. With BSIV the cost attached to the new machines is challenging the financing potential of the small contractors. However, the equipment financing and NBFCs supported the sector by far, said Jalaj Gupta, Business Head, Commercial Vehicles Business Unit, Mahindra Construction Equipment.
He added, "Like many other OEMs, we are also working on increased collaborations with major banks or NBFCs in India. With the inflated cost of the machine, we are working towards increased tenure and higher funding to genuine customers through our tie-ups. Many finance companies offer a variety of options for financing construction equipment. These options should be understood properly and then the right finance should opt. The higher costs have also brought a considerable boost in the demand for rental equipment and used equipment buybacks as well as exchanges."
"With BSIV, the cost attached to new machines is challenging the financing potential to small contractors as the operating economics have reduced. In light of the inflated cost of the new machines, we are working towards increased tenures and higher funding to genuine customers through our tie-ups with major banks or NBFCs in India. The higher cost has also considerably boosted demand for rental equipment and used equipment buybacks as well as exchanges," said Jalaj.
iQuippo launched its upgraded financing portal (www.iquippo.com) and became the first digital platform in the country to digitise the co-lending programmes of banks and NBFCs. The state-of-the-art platform now offers its customers an option to choose offers from different financial institutions. It also negotiates with them online on behalf of the financial institutions and customises offers according to their financing needs. Customers will be able to track their loan applications online, get feedback on documents that they need to avail of loans, and get answers to all their queries relating to the disbursement process.
They will also benefit from single-window access to multiple financiers, simple documentation, and hassle-free application. They will also get real-time offers from the financiers in the form of competitive rates and higher loan-to-value ratios (LTVs). Following this launch, iQuippo's customers will be avail of finance for their equipment purchase at the click of a mouse from the comfort of their home/office.
"Ranging from first-time users and first-time buyers to large construction companies, we offer loans for the entire range of customer segments in the construction equipment sector," says Vinod Chauhan, Senior Executive Vice President and Business Head – Construction Equipment Finance, Kotak Mahindra Bank. "We cover the entire country except for Jammu and Kashmir and some parts of Northeast India. We provide complete financing solutions to the construction industry from equipment loans to finance for working capital requirements. In the past few years, we have expanded our presence to many rural and semi-urban areas as well."
CE industry optimistic
Sufficient finance is vital for the Indian construction industry. Consider the fact that 90-95 per cent of the machines sold by JCB are funded by banks and NBFCs, shares Deepak Shetty, CEO & MD, JCB India. "Banks and NBFCs play a major role in enabling the purchase of construction equipment. They regularly come up with various schemes that are ultimately for the benefit of our customers."
"We expect the construction industry to boom looking at the capex plans of the Government, and of course, we'd like to be a part of this growth," says Senthil Kumar, Executive Vice President & CEO, Vehicle and Equipment Finance, Manappuram Finance. That said, Kumar believes larger infrastructure development projects will take time to materialise.
"We're extremely bullish on lending in the construction equipment finance segment and expect the segment to grow at a better CAGR than the industry," says BK Tripathi, Head, Construction Equipment Loans, IndusInd Bank, Consumer Finance Division.
Financing challenges
Even though the growth in the construction sector slouched between 2011 and 2015 with demand for construction equipment witnessing a complete collapse, the sector managed to grow post-2015 and the signs were good until the lockdown was imposed across the country due to the COVID-19 virus outbreak. COVID-19 has posed unprecedented challenges and, in many cases, business continuity plans are being put to test for the first time. It is believed that the coronavirus outbreak's impact on the infrastructure and construction segment is expected to be worse than that of the 2008 financial crisis-led economic slowdown. The lockdown has resulted in various infrastructure project sites staring at closure mainly due to an effect on the labour movement and supply chain disruptions. Construction halt, revocation of toll collection, labour crunch, and severe working capital pressure – these nightmares for any infrastructure company have now become a reality.
The more imminent challenge for the construction players remains working capital management. Operational issues owing to the lockdown have also slowed down outstanding payments to the contractors by the principal. In most places milestones have failed to owe to lockdown and hence milestone-based payments also cannot be received.
Having said that, India's long-term growth story remains intact. The government realises that economic growth cannot be achieved without growth in infrastructure. Worldwide, the redoubling of investment in infrastructure is a key strategy to counter the impacts of a downturn. The government has begun the exercise of creating a national infrastructure pipeline with a vision to invest Rs 100 trillion in infrastructure over the next five years. Already highway projects worth approximately Rs15 trillion have been identified. Once these investments materialise, we will soon see positive impacts in sectors such as cement, steel, and automobiles, besides of course the infrastructure and construction equipment sectors.
The good news is that we are already witnessing the Government's intent of reviving infrastructure. The Ministry of Road Transport and Highways (MoRTH), in consultation with the National Highways Authority of India (NHAI), is drawing up a 10-point agenda to get the construction activity up and running once the national lockdown is lifted. Even as the lockdown is partially lifted, MoRTH is in talks with the state governments to restart highway construction projects where migrant labourers can be gainfully employed.
Advantages of financing
· Construction equipment finance offers some slightly different advantages, compared to leasing:
· With construction equipment finance, there is an added level of security as you will not have to worry about any unexpected costs that need to be paid following the completion of a lease.
· There is greater flexibility when it comes to financing with early buyout options and fewer penalties.
· For a larger company with good cash flow, financing interest expenses can be lower than leasing equipment.
· While construction equipment finance can involve the risk of depreciating if your equipment sustains value it can be a benefit to your company.
· When financing you can usually expense soft costs such as installation and shipping charges to avoid any interest in carrying costs.