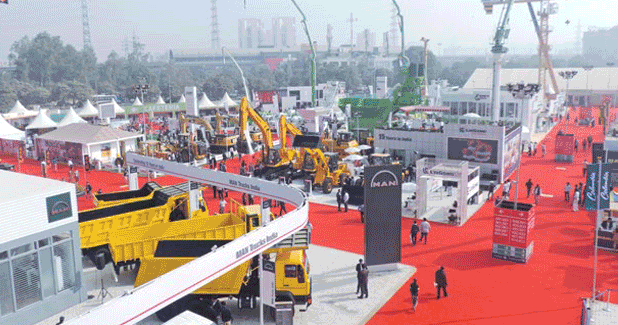 The BAUMA CONEXPO INDIA 2016 held during December 12-15 reflected the positive sentiments of the equipment industry on the floor. A detailed report on the expo, interaction with exhibitors and details of products and technologies showcased...
Business transactions, high-quality trade visitors and more participants than in 2014: BAUMA CONEXPO INDIA 2016, which took place at HUDA Ground in Gurgaon from December 12 to 15, underscored the fact that there are signs of a turnaround in the Indian market for construction machinery.
More than 31,000 visitors and 647 exhibitors-of which 57 per cent were international companies-from 30 countries came to the fourth International Trade Fair for Construction Machinery, Building Material Machines, Mining Machines and Construction Vehicles, which occupied a total of 150,000 sq m of space.
The formal inauguration of the expo was performed with lighting the lamp in the presence of Santosh Yadav, Deputy Speaker, Haryana Vidhan Sabha (Haryana Legislative Assembly), Girish Shankar, Secretary, Department of Heavy Industry, Government of India; Dr Silva-Garbade, Deputy Minister, Economic Sections, German Embassy in India, Patrick Santillo, Minister Counsellor, US Embassy in India, Avinash M Patil, President, Builders? Association of India, Anand Sundaresan, President, Indian Construction Equipment Manufacturers? Association and Igor Palka, Chief Executive Officer, bC Expo India.
Numbers upbeat
Overall 647 exhibitors showcased their products and technologies at the four-day event. There were country participation from the UK, US, China, Spain, Germany, and Italy. Chinese participation constituted almost one-fourth of the overall exhibitors with over 150 companies.
A grand success
According to the organisers, the four-day expo was a big success with most of the exhibitors sharing positive outlook on the event with a lot of business interactions and even direct sales during the exhibition.
Igor Palka, CEO, bC Expo India is pleased with the outcome of the expo as he said, ?Positive developments in the Indian market were noticeable at BAUMA CONEXPO INDIA 2016. Exhibitors made some very good contacts and in some cases reported having sold machines directly at the fair. For us as the organiser, this feedback is more than gratifying and confirms that BAUMA CONEXPO INDIA is perceived as an important platform by the market.?
That was also reflected by exhibiting companies. Vipin Sondhi, Managing Director & CEO, JCB India, said he was ?pleased to be participating in BAUMA CONEXPO INDIA 2016. The exhibition is a good opportunity for us to showcase the latest in the earthmoving and construction equipment sector. We have had a very positive response from customers.? Larson & Toubro reported a similarly encouraging experience. According to Arvind K Garg, Executive Vice President and Head-Construction and Mining Machinery Business, Larsen & Toubro, ?BAUMA CONEXPO INDIA was an ideal opportunity for us to launch Komatsu?s new products and showcase our product offerings, besides giving us an important platform for interacting with a large number of customers and other industry participants.?
VG Sakthikumar, Managing Director, Schwing Stetter Sales and Services, added, ?BAUMA CONEXPO INDIA has turned out to be a great success for Schwing Stetter. Despite the demonetisation situation, all our customers visited our booth to experience our new range of equipment.?
BAUMA CONEXPO INDIA is also the place to be when it comes to making business transactions directly at the exhibition, as Wu Song, Managing Director, Liugong confirms, ?The success of BAUMA CONEXPO INDIA is a reflection of the overall upturn and positive outlook for the Indian construction market. We also sold several machines at the booth.?
For many exhibitors, the timing of BAUMA CONEXPO INDIA could not have been better, an opinion shared by Andy Dhanaraj, Director - Sales, Caterpillar India, ?BAUMA CONEXPO INDIA is very important for us. It is a good platform for exhibiting products, especially now, when so many things are happening. It is an absolute quality show.? Ramesh Palagiri, Managing Director & CEO, Wirtgen India, confirms that this year?s ?BAUMA CONEXPO INDIA came at the right time of year for us. With all the investments coming, it is the right time for us to showcase our products? new models.?
For many exhibitors, participating in BAUMA CONEXPO INDIA has become indispensible, and not just because of the economic recovery. Johann Sailer, CEO, GEDA Dechentreiter, explains, ?Demand is there, companies are investing again, and although the situation in India?s building construction sector remains somewhat difficult, it was very important to participate in BAUMA CONEXPO INDIA.? The next BAUMA CONEXPO INDIA takes place in Delhi in December 2018.