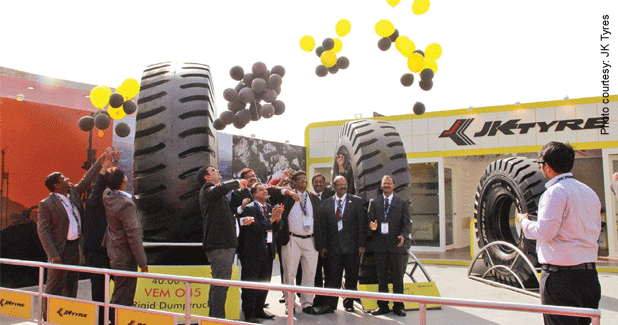 A renewed thrust on coal mining, coupled with plans to implement more projects in various infrastructure segments at a faster pace has rekindled the growth prospects of tyre industry in India. Major tyre manufacturers are busy introducing innovative products and scaling up volume to meet the expected demand in the future.
The past couple of years were passing through a passive stage for tyre industry as the vehicle production had drastically come down in this period. So, to that extent OEs have consumed much less tyres, which has impacted the tyre manufacturers. The market was supposed to grow, which didn?t happen, however the market has not gone down either as there is no negative growth in the aftermarket.
Opportunities
After the new government taking charge at the Centre, there is some momentum visible in infrastructure and mining sectors. While the work is gaining pace in roads and highways, there are positive vibes in ports sector as well for setting up new facilities and acquiring port equipment. These is also some movements in the mining sector, especially from cement industry and some activities from the coal sector. The allocation of coal blocks by the government is expected to accelerate these activities in the near future, which in turn will help the tyre industry look for a better business trend in the coming period.
A senior spokesperson from Bridgestone India says, ?The allocation of coal blocks is a very positive move for the economy. These decisions are expected to revive the energy sector. This would eventually enhance the mining sector, which in turn encourages Bridgestone?s OTR segment. We hope the process is done as quickly as possible.?
The demand trend for Off-the-Road (OTR) products is growing, and with the expected enhancement of coal operation, demand for mining trucks and OTR tyres will certainly ramp up. Government has given thrust to port development. Also many port operators are acquiring more material handling equipment. According to Bridgestone spokesperson, ?Bridgestone is a leading supplier in the material handling segment across the globe. We believe port users will benefit from the superior performance of Bridgestone?s radial segment. We certainly see an opportunity to support Indian port users with the wide portfolio of Bridgestone?s offerings.?
Budget impact
Though there is no much offerings for tyre industry, certain measures to the infrastructure and mining segments will boost the prospects of tyre industry. According to Bridgestone, ?The focus on infrastructure, by higher budget allocation will prove beneficial for the economy as well as the tyre industry. The announcement of the five new ?Ultra Mega Power Projects? (UMPP) is positive and should enhance coal production in India. With such positive focus and announcements we foresee that the OTR tyre segment will experience an expansion in demand.?
Onkar S Kanwar, Chairman, Apollo Tyres, commenting on the budget said that the additional focus on roads and rail infrastructure along with an increased spend of Rs 70,000 crore would prove to be beneficial for the economy as well as the tyre industry.
Product & technology trends
Reiterating their aggressive approach to enhance presence across industries and geographies, the leading tyre manufacturers are in the process of constantly innovating their product offerings. Most of the leading players have launched new tyres for mining and off-highway applications. JK Tyre & Industries recently made a commercial launch of the biggest-ever tyre in India at the 12th International Mining & Machinery Exhibition (IMME) in Kolkata. The company also launched 18.00-25 VEM Smooth tyre.
Standing at 12 ft high and weighing 3.7 tonne, VEM 045 is specifically built for India?s biggest rigid dump-truck having nominal payload capacity of 240 tonne, according to the company. The giant marks the tyre maker?s aggressive strategy to ride on the expected growth across the mining and infrastructure sectors in the coming months.
The second product launched by JK Tyre, 18.00-25 VEM Smooth, is a specialized product for reach-stacker application to improve life and productivity. Its massive tread is designed to optimized tread wear giving an exceptional longevity and mobility, the company says.
Apollo Tyres also showed its strength in the industry by launching AWL 822, the largest loader tyre produced in India, at the IMME 2014. The company also introduced ALT 188 TX tyre with the industry?s first traction tread design at the exhibition. AWL 822, used for loaders and dozers in high-abrasion conditions, is manufactured using 1,300 kg rubber, 700 kg carbon black and silica, 200 kg nylon fabric and 300 kg of other rubber chemicals, according to the company. With a size of 45/65-45 L5, the tyre has a special tread design with stone ejectors for protection and trouble-free service and side protector for improved resistance to shoulder and sidewall cuts. ALT 188 TX is said to be a unique and innovative traction tread design introduced in bias construction segment for slurry and muddy conditions. It has a customized tread compound which provides excellent performance in varying mine conditions, wider grooves towards the shoulder which reduce the chances of stone entrapment and superior and enduring carcass for high load carrying capacity and exceptional structural stability under extreme conditions.
Continental India has added new tyres to its TBX as well as TBR portfolio. Its new mining tyre Conti ML and radial tyre meant for construction and on/off segment HDX2 are specifically designed for these applications. Mining tyres often have to operate in high ambient temperatures while carrying very heavy loads. Continental is focusing on developing cooler running compounds with high resistance to chipping for mining tyres as higher load carrying trucks are being introduced in mining applications.
On the innovations in tyre products, Bridgestone says, ?We are well invested in R & D with over six technical centers and over ten proving grounds globally. Within this global network, the information gathered from subsidiaries, from raw materials, products and its performance serves as a feed to our R&D labs (technical centres) to develop world class products. In the OTR segment, Grand Unified Tire design Technology (GUTT?) has greatly contributed to the design and manufacture of extremely durable tyres, as well as helped shorten the development term for new tyres.
Future outlook
According to Bridgestone official, the Indian tyre industry is linked to the performance of the automotive sector. With economic activity accelerating, tyre demand is expected to increase in 2015-16. ?The important factors that will affect the OTR segment positively are the re-allocation of the coal blocks and implementation of UMPPs,? he says.
Accroding to a research report, tyre production in India is anticipated to reach 191 million units by the end of FY 2016. Also, manufacturers are expected to invest huge amount into the industry over the next few years, with a major proportion of this investment directed towards the radial tyre capacity expansion.