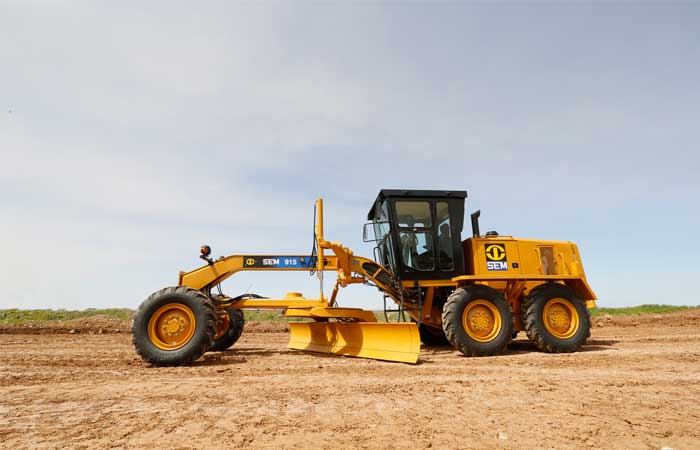 Gmmco Ltd and Caterpillar Inc launched the new generation motor Grader SEM 915 on January 20, 2021. The event was hosted online and had enthusiastic participation from customers. SEM 915 and other SEM models were showcased along with their features.
V Chandrashekar, Managing Director & CEO, Gmmco Ltd said, "We have been selling SEM machines since 2011. We are successful with wheel loaders SEM 656D and SEM 636, dozer SEM 816 and the motor grader SEM 919. Now, we are expanding our portfolio with the addition of SEM 915 motor grader," commenting on the growth of SEM products.
Prashant Harisingh Bisen
, Senior VP - Construction of Gmmco Ltd said, "We have also continuously expanded our service offerings to ensure that your SEM machines gets the right care. The machines are bundled with extended warranty plans, value agreements and competitive finance schemes. We have over 100 offices, 60 warehouses and 6 workshops to support you. All this will make your ownership experience smooth" commenting on the convenience of owning SEM machines through Gmmco.
Hamid Lavassani, Global Sales & Distribution Manager (SEM) of Caterpillar Inc said, "We understood the customer need for a 150 HP Motor Grader in India. Hence, we designed the SEM 915, specifically for India, focusing on improved reliability and reduced operating costs. SEM will be a reliable partner in our customer's journey by offering minimum disturbance and lowest cost," showcasing SEM's commitment to continued growth in India.
Sam Vedakumar- Worldwide Product Manager, CAT & SEM Motor Graders, EC Manohar- District Manager, Caterpillar India, Bhansi Phansalkar- Country Manager, Caterpillar India, Sankaranarayanan- Country sales manager- SEM were also present.
Gmmco has successfully sold the SEM machinery since 2011 and now supports over 120 SEM machines in India. Enthusiastic customers also participated in the quiz program during the event.
Since 1925, Caterpillar Inc. has been helping customers build a better world – making sustainable progress possible and driving positive change on every continent. With 2019 sales and revenues of $53.8 billion, Caterpillar is the world's leading manufacturer of construction and mining equipment, diesel and natural gas engines, industrial gas turbines and diesel-electric locomotives. Caterpillar has been active in India since the 1930s being part of multiple prestigious projects and being very much an active contributor to India's growth history. Founded in 1958, SEM has been in the forefront of affordable Construction machinery driving value for its customers. SEM became a Caterpillar brand in 2008 and ever since has grown exponentially, improving reliability continuously. The SEM branded products are manufactured at the state-of-art Caterpillar global manufacturing facility.
Established in 1967, Gmmco is part of the 2.4 billion dollar diversified CK Birla Group. Gmmco is a Priority Cat Dealer for South, Central & Western India selling mining, construction and energy equipment to customers across 10 states. Gmmco offers a one stop-shop for all your infrastructure needs and are committed to providing the best experience in new product sale, used and rental options, buyback, trade-in and product support. Gmmco serves 15000+ happy customers, and services an installed base of 14500+ active machinery & an equal number of active engines