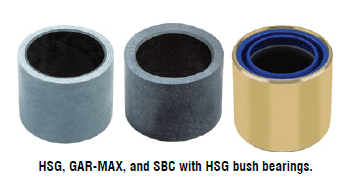 High-strength GAR-MAX? (HSG?) bearings provide high static load capacity and good friction and wear properties.
Manufacturers of construction and other off-highway equipment rely on high-performance filament-wound bearings from GGB bearing technology for greaseless operation, maintenance-free performance and extended service life.
Among the advantages they offer are the elimination of grease for reduced maintenance and downtime and more environment-friendly operation. Their compact construction facilitates simple and secure installation. The bearings offer compressive strength of up to 620 MPa with no shaft or pin galling, and excellent resistance to corrosion and tolerance of shock and edge loading. In addition, they are dimensionally stable with low moisture absorption and no swelling.
Particularly well-suited to construction equipment applications, where they deliver high reliability under extreme conditions, are High-Strength GAR-MAX? (HSG?) bearings that provide high static load capacity (415 N/mm2), good friction and wear properties, and excellent resistance-to-shock, misalignment, chemicals and contamination. HSG? bearings are also available as SBC? sealed bearing cartridges that eliminate lubricants, reduce maintenance and outperform conventional greased bronze, hardened steel and rolling element bearings in demanding applications.
These bearings are used in heavy-duty earthmoving and digging equipment, graders, excavators, concrete pumps, pile drivers, and lifting equipment, including forklift and pallet trucks, scissor lifts, access platforms and various types of cranes and container handling systems.