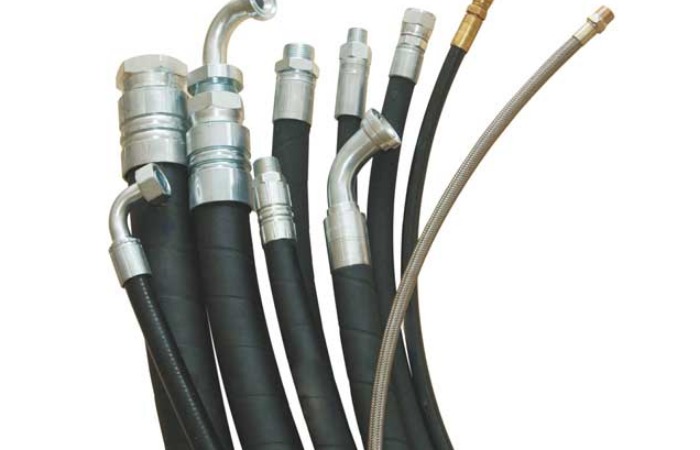 Hydraulic hoses and fittings play a vital role in the fluid power transmission in hydraulic equipment. Construction and mining equipment will continue to be a major growth driver for this segment.
As construction and mining equipment work in extreme environments, sturdy and reliable hose and fittings are important for the proper function of a hydraulic system and the entire equipment. From selection of the right hose, to storage, installation in a machine and operation influence the life of a hose. The weakest part of hydraulic hose is the connection of the hose to the fitting, which is why proper fitting selection and installation is essential in high pressure applications.
A vital component
Hydraulic hoses and fittings play an important role in the fluid power transmission. Neglecting the hoses on a hydraulic machine can become costly for a machine. "To transmit hydraulic power from one component to the other, hydraulic hose and fittings play a vital role. The beauty of the hose is its flexibility and it enables the machine designer to optimise the space," says Saji Thomas, General Manager, Product Line Management & Application Engineering - FP, Gates India.
"Every application demands something different or special and hoses are being developed keeping this in mind," says Venkatesh S Aiyer, Director, Uniflex.
On the basic application requirements, Thomas adds, "Usually in construction equipment, mining equipment and forklifts, where the relative motion among the components such as the boom, bucket and forks, vibration and pressure surges are the basic requirement of application where hose plays important role. Fittings provide the convenience of routing with different bend angles, sealing methods etc."
Types of hose and applications
According to Thomas, in high or extremely high pressure applications spiral hose which meet the SAE 100R12, R13 & R15 or EN856 4SH & 4SP hoses are used. For medium pressure applications, wire braid family hoses which meets SAE 100R1, R2, R16, R17, R19 or EN853 1SN / 2SN or EN857 1SC / 2SC hoses are used. For low pressure application, yarn braid family hoses which meet SAE100R3 and R6 hoses are used. For suction application, helical family hose is used. SAE100R4 meets these requirements.
Product innovations
Hose manufacturers have been continuously working on the development of hoses and fittings with innovative features material technologies to meet the emerging demands from the user industry. For example, Gates has developed innovative MXT, Multimaster and MXG hoses which are compact and can be used for multiple applications. "These hoses help designer to standardise the part, planner to keep minimum inventory, logistics to reduce the transport cost and operator to ease the routing due to lower force to bend."
Gates has come up with SCR hoses which reduce the NOx emissions.
Looking ahead
The market is going through tough situations owing to the COVID-19 pandemic attack and the subsequent lockdown. However, with the economy is in the unlocking mode and more segments are opening up, the market is limping back to normalcy. Though this year will go slow on recovery, next year onwards, the market is expected to be back on track. In the new changing market scenario, there is an increased requirement of components like hose and fittings sourced locally can create a better impact in time and economy for the customers. This is possible through producing and supplying these products locally. Thomas says, "Our philosophy is 'For region – In region' manufacturing of products. We are working on localisation projects and promoting the domestic products suitable for applications."
Uniflex is also focusing on more local production. Aiyer says, "We have recently started a new plant in Pantnagar, Uttarakhand. Our long-term plan is to start at least another two new plants which are near the customer."
When the market is slowly returning to the growth path post-COVID, the new practices and approaches will definitely aid in the continued growth of the hose and fittings sector.