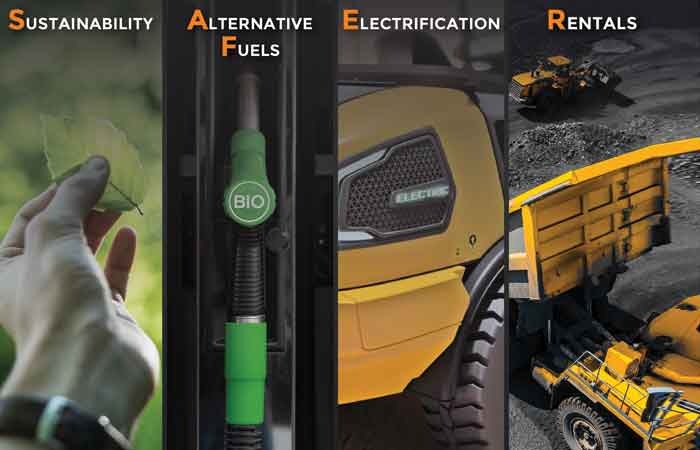 The growth of the Indian construction equipment industry has been on an upswing, and this has been greatly propelled by the Government's focus on infrastructure development. As per Off-Highway Research forecasts, the Indian construction equipment market is expected to follow an upward trend in the next five years. The forecast is to grow by 11 per cent to 90,950 units in 2022 and a further 8 per cent to 98,550 units in 2023.
Many businesses are stepping up their efforts to become more environmentally responsible as global warming becomes the new buzzword and climate change issues raise significant concern worldwide. The construction equipment industry isn't far behind in this quest.
The S.Af.E.R. theme rides on the idea that improving equipment's energy efficiency and using energy-efficient technologies in sustainable development projects can significantly reduce energy consumption and harmful emissions. In the long run, pollution-compliant equipment is beneficial for the surroundings and adds value in terms of reduced operational costs. With increasing government spending on infrastructure projects, the equipment rental market is expected to rise too. Even, the electrification of construction machinery is making quick progress.
These trends are pushing the industry forward by inspiring manufacturers and contractors to seek innovative, cost-effective solutions to reduce their carbon footprint and minimise waste.
Sustainability to the fore
Sustainability is a critical aspect of modern construction, with contractors searching for ways to reuse materials, recycle resources, and decrease waste. Sustainability is the key to a better future. Construction work is evolving as a result of green building. When people hear the terms "green building" or "sustainable construction", they frequently picture an energy-efficient, environmentally friendly building or infrastructure system. Building this "green" construction may entail utilising solar panels, automation technology, eco-friendly materials, and more.
Nonetheless, a building or infrastructure is only a small part of a green building. The first step in a sustainable building is to encourage the development and acceptance of new technologies and innovation on the construction site by contractors and operators. Using fewer natural resources on the construction site is the ultimate goal. To minimise environmental harm, technology is frequently needed when doing this. The equipment that is used in the field is arguably one of the major ways that the job site can go green.
The machinery used today is extremely connected. Construction businesses are able to monitor a variety of factors, including cycle segmentation, productivity, fuel usage, and machine health. Monitoring these variables can assist businesses in reducing their spending and energy usage.
As we grow, there is a need to consciously address the catastrophic environmental effects of various initiatives toward growth. Thus, sustainability has become the star prefix for everything we do today. As organisations are pledging more resources towards improving ESG footprints, they are keen to switch towards equipment with more focus on eco-friendly operation and maintenance.
The need of developing sustainable practises has been recognised by numerous industries, and as a result, it has become one of their main areas of concentration. Sustainability has been significantly influencing how the world will develop in the future. The producers of construction equipment are also making efforts to develop sustainable practises and introduce procedures that would aid the industry in moving towards a more sustainable future. Many businesses are developing new business plans to make e-mobility technology practical and cost-effectively available in India.
Increasing use of alternative fuels
Biodiesel is one of the major alternatives and many blends of various proportions are available in the market. Biodiesel is a clean-burning, renewable fuel that can offer numerous benefits to the construction equipment industry. In recent years, the demand for biofuels has increased as the world strives to reduce its carbon footprint and become more environmentally conscious. The construction equipment sector is no exception, and many companies are exploring the use of biodiesel in their equipment as a way to reduce emissions and lower their carbon footprint.
Moreover, biodiesel as a vehicle fuel can improve fuel lubricity, increase energy security and improve air quality. Biofuels in India are of strategic importance as they augur well with the government's ongoing initiatives, such as Make in India, Swachh Bharat Abhiyan, skill development, etc.
One of the main benefits of biodiesel is that it is produced from renewable resources, such as vegetable oils and animal fats, making it a sustainable alternative to traditional diesel fuel. Additionally, biodiesel has a lower carbon content than traditional diesel, leading to lower greenhouse gas emissions and improved air quality. The use of biodiesel can also reduce a company's dependence on foreign oil and promote domestic energy production, helping to boost local economies.
Despite these benefits, there are still some challenges associated with the use of biodiesel in construction equipment. For example, biodiesel can be more expensive than traditional diesel, which can be a barrier for some companies looking to make the switch. Additionally, some concerns have been raised about the quality and performance of biodiesel in various engine and weather conditions, which can impact its ability to perform in extreme conditions. We need to have the right certifications for the quality of the same.
The industry is very cautious to use them on construction equipment due to a lack of clarity on their purity and consistency apart from OEMs acceptance and warranty-related challenges.
It's time to bring in certain regulations as being done for other fuels.
Hydrogen fuel is also gaining momentum. A few models were launched at the recently concluded Bauma, Munich. Days are not far before this sweeps the industry. Meanwhile, the relevant bodies in India need to organise campaigns to promote awareness.
While there are many technologies available or under development today that can reduce the carbon dioxide output of heavy equipment, nothing comes closer to net zero than hydrogen. By all accounts, it will be the fuel of the future, even if it isn't widely adopted until close to mid-century.
Companies are taking adequate measures to power their machinery and equipment with renewable energy sources and put forward the strategy of "electrification". As the nation is ushering in new emission standards, most companies have embraced the Bharat CEV Stage IV norms and upgraded and launched new construction machinery into the market.
Electrification on the rise
Recently at the bauma CONEXPO India exhibition, many manufacturers and OEMs launched their first hybrid and electric models, which was a delight of an event. We can see an upcoming trend shift to electric and hydrogen-powered trucks and equipment. Much awareness is needed in terms of Research and development of battery-powered construction equipment as the machines are heavy earthmoving machines.
The building sector is likewise being shaped by the electrification trend. Due to their numerous benefits, including being less noisy, more ecologically friendly, and more affordable than their gasoline-powered counterparts, electric and battery-powered equipment is gaining popularity. The demand for electric and battery-powered equipment is anticipated to increase in the future as people around the world become more aware of sustainability and the negative effects that carbon emissions have on the environment, despite the difficulties presented by the complex and expensive production of these devices and the recycling of batteries.
Low-emission driving and working is currently one of the main development goals of the construction machinery industry, with an international focus on battery-electric drives.
Construction equipment electrification is moving along quickly. A wide variety of new products entered the market last year as well. For instance, the micro excavator EZ17e was introduced as a series product by the Munich-based firm Wacker Neuson. The previous year, the equipment was already on display at bauma, an international trade expo for construction machinery held in Munich.
Even though electric propulsion (with cable) is not uncommon in some equipment, battery-electric vehicles (BEVs) still make up a relatively small portion of the heavy machinery and equipment market. However, with the first commercial solutions beginning to appear on the market, both operators and OEMs have begun to invest in battery-electric systems.
Rental is the next big thing
Rental is a capital-intensive business and most of this investment goes into the rental fleet. The compressor rental market is currently unorganised, fragmented, and scattered, with very few major players having a significant presence across the country. There are hundreds of small rental companies operating across India, and these companies are now diversifying. Gradually and eventually, rental companies are evolving instead of cutting the corners or compromising on the quality of fleets they are investing in energy-efficient technologies. The industry faces the concern of low rental penetration. This is because the number of organised players with large rental fleets is limited. This issue can be tackled by changing the mindset.
Rapid urbanisation and development are pivotal to its growth. This will directly affect the growing economy, bringing more opportunities for the construction business. The equipment leasing business is a widely recognised business sector in which suppliers and other professionals can rent out unused or idle equipment to other contractors and professionals. Smaller companies that are short of capital cannot buy construction equipment because of the small volume and uncertainty of projects.
So, to have optimisation of cost and time, leasing this equipment is done to small or medium construction companies. And the percentage of such names is higher.
The rental market offers several benefits to both contractors and equipment manufacturers. For contractors, renting equipment can be a cost-effective solution, as they do not have to make a large upfront investment in equipment ownership. They can also have access to the latest equipment and technology, which can help to improve productivity and efficiency on the job site.
For equipment manufacturers, the rental market provides a stable source of income and helps to keep their equipment in use. This can also lead to increased sales, as contractors may be more likely to purchase equipment from a company that they have rented from in the past.
In conclusion, the equipment rental market is expected to grow in response to increased government spending on infrastructure projects. This growth can benefit both contractors and equipment manufacturers, providing a cost-effective solution for contractors and a stable source of income for equipment manufacturers.
In conclusion, the demand for infrastructure development has been a major driver of the growth of the equipment rental market. Companies in the construction and engineering industries are turning to equipment rental services for their cost-effectiveness, access to the latest equipment, reduced maintenance costs, and increased productivity, it is likely that the demand for equipment rental services will continue to grow in the coming years. In the past five to six years, rental penetration has grown multi-fold and is now close to over 40 per cent which was merely five to ten per cent six years back. The Construction Equipment Rental Association (CERA) played a vital role in increasing penetration with the right awareness and advocacy.
More than 20 industry stalwarts share best practices and future trends that will help achieve this.