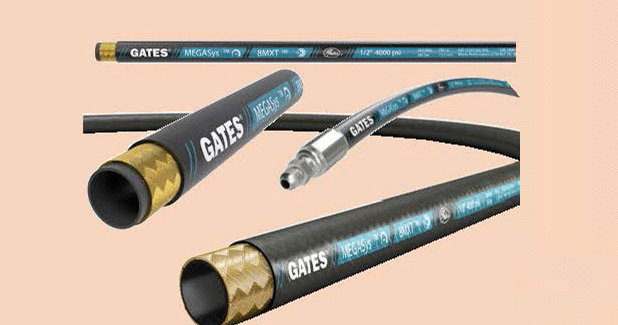 With OEMs are focusing on fuel efficiency and productivity, hydraulic hose and fittings need to be lighter, more flexible and easier to handle. What the leading hose players have on offer to meet these requirements?
Hydraulic systems are widely used in off-highway equipment when heavy force or torque is involved, such as lifting loads of several tonnes, crushing or pressing strong materials like rock and solid metals, and digging, lifting, and moving large amounts of earth. Hose fittings have an impact on the overall efficiency and safety of a hydraulic system. Non-skive hose assemblies, improved cleanliness level and complete kit solution (hose, fittings, adapters and tube fittings) prevents premature hose failure which in turn improves the efficiency. Compact hose and improved fitting design reduces weight of the system which helps improve the performance of the machine. Hydraulic hoses bring about the flexibility needed for the operations of the various actuators in these equipment. Hoses also help in absorbing the high vibrations these machines are subjected to where rigid pipes or tubes will invariably fail. A hydraulic hose meets all these application requirements, while serving the basic purpose of conveying pressurised fluid between various components within a hydraulic system.
Technology trends
According to
Shandar Alam, Managing Director - Hydraulics and Vehicle, India, Eaton,
the technology is fast shifting towards high pressure and more compact machines with higher productivity, more efficiency, reliability and with guarantees on uptime. 'OEMs are developing new generation machines and equipment with simplified designs and architecture that improve the overall efficiency. Adoption of mechatronics, i.e. integration of hydraulics with electronics, is the future. Electrification is being adopted in certain applications and circuits; use of diagnostics and prognostics on hoses for conditioning and monitoring, smart connectors and 3D printing for faster product development are some of the major technology trends we foresee in hose and fittings market,' he adds.
'The trend is to move towards compact hoses with high flexibility. Due to the customer expectations of high performance machines, OEMs are moving towards high temperature and tough covers to sustain challenging environments. The challenge to the designers is to achieve the required performance without significant impact on cost.' observes
Sriram Venkatraman, General Manager, Fluid Connectors Group, Parker Hannifin India.

Choosing the right one
The importance of selecting or replacing hydraulic hoses and couplings often gets overlookedàuntil something goes wrong. Gates India says, 'Our customers have been telling us they want lighter, more flexible and easier-to-handle products that address multiple industry standards. They are seeking to enhance the performance of their machines, simplify their engineering processes, improve operational efficiencies and streamline inventory with a simplified selection of replacement products that can be used on virtually any original equipment platform.'
Some interesting technology trends can be observed in the SAE number system. Gates explains, 'Earlier specifications, like 100R1 and 100R2, focused on hose construction (one-wire braid versus two-wire braid) and had varying pressure ratings depending on hose size. Smaller hoses had higher pressure ratings and larger hoses had lower pressure ratings. Equipment designers needed to pick and choose different hoses from different product categories to match their system pressures. More recent specs, such as 100R17 and 100R19, focus on constant system pressures. Every hose in the family has the same pressure rating, no matter the size.'
Products and solutions
Focusing on the customer needs, leading players are offering products with latest technology and solutions. Gates India offers hydraulic and industrial application hoses and couplings to cover most industrial applications. 'We do offer customised solutions supported by our state-of-the-art hose assembly plants located in Faridabad, Pune and extending further to onsite workshops to meet customer demands 24x7.'
Gates' new product MXT? adds value to customers beyond just premium product performance. The product meets or exceeds multiple industry standards and covers approximately 90 per cent of the hydraulic wire braid product applications, according to the company.
Parker offers Tough Cover (TC) and Super Tough Cover (ST) hose which ensures a metal to hose abrasion resistance multifold. Parker's half-bend radius hose meets the extreme demanding flexibility requirements of the modern construction equipment.
Eaton has a wide range of product offerings in fluid conveyance that meets the need for innovative products at optimised cost and NVH (Noise, Vibration and Harshness) performance. Eaton's two-tiered (Standard and Premium) product strategy for hose and fittings enables end-users and OEMs to select products based on application.
Safety and life
Safety has always been paramount in hydraulics, and customers historically expect leak-free connections. According to Gates, the most effective way to achieve a safe system with leak-free terminations is to use matched systems for hose and couplings. 'The SAE J1273 standard highlights that hose and fittings from two manufacturers should not be intermixed without approval from both manufacturers, and further explains assembly equipment (crimpers) should also be specific to the hose and fittings manufacturer.' Gates designs and tests the hoses, couplings, and crimp systems to all work in conjunction to provide safe, leak-free, and high performance assemblies for customers.
Opportunities
According to Alam, the market is moving towards more compact hoses that offer a longer life, more flexibility and a higher operating pressure and temperature. On the fittings side, the current focus is on higher corrosion resistance, zero leakage and improved torque. 'The key would be to deliver greater value to equipment manufacturers while maximising uptime. This offers an opportunity for a technology and innovation driven organisation like ours to keep developing efficient and smarter solutions that are efficient, safe, reliable and sustainable,' he adds.
Says Venkatraman, 'Customers are slowly engaging with partners for providing port-to-port solutions. This is Parker's strength and we are actively partnering with customers to leverage our product portfolio.'
Major hose and fittings manufacturers are continuing their efforts to offer the best possible solution and technologies for their clients and user industry.
PREVENTIVE MAINTENANCE TIPS
Be aware of your equipment
Unusual smell
Reinforcement exposed
Sluggish or unresponsive equipment
When to inspect and how often
Mobile equipment: every 400-600 hours of operation or three months (whichever occurs first)
Stationary equipment: every three months
Inspection tips
Always use proper PPE when inspecting hoses.
Never touch a hose to inspect
System should be locked out and properly de-energized prior to removing any hose assemblies.
- Gates India