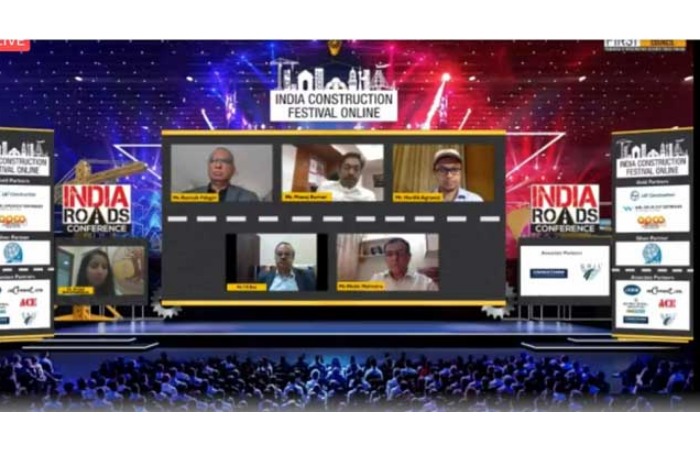 Just when the 2020 financial year was coming to a close, it was hit by the COVID-19 pandemic. While the industry was already battling issues such as a liquidity crunch, rising bad loans, slowdown in capex, project delays and insolvencies, among others, the last quarter witnessed growth in the negative territory for most businesses. However, despite obstacles and uncertainties being at their peak, a few entities managed to persevere and prevail, posting growth and exhibiting excellence.
These were the stars of the India Construction Festival (ICF), which was virtually organised by the FIRST Construction Council on October 15 and 16. It comprised four sub-events: India Roads Conference; 8th Annual EQUIPMENT INDIA Awards; CONSTRUCTION WORLD Leadership Summit; and 18th CONSTRUCTION WORLD Annual Awards.
India Roads Conference
With much in the pipeline for the construction industry, the India Roads Conference commenced with a panel discussion on 'Implementation of Highways Proposed under the Bharatmala and Expressways'.
The eminent panel included Hardik Agrawal, Director, Dineshchandra R Agrawal Infracon; Manoj Kumar, Member-Projects, National Highways Authority of India (NHAI); Mohit Mehrotra, Managing Director, Omnicomm India; Ramesh Palagiri, Managing Director & CEO, Wirtgen India; and TR Rao, Whole-Time Director, PNC Infratech.
With big plans laid for the expressways and Bharatmala, significant recommendations were made to ensure faster and timely construction, as follows:

The contractor should be given the freedom to use new technologies that are proven globally.
A single-window clearance and fixed time disposal of all approvals and processes could lead to faster project execution.
Quick and timely payment of bills for contractors could make the whole system move fast.
While the issue of land acquisition and utility shifting should be addressed, divestment is a requirement for the developer, too, to deleverage the balance sheet and go in for fresh debt.
Kumar said NHAI is working on divestments and that some relaxations are expected soon. The discussion concluded on a positive note for everyone to work together and make it the best year for highway construction.
This was followed by the next panel discussion on 'Financing Road Projects for HAM and EPC Companies – Challenges and Mitigation'.
The eminent panel included Akshay Purkayastha, Director, CRISIL Infrastructure Advisory; Bharat Parekh, Executive Director, CLSA; Dr Harikishan K Reddy, CEO, Cube Highways and Transportation Assets Advisors; Paresh Mehta, CFO, Ashoka Buildcon; and Sandeep Garg, Managing Director & CEO, Welspun Enterprises.
Being cautiously optimistic, while one side of the discussion highlighted that there is no dearth of capital for good projects even now; it also highlighted that the equity market is quite frustrated from the infrastructure financing particularly due to low performance in this sector. The panel discussed that in the current year, where the capital is scare, it makes sense to do EPC. But within EPC, especially during the pandemic time, it does make a lot of sense for the government to borrow because the risk even on the existing assets is much higher than what it deserves to be. And then who else but the government can secure that low cost funding!
Several solutions were discussed to overcome the financing bottleneck.
8th Annual Equipment India Awards 2020
The 8th Equipment India Awards, which recognised growth and awarded achievers, was the perfect riposte to the pandemic year. In his welcome address,
Pratap Padode, Founder & President, FIRST Construction Council
, said, "With speed of project execution becoming a critical factor, mechanisation or technology is the difference between success and failure." Highlighting opportunities for road contractors and the construction equipment market, he added that the roads sector is in a better position today as more projects have been announced and sanctioned this year compared to the same period last year. He concluded saying that the pandemic is also accelerating the move towards digitalisation and technology.
The evening was virtually graced by Chief Guest Dr Sukhbir Singh Sandhu, Chairman, NHAI. "The National Highways are only 2 per cent of the total highway network in the country but they carry 40 per cent of the traffic," he pointed out. "This shows the importance of the National Highways. We are supposed to spend around Rs 13 lakh crore in NHAI alone as part of the National Infrastructure Pipeline (NIP) and a major part of this amount will be spent under the Bharatmala scheme." He added, "This year, in the first six months, we awarded road projects worth Rs 47,000 crore. The target for this financial year is to award works worth Rs 2 lakh crore. Similar or slightly more is our target for the next financial year. There will be a lot of opportunities for business and equipment companies."
This made for the perfect start to the awards ceremony, which recognised companies across nine categories that have stood their ground in their respective categories year after year. The assessment criterion was based on sales. The analysis was also presented to an independent jury panel comprising eminent individuals to finalise the winners from among the shortlisted companies.
The winner of the EQUIPMENT INDIA Person of the Year Award was VG Sakthikumar, Managing Director, Schwing Stetter India. On accepting the award, he said, "I would like to thank my organisation, Schwing Stetter India. Behind this award are my colleagues, leadership team, employees, direct and indirect workmen, vendors, service providers and the complete ecosystem of Schwing Stetter, which has played a great role."
The winners in the Best Seller Equipment categories received the awards were Ammann India (in Asphalt Finishers), JCB India (in Backhoe Loaders), Case New Holland Construction Equipment (in Compaction Equipment), BEML (in Crawler Dozers and Rigid Dump Trucks), Tata Hitachi Construction Machinery Company (in Crawler Excavators and Mini Excavators), Action Construction Equipment (in Mobile Cranes), and Doosan Bobcat India (in Skid-Steer Loaders).
This successfully concluded Day 1 of ICF 2020.
CONSTRUCTION WORLD Leadership Summit
Day 2 commenced in a spirit of enthusiasm with the CONSTRUCTION WORLD Leadership Summit Panel Discussion on 'Building Growth in a COVID Economy'.
The esteemed panel for this discussion included Amit Sharma, Managing Director, Tata Consulting Engineers; Nalin J Gupta, Managing Director, J Kumar Infraprojects; Sandeep Singh, Managing Director, Tata Hitachi Construction Machinery Company; Sanjay Koul, Managing Director & Director of Manufacturing-India, Timken; and Subodh Dixit, Executive Director, Shapoorji Pallonji Engineering & Construction.
The panelists discussed the three ways in which the economy could be revived. If we were a country with a currency that was global and tradable, we could print some more. Else, we had rate structuring in our hand with very less debt; we could have done that. The third most important way is infrastructure, which is primarily spent by the government. And with the first two not being the sweet spot for India, policymakers along with the government at the centre and the private sector are keen to look at the third. Over the years, India's growth trajectory has been led by infrastructure. However, this infrastructure growth needs to be rebalanced with certain key parameters of realigning our supply chains and having more internal dependence. Today, the economy needs the infrastructure segment to lead the revival story. The discussion concluded on a positive note where the panel looked at the crisis as an opportunity.
18th CONSTRUCTION WORLD Annual Awards
Albeit virtually, the stage was once again set in all its glory and the trophies readied for the CONSTRUCTION WORLD Annual Awards presented by Apollo Tyres, which unveiled India's Fast Growing Companies and the CONSTRUCTION WORLD Person of the Year. Gracing the evening virtually was Chief Guest Dharmendra Pradhan, Minister of Petroleum & Natural Gas and Steel, Government of India. "Building next-generation infrastructure is crucial to achieving the goal of Atmanirbhar Bharat," he said. "The Ministry of Steel is continuously making efforts to enhance steel production capacity domestically and, at the same time, increase domestic demand. The Indian steel sector is seeking to fulfill all domestic steel requirements and also emerge as a major player on the global stage." He appealed to the construction industry to spread awareness on the need for greater steel usage.
In his welcome address, Pratap Padode said, "India needs to spend 7-8 per cent of its GDP on infrastructure annually, which translates to an annual infrastructure spend of $ 200 billion. Currently, we have been able to put in around $100-110 billion annually. This huge investment gap of $90 billion needs funding through different and more important innovative approaches. The NIP envisages an investment of Rs 102 trillion over the next five years, which would put the economy into a high growth orbit."
The winners of the CONSTRUCTION WORLD Annual Awards are chosen on the basis of their performance over six years, with higher weightage given to recent performance. Growth and profitability have been given equal weightage. The companies are categorised as Large, Medium and Small. Further, ensuring a transparent process, a jury panel evaluated the emerging winners under the lens of ethics, reputation, governance and business fortitude.
The winners in the Fastest Growing Construction Company category were: Large sub-category - GR Infraprojects, Afcons Infrastructure, Dilip Buildcon; Medium sub-category – Dineshchandra R Agrawal Infracon, Apco Infratech, PNC Infratech; Small sub-category – Welspun Enterprises, PSP Projects, Vascon Engineers.
The winners in the Fastest Growing Steel Company category included: Large sub-category – Tata Steel, Jindal Steel and Power, JSW Steel and Steel Authority of India; Small sub-category – Kirloskar Ferrous, Lloyds Metals, Kalyani Steel.
The winners in the Fastest Growing Paint Company category were Berger Paints India and Asian Paints.
The winners in the Fastest Growing Tiles, Ceramics & Sanitaryware Company category included Cera Sanitaryware.
FIRST has also created a model for the Top Challengers Awards. Top Challengers are selected among the entire construction industry, including building materials, equipment, real estate and contracting, where the companies have shown the ability to have a sturdier response to the market than others. The winners under this category, in alphabetical order, included Ashoka Buildcon, Dilip Buildcon, Godrej Properties, HIL, IRB Infrastructure Developers, J Kumar Infraprojects, JK Cement, KNR Constructions, Kolte Patil Developers, Larsen & Toubro, PNC Infratech, Prestige Group, PSP Projects and Welspun Enterprises.
Larsen & Toubro also won the award for the Largest and the Most Profitable Construction Contractor.
Dr Brijesh Dixit, Managing Director, Maharashtra Metro Rail Corporation (Maha Metro), was announced as the 'CONSTRUCTION WORLD Person of the Year in the Public Sector'. He said, "This award recognises my thousands of co-workers and colleagues who are working around the clock to ensure high quality and timely delivery of our projects in Nagpur and Pune to render world-class urban transport service to the citizens of these cities."
Further, KVB Reddy, Managing Director & CEO, L&T Hyderabad Metro Rail, was recognised as the 'CONSTRUCTION WORLD Person of the Year in the Private Sector'. He said, "We have seen many trying times in the last three-and-a-half decades; however the current COVID situation has literally pushed back the entire global economy. But we are putting in all efforts to come back with the new norms of life. This award only reiterates the fact that a lot more hard work still needs to be put in by me and my team."
Partners in success
India Construction Festival was supported by Presenting Partner: Apollo Tyres; Gold Partners: APCO Infratech, Larsen & Toubro, Wirtgen India, Timken India and Welspun Group; Silver Partner: Dineshchandra R Agrawal Infracon, Bonfiglioli Transmissions; Associate Partners: Action Construction Equipment (ACE), GR Infraprojects, JK Cement, J Kumar Infraprojects, Gulf Oil, Omnicomm, KNR Construction, Schwing Stetter and Shyam Steel; Supporting Partners: Consulting Engineers Association of India (CEAI), India BIM Association, Indian Steel Association and National Highways Builders Federation (NHBF); Knowledge Partner: Off-Highway Research; and Magazine Partner:
Dalal Street Investment Journal.
- SHRIYAL SETHUMADHAVAN