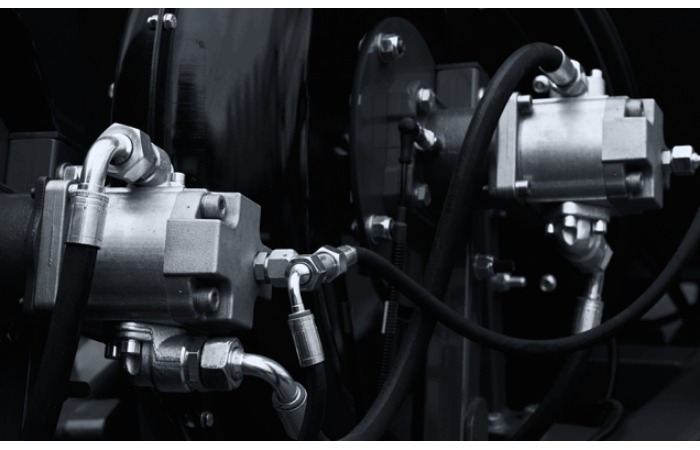 The global hydraulic motors market is expected to witness a CAGR of over 4.5 per cent, during the forecast period, 2020-2025. Hydraulic motors are the state-of-the-art technology of drivetrains and for most of the construction equipment functions. Hydraulic motors make use of fluid pressure for driving mechanical loads. These are important components of hydraulically powered equipment. Hydraulic motors are commonly seen in earthmoving equipment like excavators, backhoe loaders, skid-steer loaders, forklifts, heavy dump trucks, bulldozers, etc. where hydraulic cylinders extend and retract as vital operational parts while the machine performs various work. A hydraulic motor with the right specifications needs to be fitted to enable the machine to function properly.
Some of the major factors driving the growth of the market studied include the growing construction industry, the agricultural sector, and the mining industry, primarily owing to an increase in the consumption of base and precious metals. Additionally, consistent technological advancements are expected to offer growth opportunities for manufacturers. However, a shift in the focus toward electrification and the adoption of electric motors in applications, such as oil and gas and construction equipment, is expected to hinder the market's growth.
Some of the major players dominating the market are Eaton Corp, Parker Hannifin Corp, Danfoss, Bosch Rexforth AG, Kawasaki Precision Machinery, and Poclain Hydraulics, among others. The top four major players accounted for more than 60 per cent of the global hydraulic motors market share in 2018.
Infrastructure development and power generation are crucial to keep India's long-term growth story intact, thereby stimulating the growth prospects of the hydraulic equipment market. Hydraulic motors are used in numerous industries for a variety of applications such as lifting a load, processing material, bulk material handling, etc. It is one of the superior options for heavy-duty applications due to its high-power density.
Normally, hydraulic motors are used for machines requiring high torque and working in difficult environment. Hydraulic motors are also fitted on other applications where it is required a significant torque.
In one machine with hydrostatic transmission, you have typically a diesel engine connected with a hydraulic pump which creates the oil flow that reaches the hydraulic motors that normally are located in the machine's wheels. The motors will then generate a torque to allow the machine to move in all planned conditions.
The motor selection comes first in the hydraulic system because application design best practices require that one starts with the load requirement, and then work back to the pump that will put the fluid power into the motor selected to deliver the performance goal.
Each motor type has a specific performance profile. So, knowing the application performance requirement and which motor type best meets the objective is the first step. Then it's necessary to evaluate the cost of your motor options along with the degree of complexity you want for the overall system.
Current market
The global hydraulic motors market was valued at $7,874.29 million in 2020 and is expected to witness a CAGR of 4.50 per cent, during the forecast period, 2020-2025. Some of the major factors driving the growth of the market include the growing construction industry, agricultural sector, and mining industry, primarily owing to an increase in the consumption of base and precious metals. Additionally, consistent technological advancements are expected to offer growth opportunities for manufacturers. However, a shift in the focus toward electrification and adoption of electric motors in applications, such as oil and gas, and a few construction equipment is expected to hinder the market's growth.
S.M. Shah & Co offers dension hydraulic pumps, hydraulic gear pumps and hydraulic piston pump parts. Sachin Shah of S.M. Shah & Co said, "S. M. Shah & Company offers hydraulic pumps, PTFE moulded products, hydraulic vane pumps, hydraulic valves, denison vane motor, orbital hydraulic motor, etc. In global market, we are recognised as one of the most dependable hydraulic motors exporters, importers and distributor."
Khoday Hydraulics is one of the largest manufacturer of hydraulics as well as system designers and manufacturers for oil and water hydraulic components and systems for industrial, mobile, marine and offshore use. Minoo F Engineer, CEO, Khoday Hydraulics, said, "With experience of 55 years in the field of hydraulics and special purpose equipment, we are in a position to provide spares, service and replacement for any make or type of hydraulic system. As we carry the largest stock of original imported spares and complete hydraulic assemblies, for the axial and radial piston pumps, motors and hydrostatic drives, we will positively be in a position to help you with either servicing your hydraulic pumps and motors by replacing the original imported repair kit assemblies, or we can offer you a 1 to 1 replacement with an equivalent hydraulic systems and components, for your 5, 10, 20, 30, 40 or even 50 years old hydraulic systems or components."
Said a spokesperson from Poclain Hydraulics, "Hydraulic motors are one of the major components of mobile construction equipment. You can find them in compactors, skid steer loaders, excavators, or horizontal drilling machines, and these are only a few examples. Hydraulic motors are today the state-of-the-art technology of drivetrains and for most of the function construction equipment has."
On the types of hydraulic motors, Poclain Hydraulics spokesperson had this to say: "You can find several types of hydraulic motors, depending on the job to perform. For me, the best type is a radial piston motor. We have motors for almost every need in the right size. Our portfolio offers motors from 172 ccm to 30,000 ccm. We produce these motors in several configurations, as multipurpose motors or as specialised motors dedicated for a single function, like a swing drive motor with integrated valves. However, the technology of all these motors is the same; a radial pistons design."
Bonfiglioli has always pioneered the concept of integrated drive solution – the motor and the gearbox integration forming a unique system – with many advantages in terms of high-power density, compact dimensions, and application-based solutions. In addition to all these functional needs, the demand from the end-user market is also to have lower operating and equipment costs, which is also a challenge for system providers like us to have the highest technology motors with optimum costs.
The construction equipment is experiencing a giant revolution. Saving weight on some components could be fundamental to add some batteries or hybrid features without affecting the total machine gross weight. Space is equally important because we need to locate additional components, and so on. For all the above-mentioned reasons, we are keeping untouched the choice of plug-in hydraulic motors, but we are expanding the range of integrated solutions.
Hydraulic motors are among the most versatile systems used in mobile machines; this is true regardless of the final machine type, purpose, and application. Bonfiglioli classifies them into three big families: Orbit motors, Swashplate motors, and Bent axis motors. Each family of motors has unique performances, overall dimensions, cost, allowable pressure, flow range, and efficiency. All these parameters must be evaluated based on the operating conditions, applications, and specific machine functional requirements in order to select the appropriate solution, which provides the optimum performances for final equipment usages. A well-designed hydraulic motor will boost speed performances, gradeability, and overall machine fuel consumption.
Bonfiglioli's product portfolio has an extremely wide range of solutions for track and wheel drive gearboxes. We must be able to match the right motor to the right gearbox in any possible case, and this implies that also our hydraulic motor portfolio must be as wide as possible.
Speaking on the key features of hydraulic motors that improve equipment productivity, the spokesperson from Poclain Hydraulics said, "If you see our high torque and low-speed motor, you can find several benefits to improve the productivity and efficiency. One of the biggest benefits is, you do not need a gearbox and you have saved a component in between, with no additional efficiency coefficient, which will reduce the total efficiency in your system. The same will contribute to increased productivity, one component less to maintain, one component less which could fail, in the end, you will have a reduced downtime. A second big benefit of our hydraulic motors is the pressure we can work with, 450 bar for MS motors and 500 bar with our MHP motors.
The standardised geared motor variants of the LogiDrive systems from NORD are specially designed for intralogistics, parcel logistics and airport technology and are particularly suitable for reducing the number of versions. The compact design saves space and the lightweight aluminium housing enables weight savings of up to 25 per cent.
LogiDrive drive units comprise an IE4 synchronous motor with rated powers of up to 5.5 kW, a 2-stage helical bevel gear unit and a NORDAC LINK frequency inverter to be installed close to the motor. With class IE4 motor efficiency and system efficiency to class IES2, the drive units achieve excellent overall efficiencies - especially in the partial load and speed range. At the LogiMAT, NORD will be presenting the LogiDrive concept, also in combination with an energy-efficient latest generation IE5+ permanent magnet synchronous motor that has considerably lower losses than the current IE4 series. The compact and unventilated smooth-surfaced motor achieves its high efficiency, which at times is significantly above efficiency class IE5 over a wide torque range, making it optimally suitable for intralogistics applications and operation in the partial load range.
The frequency inverters from NORD Drivesystems regularly or permanently record drive and status data in order to optimise the operational safety and efficiency of machines and plants. Based on this information, concepts for predictive maintenance can also be developed. A fast, efficient and comprehensive evaluation of analogue and digital data (measurements, signals, and operating parameters) by the intelligent PLC in the drive electronics forms the basis. The objective of predictive maintenance is to maintain machines and plants proactively and to detect changes at an early stage, reduce downtimes, and increase the efficiency of the entire plant. NORD Drivesystems uses a drive-based approach where intelligent algorithms and virtual sensors transfer information from condition monitoring to predictive maintenance. An example is the sensorless determination of the optimum oil change time based on the oil temperature.
The long-term market outlook remains positive with forward-looking measures from the government on infrastructure creation offering new opportunities for equipment players. Hydraulic motors will have a great future.