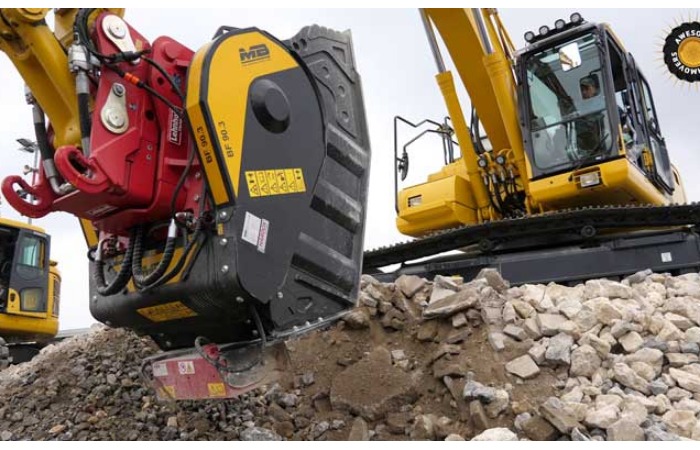 The construction machinery attachments market was valued at $5.76 billion in 2021 and is expected to surpass a net valuation of $7.58 billion by 2027 end, registering a solid CAGR growth of 4.68 per cent over the forecast period. The driving factors of the construction machinery attachment market are an increase in construction projects like malls, multiplexes, and hotels and the government spending on projects to enhance the infrastructure in the country like the construction of flyovers, airports, construction of highways, and industrial zones for increasing economic activities in the region.
Due to the COVID-19 pandemic, many industries across the globe, including construction witnessed a slump in investment in 2020. This came after government strict measures prevailed to restrain the spread of infection. In addition, with lockdown measures across the globe, the construction industry witnessed a decline in its overall throughput which ultimately affected the demand for construction machinery attachments.
Moreover, post-COVID-19, 2021 was marked as a year of transition, and growth is expected during 2022 attributed to the increasing investments and multiple construction projects including road, infrastructure and housing etc.
Skid steers, wheel loaders, graders, and other equipment are staples with almost every construction crew. While it might not always be the first product one thinks of for road and utility projects, the versatility offered by innovative industry attachments makes host machines invaluable.
Asia-Pacific is expected to remain the epicenter for ongoing demand for construction machinery attachments. This is attributed to large-scale construction, housing and infrastructure development projects which are under the pipeline in the region. In addition, major players in the region have increased their R&D expenditure exponentially, to integrate innovation with excellence in performance.
Satin Sachdeva - Founder & Secretary General, Construction Equipment Rental Association, said, "Attachments are essential for optimum utilisation of equipment. Therefore, it is important to understand all the versatility and capability of equipment. For example, a Bobcat skid steer loader is capable of doing multiple jobs with the use of different and specific attachments for different jobs. But attachments should correctly match both the operating capacity and hydraulic flow of the equipment. This will result in longer life, more productivity, and a greater return on investment. An over-sized bucket on a skid steer loader or loader backhoe may cause damage to the machine, the hydraulics, and other internal components."
He added, "Specialised equipment and the right attachments also mean lesser breakdowns, faster work, safe operations at the site and timely completion of projects. Though the backhoe loader is also versatile equipment but cannot be and should be used for the work it is not meant for. Since every machine is meant for a specific work, it should be used only for its intended purpose. Using the right machine for a job also reduces the chances of accidents. Rental companies should work closely with contractors and understand their needs and always suggest him right equipment and the right attachment."
Over the year, original equipment manufacturers including Caterpillar, Komatsu, Volvo CE, and others are pre-fitting the required construction attachments over their machinery as per customer/fleet operators' requirements.
Says Lynn Marsh, President, Road Widener LLC, "Using attachments is also beneficial because it doesn't require as many equipment operators on-site. When finding a good crew is hard, attachments give the best advantage on a job site when there are few people. One person can do multiple jobs without having to know how to run more than one or two machines. This increases productivity and decreases on-site crowding. It also helps increase operator safety."
Construction equipment requires high capital investments and the technology advancement in the segment is at a very rapid pace. Also, the equipment is work specific i.e., equipment is designated to perform a specific job that is already fitted to suit the application requirements. Major players in the segment are spending on providing solutions for the end users so that they can obtain maximum productivity from their equipment. Players are offering better and more reliable offerings to gain a better competitive edge in the market. For instance:
In September 2022, SANY showcased its new line of products at the Bombay Convention & Exhibition Centre in Mumbai. The company launched an exciting range of mini, small and medium range of excavators with interesting attachments designed to keep Indian customer demands. In September 2022, Von der Wehl Group prime dealer of the Doosan group showcased its wide range of products at Northern Europe's largest compact construction trade fair. In addition, Doosan's wide range of products including construction machinery including truck equipment with a range of attachments, and customised solutions were presented for sale.
Rental is certainly an upcoming and potential segment in India, which is presently limited to unorganised sector and small-scale players, as far as the attachment industry is concerned here. However, being a critical subject with certain opportunities, more and more players from organised sector are expected to join the rental business of the attachment industry.
Being a specialised job, the scope of deployment and operation of the attachment with the carrier machines often is been offloaded to the contractors by the project developers. Accordingly, in most cases, the contractors become the buyer of attachments who are actually very demanding in terms of their entire O&M cost vis-à-vis the production efficiency of the attachment, they go for. On one side, they have the pressure of cost management and on the other side, they are equally concerned with efficient performance. In such a context, the major challenge as an attachment provider is to select the most optimum tools/combination of tools/sizes to satisfy the critical needs of the contractors based on their case-specific objectives, application parameters, condition of the site, etc.
Considering these ongoing developments by OEM and frequent launches, the segment is expected to portray higher potential during the forecast period.