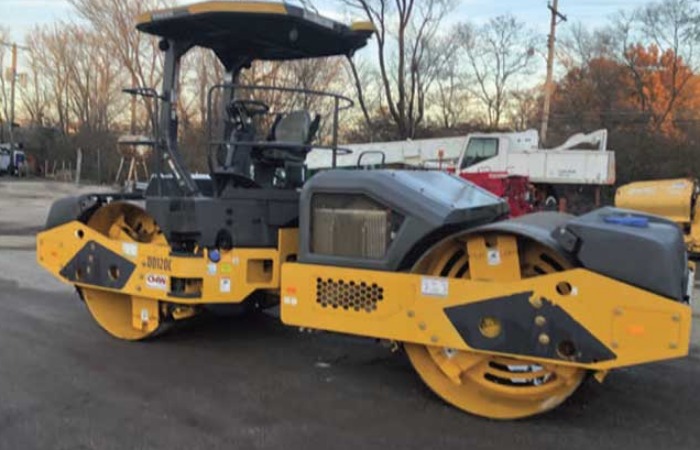 Intelligent compaction rollers are equipped with technology that processes compaction data in real time for the roller operator.
THE level of compaction during road construction is one of the most critical aspects, directly reflecting in the outcome of the quality of the road being constructed. The asphalt mix design, the selection of roller / compactor with its operating weight, vibration with its characteristic variables of frequency and amplitude, the correct operation and handling of the roller/compactor all play vital roles in the quality of the end product.
Road and highways are of an ongoing high demand nature owing to the growing economy in India. No doubt it had a slump last year due to the pandemic. However, it is expected to rise back to normal soon as the country progress is dependent on such infrastructure. Moreover, project execution and completion is dependent on various factors and with the optimistic growth envisioned by our country we hope that the various projects are not delayed and finish on time.
Road construction activities have remained strong even in the crisis period, and the Ministry of Road Transport and Highways (MoRTH) alone successfully completed construction of 3,951 km of road during April-September 2020. It has achieved the construction of 21.6 km per day even during the pandemic and aims to construct a total of 11,000 km of roads in the financial year ending March 2021.
The rural economy has also been driving sales of construction equipment. A good monsoon, record agricultural production and huge procurement by the government agencies along with a focus on rural infrastructure are all attributable to increasing rural prosperity.
After a dismal performance in the quarter ended June 2020, it was expected that the construction equipment market would decline by over 30 per cent in 2020. However, a strong economic recovery and postponement of the implementation of the new emission standard CEV Stage-IV applicable to wheeled construction equipment to April 1, 2021, resulted in a dramaticturn around. Sales of backhoe loaders, excavators, pick-and-carry cranes, and road building equipment have recovered much rapidly in the second half of 2020 compared to other construction equipment.
Boosting economic growth is currently a major challenge for the government to achieve its dream of making India a $5 trillion economy by 2024 (financial year ending March 2025). Th is would need an estimated investment of about $1.4 trillion (Rs 100 trillion) on infrastructure during 2019-2024.
Automated systems with advanced technology help in faster execution with higher quality. In addition, technology enables in reducing costs incurred, avoids wastage, increases productivity and efficiency in executing projects. Contractors are able to gauge various parameters with compacting asphalt on roads such as temperature of asphalt, monitoring of rollers, etc. Th is helps in improving quality of roads and highways.Market size Speaking on the market size of compactors in India, Vivek Hajela, Vice-President and Head – Construction Equipment Business, Larsen & Toubro Limited, said, "Th e current market size for the compactors in India is annually in the range of around 4,000 to 4,500 machines. Th e majority of this market is the 10T soil compactors which makes up the bulk of the requirement. Th e market size will continue to expand and will support players who have the capability to introduce new models with cost effective technology. Th e market for compactors will continue to grow due to the thrust MORTH has given on the execution of the road projects. Minister Gadkari is highly optimistic about accelerating the pace of execution which would drive the demand for more equipment. Th e market for the mini compactor is also gaining popularity with market size of about 750 units per year."He added, "L&T compactors are very well established in the Indian market and has good potential in the overseas market as well. Th e growth potential for the road equipment will remain robust and will show an upward trend in the years to come.
With the plans of MORTH to increase the pace of execution, the offtake of compactors will surely grow."
Rise in digitisation Says Saurabh Kulkarni, Mobile Automation Industry Expert, B&R Industrial Automation, "Digital technologies are on the rise thick and fast not only in the western world but also in India in all areas consumer industrial, manufacturing or off - highway. It is no longer a choice for OEMs but a necessity. GPS tracking, fl eet management and secure remote connectivity and access are some of the digital solutions which are prominently being explored in the compactor segment. However, like any new technology the acceptance of using automated systems or digital systems is really low owing to fear of failure. However, as B&R we are educating our OEMs and enabling a widespread understanding of the benefits underlying these digital technologies."
"B&R makes it easier than ever to implement automation and digitization solutions for such construction equipment and municipal vehicles as well as for agriculture and forestry applications.
Our proven mobile automation lineup gives OEMs all the tools they need to build and defend their competitive edge as a technological leader in their market. With an innovation-driven technology partner at their side, their mobile equipment stands out with best-in-class electronics and soft ware.
Our X90 controllers are rugged and equipped with a powerful ARM processor and multi-function I/O channels together with basic features such as interfaces for CAN, Ethernet and the real-time POWERLINK bus system. In addition, there are possibilities of add-ons such as condition-based predictive maintenance, GPS and safety.
Moreover, our soft ware and mapp Technology enables OEMs to reduce soft ware development time by 67 percent drastically increasing their time to market," added Kulkarni.
Intelligent compactors Th e intelligent compaction system is a state-of-the- art technology which is a combination of the absolute measurement technology with the regulation system that uses measured information to adapt the equipment continuously to required conditions. Th is system controls the different compaction parameters of the roller: amplitude, frequency and working speed (impact distance). The intelligent compaction rollers are also equipped with global positioning system (GPS) measurements and a documentation system that allows for continuous recording of the roller`s location, the number of passes and any corresponding stiff ness-related output.
Th e IC system goes on to check the possibility of under- compaction, over-compaction or other problems and off sets extra expense, too. Intelligent compaction involves the use of compaction measurement systems which enable control of different parameters of the roller such as the working speed, amplitude and frequency. Th e rollers are equipped with sensors that relay the data to the on-board computer, where the operator can monitor the compaction progress on the computer screen. Th e digital compaction analyser shows how many passes the roller has made, whether it is with high vibration, low vibration or static pass, the relative density aft er each pass, when the compaction is complete, and the temperature at every pass.
Speaking about the technological trends in the compaction equipment segment, a spokesperson from Fayat Group had this to say, "Several key trends are emerging in the asphalt compaction market with the development of the latest generation machines. Performance and productivity remain key issues for compactor manufacturers, with firms keen to maximise output from their latest units. Ease of use and improved ergonomics are what for manufacturers target, since they have long recognised that more comfortable machines can be operated more productively and for a longer time.
Similarly, improved visibility allows machines to be operated more safely and to further boost overall productivity. "According to him, as the IC roller moves along the work surface, it measures the vibratory energy reflected from the material being compacted. Th e energy numbers attained have a direct correlation with the density readings from a proven testing device. A visual display shows measurements as the roller moves over the material. All the roller operator has to do is achieve the same energy value from the material over the entire surface.
Rise of compact compactors Compact compactors off er a host of features. These machines from Wirtgen group company HAMM off er high gradeability (up to 60 per cent) and maximum ground clearance thanks to the drive provided by modern wheel motors. Th e modern motors with future-proof technology in HAMM's compact compactors also ensure extremely low emissions. These are very short, making them ideal for narrow construction sites and compaction work on rough terrain.
"CASE India's mini 450 DX double-drum roller has also been designed to work in extreme terrains and operate in demanding situations, hence demand for this machine is driven by infrastructure and urban projects such as roads and highways, bridges and transportation," shares Puneet Vidyarthi, Brand Leader, CASE India.
As for CASE India's SR130 skid-steer loader, demand is being driven by urban infra projects. "Its compact structure facilitates work efficiently in tight spaces and boosts productivity," shares Vidyarthi.
While HAMM compactors are currently imported from Germany, CASE India is manufacturing mini drum rollers at its world-class Pithampur facility for both the domestic market as well as for Africa, Southeast Asia, Russia, the Middle East, etc. However, CASE India's skid-steer loaders are imported. Greater indigenisation would bring down the cost of this class of equipment and expand demand— something to look forward to.
Hammtronic has the following components: engine management, drive control, anti-slip control, vibration control and information display. The Hamm Compaction Quality (HCQ) system provides a powerful construction site tested tool for Continuous Compaction Control (CCC) in earthworks and Continuous Asphalt Compaction (CAC) in asphalt construction. Th e HCQ system includes asphalt temperature display, HCQ indicator, HCQ printer, HCQ GPS navigator, etc. Th e advantages of the HCQ indication systems are even compaction, detection of weak points, minimising the number of passes, avoiding over-compaction and loosening up, and the fact that the conventional soil test method for load- bearing capacity are not necessary.
CASE India offers an entire range of road equipment especially designed for rural roads. For asphalt application, the company offers 752EX vibratory tandem compactor and 450DX mini tandem compactor. In soil compactors, CASE has 1107EX available in three variants - Standard, Drum Drive and Pad Foot Drum. Additionally, the 110 EX-D soil compactor is specially used for mining application and is available in two variants - Drum Drive and Pad Foot Drum. All compactors are equipped with compaction meter, where operator can check on screen the amplitude, frequency and ICV (intelligence compaction value), which is related to density of soil compacted.
- KARTHIK MUTHUVEERAN