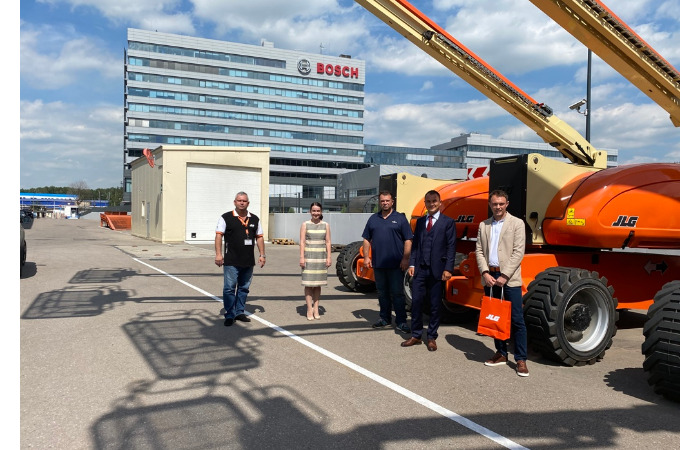 JLG Industries, Inc announced the appointment of SkyTech in Russia as distributor for the Volga Federal District of Russia.
"JLG is pleased to announce this distribution agreement with SkyTech," comments Ian Hume, Sales Director JLG Middle East, Africa, Russia and India. "With SkyTech, JLG has partnered with a knowledgeable and strong distributor which offers a unique level of service in the region. Their appointment will be a significant improvement in fulfilling the need for access equipment in the region."
"We are excited to partner with another world leader in the form of JLG Industries," says Georgy Cherepanov, SkyTech's Director. "We expect the market to grow for JLG access equipment. Our customers are our greatest priority to whom we now offer the advantage of JLG access equipment in the region."
Alexander Kuzmin, Business Managing Partner of SkyTech comments, "We are happy to bring this global brand to Russia. We have ambitious plans for the region, driven through putting our customers first. The base of SkyTech's relationship with its customers is founded on class-leading customer service throughout every touch-point in our company."
Founded in 2013, SkyTech is headquartered in Kazan City, Russia. The company's main product portfolio includes construction and road building machines. Their rental business developed since 2014, forming a sub-dealer for Fortrent. SkyTech provides new machine sales and parts, operates a rental fleet and provides service and support.
JLG Industries, Inc. is a world-leading designer, manufacturer and marketer of access equipment. The company's diverse product portfolio includes leading brands such as JLG® aerial work platforms; JLG and SkyTrak® telehandlers; and an array of complementary accessories that increase the versatility and efficiency of these products.