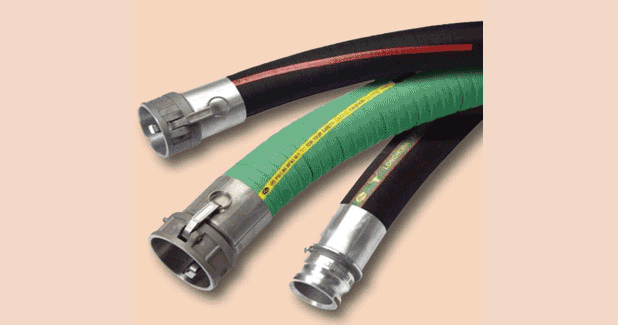 The hose and fittings are key components in hydraulic equipment as they together act as a channel for transmission of fluid power in the system. Construction equipment buyers are focusing on leak-free solutions to minimise operational cost and improve productivit.
Hoses and couplings play a critical role in how hydraulic systems perform. They transfer hydraulic fluid from the pump to machine components such as valves, motors, and actuators, which use the fluid pressure and flow for the functioning of the machine.
Importance of hose and fittings Hydraulic hoses are one of the most important components in fluid power transmission. Neglecting the hoses on a hydraulic machine can prove costly. Sturdy and reliable hose and fittings are important for the proper functioning of a hydraulic system and the entire hydraulic equipment. From selection of the right hose to storage, installation in a machine and operation - all these influence the life of a hose.
Sriram Venkatraman, General Manager, Fluid Connectors Group, Parker Hannifin India. highlights the importance, "Hydraulic hose and fittings is the most important part of any hydraulic system as the right selection of hose and fittings enables the system to deliver the right pressure and in turn the desired movement/action. The hose assembly integrates the aggregate parts into a complete hydraulic equipment." Hydraulic hoses are graded by size, reinforcement, pressure, temperature, and fluid compatibility. Hoses are used in applications where pipes or tubes are not suitable, usually to provide flexibility for machine operation or maintenance. Hydraulic hoses generally have fittings swaged on the ends. According to Venkatesh S Aiyer, Director, Uniflex, the weakest part of a hydraulic hose is its connection to the fitting, which is why proper fitting selection and installation is essential in high-pressure applications. Hydraulic fittings are parts used to connect hoses, pipes, and tubes in hydraulic systems. "Hydraulic equipment generally operates under high pressures and is often not a fixed system. Consequently, hydraulic fittings need to be strong, versatile, and reliable to operate safely and effectively in their respective applications," says Aiyer. Saji Thomas, General Manager, Product Line Management & Application Engineering - FP, Gates India, adds: "The hose is an important element of a hydraulic system. It conveys the media from one place to another. The hose provides the channel to power transmitting fluid."
Hose life
The life of hose and assemblies depends on numerous factors and cannot be accurately predicted in days or years. Safety has always been paramount in hydraulics, and customers expect leak-free connections. The most effective way to achieve a safe system with leak-free terminations is to use matching systems for hose and couplings.
Aiyer underlines, "Factors such as operating conditions, ambient temperature, pressure, and the type of hydraulic fluid all play a role in how long a hose assembly survives in service. The Society of Automotive Engineers (SAE) specifications state the shelf-life of bulk rubber hose is 10 years from the date of manufacture, and is considered unlimited for thermoplastic hose, if stored in subdued light and controlled temperatures with no fittings attached. But in actual use, so many variables come into play that it is impossible to exactly predict the service life of a hose assembly. However, understanding important operating parameters that affect a hose, combined with a bit of experience, can help guide users as to when an assembly should be replaced."
Thomas explains, "As per SAE J517, 'hose from one manufacturer is usually not compatible with SAE J516 fitting supplied by another manufacturer'. So the hose and coupling should be from the same manufacturer; crimping specification should be as per the manufacturer recommendation, the installation and routing, the bending radius at which the hose is installed, nature of application (static/dynamic), abrasion of the hose, temperature at which the hose is getting operated, the compatibility of fluid with the tube of the hose, pressure cycle, predictive maintenance, etc. should all be taken into account."
Choosing a hose system
Customers generally seek to enhance the performance of their machines, simplify their engineering processes, improve operational efficiencies and streamline inventory with a simplified selection of replacement products that can be used on virtually any original equipment platform.
Says Thomas, "The most important factors in choosing a hose and coupling are size, temperature, application, media, pressure, ends and delivery, altogether termed as STAMPED. Size of the hose decides the nature of flow. We should always maintain laminar flow to avoid losses, noise, etc. The hose should be selected considering the temperature of the media and external atmosphere. While selecting the hose, we should check the nature of application like static, dynamic, or any application for which it is used. The tube should be compatible with the fluid for which the hose is going to be used, in order to avoid erosion of the tube and contamination. The hose should sustain the designed working pressure and pressure spikes. The hose end coupling carries out the functions of holding the hose assembly at a given position and restricting leakages. Discharge from the hose should be known before selecting the hose."
Aiyer adds, "The seven factors to consider when choosing a type of hose are: determine the hose's function; evaluate what the hose will be in contact with; gauge the type and amount of pressure the hose will withstand; estimate the size of hose needed; determine the hose's need to bend or flex; consider the factors the hose encounters; and assess which accessories the hose will need."
Maintenance practices
According to Aiyer, a hose has a finite life and the user must be alert to signs of impending failure, particularly when the conditions of service include high working pressures and/or the conveyance or containment of hazardous materials. He adds, "The periodic inspection and testing procedures described provide a schedule of specific measures which constitute a minimum level of user action to detect signs of hose deterioration or loss of performance before conditions leading to malfunction or failure are reached."
Thomas says that by following the preventive maintenance checklist, one can maintain the equipment's hoses efficiently, safely and with very little effort. He adds, "First, always turn off the equipment's power and release pressure in hoses; place equipment and components in a safe or neutral position (use lockout tag); remove access panels and inspect hose and fittings for damage or leaks; repair or replace as needed; inspect other hydraulic components; reinstall the access panels; turn power back on; and be aware of your equipment, always looking and listening for anything unusual."
Service for longer life
Periodic repair and maintenance practices are important for the extended life of hose systems in a machine. Aiyer says, "Procedures we suggest for prolonged life cycle of hydraulic hoses are as follows: have a maintenance routine, don't ignore leakage, replace old or damaged assemblies, prevent contamination, maintain the correct temperature, don't exceed pressure ratings, and complete a hose failure analysis." According to Thomas, Gates is engaged with customers from the design phase and proposes the optimum hydraulic solution, and conducts application engineering study of installation and routing of hydraulic and transfer hose and tube lines, optimising them for improvement in life and reducing down time, and in installation there is a sign-off agreement with OEMs. Vendor managed inventory (VMI) service is offered to large customers in mining, construction and metal processing with onsite containerised hose assembly set-up. Service is provided on a 24x7 basis with Gates hose and end fittings, and will be crimped on Gates specification, ensuring industry-best reliability.
Parker offers various services and solutions not only for the hose, but the complete hydraulic system health will be taken care of. Venkatraman explains, "The latest is SensoNODE - advanced system condition monitoring. SensoNODE?Mobile is a low-cost advanced condition monitoring system that employs Bluetooth® Smart1 technology for remote monitoring of pressure, humidity, and temperature. It is designed for fast installation without wires or tools, and the wireless sensors are engineered for extended battery life. The system can be used for both liquid and gas and is designed to work in multiple configurations with various pressure ranges."
Equipment maintenance
According to Aiyer, equipment maintenance is a science and an art " a science because it involves scientific and technical know-how of different machinery involved, and an art because for identical problems it may require different treatment or action or process. He elaborates on the advantages of predictive maintenance: "Reactive maintenance is basically the "run it till it breaks" mode. The disadvantages of reactive maintenance are increased costs due to unplanned downtime of equipment. Because of its inherent disadvantages, recommended is a process of predictive maintenance. This strives to detect the onset of equipment degradation and to address the problems as they are identified. It allows casual stressors to be eliminated or controlled, prior to any significant deterioration in the physical state of the component or equipment.
"Predictive maintenance techniques provide data that define required servicing and inspection periods so that maintenance departments can determine in advance when equipment must be shut down for overhaul. Statistics are proving that these programs, when properly implemented, can minimise equipment and system breakdowns, resulting in a major reduction in total maintenance and operating costs."
Thomas explains, "Construction equipment customers are looking for leak-free solutions. This means the continuous hassle-free operation of the machine and to minimise operation costs. Good condition of machine helps the construction equipment customers for profitable growth."
Products for the future
Today, customers are looking for lighter, more flexible and easier-to-handle products that address multiple industry standards. Gates is working on the next generation of hydraulic hoses and couplings by pushing the boundaries of material science to redefine what is possible, to make an impact in hydraulic world without compromising on performance and reliability."The upcoming products are lighter weight, more flexible, and meet and exceed multiple specifications, which deliver faster routing, improved equipment performance and fuel efficiency, more ergonomic installation and easier lifting. Consolidating inventory saves floor space and inventory cost," says Thomas.
Aiyer comments on the new developments: "There are some innovative products in the Uniflex stable that we intend to introduce in the near future. Some of these are live swivels/swivel joints and flange adapters. Swivels connect directly to hose ends and can eliminate adapters. They provide rotation on planes relative to system piping and/or fixed components by which reduction of fluid conductors can be achieved.
Hose life is extended by swivel, eliminating the effects of torque and bending stress on hose. It saves money - simplified plumbing, longer hose life, less down time, and increased reliability. Flange adapters are available in a variety of configurations including straight, 45º and 90º. Flange adapters meet or exceed SAE J518 Code 61 or Code 62 specifications. These are available in steel and stainless steel.
Venkatraman adds, "Parker Hannifin India has a complete range of products to offer port-to-port solutions for all equipment. These products meet and exceed the performance requirements of international standards such as SAE, BS EN, ISO and other industry standards." On the new product ranges, he adds, "The latest products to offer is the Parker Global Core hose range. These are isobaric hoses meeting ISO18752 specification, manufactured in Indian units to cater to domestic and global markets."
The company also offers Parker Tracking System (PTS), a comprehensive asset management solution featuring state-of-the-art component-tagging technology to help the customer stay better connected to equipment and machinery. "Our easy-to-use platform allows you to record, manage and retrieve product information fast and accurately. Through a global network of service partners and OEMs across more than 50 countries, PTS ensures you get the replacement parts you need to drive productivity, efficiency and reliability," Venkatraman adds.
New product development and product upgradation involving innovative machines, materials and process is an ongoing process in Parker Hannifin India. "These activities are adequately supported by trained professional and qualified team with robust product evaluation processes and testing laboratories. Customised products are available and continuously made to cater to specific applications and industry specific in construction machines, off-highway machines, underground and surface mining, agriculture, medical and oil and gas industries," Venkatraman elaborates.
With the industry getting ready to embrace the new emission norms, hydraulic hose systems have a greater role to play in future, in keeping the whole equipment emission-compliant as well as productive.
PREVENTIVE MAINTENANCE CHECKLIST
Always turn off the equipment's power and release pressure in hoses. Place equipment and components in a safe or neutral position (use lockout tag). Remove access panels and inspect hose and fittings for damage or leaks. Repair or replace as needed. Inspect other hydraulic components.
Reinstall the access panels. Turn power back on.