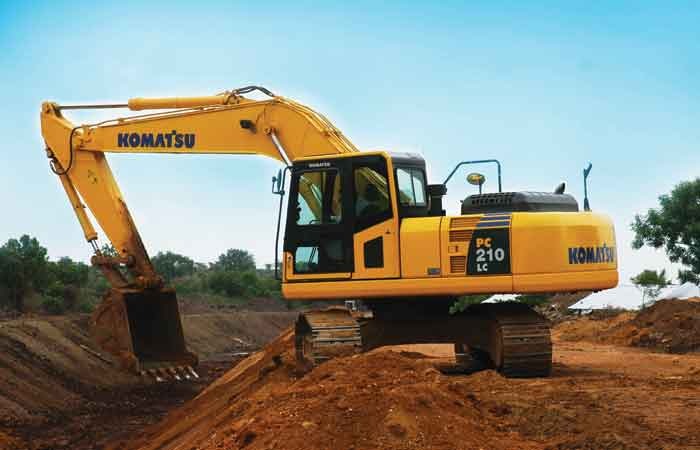 In a significant breakthrough during FY2022-23, Komatsu India, a fully owned subsidiary of Komatsu, Japan, rolled out bio-diesel compatible off-highway trucks from its state-of-the-art manufacturing facility located at Oragadam near Chennai. This milestone culminated in Komatsu's 100th Year celebrations worldwide. It also heralded the start of a new era in the Indian mining equipment industry, which can lead to a substantial reduction in carbon footprint and reaffirm Komatsu's long-term commitment to society with minimum adverse environmental impact.
As the world's leading manufacturer of construction and mining equipment, Komatsu has developed diesel-powered machines that are compatible with B20 fuel including excavators, bulldozers, wheel loaders, motor graders, dump trucks, etc.
With a view to achieving sustainability and reducing environmental impact, Komatsu is researching and exploring alternative fuels to reach the goal. Towards a step in this direction, Komatsu India has been participating in industry events and conferences and working closely with stakeholders, suppliers, customers, and government agencies to promote the use of alternate fuels in the industry.
Komatsu India works closely with leading oil companies to ensure that biofuels are available, accessible, and affordable for end-users, creating a sustainable grid of energy. Further, Komatsu Oil Wear Analysis (KOWA) supports Komatsu's concerted efforts to check the quality of biofuel and recommend it to users.
Komatsu is targeting to be carbon-neutral by 2050 as part of its long-term environmental goals. The company has set a target to reduce its greenhouse gas emissions (GHGs) by 30% by 2030 and by 80 per cent by 2050, compared to 2010 levels. Komatsu's goal is to significantly reduce its environmental impact and become a leader in sustainable business practices.
The government-empowered GST Council's vital decision to reduce tax rates on ethyl alcohol from 18 to 5 per cent is a major incentive to step up the movement for biofuel. This will also serve as a catalyst with more OEMs deciding to manufacture and supply mining fleet with bio-diesel compatibility to the Indian industry. The government's thrust on accelerating the use of alternate fuel will complement this new initiative of Komatsu.
Komatsu understands the growing need of customers to become carbon neutral as part of their sustainability efforts. It offers multiple solutions to help customers reduce their carbon footprint, such as:
Komatsu offers electric and hybrid construction equipment such as excavators and bulldozers, which emit fewer greenhouse gas emissions (GHGs) than traditional equipment
Equipment that is designed to be energy-efficient and reduce GHG emissions
Komatsu offers telematics and data analysis services that enable customers optimise fleet use, reducing fuel consumption and GHG emissions
As part of sustainable mining, Komatsu's mining equipment and solutions enable customers to reduce their carbon footprint and improve the sustainability of their operations
Komatsu offers carbon offsetting services to customers to offset the emissions generated by their equipment and operations
Komatsu's smart construction technology aims to improve the sustainability of construction projects using advanced technologies and services. One of the key ways is to increase efficiency and reduce waste through precise machine control and automation
Additionally, the fleet management systems and data analytics tools used in Smart Construction help improve a project's overall sustainability by providing real-time information on fuel consumption and emissions, as well as machine performance and maintenance.
Komatsu also focuses on sustainable design principles to reduce the environmental impact throughout the product lifecycle, such as using eco-friendly materials and designing for recyclability.
Several strategies have been implemented by Komatsu to reduce CO2 emissions in its products. Some instances include:

Developing technology to reduce emissions from internal combustion engines (ICE) and in maintaining performance
Improving energy efficiency in its manufacturing operations using renewable energy sources and energy-efficient technologies
Implementing strict EHS management systems and processes in all its operations to ensure compliance with relevant laws and regulations
Regularly monitoring and assessing the environmental impact of its operations, including air and water emissions, waste management, and resource consumption
Engaging customers with a life support programme to reduce the environmental impact with remanufacturing and rebuilding of components using fewer resources and generating less waste than manufacturing new products
By strengthening these initiatives, Komatsu hopes to contribute substantially to CO2 reduction in society, thereby achieving DANTOTSU value (a positive cycle of improving earnings and solving ESG issues through creating customer value).