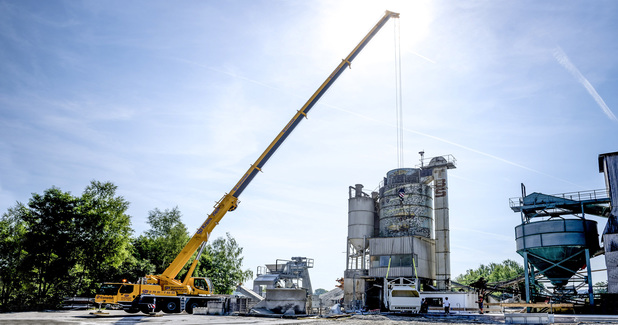 ESB Kranverleih Transport und Hebetechnik GmbH based in Mittelbiberach in Upper Swabia, assembled a Liebherr concrete mixing plant using Liebherr mobile cranes. The Betomix 2.5 RIM plant with a mixer size of 2.5 cu m was assembled in a gravel plant just a few kilometres from the Liebherr concrete technology production works in Bad Schussenried.

ESB used a brand new Liebherr LTM 1070-4.2 mobile crane for the initial assembly of the mixer and the erection of the feeder elevator. ESB?s new LTM 1070-4.2 is also fitted with a complete remote control system. All the crane movements can be controlled from outside the crane cabin. A clear view of the assembly situation and being close to the load means greater convenience for the crane driver and a better level of safety for crane operations.

Liebherr mobile cranes with the LICCON2 controller have a Bluetooth terminal (BTT) as standard for the remote control of set-up work, such as extending the crane supports. In addition, all mobile cranes with LICCON2 now also have the software for the remote control of all crane movements as standard. To use this, the customer only has to buy a control desk, consisting of a console with two master switches, to which the BTT is connected.