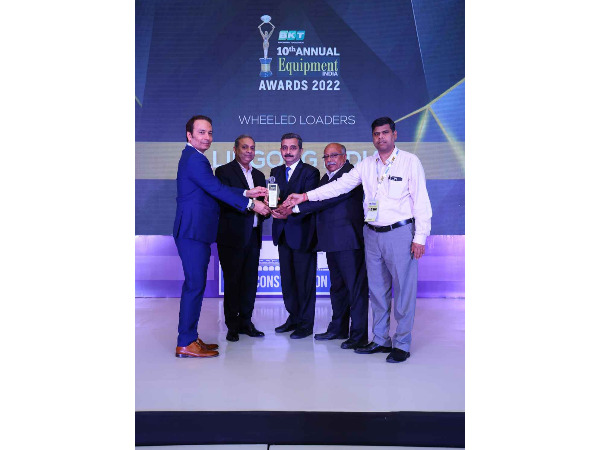 LiuGong India won an award in the Bestseller in Wheeled Loaders category during the 10th BKT Tires Equipment India Awards 2022, which was held on October 14, 2022 at ITC Grand Central, Parel, Mumbai. The event saw the top performers as winners in the respective award categories and rewarded for their remarkable achievements.

This year, LiuGong India toppled JCB India for the award.

A Krishnakumar, President, and Nischal Mehrotra, Vice President - Sales and Marketing, collected the award on behalf of the company.

This year, apart from the Bestseller product categories and Person of the Year Award, Equipment India [once again] gave away awards in six other important categories.

The 10th BKT Tires Equipment India Awards 2022 recognised and rewarded eleven winners in the Bestseller product categories. The winners were Ammann India for Asphalt Finishers; JCB India for Backhoe Loaders; CASE Construction India for Compaction Equipment; BEML for Crawler Dozers; Tata Hitachi Construction Machinery for Mini Excavators and Crawler Excavators; Action Construction Equipment for Mobile Cranes; Doosan Bobcat India for Skid-Steer Loaders; and Caterpillar India for Rigid Dump Trucks and Motor Graders.

The winners of the newly-constituted categories of Trainer of the Year and Dealer of the Year were L&T Construction and Mining Machinery. Best Innovation awards were given to Komatsu India for their product KOMTRAX, JCB India for LiveLink technology, and Wirtgen India for Soil Stabilizer and Cold Recycler WR 240. JCB India bagged the CSR Company of the Year award, while Schwing Stetter India won the Green Factory of the Year award.

Sorab Agarwal, Executive Director, Action Construction Equipment, was unanimously chosen by the Jury Panel for the Equipment India Person of the Year 2022 for his remarkable achievements over the years that have propelled both his organisation and the industry.

The 10th Equipment India Awards was presented by BKT Tires. Timken was the Platinum Sponsor, Gulf Oil was the Gold Sponsor, and Tata Hitachi Construction Machinery and Action Construction Equipment were the Associate Sponsors.

The selection process of the winners was highly transparent; an expert jury panel of the most eminent industry players vetted the findings of Off-Highway Research India, and then signed off on the winners.