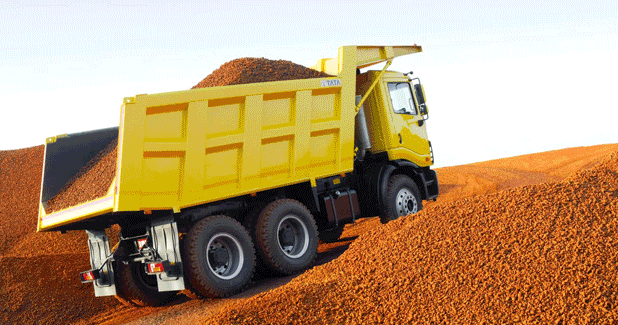 The tipper truck market is gearing up to a new momentum in sales and technology adoption. Improved mining and construction activities are expected to drive this trend ahead.
Mining and construction activities are on a growth path in the country. New projects (big and small), demolition of old structures to reconstruct new ones and transportation of materials at construction sites, all these make the role of tipper trucks important these days. Players in this sector are looking positive in the new industry scenario. This is evident from the recently concluded Excon 2017 exhibition which saw a range of new tipper trucks with improved features and technology additions. Many players have launched new models, while some others have expanded dealer network across the country to meet the increasing demand for these vehicles in construction and mining space.
Market trend
The year 2017 saw certain ups and downs in construction industry due to various reasons, which reflected on the construction equipment also, including the tipper trucks segment. Specifically, demonetisation had affected the truck market which is now recovering.
Vinod Sahay, CEO - Mahindra Truck and Bus Division, Mahindra Construction Equipment Division, Mahindra & Mahindra Ltd,
elaborates, 'Tipper trucks have been gradually picking up post demonetisation. This revival is a result of momentum in construction, supported by increase in mining activity. The overall volume for multi-axle tipper trucks is likely to exceed last year's volume. Acceptance
of our tippers has been steadily increasing. We currently hold 5-6 per cent market share.
On the demand trend, Sahay says, 'Demand is indeed growing and is actually diverse too, in terms of specifications of products as well as applications. We have been offering a wide range of variants/configurations anticipating such demand.' He further adds on the product range, 'Our product portfolio consists of construction and mining tippers on 25T and 31T platform, haulage tippers on 31T and 37T platforms and tip trailers on 40T and 49T platforms, which can be customised to suit the varied operating conditions/loads. With this portfolio of products, we are successfully addressing the key market requirements. On 25T tippers, we have combinations of 6-speed/9-speed gearbox along with bogie and non-bogie options.'
Coined under BLAZO platform, these vehicles are equipped with FUELSMART technology, which offers customers the option of toggling between TURBO, HEAVY and LIGHT modes to either maximise power or maximise mileage, based on the nature of load and terrain. According to Sahay, Mahindra is also in the process of introducing more variants to address diverse and evolving market needs of the customers.
Rajaram Krishnamurthy, Vice President, Marketing and Sales, Daimler India Commercial Vehicles (DICV),
explains on the BharatBenz portfolio, 'We updated the entire BharatBenz truck portfolio - MDT and HDT - within less than five years after the market launch to give our customers even more value for their money. This has helped us drive our sales further - when we celebrated out fifth anniversary in the market in September 2017, we had already handed over more than 55,000 BharatBenz trucks to customers.
Meeting emission norms
With the government's introduction of BS-IV norms across the commercial vehicles along with passenger vehicles in India, truck players have come out with new technologies that comply with the new emission regulations. Says Sahay, 'Recently BS-IV has been introduced and Mahindra has incorporated SMART SCR airless technology to comply with the emission norms. In fact, given the fact that our engine was already electronic, we had to undertake minimum changes. Post that, we are witnessing a few more regulations which shall come in force soon. From January 2018 itself, blower has been introduced in our tippers and trucks as a standard feature to improve ventilation and cabin comfort to eventually improve productivity of drivers. ABS and speed limiter have already been introduced during FY18.'
Krishnamurthy explains on meeting the latest emission norms, 'All BharatBenz BS-IV vehicles come with significant fuel efficiency improvements and meet the upgraded norms using SCR technology that's been proven in Daimler vehicles in many markets over a decade. Daimler is also the global safety technology leader in trucks, so safety has always been at the core of BharatBenz -tailored to the demanding requirements of the Indian market. We were the first to introduce key features like ABS into series, and our trucks already meet future regulatory updates today, according to global standards.'
Tata Motors offers its truck range with updated emission compliance.
Rajesh Kaul, Head-Sales & Marketing-M&HCV, Commercial Vehicle Business Unit, Tata Motors,
explains, 'Our product Prima of 300 hp offers EGR technology. Each product over 150 hp works on the SCR technology. The engine in itself burns out the particulate matter at high temperatures and transfers this through the diesel exhaust fluid in the decomposition area and exhaust processor.'
What customers look for
According to
Rama Rao A S, Executive Vice-President - Sales, Marketing, Aftermarkets, VE Commercial Vehicles,
customers in the construction sector are in search of higher-capacity trucks. He adds, 'The truck industry catering to mining and construction segment is in a transition mode as segmental shifts are taking place in terms of gross vehicle weight and vehicle power. High performance haulage trucks are being used for the transportation of aggregates, which is a new phenomenon. Such new trends are a positive sign as they will keep a check on costs and are profitable. We are witnessing a maturity in the market, with customers in search of customised offerings. Demand has witnessed a positive uptick in the past three months and OEMs have also launched higher-capacity trucks in the last two to three years. Rise in fleet replacement by fleet owners, and movement towards higher tonnages will further push demand for heavy-duty tippers and trailers.'
Efficiency and productivity
Efficiency and productivity play important role today, considering the way the infrastructure and construction sector is growing and transportation becoming borderless pan-India. Krishnamurthy says, 'More than ever before, borderless pan-Indian transportation and the hub-and-spoke model in logistics require modern, fuel-efficient trucks with higher uptime - exactly what is the core of BharatBenz. Just think that with the GST introduction, the uptime of trucks at an average has increased from 80,000 km to 200,000 km. Only modern trucks like our entire portfolio give customers what they need to capture these opportunities.'
According to Sahay, productivity of a truck depends upon several factors. He points out how Mahindra has ensured its tipper trucks more efficient and promote higher productivity:
Comfortable and safe cabin that reduce fatigue and promote active safety.
Ergonomically designed cabin and instrument panel to reduce fatigue, make driving smoother and safer.
FUELSMART switches which provide driver the flexibility of toggling between TURBO, HEAVY and LIGHT modes to either maximise power or maximise mileage, based on the nature of load and terrain. This innovative and world-first feature adds a lot to the productivity of our trucks.
Superior aggregates of Mahindra tipper trucks ensure lesser breakdowns and higher uptime for years.
Mahindra offers the following unprecedented service and spares guarantees to ensure that the tipper trucks are always moving:
48 hours uptime guarantee (back on road in 48 hours or we pay Rs 1,000 per day)
Two hours service reach guarantee on Delhi-Mumbai Service Corridor or we pay
Rs 500 per hour
36 hours service turnaround guarantee at dealership or we pay Rs 3,000 per day
150 maintenance parts availability at MParts Plaza or they will be given free
250 critical parts availability at select 24 dealerships or they will be given free
Additionally, in order to ensure higher uptime for tipper trucks, we offer the following:
Onsite service support for tippers
Mobile service vans for breakdown service support
24x7 NOW Call Centre manned by technical experts
4,000 hours or 24 months standard warranty; extended warranty -6,000 hours or 48 months; warranty is transferrable.
Telematics technology trends
With the concept of fleet management evolved, Telematics has emerged as the leading platform for tracking the equipment or vehicle fleet remotely. Says Krishnamurthy, 'Overall, vehicle tracking systems prove to be one of the most value-adding services with regard to fleet management. The adaptation level is still comparatively low, but no doubt this will change as customers become more familiar with the technology and the benefits.' Sahay also opines on the same lines. 'Adoption of Telematics had been slow owing to the cost and complexity involved in the usage. Off late, we are witnessing demand from customers, coupled with substantial reduction in operational costs. Now Telematics solution can offer all the details regarding the vehicle at the touch of a button. They are also being customised to suit the operations of the customers.'
He further adds, 'In the commercial vehicle industry, acceptance or adoption of innovation and new technologies has been slow, majorly on account of being a cyclical type of industry. For any technology to sustain, it is essential that the same is accepted/adopted for the longer duration of time.
Rao elaborates on the initiatives from his company, 'Eicher has pioneered the use of intelligent technologies in trucks and tippers to bring a significant improvement in quality, efficiency and productivity operations. Eicher is one of the first players to introduce the Fuel Coaching system in their Pro series trucks which enables the driver to improve his driving and achieve better fuel efficiency. With services like Eicher Live and new technologies such ABS, Eicher is ready to keep pace with the government agenda towards modernising the commercial vehicle industry.'
Product innovations
With reference to the emerging requirements and customer demands, truck OEMs have been bringing in new features and technologies in their product range. Sahay explains the application-specific innovations that Mahindra has brought in, 'We have been regularly introducing variants customised to meet application requirements. We are happy to announce introduction of BLAZO 25 Boom Pump Chassis. This chassis has been designed keeping in mind the boom pump application. Large projects require boom pumps for faster execution of projects.'
He further adds, 'We have been steadily growing our market share
on tipper platform. Apart from offering a wide range of tippers, our tippers are equipped with Fuel Smart technology, which improves fuel economy. Heavy-duty and reliable aggregates ensure that our uptime is never a concern.'
Krishnamurthy claims, 'With BharatBenz, we have always been at the forefront of innovation, aiming to make vehicles cleaner, safer and more cost efficient for Indian customers. We are seeing that customers have definitely become more receptive towards inclusion of technology in their trucks, which works in our favour.' He adds, 'Last year, we upgraded our entire HDT range with a host of new features, and our tippers also benefited from this. We give our customers even more value for their money. In terms of capacity, we have recently introduced a second production shift, gearing up to capture further opportunities and cater to additional demand.
Kaul explains on Tata's initiatives, 'We have modified the vehicle design to improve on the technology. We have our Ultimax suspension as a solution for all terrain compatibility. Our products are also light in weight. In tippers, we have introduced steel bodies to reduce the weight between 700-1,500 kg. We have also improved on transmissions, bringing in 6-speed transmissions that benefit the driver. In developed countries, high torque capacity transmissions range from 9-speeds to 12-speeds. These transmissions give our customers equipment of the
best quality.'
Market outlook
Sahay comments on the outlook of the tipper trucks market, 'With the Central Government's focus on infrastructure development, there is a huge demand for improved infrastructure at airports, roads, sanitation facilities, urban and rural housing, and other projects across country. With the new investment-friendly policies, there will be an increase in PPP and investment within the sector. This also indicates demand for construction equipment industry in India will continue to aid the growth.'
Krishnamurthy concludes on a positive note, 'We expect the construction segment to remain one of the fastest growing segments until 2020. The huge investments planned for infrastructure development will continue to drive commercial vehicle demand and sales. Cement and steel sectors are likely to grow in tandem, and anti-dumping regulations for steel will also aid growth.'
With many infrastructure projects in the pipeline, and mining on a revival, there will be an increased requirement of material movement. This will definitely drive the demand of fuel-efficient and productive tipper trucks in future.
'Tipper trucks have been gradually picking up post demonetisation, with the momentum in construction, supported by increase in mining activity.