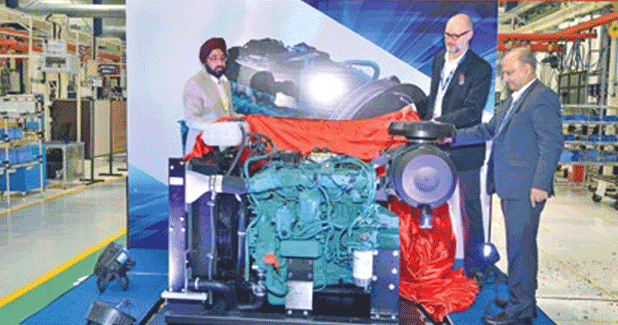 The Swedish engine major reiterated its focus on Indian market with its new Made in India range from its Pithampur plant.
Volvo Penta engines have been manufactured in India for the first time, at a new dedicated production line at the VE Powertrain (VEPT) plant. The company is ready to serve Indian customers with off-road industrial engines that are made in India. Following the inauguration of an exclusive Volvo Penta production line at its manufacturing base in Pithampur in the Madhya Pradesh region, customers are now taking delivery of 5- and 8-litre engines being produced in India.
'This is a momentous time for us,' said Jonas Nilsson, Head of Volvo Penta India. 'Although we have supplied engines and products to India for two decades, to have them actually produced here for the first time and delivered to customers, is a progressive step. We are ready for whatever the market needs - we are producing premium quality engines made in India, for Indian customers.'
One of the first customers to take delivery of the new engines is TIL, a Kolkata-based manufacturer of mobile cranes. 'TIL enjoys an enduring relationship with Volvo Penta - one that is based on trust, quality and performance,' said Pinaki Niyogy, Vice President, Manufacturing and Engineering for TIL.
The Volvo Penta engines, with their compact design, develop higher torque at lower rpm, which enhances our machine's fuel efficiency. The engines are ready for future emissions stage compliance. The after-sales is also excellent - ensuring fast availability of spare parts and preventive maintenance programs that go a long way in minimising machine downtime.'
Pump manufacturer, Putzmeister, is pleased with the production of Volvo Penta engines in India. 'Volvo Penta engines and Putzmeister India have been associated for the past nine years, and we value the brand for its fundamental understanding of the Indian market,' said Wilfried Theissen, Managing Director, Putzmeister India. 'Our co-operation has evolved into a strong partnership. Volvo Penta engines are known for high fuel efficiency and reliability, and with their new range of engines we look forward to many more years of this association. Putzmeister also congratulates Volvo Penta for its new state-of-the-art engine manufacturing line in India.'
Ready for a growth market
The VE Powertrain (VEPT) plant was launched in 2013 by VE Commercial Vehicles, as a joint venture between the Volvo Group and Eicher Motors. A production line was created exclusively for the manufacture of Volvo Penta engines. Its 5- and 8-litre engines are certified for BS- III emission standards. Both ranges can be used for a variety of applications such as construction equipment, agricultural and forestry machinery, crushers and screeners, pumps and cranes.
'Indian OEMs can take advantage of our high quality and technologically advanced products, for an increasing number of applications,' said Giorgio Paris, President, Region EM & APAC, Volvo Penta AB. 'We provide global aftermarket support, so OEMs can be assured that they can manufacture and trade in both the domestic and export markets.'
Looking forward
Although emissions standards for off-road engines in India are less stringent than in Europe and North America, it is thought that the Indian government will announce tighter legislative controls in the near future.
'As a global company, we already have engines and products for the most stringent emissions levels and we will be able to introduce technologies for the Indian market whenever new standards are introduced,' adds Paris. 'The commonality of our engine range platforms means that our offer is scalable for future use. We can deliver what customers want, whenever they need our products.'
Global strategy
Volvo Penta's global strategy includes increasing production in different locations to be closer to customers in different regions. And the roll-out of production in the Asian country also ties in with Prime Minister Narendra Modi's 'Make in India' - an initiative which is aimed at encouraging national and international companies to manufacture in the country, to utilise local skills and boost employment.
'These are state-of-the-art facilities that are producing modern engines which provide excellent performance with low emissions,' said Peter Hertinge, Senior Vice President, Volvo Penta AB. 'The logistical benefits we've seen in other markets can now be found in India. Shorter lead times and a simplified process of planning and delivery, will enable our customers to have incremental sales in a growing market, whilst maintaining operational efficiency. It's a win-win situation.'