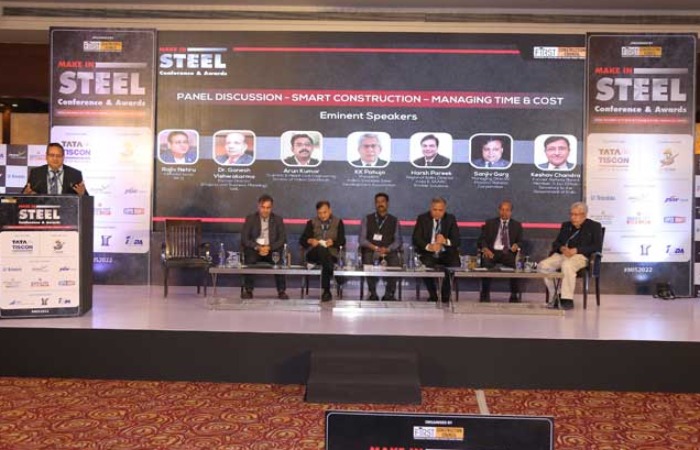 India was the world's second-largest steel producer with production standing at 111.2 million tonne (MT) in 2019. The outbreak of the COVID-19 pandemic and the subsequent nationwide lockdown had severely affected demand and production of steel in the country in Q1FY21. The lockdown in the months of April and May had crippled domestic demand and steel players were forced to look at export markets to keep their inventory in check.
Keeping this in mind, the fifth edition of the Make in Steel Conference and Awards 2022 was held on February 23, 2022, at The Lalit, New Delhi. The event was organised by the FIRST Construction Council and Construction World magazine.
In his welcome address, Pratap Padode, President of FIRST Construction Council, said, "Energy costs are rising. The standoff in Ukraine will continue to put pressure on the price of oil. In April, the Government is likely to revise its domestic price of natural gas from $2.9 to $6-7 per mmBtu. This will also impact the CNG price which will rise to Rs 15 per kg. The global steel industry is poised to shift from coal to hydrogen. With enough high-quality iron ore and low prices for hydrogen, India could play a pivotal role in global steel decarbonisation given its large and growing economy."
"India needs to add 190 MT of steel capacity in next eight years. In the next five years, domestic steel companies will be adding about 30 million tonne capacity, which is about 25 to 30 per cent of the current domestic consumption," added Padode.
Ashima Tyagi, Editor – Indian & Asian Steel Markets, S&P Global Platts, in her virtual address, highlighted the benchmark process and the trends and outlook for raw materials as well as finished steel. She said, "This year, we are witnessing some sort of stability in Indian steel pricing from that of Europe and the US. In the EU, buyers are having sufficient inventory and the costs are very high. But the market, in general, feels that the Q2 will be stronger. The rising tension between Ukraine and Russia may have a significant impact on steel prices. In terms of the US, we have seen a five-month-long decline."
Harsh Pareek, Regional Sales Director – India & SAARC, Trimble Solutions, and Puneet Soral, Regional Sales Manager – North, TATA Tiscon Retail, showcased the latest innovations from their companies.
The first-panel discussion themed "Steel at a High Point - Is this Boom Sustainable?" was moderated by Rajiv Nehru, InMarket Lead, RICS. Speakers were: Vivek Nishant Nath, Head – Sales and Marketing, Odisha Mining Corp; GK Sharan, Director and Chief Mentor, Super Smelters; and Puneet Soral, TATA Tiscon Retail. They spoke about the demand-supply scenario, trends and changes in the commodity cycle, and strong steel demand recovery and imports/exports in both Indian and Chinese markets.
Achal Khare, Former Managing Director, National High Speed Railway Corporation, in his keynote address, spoke on the national high-speed rail and the changing landscape for the steel industry. He said, "For the Mumbai-Ahmedabad bullet train project, one of the important aspects of using steel instead of concrete is that the erection of steel bridges causes minimum disruption to the existing traffic. We will be requiring around 71,000 metric tonnes of structural steel, and for a temporary structure, we require about 25,000 metric tonnes of steel for bridges. L&T will be fabricating/manufacturing these bridges with the steel manufactured in India."
The next panel discussion on "Smart Construction" was also moderated by Rajiv Nehru of RICS. Speakers included: KK Pahuja, President, Indian Stainless Steel Development Association; Sanjiv Garg, Managing Director, Pipavav Railway Corporation; Arun Kumar, Scientist and Head-Civil Engineering, Bureau of Indian Standards; Dr Ganesh Vishwakarma, Former Director (Projects and Business Planning), SAIL; Keshav Chandra, Former Railway Board Member, and Ex-Officio Secretary to the Government of India; Harsh Pareek, Regional Sales Director – India & SAARC, Trimble Solutions; and VR Sharma, Managing Director, Jindal Steel and Power.
Moderated by Dr Mukesh Kumar, Director, SRTMI, the last panel discussion was on steel structures for lower environmental impact. The speakers were: Ved Parkash Dudeja, Vice Chairman, Rail Land Development Corporation; VB Sood, CEO, Indian Railway Station Development Corporation; Dikshu Kukreja, Managing Principal, CP Kukreja Architects; and Satish Pandey, Principal Scientist and Project Leader, CSIR-Central Road Research Institute, Ministry of Science and Technology, Government of India.
The conference received an encouraging and interactive response. The conference was followed by Make in Steel Awards 2022.