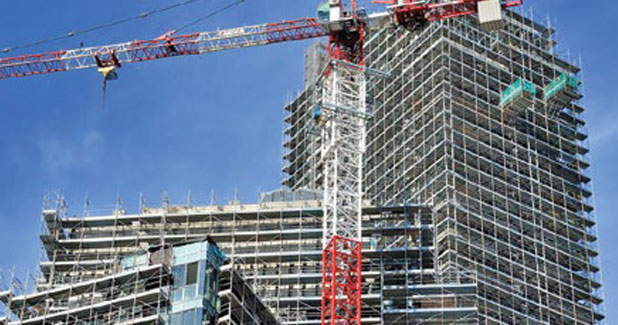 Steel and metals play a major role in the construction industry. Alireza Moghaddam explains on the use of metals in construction and the new trends and the emerging market opportunities.
Heavy equipment is used at construction sites for various purposes. They carry out diverse tasks such as digging, raising, relocating loose material. Depending on the application, heavy equipment is used in different ways and helps achieve targets as scheduled. Heavy equipment can be divided into four major types: earth-moving equipment, construction vehicles, material handling equipment, and construction equipment.
Metals in construction
Chosen for their durability, strength and resistance to weather, metals used in the construction industry serve a wide range of functions. The most commonly used among them are carbon steel, aluminium, copper tubing and stainless steel, each has its particular qualities and ideal uses. As a whole, however, these metals are ubiquitous in the world of buildings and architecture, in applications both small and large.
There are variations in heavy equipment used by contractors for diverse functions like material handling, trench digging, dumping, scraping, heavy lifting and pipe installation, and mining. They include excavators, backhoe loaders, bulldozers, motor graders, trenchers, etc.
Carbon steel is one alloy that is prized in the construction industry for its hardness and strength. It is typically used to make beams for structural framework, plates for highway construction, and rectangular tubing for welded frames trailer beds, and bridges. It is also a material of choice to make rebar and hollow structural sections (HSS). Made by mixing carbon and iron together, carbon steel is classified on a scale of'mild' to'very high', depending on how much carbon is present in the metal. Aluminium is also commonly used in the industry because it is resistant to corrosion, highly conductive and ductile. Because it is resistant to harsh weather, the metal is used in windows, doors, and wire, as well as outdoor signage and street lights. The metal is processed into sheets, tubes and castings, and also used to build automobiles and trucks, as well as bicycles and marine vessels. HVAC ducts, roofs, walling and handles made of aluminium are also frequently found in the building industry.
Copper tubing, which comes in two main types, is often used to construct pipes in buildings. Rigid copper tubing is ideal for hot and cold tap water pipes in buildings. Soft copper, on the other hand, is frequently used to make refrigerant lines in HVAC systems and heat pumps. Copper ductile, malleable metal is resistant to corrosion from water and soil, and is also recyclable. Copper tubing is also easily soldered, forming lasting bonds. All of these properties make this metal ideal for piping and tubing.
Stainless steel is one of the oldest known building materials. It was used centuries ago to construct structures that still stand today, thanks to the corrosion and stain resistant properties of the metal. Some architectural structures rely on stainless steel for its strength, durability and reliability. It is an alloy of several different metals, the amounts of which can be adjusted to create different grades of stainless steel with different properties. The most common grade is 301, which is ductile and easily welded. It can be found in roofing, structural applications, handrails and balustrading, architectural cladding, as well as in drainage components.
Carbon steel, aluminium, copper tubing and stainless steel are all durable, strong and corrosion resistant metals that are frequently applied in the building industry. These metals form everything from door frames and highways, to pipes and staircases. Technological advancements on account of modernisation have shifted the need for advanced equipment from traditional purposes such as agriculture to military and railway applications. Rapid urbanisation and infrastructural growth have fuelled construction equipment industry demand over the past few years.
Mining and construction equipment
The Indian construction equipment industry has seen a substantial growth after three years, and has been seeing an upward growth since January 2016. It is anticipating even greater demand ahead owing to the government's intent on increasing development of urban infrastructure and the mining sector.
The government has initiated innumerable initiatives to lift the sector from its current dormant conditions. The measures include authorising the Indian Infrastructure Finance Company Ltd (IIFCL) to raise Rs 100 billion by issuing of tax-free bonds to make highways and port projects funding worth Rs 250 billion available to the sector. In order to finance projects worth Rs 750 billion over the next 18 months, the IIFCL has been given permission to raise additional funds worth Rs 300 billion.
Other measures include liberalisation of the external commercial borrowing (ECBs) policy, revision in the cap for home loans to Rs 2 million from Rs 0.5 million through inclusion in the priority sector, increase in foreign institutional investors limit in rupee denominated corporate bonds from $6 billion to $15 billion exemption of countervailing duty on cement and TMT bars and structural, close monitoring of the government spending to expedite expenditure for all schemes and programmes.
According to the report by ICRA, demand for mining equipment had witnessed limited support by the end of 2015, due to a weak outlook for steel, which impacted iron ore mining. ICRA expects resolution of problems hindering several mines in the country to eventually support a recovery of the industry in the CY 2017.
Moreover, private investment activity is unlikely to grow in the near term, given the constrains of moderate capacity utilisation, high indebtedness of corporate balance sheets and several sector specific problems in power, steel and other segments. On the positive side, the impact of reforms in the mining sector will eventually bring in the private sector, providing a modest boost to mining and construction equipment (MCE) demand.
Shaping up growth
India is on the fast lane to becoming a global manufacturing hub with the Prime Minister's Make in India initiative. Infrastructure being an integral part of the initiative directly provides a boost to the CE manufacturing industry. While the industry is all set to grow like never before, what is required is forward thinking by the manufacturers to crack this dynamic field and the market that is geared up to move up after a rather long flat slump.
Service has always been an integral part of the CE industry. Construction industry needs machines to be repaired pro-actively and mostly on the same day barring which all work comes to a halt. Preventive maintenance will become an increasingly important factor given the boom in the number of projects. New technologies are being integrated in the construction equipment industry in India on a regular basis. It will no longer be sufficient to just sell the machine. The buyers and operators will need to be educated about the newer technologies that the machine comes equipped with and how to make the most of it. While field service is becoming increasingly important, it is also becoming increasingly difficult due to use of complicated technology.
Mobiles have played a crucial role in changing how the consumers interact with both the machine and the company. Mobile apps and telematics will play an important role in preventive maintenance, diagnostics and field maintenance to reduce down time of the machine. Forward thinking manufacturers will adapt the latest technologies from other industries and apply it to their own to stay ahead in the game. This will lead to better machines being manufactured at possibly lower prices. The consumer is fast evolving and is becoming more demanding in terms of quality and services as he is exposed to more information via the internet. These trends are likely to shape the CE industry in the years to come.
The author is Chairman, Alloy Metal International Distribution Technology (AMIDT), a London-based group.