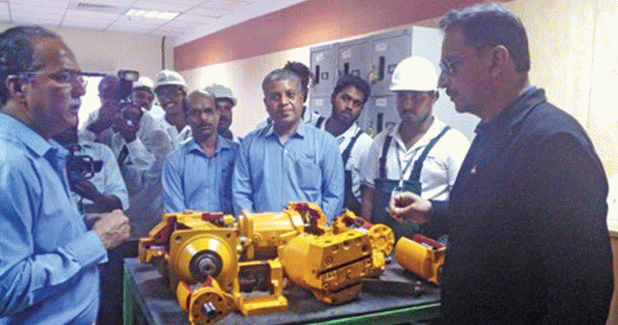 Rajiv Pratap Rudy reviews the progress of the Schwing Stetter Operator Training School.
The Minister of State (Independent Charge) for Skill Development and Entrepreneurship, Rajiv Pratap Rudy,
visited the Schwing Stetter Operator Training School to review and understand the training capabilities being conducted on a regular basis.
Schwing Stetter has partnered with the Infrastructure Equipment Skill Council (IESC) and unveiled the first Centre of Excellence in India. The IESC is a brainchild of the Indian Construction Equipment Manufacturing Association (ICEMA) where construction equipment operators will receive a certified degree from the IESC for skilling of equipment operation and maintenance.
Through this centre, training will be provided to the students and unemployed youth under PMKVY, the flagship scheme of the Ministry of Skill Development & Entrepreneurship. The target is to provide training and jobs to two lakh candidates from this centre in three years, in the following five segments:
Road construction
Concreting - batching plants, concrete pump, transit mixer, shotcrete pump and refresher training courses
Material preparation/processing
During his visit, the minister said, ?The Indian Government has been emphasising the ?Make-in-India? campaign consistently. While there are many manufacturing companies across India, most of them are running short of skilled labour. To encourage employment across these companies, skilling labour is the utmost need of the hour. India should be a country filled with entrepreneurs, and we need more private partnerships that will in turn provide jobs for more people across rural areas. Handling concreting equipment is a skill that needs to be specially trained and Schwing Stetter India is doing a phenomenal job in training several youngsters in this field.?
Students who sign up for the course will receive a monthly stipend of Rs 10,000 and guaranteed placement in leading manufacturing companies. Schwing Stetter India is providing their ?Operator Training School? to IESC to enable students to get a real-feel of the concrete equipment.
Adding to this, Anand Sundaresan, President of ICEMA and Vice-Chairman and Managing Director of Schwing Stetter India said, ?India is running a deficit of skilled operators and mechanics for operating construction equipment. IESC has taken initiative of skilling unemployed youth to provide skilled operators and mechanics to the construction industry.
VG Sakthikumar, Managing Director, Schwing Stetter Sales & Services Pvt Ltd and Chairman of Mechanization Committee, Builders Association of India, said ?We are proud of the fact that Schwing Stetter India is the first Centre of Excellence of IESC for skilling concrete equipment operators. This is a great recognition for our commitment to training and skilling that we have been pursuing since the beginning of our company in India. Our challenge today is to make this programme more popular among candidates in every corner of the country.?