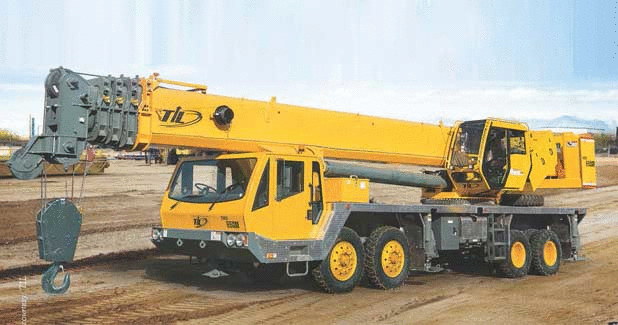 The overall market for mobile cranes is expected to grow between 10-15 per cent for the next 2-3 years. There will be some shift in capacities with 15-20 tonne cranes commanding a higher market share. At the same time, the market for higher capacity mobile cranes is also expected to grow with more big capacity projects taking off.
Mobile cranes are the most standard and versatile type of cranes used in construction, mining, defence, shipping, port building, rail, road, bridges, oil and gas industry, and others manufacturing industries. The mobile cranes market can be classified into various types, depending on application as well as the tonnage that it can carry. Some of the popular types are pick-and-carry cranes, truck-mounted cranes, all-terrain cranes, rough terrain cranes, lorry loaders etc. In India, pick-and-carry have been one of the most sought out cranes by companies especially in the industrial and infrastructure space, which also reflects in the overall market size of these cranes.
Market scenario According to research reports, the mobile cranes market is estimated to grow at a rate of 42 per cent year-on-year during 2017-21. The sales in 2017 were 7,749 units, which has grown in 2018 with an estimated figure of 11,000 units. Mahesh Madhavan, Head - Construction and Infrastructure Practice, Feedback Consulting, highlights the current market scenario, "The overall mobile cranes market in India for FY 2019 has been 11,500-12,000 units with pick-and-carry cranes accounting to about 92 per cent, followed by lorry loaders and truck-mounted cranes. Some of the larger capacities above 50 tonne are imported by companies as it does not justify manufacturing it in India. The pick-and-carry cranes have been growing at a healthy pace of over 26 per cent compared to the previous year."
Mobile crane manufacturers are also bullish on the market scenario. According to Manoj Agarwal, CGM - Marketing and Product Support, Action Construction Equipment, the market has been buoyant in the past two years for mobile cranes. "It has witnessed unprecedented growth wherein the total sales of mobile cranes have crossed 11,000-unit mark which is the highest ever in terms of volume within a short span of 12 months," he points out.
Anil Bhatia, Vice President, Sales & Marketing, TIL, also sees a positive market of mobile cranes. "The market for mobile cranes is looking quite positive at the moment. With infrastructure projects being expedited, the demand for mobile cranes - pick-and-carry cranes and higher capacity mobile cranes, a segment in which TIL operates - is on an upward curve," he adds.
Schwing Stetter India offers XCMG crawler-mounted, truck-mounted, all-terrain and rough-terrain cranes. According to VG Sakthikumar, Managing Director, Schwing Stetter India, the overall market of mobile cranes has grown over the last few years due to a number of new projects and replacement. He adds, "The crane rental industry players, who account for most of the crane purchases in India have focused on modernising their fleets in the last few years. This bodes well for the crane industry and has presented avenues to introduce newer technologies in the Indian market. While crawler cranes are being preferred with foundation application features in new cranes, tyre-mounted cranes requirement above 100 tonnes are increasingly being upgraded to versatile all-terrain cranes. Below 100-tonne crane requirement is largely for truck cranes. Rough-terrain cranes which were essentially bought by captive users are now finding new buyers among rental players."
Subhajit Chandra, Divisional Head - Mobile Cranes Division, Liebherr India, says, "All-terrain cranes are predicted to accelerate owing to the expansion of cement plants, construction industry, infrastructure projects and the increased business potential of shipbuilding and repair industry. Also, the increasing competition in the market is expected to drive further the crane rental rates resulting in overall growth of all-terrain crane revenue share. The requirement of heavy capacity mobile all-terrain cranes is rising in India, but the consciousness for the right technology and standard is very important. Cranes conforming to EN13000 standard should only be used to ensure an overall safety standard, which is a must for developing countries like India."
Satin Sachdeva, Founder & Secretary General, Construction Equipment Rental Association (CERA) and Managing Director & CEO, Equipment Planet, adds, "In India, the mobile cranes market is booming due to the road and highway projects, canal projects, bridges, railway and metro projects, projects of interlinking rivers, oil and drilling sector and refineries. Another reason is the demand and norms for deploying new cranes only by the projects and infrastructure companies. This has spurred the rise in the sale of less expensive mobile cranes like XCMG and SANY. The Chinese cranes are the best options as they are cheaper by at least 30-40 per cent and are value for money in this price range as compared to those like Liebherr, etc. Among the Indian cranes, ACE is the best option available."
Demand trend
All the infrastructure developments happening in the country are driving the demand for mobile cranes for the various lifting, moving and placing of heavy objects. Agarwal highlights the demand drivers, 'The major sectors driving the demand for mobile cranes are urban infrastructure projects such as metro projects across various Tier-I and Tier-II cities, freight corridors, airport expansion and modernisation, Clean India and Smart City projects. Infrastructure development including roads and highways (Bharatmala Project) along with bridges and flyovers and refinery expansion are currently witnessing good growth.'
Bhatia also sees new metro railway projects, economic corridors, expressways, logistics parks, feeder routes, etc, along with new investment in the oil and gas sector that will spur the demand for mobile cranes. He adds, "Going forward, the demand is likely to be skewed towards higher capacity mobile cranes. The rental market for truck cranes, pick-and-carry cranes and even high-capacity rough-terrain cranes also presents a sizeable opportunity for crane manufacturers, and it is expected to get bigger in the days to come."
According to Sachdeva, demand for all-terrain, rough-terrain, hydraulic telescopic boom and tyre-mounted cranes will increase because of their mobility, particularly in 50-200T range. He adds, "Hydraulic cranes are suitable especially for roads and highways and canal projects. In addition, the demand will also be good in 50-100T capacity range.
New technology, artificial intelligence, and GPS monitored mobile cranes will drive the market in the near future to tackle the issue of shortage of skilled manpower and challenges to meet the deadlines."
The key segments where mobile cranes are deployed are Railways, Metro, power, steel, mining, industrial applications, erection work in projects etc. The usage for these cranes, especially pick-and-carry and truck cranes would largely be driven by Railways and industrial application segment. Madhavan elaborates on the trend, "Like backhoe loaders in the construction business, pick-and-carry cranes have the similar status in the material handling equipment business. Typical buyers of material handling equipment are rental companies. Pick-and-carry cranes are dominated by rental companies/entrepreneurs having 1-2 equipment. In the higher capacity cranes like the all-terrain and rough-terrain cranes, there are a lot of "used imports" in to the country. Most rental companies feel that for the limited usage of these cranes, buying a new crane might not be profitable. Once deployed, these cranes are employed in projects for a minimum period of 4-6 months, but once the project is over, the wait at times is longer."
He also highlights the new trend emerging in the pick-and-carry cranes segment, "There has been a capacity shift seen even in the basic pick-and-carry cranes in the country. From a 10-12 tonne capacity five years back, the industry has moved to 12-15 tonne capacity, which accounts for almost 65-70 per cent of the market. There has also been an increase in the 15-20 tonne category which now has a market share of close to 20 per cent from 2-3 per cent, five years back."
Chandra elaborates, "In specific, all-terrain cranes have been designed with such a technology that they can efficiently fulfill various industry needs of achieving complex lifting and lowering tasks and that too in very dangerous environments. These cranes can function well even in severely dusty, smoky areas including the areas with extreme weather. Moreover, cranes have multidimensional uses. They are not only used in construction and infrastructure projects, but are equally useful in mining, oil and gas, defence, port handling, transportation of goods and cargo, warehouse and logistics operations etc." He adds, "Liebherr is supplying the crane in India for a few decades and we have captured almost all the major heavy-duty segments in India. The most preferred segment for Liebherr all terrain cranes is Indian cement industry. Due to our excellent quality product and continued in-time after sales support is the reason of acceptability of all-terrain cranes in cement and oil and gas segments."
Design innovations
Recently, the crane manufacturers have adopted new features and designs to meet the changing requirements of the customers. For example, in pick-and-carry cranes segment, leading players are adding more feature to the cranes to perform multiple functions, rather than just pick and carry function. These are classified as next-generation pick-and-carry cranes.
'Our next-gen pick-and-carry cranes are the epitome of innovation,' claims Agarwal. He elaborates, "An important design improvement is the overall shift from a general pick-and-carry crane to a slew crane along with pick-and-carry feature. We are confident that this will turn out to be a game-changer initiative. Other design innovations include: Improvised safety features with the introduction of safe load indicators, sensors, rear view mirror, etc; Making the cranes more compact for intra-city usage where the roads/lanes are narrow and challenging to perform diverse operations; Enhanced versatility by making it suitable for multi-utility through introducing attachments on the same machine and making it suitable for different jobs; Capacity enhancement in terms of load lifting and the height attained; and the Introduction of telematics on the mobile cranes. Introduction of new technologies has helped us achieve greater safety, stability and visibility in our next-gen machines.' According to Bhatia, the demand is shifting towards next-gen pick-and-carry cranes with enhanced features like 360¦ slew (with outriggers), carry deck and advanced safety features such as LMI, rear-view camera, etc. He adds, "TIL's 15T pick-and-carry crane embodies safety, easy maneuverability, easy maintenance, application suitability and competitive total cost of ownership. It features a four-section boom with extended length reaching up to 17 m, with an optional 5 m jib extension, allowing for a total boom tip height of 24 m. Continuous 360¦ slew and carry-on-deck are other unique features that allow for efficient load handling."
Sakthikumar explains on the features in XCMG range of cranes, "XCMG tyre-mounted cranes feature calibration-free technology elimination, which helps to frequently calibrate load moment indicators that save valuable time during assembly of the cranes at the job site. XCMG all-terrain cranes have the option of operating at asymmetric outrigger positioning, thus allowing the crane to work at challenging sites where pre-existing structures do not allow enough space for placement of the cranes."
Chandra explains the features
in Liebherr cranes, "Liebherr stands for outstanding safety standards and top performance. We invest heavily in research and development to ensure this. Our continuous developments ensure that our products meet our customer's requirements. Variobase and Variobase Plus, Varioballast, long boom configurations, and fleet management systems are a few to name in the new innovations. These are all conformining to the requirements of worldwide accepted crane standard of EN13000."
Safety and productivity Safety is of utmost importance in a heavy lifting and moving equipment and productivity of the equipment is linked to safety. There are many other features that crane OEMs consider in design and development of the cranes. Agarwal says, "At ACE, we continuously strive to offer technically advanced and innovative products. Our R&D centre based at Faridabad is fully equipped with modern facilities, dedicated for the development and speedy commercialisation of globally competitive products. We focus on design improvement for enhancing the machine features so that the Versatility and Value Proposition of the equipment go up, further improving its reliability and safety features."
On the design features of ACE cranes, he adds, "We have designed the chassis and boom in-house with our own engineering capability and excellence. We would be using boom assembly made out of high strength steel with optimised shape, which would drastically reduce its self-weight yet enhance the lifting capability of the overall machine. Integration of best-in-class driveline along with the top-notch hydraulics and in-house designed structures with high factor of safety and boom assembly differentiates our cranes from the competitors and is a great example of the government-led "Make-in-India" initiative."
Chandra elaborates on safety and productivity features in Liebherr cranes, "The space available on sites is often constricted. It is impossible to frequently extend all the outriggers of the mobile crane evenly. VarioBase from Liebherr allows the crane to be used safely and flexibly in these difficult conditions. The load moment limiter within the Liebherr computer control (LICCON) ensures that the crane can operate safely. Liebherr quickly established itself as the industry pioneer in the field of boom technology. The TELEMATIK single-cylinder telescoping system pushes the various telescoping sections into the required lengths fully automatically. The long boom configurations in the cranes have brought revolutionary changes in the crane market."
The evolving market requirements for mobile machinery can no longer be met with mechanical solutions. Saurabh Kulkarni, Mobile Automation Expert, India, B&R Industrial Automation, points out, "OEMs must address the requirements of the European Machinery Directive and the topic of safety technology. The Machinery Directive requires manufacturers to carry out a hazard analysis and risk assessment using a risk graph in order to determine the necessary level for safety functions. Achieving necessary safety levels is no problem using programmable safety technology. However, many manufacturers shy away from programmable safety technology because they consider it too complex.ö
For a wide variety of safety functions, B&R has software blocks available that are pre-certified by T_V. Kulkarni adds, "The task of safety programming itself is thus reduced to simple configuration and linking of the safe software blocks via ladder diagram. The machine manufacturer then only has to prove to T_V that this work has been carried out in accordance with the guidelines for safe development. This drastically reduces complexity, workload and certification time. Our controllers for mobile cranes are already designed to support PL e or SIL 3 safety levels. To avoid the added cost of developing safety solutions in-house, many OEMs seek assistance from a reliable technology partner such as B&R."
Monitoring and control
Tracking the performance of a machine is equally important for its enhanced productivity. The digital technologies and automation have evolved in cranes market also to support with the much needed monitoring and control solutions. Having an understanding about your equipment performance on the field definitely provides an added advantage to OEMs. This is only possible if control system provides open connectivity solutions enabling ease of remote access, monitoring and diagnostics. Unplanned crane failures on field usually results in loss of efficiency and productivity. These unplanned stoppages lead to enormous losses. Kulkarni explains, "Monitoring equipment using control technologies helps improve productivity and reduce unplanned downtimes. Technology solutions such as predictive maintenance, remote access and monitoring help in improving equipment availability, thus, improving productivity of cranes. Real-time remote logging of critical data helps OEM to understanding and track equipment performance over a period helping him identifying issues or deviations earlier."
"LICCON is the most modern computer system in the world for controlling and monitoring mobile cranes. The crane control with integral load moment limiter (LML) meets the highest safety standards," claims Chandra.
Maintenance imperative
Mobile crane manufacturers are all too familiar with the dilemma: How does one improve productivity and increase equipment availability at the same time cutting back on maintenance costs? The answer appears to lie in advanced strategies like condition-based or predictive maintenance. Reactive and preventive maintenance were primarily prevalent, however, these techniques were mostly based on experience and involved incurring higher costs with no clear reduction of unplanned downtime. So, mobile crane OEMs moved to condition based or predictive maintenance, which are automated and digital solutions for effective maintenance of equipment.
Kulkarni elaborates, "Condition-based maintenance makes it possible to acquire, process and assess data related to the health of machinery and equipment - continuously and with a high degree of precision. This information helps identify potential sources of malfunction and damage in advance so that corrective action can be scheduled for a time when it is convenient. Condition-based maintenance involves evaluation of isolated data, such as vibrations, predictive maintenance goes a step further. All available data is pooled together and processed automatically to make even more precise predictions about the remaining service life of components. Mobile cranes benefit immensely from these digitised solutions for ensuring higher availability and productivity of the equipment."
New products
Mobile crane OEMs have introduced new products and solutions in the recent years as and when the industry demands. In the past few years, ACE has expanded its product portfolio with the addition of next-generation innovative and intelligent cranes. Agarwal explains, "We are the pioneers of NX-series multi-activity cranes which include NX360¦ slew-cum-pick-and-carry (20T) crane, NXT-15T pick-and-carry crane combined with a telehandler and NXP pick-and-carry crane-cum-aerial work platform which is hydraulically operated from the top. Further, we have also launched 45T and 55T truck cranes on dedicated chassis concept for the market. We intend to take our truck crane offering up to 130T so that we are able to cater more than 80 per cent of the customer needs in this segment. Similarly, in crawler cranes segment, currently we offer cranes in 40T and 75T capacity and intend to take it up to 160T in near future."
Bhatia adds, "Mobile cranes from TIL are equipped with the very latest in safety features, viz, proximity sensors, load moment indicators, rear-view camera, etc. Our cranes are fuel-efficient and meet the latest emission norms. We also have intelligent micro-processor controlled booms in our range of 80T truck cranes to enable boom extensions as per different pre-set sequences for increasing the lifting capacity of the booms."
In tyre-mounted cranes segment, Schwing Stetter offers cranes from 25 tonne to 1,600 tonne comprising truck cranes, all-terrain cranes and rough-terrain cranes. Tyre-mounted cranes are popular due to high mobility, lesser cost of transport and lesser assembly time. Sakthikumar elaborates, "We have launched unique all steer 85-tonne truck crane QY85KA_Y in India and a well differentiated 85-tonne crawler crane XGC85 with free fall functionality. We have also introduced 350 tonne all-terrain crane for metro/wind mill application, 220 tonne all-terrain crane for erection jobs. In the near future, we plan to launch 450 tonne all-terrain crane for metro and wind turbine erection requirements. Market shall also experience XCMG's new 60-tonne and 80-tonne truck cranes in the fast moving segment of the market.
Chandra says, "Considering the current market demand in India, Liebherr has come up with a few novelties in 2019 like mobile crane LTM 1110-5.1, LTM 1230-5.1 and LTM 1650 -1.1, i.e.110T, 230T and 650T capacity all-terrain crane and crawler crane LR 1800-1.1, i.e.800T capacity and rough-terrain LRT 1090-2.1 and LRT 1100-2.1, i.e. 90T and 100T capacity."
Operator skill development
ACE has its dedicated training centre based at Faridabad for providing operation and maintenance training to technicians, maintenance supervisors, service engineers and service managers of its dealers and distributions. According to Agarwal, ACE Training Centre is now an approved training partner of Infrastructure Equipment Skill Council (IESC) and is contributing to the government's Skill India initiative by being registered with CII-Skill India. "We are leveraging this partnership to set up training facilities across the country. We will commence our operations by establishing the first centre in Delhi very soon and have further plans to implement the same across the country," he explains.
The TIL Training Department offers a range of developmental training programs that are tailor-made to meet business as well as individual training needs. "We are committed to actively enhancing the technical and operational capabilities of operators through these training programs, says Bhatia.
Sakthikumar elaborates on the skill development initiatives, "Already, we are training the operators at the site. We will be soon starting the training program under IESC, to certify and skill the operators in handling the cranes."
"Liebherr is the strong supporter of "Skill India" initiative by our Prime Minister," says Chandra. He adds, "We are planning to start operators training in India. The operator training shall be provided together by our factory in Germany via Liebherr India and "Skill India" authorised body."
Rental scenario
Rental market has always been a major contributor to the growth of the mobile cranes market. Madhavan points out,"Hirers might account for around 75 per cent of the overall sales in this market. This share of hirers is expected to continue as the requirement for Material handling is specific and not throughout the entire life cycle of the project. There are even third-party companies who are developing rental platforms, which mirror the services of Uber, to help customers and equipment owners to deploy machines more effectively. Especially in the lower tonnage category, there is a lot of competition in hiring with supply of equipment surpassing the demand."
How to empower rental market? Madhavan adds, "Rental market for equipment, per se, needs some intervention from the government at a policy level. Companies should be encouraged to deploy leased/rental equipment, thereby reducing the overall capex for a construction company. India has traditionally been an outright equipment purchase market for project requirements. This could change with change in customer behaviour, coupled with stressed assets. Consequently, leasing options with its associated tax benefit opportunities are becoming more attractive. There are indications from finance companies that the market is becoming more receptive to alternate financing options."Agarwal sees rental market as a major contributor to ACE's business growth. He says, "Rental industry is the backbone of our trade. We promote and support individual hirers and rental companies by first finding a work order from the main contractor for the rental industry and then provide our solution which fits their requirement. We are promoting small hirers and people who want to become machine owners by supporting them in getting the work order and then in getting the equipment funded."
Bhatia is of the view, "The rental segment constitutes 90 per cent of the market. Institutional buyers nowadays are hesitant to undertake new capex and would rather hire it out. The rental market for mobile cranes thus presents a sizeable opportunity for us and it is expected to grow bigger in the days to come. For the last few years, TIL has been expanding its footprint in this segment and plans to further strengthen its focus."
Sakthikumar sees the rental market grow in the future at an even higher percentage than what it is now. He adds, "The rental customers are well informed and aware of what is required in their products. We are designing special cranes to meet their special requirements. We recognise machine availability as one of the key concerns of rental customers. We are fully ready with the infrastructure to provide excellent after-sales support in terms of providing support for service and spare parts."
Sachdeva highlights, "Equipment rental companies and equipment manufacturing companies are not only major contributor to the growth of mobile cranes market, but also the backbone of the India's infrastructure growth and development. The health of equipment sector is a true indicator of the health and pace of infrastructure sector. The equipment rental market scenario is upbeat after Union Minister of Road Transport and Highways, Nitin Gadkari announced an investment of Rs 15 trillion for highways sector and declaring that there was a need for a separate financial arm for the roads sector for funding the projects."
On the other positive indicators, he adds, "There is a demand for new technology machines fitted with artificial intelligence and GPS monitoring devices, and consequently good rental tariffs are positive indicators for the rental market."
Chandra points out, "There is a significant drop in rental rates over the last couple of years, partly due to intense competition and the large quantity of machines flooding the market. There are too many rental companies with crawler cranes and the rates have come down substantially. The direction where the Indian crane demand and rental market is actually continues to remain mixed." He adds, "However, hiring rates are expected to remain stable predicting the upcoming projects pushed by the current government. This can be assessed from the fact that majority of the medium and large size crane hiring companies are open to acquisitions of both new and well-maintained used mobile and crawler units."
Opportunities galore
For mobile cranes, the opportunities lie in the development of India"s infrastructure sector. Says Bhatia, "We expect significant opportunities to arise for mobile cranes from a range of sectors, viz. oil and gas, cement, fertiliser, metro, renewable energy (wind and solar), railways, etc."
Sakthikumar says, "We believe crane market size shall see sizable increase on the back of new projects undertaken simultaneously across India, fleet modernisation by the industry and cranes with special features which meet particular application requirements. We have planned to indigenise but currently our priority is setting up the greenfield facility for earthmoving machinery. However, in the short to medium terms, we will be indigenising components to make the product competitive."
Sachdeva elaborates on the growth opportunities, "With the surge in road construction, expansion of metro network across cities and the regional rapid transport system (RRTS), demand for mobile cranes is likely to rise. The National Capital Region Transport Corporation alone plans to develop eight RRTS projects. This is an opportunity to upgrade the fleet to new one and earn, as the vintage cranes are gradually becoming obsolete owing to the requirement of new technology cranes for meeting the project deadlines. This is likely to pave way for Chinese manufactured mobile cranes such as those from XCMG, SANY etc and ACE among the Indian companies, because of their price effectiveness and new technology."
Chandra adds, "Cranes will be required for the metro projects, general erection as well as for heavy lifts involving lifting and lowering of TBM sections through the shafts. Greenfield nuclear power projects are also expected to be a major driver for medium capacity mobile and crawler cranes in the medium term. The government is laying major emphasis towards development of nuclear power projects across the country."
Meeting challenges
When we talk about challenges, it can be from various fronts. Bhatia says, "With the series of big-ticket infrastructure projects, there is a likelihood of demand shifting quickly in favour of high capacity mobile cranes, the segment where TIL is a dominant player. When that happens, the challenge will be to address the increased demand with the right products, supported by prompt aftersales service and easy availability of spares. The other major challenge is that a large section of the market is still dominated by used cranes. A shift is underway, but it will be a few years before there is some noticeable impact on the demand for