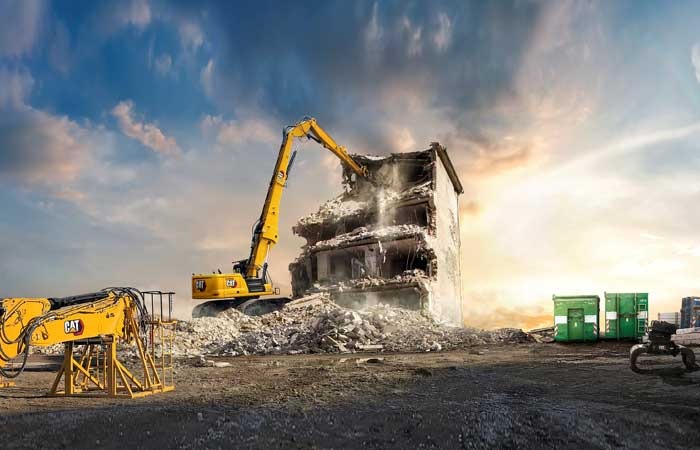 Demolition, commonly referred to as razing or wrecking, is the planned tearing or pulling down of a building or other man-made structure. For every demolition project, the machinery or equipment is chosen according to the building size and its surrounding environment. Low-level demolitions involve small buildings such as houses and duplexes, whereas high-level demolitions involve high-rise buildings, dams, bridges, and bigger structures. Some widely used demolition equipment include excavators, wheel loaders, backhoe loaders, bulldozers, cranes, wrecking balls, pulverizers, and shears, among others.
The demolition equipment market in India was experiencing growth due to various factors such as urbanisation, infrastructure development, and the construction industry's expansion. The increasing need to demolish old structures and buildings to make way for new developments and modernisation projects drove the demand for demolition equipment. The market for demolition equipment in India is influenced by government infrastructure projects, real estate development, and the growth of the construction sector. Additionally, environmental concerns and regulations surrounding safe demolition practices also play a role in shaping the market.
In coming years, the demand for demolition equipment is projected to increase as a result of expansion in the construction industry and considerable initiatives to demolish very old and inefficient multistorey structures. With the increasing urbanisation and industrialisation, economies are launching many projects and more smart cities which is expected to increase the sale of demolition equipment.
On the other hand, the current conflict between Russia and Ukraine is causing commodity prices to fluctuate quickly, which is likely to have a favourable effect on the mining industry. In addition to producing vital raw materials like neon, palladium, and platinum, Russia and Ukraine are major producers of metals like nickel, copper, and iron. The international sanctions imposed in response to the Russian invasion have helped drive up the price of these metals. The mining industry is increasingly in the spotlight as the global supply chains attempt to keep up with expanding demand, which is driving higher demand for demolition equipment.
Excavators are among the most commonly used demolition equipment and are often used along with bulldozers and loaders. These are high-power machines consisting of various smaller parts including boom, stick, bucket, and dipper. Hydraulic excavators are used to demolish small buildings, while long-reach excavators are used in pulling down bigger structures. Backhoe loaders are among the most widely used loaders equipped with hydraulic breakers and used for razing tough materials, such as concrete or rock. Bulldozers are categorised into heavy-duty equipment and are employed for demolition tasks ranging from ripping, dozing, and grading, to land clearing and cutting of roads.
Growth drivers
Asia Pacific market is expected to register the fastest revenue CAGR over the forecast period. Rapid urbanisation, a significant rise in construction activities in developing countries, including India, China, Malaysia, and Indonesia, and increasing government investments in the construction sector are major factors driving the APAC market growth. High risks of natural disasters like earthquakes in countries, including Japan and Indonesia, and growing demand for advanced construction and demolition equipment in these countries, further contribute to positive impact market growth.
ACT has been the gateway for many demolition technologies to enter India. In 2006, Mohan introduced silent demolition technology to the country by using a hydraulic concrete crusher mounted on a Volvo excavator. This was the first time a crusher was used with an excavator in India's demolition industry. In 2008, he brought over the first Volvo Ultra High Reach Excavator, marking the introduction of this technology in Asia. "Slowly we are starting to move away from manual demolition towards a much safer and more efficient mechanical way of working," believes Mohan.
"However, using excavators and attachments in Indian demolition is still a relatively new concept because there is not enough awareness of the technology available," says Mohan. "With the combination of the redevelopment of walled cities, old infrastructure waiting to be replaced, and plans for enhancing the use of land, there is great potential in this market, and so it is vital that we are up-to-date with the latest demolition techniques. That's where Volvo CE comes in. The machines are really starting to transform the demolition industry now, but there are still challenges to overcome."
Rise in autonomous machines
The switch to robotics has been a hot topic in the manufacturing industry for decades. When the persons come out, the robots move in. Robotic demolition has been soaring in popularity. Demolition includes razing structures, but a growing demand for demo comes from retrofitting and repurposing existing structures. That can be done by an operator on a skid steer with an attachment, but dust, fumes, falling debris, and other hazards have driven contractors to seek out other options to keep their workers safe; enter robotic options. There are also demolition settings where the fumes and oxygen consumption of diesel- and even propane-powered equipment are not allowed due to worker safety. Electric robots answer all these concerns.
Revenue growth of the global demolition equipment market is significantly driven by rising safety concerns across construction sites and increasing adoption of technologically advanced demolition machinery. Over the past years, demolition equipment has been advanced with the addition of cutting-edge features such as rotational hydraulic shears, silenced rock-breakers, tiltrotators, and multi-function processors.
Modern-day demolition machinery includes advanced and highly durable equipment such as extreme-duty auxiliary hydraulic kits and abrasion-resistant wear strips. Presently, manufacturers are focused on enhancing their products in terms of telematics and electromobility. Hence, the growing use of remote-controlled and AI-enabled machines in construction and mining sites, high demand for self-driving/autonomous machines, and rising adoption of zero-emission electric demolition machinery due to increasing environmental concerns further bolster market growth.
Global demolition equipment market growth is substantially restrained by several unfavourable factors. Mechanical issues in the equipment could result in the uncontrolled collapse of the structure, causing fatal injuries to operators and workers. Other risk factors associated with demolition equipment, such as increasing cases of hearing loss due to loud noise from machinery, respiratory ailments due to direct exposure to dust and debris, and risk of electric shock or fire are expected to limit market growth significantly. Moreover, rising costs and high maintenance of advanced demolition machinery may cause a slowdown in market growth to a certain extent.
Selecting demolition excavator attachments
Choosing the proper demolition excavator attachment for your job is crucial to improving efficiency and reducing costs.
One of the most used attachments on demolition and cleanup excavators is a hydraulic hammer. Excavator operators use them to break rock for sewer lines, basements and so on, and demolition guys use them to break up large chunks of concrete. Putting different bits on the hammer provides a lot of flexibility — underwater demolition, breaking concrete and breaking rock all require different bits. On demolition sites, hammers help speed up processing by making chunks of debris more manageable for continued processing and separating.
A concrete processor takes the hammer one step further. It helps you do more of a controlled demolition by allowing you to slowly smash the concrete and whittle it down. A processor cleans a lot of the concrete off of the rebar, essentially prepping your scrap. Some brands even allow you to put different sets of jaws on them. That allows you to switch to shear and cut steel, for example.
Hydraulic thumbs are incredibly versatile — they can remain on the machine while you dig, plus you can grab and move material for sorting (concrete from wood, for example). Hydraulic thumbs are also great for demolishing and loading small structures, and even tearing down and loading trees on a site. Shears are perfect for when you take on bigger projects. Not only are they ideal to tear down a structure, but to cut and processing steel for recycling, too.
Sunil Newatia, Chairman, Suretech Infrastructure, sums up, "Hitherto, customers were using conventional methods for demolition work but increasing demand and the pressure of fast execution has compelled contractors to look for equipment that can deliver better results. Demolition attachments like crushers, pulverisers, crusher buckets, high-performance breakers, vibro rippers, etc, are now in demand. Worldwide, excavators are used for a variety of applications; this was not so in India as here excavators are primarily used for digging, with a beaker for quarrying. We have been promoting attachments for the last ten years and educating customers on optimising the utility of an excavator. We can now see the change in the general mindset and the willingness to try out new methods and equipment."