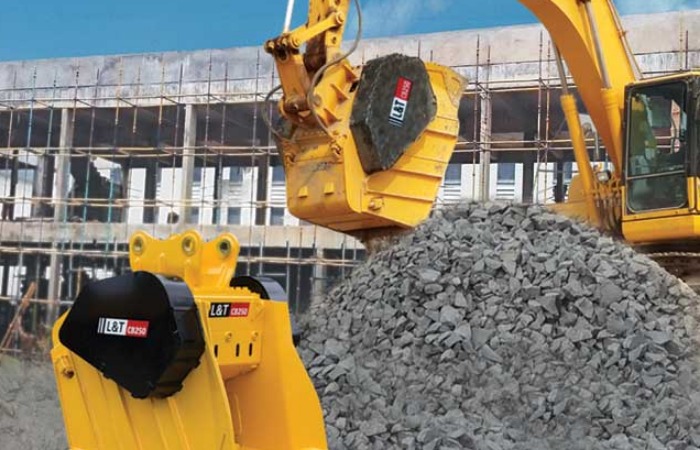 The construction machinery attachment market is anticipated to register a CAGR of about 4 per cent during the forecast period (2020-2025). The driving factors of construction machinery attachment market are increase in construction projects like malls, multiplexes, hotels and the government spending on projects to enhance the infrastructure in the country like, construction of flyovers, airports, construction of highways and industrial zones for increasing economic activities in the region.
Increase in number of smart city projects is enhancing the demand for the market. A smart city has amenities like roads, metro rails, hotels, hospitals etc. During phase one in India 100 cities are included in the project and the number of cities is expected to go up during the phase 2 of the project. With the increase in urbanisation rate all around the world. The cities are expanding, and this require clearing the forests and other obstacles like mountains and rocks. During the forecast period the urban population is expected to grow with a rate of around 2 per cent.
Common carriers include skid steers, excavators, and backhoe loaders. Also referred to as work tools, they attach to the base machine using a coupler or quick coupler. Hydraulics typically control the tool from the cab, and often quick couplers can be actuated from the cab, keeping operators safe during the process.
Caterpillar make a range of different attachments, including tiltrotators. Cat demolition and sorting grapples are designed for high-volume production loading and precise sorting. The shell open wide and maintain their grip on large loads. The grapple can also pick, sort and place small materials. Dirt and other fine material are screened through skeleton and perforated shells, which also give operators good visibility to the load. A large-bore cylinder design delivers high clamping force and fast cycle times. Operators can also work close to container edges and walls. Models in the lineup are the G200 GC, G300 GC and G300.
Xtreme Duty heavy lift hydraulic pallet forks by construction attachments can be adjusted from the cab for width between the forks. Minimum fork width is 12 inches and max width is 44 inches. The forks move in and out simultaneously. Fork length is 48 inches. Lifting capacity is 5,500 pounds. The forks come standard with factory-installed couplers. Ball fork sleeves are optional. They are compatible with skid steers and compact track loaders.
Takeuchi has started a new attachments program that offers more than 40 different Takeuchi-branded tools for the company's compact excavators, compact track loaders and compact wheel loaders. The five categories of attachments are land and vegetation management, construction management, agriculture management, snow removal, and brooms. The company matches the attachments' flow requirements and other operating specs to the corresponding carrier machines.
Brokk, the world's leading manufacturer of remote-controlled demolition machines, offers a new steel cutting tool for mid-size Brokk machines. The MC300 multi cutter manufactured by Brokk's sister company, Darda, offers the highest cutting force with low weight. It promotes safe and efficient cutting of steel material, utility lines and cables in a variety of industries, including demolition, soft gut/surgical demolition, remediation, construction and nuclear.
Doosan hydraulic quick couplers come standard with a lift eye so operators of the company's crawler excavators can lift and place objects. Operators can engage the excavator's Lifting Mode to increase pump torque, lower engine rpms and enable an automatic power boost when lifting pipes or concrete barriers. The coupler is built with extra high-strength and abrasion-resistant steel.
Genie's new 13-foot platform enables two occupants to work at height with its 600-pound capacity. The platform is compatible with the company's S-65 XC telescopic boom lift. The company says the 3-foot-wide platform maneuvers easily in tight and restricted spaces and gives operators a more comfortable workspace. The platform has 14 lanyard points, six more than the 8-foot platform. It also uses the same digital load-sense system as all Genie XC booms. It can be transported with a standard-width trailer due to its off-center transport lock.
B&B Attachments continues to drive its innovative solutions within the material handling industry by introducing its new box turning attachment. Several features immediately make the new produce box turning attachment a sound investment for the user. This high visibility unit with its robust construction is a low maintenance solution to handling and rotating a range of different box sizes. This attachment is intended exclusively for the transport and lateral discharge of produce and Dolav boxes. It improves productivity through speed of rotation and elimination of dropped loads.
John Deere's Worksite Pro pallet fork frames can handle forks rated up to 6,200 pounds. The frames are available in 45- and 60-inch models and can be used on Deere G- and E-Series skid steers, K-II and K-Series compact wheel loaders, and on competitors' machines. Features include a brick guard design for added strength, smooth surfaces to prevent load damage and a load-securing "D" ring for transporting materials. The frames are designed to offer an unrestricted view to the fork tips. Angled side corners and steps allow easy, safe cab access.
Tata Hitachi's range of customized attachments meet the rigorous demands of several industry-specific applications. These rugged, world-class and resilient attachments – which include Rock Breakers, Quick Couplers, Super Long Reach, Orange Peel Grabs, Magnets, Crushers and Clamshells – find application across Urban Development, Inland Waterways, Irrigation, Demolition/Crushing, Material Handling, Metal Recycling, Mining, Tunnelling and many more.
Manitou's 360-Degree Rotating Fork Carriage is designed for handling materials in tight spaces and in complex positions. The attachment is compatible with the company's MRT 2150, MRT 2470 and MRT 2550 rotating telehandlers. The carriage features constant load-position and weight monitoring, adaptive overload control and no forward tilting when rotation is greater than 120 degrees and the boom is lifted over 9 feet 8 inches. The 47-inch forks have a capacity of 8,800 pounds front and 5,500 pounds rotated.
These attachments when bought separately with the standard machine can makes one's business ready for all type of construction projects.
BOX:
Attachments for Mahindra EarthMaster backhoe loader
Being a self-sufficient machine for almost all types of the construction jobs by itself. A backhoe loader is a proven diverse machine. It is the basic requirement of any construction site. Any construction project be it big or small cannot be think without a backhoe loader. This diversity of backhoe loaders can be multi folded with the addition of specific attachments for specific construction jobs. These attachments enhance the machine utility to even greater extent. The beauty of these attachments is the flexibility of attaching and detaching them as per the job requirements. We will explore some of the attachments which can enhance the utility of your Mahindra EarthMaster and can give you more out of your machine.
Rock Breakers: One of the major and widely used attachment in construction machinery are rock breakers. By the word itself we can understand that these are used to break rocks. The attachment is majorly used in stone quarry and mining application. They can also be used for demolishing purpose, breaking roads for pipelines, breaking hard surface for mugging top strata of land. The breakers are easy to install and remove. And the machine can work half time with backhoe bucket and half time with breaker. Thereby with an expert operator you can get the outcome of two machines from one Mahindra backhoe loader having breaker and backhoe bucket changed as per requirement. With breakers it is advisable to reduce the hydraulic service interval as per the usage of rock breakers with any construction machinery.
Auger: It is an attachment which resembles a drill but is bigger in size and is operated by hydraulics. The role of auger is to drill a hole in construction sites mainly for pillars, base of a building, to check the material below where the construction is taking place. These can be mechanical also which are used manually. They are used in almost all construction projects, real estate agriculture, roads, railways, electricity department etc.
Dozer Blade: It is a specific attachment built for dozing of loose materials. This dozer blade attachment is not so famous as the loader bucket can also perform the task of dozing. But in specific applications where the material is loose and abrasive companies design dozer blades which can be put in place of loader bucket and then your backhoe loader can be used as a dozing equipment. We need to take care that backhoes are generally not meant for dozing.
They are meant to lift the things and then move around. Hence the attachment cannot replace the use of bulldozer where the material to be dozed is very heavy. A dozer blade can be used in levelling, back filling of excavated area, ash handling, agriculture, land development, ice removal in colder regions, etc.
Forklift: Typically, a forklift is a combination of electrical and hydraulic mechanism. The idea of forklift is to lift things to be placed on higher levels. Forklifts are mainly used in assembly lines, factories, big malls, godowns, storage area etc. But when the material you are handling becomes heavy and big you need a bigger forklift.
Jib cranes: Jib crane is a local substitute of bigger crane. It is used to lift not very heavy loads but loads which cannot be lifted by humans and require machines to lift. They are substitute for random crane works at sites where cranes are not that frequently used. Hence the project cost is saved by not purchasing an extra equipment for lifting job which comes sometimes and random. Where there is requirement of full time lifting a separate crane must be purchased. The attachment can be mounted in place of loader bucket.
Ripper tooth: As the name suggest it is an attachment which is used to rip the hard surface area. Majorly used in the road application to remove the old road surface when it is to be replaced with new roads. The ripper tooth is specifically manufactured with harder material and is less prone to abrasion. It is an extremely specific tool and is used in some specific construction sites only.
Six in one bucket: it is a form of loader bucket mainly used where the application requires many operations in the same job sites. It can perform digging, loading, dozing, grading, backfilling and grabbing six such jobs which a normal bucket cannot do. Hence the name evolved as 6 in 1 bucket. Can be used in all applications and industry likes road, real estate, quarry, mines, agriculture, factories, etc. this type of bucket is very famous in government organisations like municipal corporations and PWD.
Ditch cleaning bucket: This ditch cleaning bucket is majorly used to clean the canal, ponds, city drainage or any waterlogged lanes. The bucket is slightly broader and has sieves on the bottom surface which allows water to pass through and selects the mug to be removed. It is very much preferred in irrigation department and local municipal corporations. Also, can be used in flood affected areas.
Pole erector: A special pole erector attachment designed for PWD, electrical department to make their work easy. The contractor having this attachment will finish the layout of electricity supply through poles in no time. This attachment is unique and application specific.
Conclusion
Mahindra EarthMaster when combined with all these attachment makes it almost impossible to not able to do any construction jobs. The attachment when included in the machine makes it a complete package to any project. It also substitutes some of the machinery which do not have main line jobs in project sites like cranes, augers, forklift and saves a lot of cost involved in the project. When wisely selected these attachment helps in making construction project more profitable.