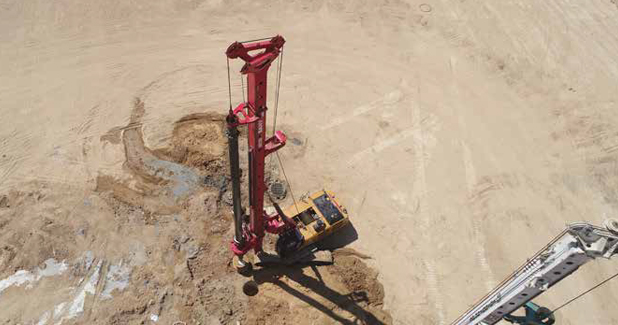 Upcoming infrastructure projects in metro rail, bridges, railway and irrigation are going to drive the demand for foundation equipment in the coming years, writes
Karan Chechi.
Foundation equipment, also known as pile driver equipment, is used to drive piles into soil to provide base support to bridges, buildings and other large infrastructures. A heavy weight is placed between guides allowing it to move up and down in a straight line. Once placed upon a pile, it is raised using diesel or hydraulics. Its components include diesel hammer, hydraulic hammer, hydraulic press-in, vibratory pile driver, piling rig, etc. In traditional foundation equipment, manual labour and animals are used to lift heavy loads. With the advent of new technologies, various methods such as diesel hammer, hydraulic hammer, and hydraulic press-in are used to raise the weights.
A piling rig is an important equipment used in construction projects. It is a machine used for piling in foundation engineering, especially for drilling in sandy soil, clay, silty clay, etc. Piling rigs are majorly used in diaphragm walls, foundation projects, foundation reinforcement, and cast-in-place piles. The availability of piling rigs with varied specifications makes it appropriate and apt to fulfill the various construction project requirements.
Demand drivers
The demand for foundation equipment in India is backed by continuous effort for modernisation of infrastructure. Major demand for foundation equipment comes from construction projects such as roads, metro, railway, power plants, special economic zone, mining and water and irrigation sector. In India, the rapidly growing urban population i.e., 34 per cent in 2019 compared to 30 per cent in 2010, is generating the demand for high rise buildings (due to shortage of land), metro, rail transport and other infrastructural developments, thereby accelerating the foundation equipment market in India.
Due to the long coastal belt (7,517 km) and difficult soil procedures, the demand for piling rigs with depths of up to 30 m and pile diameter between 0.5 to 0.8 m is increasing rapidly. For instance, in 2019, IMT launched AF 125 piling rig for Indian market, suitable for different applications, for use on different soil strata from soft soil to hard rock. In large projects such as bridges and dams, more powerful machines are being used for piling rigs. Moreover, India's new focus on energy production from renewable sources such as wind and solar energy is likely to accelerate the demand for foundation equipment in India in the near future.
Meeting demands
Sany Heavy Industry (India), MAIT India, Bauer Equipment India, Casagrande (India) Piling & Geotechnical Equipment, Thyssenkrupp, PRD Rigs, Swing Stetter, Ashok Industries, and GeTech Equipments, are some of the players competing in the Indian market on various grounds such as customer base, geographical presence, technology, repair and maintenance, product portfolio, etc. To get in line with the increasing complexities and modernised infrastructure demand, the market players are coming up with latest technologies in foundation equipment such as piling equipment with satellite GPS and land positioning systems.
Several government initiatives such as development of urban infrastructure including metro rail projects, ports, industrial corridors and freight corridors are anticipated to boost infrastructural development in India. Government of India in the Union Budget FY2020-21 proposed to provide Rs 1,700 billion ($25 billion) for expanding and strengthening transport infrastructure. The focus of this will be to improve the connectivity by train, air, water and roadways. In February 2020, the National Highways Authority of India (NHAI) announced to complete 10 lots of highway bundles of more than 6,000 km by 2024. Additionally, the focus on smart buildings is constantly increasing in India, which is majorly attributed to the rising population, increasing urbanisation and improving lifestyle. Also, demand for affordable housing is increasing with rising income levels. All these are expected to provide a promising future for the foundation equipment market.
Karan Chechi is Research Director, TechSci Research.
INFRA DEVELOPMENT: GOVT INITIATIVES
Launch of 100 Smart Cities in 2015 and "Housing for All" by 2022.
In Union Budget 2016-17, government announced the exemption of service tax for construction of houses up to 30 sq m in metro cities and up to 60 sq m in other cities.
In Union Budget 2020, Finance Minister has proposed to extend tax holiday for the development of affordable housing projects.
SOME OF THE ONGOING METRO PROJECTS
Ahmedabad Metro Project
Network: 6.5 km
Stations: 6
Corridors: 1
Started on: March 2019
Expected completion: First phase in 2023
Noida Metro Project (Phase II)
Network: 14.9 km
Stations: 9
Corridors: 1
Started on January 2019
Expected completion: 2022
Delhi Metro IV Project
Network: 103.9 km
Stations: 29
Corridors: 3
Deadline: 2023
UPCOMING PROJECTS
Teesta-IV Hydro Electric Power Project (Teesta-IV HEP)
The project is awarded on build, own, operate (BOO) basis to NHPC. The project is planned to be constructed across Teesta river downstream of confluence of Teesta and Runchu near Chanday and Hee Gyahthang villages in North Sikkim. The project has obtained clearance from the Environment and Forest (Stage-I) and the clearance is pending from National Board of Wildlife, Government of India. Construction of the project is expected to start in June 2020.
Thermal power projects in UP
Uttar Pradesh government has announced to add more than 8,500 MW of thermal power in public sector by 2022, which includes greenfield power plants 1,980 MW in 2020, 3,960 MW in 2021, and 660 MW in 2022.
Moreover, some of the projects which are still pending on account of awaited government approvals can offer ample opportunities to foundation equipment players. For example, Dibang Dam, a hydropower project in Arunachal Pradesh, with estimated cost of more than $3.7 billion is under planning process. This dam is aimed at preventing floods in the downstream area. Similarly, Mahanadi-Godavari Flood Moderation Project, Pakal Dul Dam, Subansiri Lower Dam are some other pending construction projects in India.
PILING RIGS - SPECIFICATIONS
Rated engine power: 108-450 kW
Output torque: 60-400 kNm
Maximum pile diameter: 1.5-4 m
Maximum pile depth: 60-90 m

PILING RIGS - CATEGORIES
Small-sized
Torque 60-100 kNm
Engine power 108 kW
Drilling diameter 0.5-1.2 m
Drilling depth 40 m
Middle-sized
Torque 120-180 kNm
Engine power 125-200 kW
Drilling diameter 0.8-1.8 m
Drilling depth 60 m
Large-sized
Torque around 240 kNm
Engine power 300 kW
Drilling diameter 1-2.5 m
Drilling depth 80 m