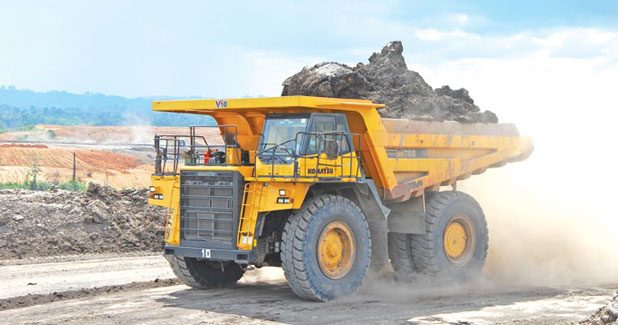 Bright prospects lie ahead for dumpers, but cost-effective conveyors may pose serious competition in the future, finds Charu Bahri.
Industry voices affirm a turnaround has happened in the off highway dumper segment, a key class of mining equipment.
?Easing mining restrictions and initiating the renewal of iron ore leases come as a breather for the Indian mining industry; these measures have led to an uptick in tipper sales,? says Sominder Singh, Vice President Domestic Sales, Product Management & Network, Daimler India Commercial Vehicles.
?Overall the M&HCV segment has posted positive growth in FY 2016; within this the HCV (16T+) segment, which accounts for almost half of total M&HCV (truck) sales is witnessing strong demand on the back of replacement demand and to some extent capacity addition by organised fleet operators,? opines Rajesh Kaul, Business Head, IMHCV Trucks, Tata Motors Ltd.
?The market for commercial vehicles is back after a long period of downturn,? says Vinod K Dasari, Managing Director, Ashok Leyland. ?Overall buoyancy in the economy and strong prospect of market recovery bode well for the industry.?
At Ashok Leyland, half year sales of M&HCV stood at 51,337 numbers versus 33,115 a year before. According to Dasari, this growth reflects the company?s focus on the profitability of its customers and channel partners. ?Investments in new products; focusing on product design, network growth, and service capability have helped boost results,? he said.
An encouraging sign is that providers expect demand to continue to chart an upward trend.
?Continuing reforms to promote investments, developing infrastructure, reviving mining and tax reforms would help sustain demand in the medium and long term, for a real turnaround of the sector,? says Kaul. ?With mining operations commencing in the eastern belt, we are expecting good demand from states including Chhattisgarh, Odisha and West Bengal.?
Coal mining: The biggest future driver
Ambitious plans to expand coal mining to one billion tonne by 2020 present exciting opportunities for providers of high capacity dumpers. So far 42 coal blocks have been auctioned by the government, of which 10 have already started operations. More clearances will follow in 2016.
?Current and expected growth in coal mining and other mining areas will help grow demand for on/off highway tippers. We expect to see growth momentum for tippers suitable for removing coal overburden in the second half of this year, when government clearances will start to come in,? says P Ravishankar, Executive Vice President, Sales, Marketing and Aftermarkets, VE Commercial Vehicles Ltd (VECV). ?India is short on power; its dependency on coal will continue to increase. The government opening up the coal sector to the private sector is a positive action. Speeding up infrastructure projects will also add to the momentum. We expect the tipper industry to reach more than 90,000 units by 2020,? opines Singh.
?With coal blocks being auctioned and reallocated, we expect greater opportunities for off highway trucks used for the transportation of coal or overburden ore, and hence a spurt in mining truck sales, both rigid dump truck and multi axle trucks,? says Ranjit Ravindran, Head, Business Development and After-Market Operations, Mining & Construction Equipment Division, Voltas Ltd.
Emergence of dumper-hauler combo solutions
Traditionally, coal mining involved the use of dumpers to remove the overburden in the shortest possible time to reach the coal. Thereafter, coal haulage mandated the use of rigid body mining trucks.
Innovation may disrupt this segregated product use.
?New tippers are delivering both haulage and dumping solutions,? says Ravishankar. He believes the complete engineering makeover of rigid multi-axle tippers in recent years is helping to grow acceptance for them.
Technically, explains Ravishankar, multi-axle tippers help fleet owners to reduce fleet size and carry more load per trip/per day. Strict overloading regulations enforced by different states for transport minerals to the end user/ports are spurring their demand. Rigid multi-axle tippers are effective and offer customers better cost per tonne/km.
To tap upcoming opportunities, VECV has recently launched Eicher PRO 8031XM 8x4 tipper with 330 HP in both rock body and box body options. It is designed for a variety of applications and operating conditions - overburden or coal transportation on flat roads as well as gradients, and both long leads and short leads. It features a fuel-efficient driveline, robust chassis, advanced telematics and world class cabin, to provide premium experience at value. VECV has also launched the PRO 6025T 6x4 220 HP in rock and box body options in different capacities. With this, Eicher is now fully equipped to address two varied requirements in the mining sector.
Opportunities outside coal mining
Mining segments other than coal are also expected to generate some demand for high capacity dumpers.
?Iron ore, bauxite, chromite, limestone and other mines jointly enjoy a sizable share of mining tipper sales. We also see these segments opening up. Some movement in the iron ore sector has already started, which we expect to increase by Q3 of FY 16. We also expect new infrastructure projects to spur construction and the demand for cement, and in turn, limestone mining,? says Ravishankar.
Impact of emission norms
Changing government emission regulations could also drive demand.
?We expect some increase in demand for BS IV vehicles in the short term, especially if rules regarding vehicles registered pre-2005 are strictly implemented,? says Kaul. Ravishankar believes the new norms may not grow demand on an immediate basis particularly for tippers operating in mines. ?Demand is more likely to grow for on highway trucks plying across India and in major cities where BS 4 has already been implemented,? he says.
Demand becomes more differentiated
As mining becomes more organised and new opportunities are rolled out, some customers are becoming more exacting about their requirement in terms of features, applications, etc. They are demanding high powered dumpers for deep mining, underpowered trucks for shallow mining, while premium trucks are finding their own niche.
?As mines are getting deeper, customers require equipment with higher horsepower/torque which can perform and deliver the required result,? opines Ravishankar.
To cater to such evolving demand, Tata Motors is working towards providing products for both deep and shallow mining and specialised products.
For instance, new Tata Construck commercial vehicles for heavy mining applications showcased at EXCON 2015 include the Tata PRIMA 3138.K 32 CuM box coal tipper, a specialty product for coal mining, and the Tata PRIMA 3138.K AT, a heavy mining vehicle with automated transmission.
BharatBenz offers a broad range of construction mining trucks; these are powerful workhorses that provide maximum productivity, superior power and torque to handle any tough terrain.
BharatBenz has recently unveiled the BharatBenz 3143, the first locally manufactured dumper for the deep mining segment, crafted for Indian usage patterns. Its launch marks the natural progression towards high-powered, cost-efficient mining trucks that will bridge the gap in an industry that currently offers premium trucks and trucks that are underpowered.
Mixed fleets: the way forward While discerning customers are growing the scope for niche products, the prospects for all sorts of dumpers looks good because customers base their purchase decisions on their overall operations and mining conditions.
?Generally, customers go in for a mixed fleet depending on the application, to optimise their overall cost of operations. So, premium as well as value products have a space in mining,? says Ravishankar.
?We are still more a price-conscious economy than a technology-oriented economy, with most customers choosing an equipment configuration based on the mining application and cost per production. Customers want technology as well as value for their money,? opines Ravindran.
?Where projects mandate higher-capacity excavators, 120T excavators offer greater fuel economy and operational viability, and are well matched by 100T dumpers. Otherwise, 60T dumpers are preferable for being more viable,? says GVS Narayana Reddy, Chief Operating Officer, VPR Mining Infrastructure Pvt Ltd.
Dumpers of 200T capacity are less viable to operate, therefore so far they are mostly being deployed in the government sector where margins are thicker, according to Reddy.
All the signs show that the Indian market for tippers is maturing.
?Instead of focusing solely on the upfront acquisition cost, customers are asking about the total cost of ownership, quality, performance and profitability over the lifetime. Customers? key priority is transporting heavy loads at the lowest possible cost and operating mines 24x7. So, ruggedness and reliability are essential as are higher uptime, different load bodies and capacities, higher fuel mileage and good aftermarket support,? says Ravishankar.
So there are plenty of positives to focus on.
Overland conveyors versus dumpers:
Which makes a better choice?
Conveyor belts are an efficient and environment-friendly way of transporting bulk material. ?By virtue of running on electricity, conveyors emit half the carbon dioxide emitted by diesel-driven dumpers,? says Soumitra Ganguli, Vice President - Technical Marketing and Business Development, Phoenix Conveyor Belt India.
Technically, conveyors can replace dumpers for ore transportation in almost every instance. Practically, this usage will depend on an analysis of the RoI of using conveyors versus deploying dumpers.
?Dumpers are usually suitable for transporting only upto 300 tph to 400 tph of mined ore over distances up to 7 km while conveyors are most useful for moving any quantity of ore over 5 km to 20 km,? says Ganguli.
Ganguli reckons the cost of transporting ore via a dumper is approximately Rs 35 per tonne for a distance of 10 km versus Rs 11 per tonne by a conveyor. So, on an average, a miner would save about two-thirds of the cost of transportation per tonne, for a distance of 10 km.
Conveyor adoption is growing. ?A cement company customer of ours has switched from transporting limestone from the mine to the crusher, through trucks, to using a conveyor belt in one of its leading facilities. In another unit, the same company has installed a conveyor to avoid using the railways,? says Smita Pandit Chakraborty, Managing Director, Phoenix Conveyor Belt India.
Industry trend setters are adopting ?in pit crushing and conveying? (IPCC), according to Ganguli.
Ganesh Jirkuntwar, Executive Director, Manufacturing, OCL India and Dalmia Cement East Ltd, explains why the company uses a 9 km long cross-country conveyor system for crushed limestone:
?By road, the distance between our mine and plant is 18 km. The road passes through several villages having a sizeable population, which practically means road transportation would face frequent stoppages, jams, etc. We have no direct control over a public road, whereas the conveyor belt operations are fully under our control. Besides, conveyors are non-polluting and almost six times cheaper to operate than a dumper, for the same quantity of material and the same distance.?
An overland conveyor makes sense where the distance between the source of the material and its end use exceeds 1 to 2 km, adds Jirkuntwar. ?Conveyors are also useful in hilly and uneven terrains where laying a road or rail is difficult, or where the availability of land to construct a road is not feasible or economical.?