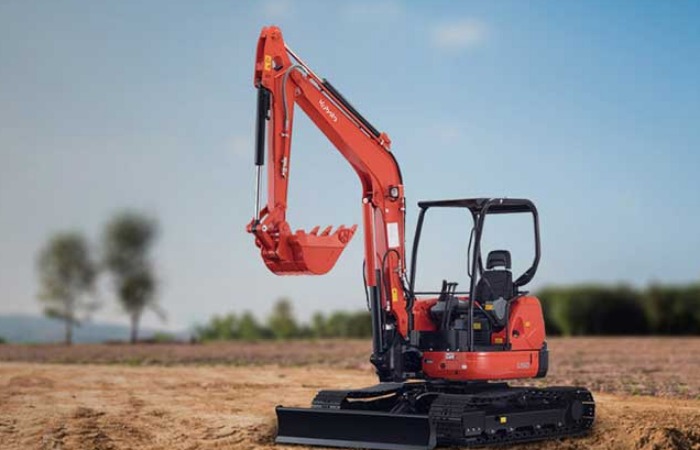 According to a sales and forecast report by Off-Highway Research, the mini excavators and skid-steer loaders (SSL) segments of the construction equipment industry are going to experience a substantial growth, with an increase of 70 per cent and 36 per cent respectively projected for the period of 2021-2026. This indicates a significant expansion of the market for these types of equipment. With numerous infrastructure projects in progress, there is a considerable demand for a large quantity of equipment across various sectors.
Consequently, the report maintains a positive outlook on sustained demand for all types of equipment, driven by initiatives such as the National Infrastructure Pipeline (NIP), GatiShakti, National Monetisation Pipeline (NMP), and other government infrastructure programmes. However, Original Equipment Manufacturers (OEMs) face challenges due to cyclic turmoil, global events impacting demand, supply chain issues, and rising prices. Apart from the mini excavators and SSL segment, telehandlers are also going to demonstrate a noteworthy growth, with a significant increase of 58 per cent expected during the 2021-2026 period. On the other hand, other segments of the construction equipment industry fall within the less than 20 per cent growth category.
The above forecast clearly suggests that the mini equipment segment is going a witness tremendous rise in the next five years as compared to other construction equipment sales.
Wide offering
The mini construction equipment market in India has been witnessing significant growth in recent years due to various factors such as urbanisation, infrastructure development, and the increasing demand for smaller-scale construction projects. Factors such as increasing urbanisation, infrastructure development, and government initiatives to promote affordable housing and small-scale construction projects have contributed to the market's expansion. The demand for mini construction equipment has also been driven by the need for compact and versatile machinery that can efficiently operate in congested urban areas and smaller construction sites.
The mini excavator market in India is currently at around 4 to 5 per cent of the overall excavator market and has been growing year on year.
E. Moses, Executive Vice President, Division Head, Kobelco Construction Equipment India, feels that compact machines like mini excavators are in high demand due to rapid urbanisation since they may be used by customers for a variety of projects of all sizes and sorts. He said, "This is due to the fact that mini excavators are very versatile and can be used with a wide range of attachments. In urban and semi-urban locations with limited space, these machines can manage solid waste; help with pipeline building, trenching operations, etc."
"Cutting-edge technology from Kobelco mini excavators sets the bar for contemporary construction in terms of both quality and performance. Kobelco manufactures wide range of mini excavators ranging from 0.8 tonne to 6 tonne. Since 80 per cent of mini excavators are sold between 3 to 4 tonne in India, Kobelco offer two models SK30SR-6 and SK35SR-6. Both excavators are equipped with word renowned Yanmar engine having power of 18.1 kW. Bucket capacity of this equipment is 0.12 cum. These mini excavators feature the latest hydraulics and zero-tail swing with superior ergonomics, performance, and safety features," said Moses.
A leader in the mini excavator category in India, Tata Hitachi Construction Machinery recently launched the all-new 3-tonne mini excavator, NX30. This is a made-in-India machine – specially designed for Indian application conditions and manufactured to meet the "best of everything" customer expectations of better operating performance, low fuel consumption, easy maintenance, high reliability, comfort, and stunning aesthetics. This machine is in line with the organisation's commitment to Atmanirbharta – a product, made in India for domestic as well as overseas markets.
Toshiki Onishi, Director (Sales, Marketing, and Customer Support), Tata Hitachi Construction Machinery, said, "Tata Hitachi's next-gen excavators offer a perfect combination of next-gen performance with lower operating cost. Mini excavators are the fastest-growing market segment in India today, and we are excited to announce the launch of NX30, a made-in-India machine backed by proven Japanese technology. With this, we have strengthened our portfolio of mini excavators and reinforced our capabilities to deliver class-leading next-gen machines to meet the evolving demands of the mini excavator market in India."
Tata Hitachi NX30 is powered by a powerful, fuel-efficient, and productive Yanmar engine and comes with a wide range of bucket options to ensure best-in-class performance. The new NX series excavators come with the next-generation Hydraulic system, which incorporates the latest in hydraulic technology. Powered by the Quadra Flow Hydraulic System, a patent-pending, multifunctional hydraulic system, the NX30 delivers power and speed as per the demands of the application and promises best-in-class fuel efficiency while doing the same. NX30 is loaded with next-gen features that provide all-around visibility, a comfortable suspension seat, and an ergonomic workstation. All this ensures best-in-class operator comfort minimising fatigue and maximising productivity. The machine is easily customisable and versatile as it can work with a range of attachments. Also, it can be easily transported on a small truck or pickup vehicle.
Bobcat SSLs are the benchmark for the industry with a lot of unique features inbuilt into their design. On the current market of SSLs in India, Hyunsoo (HS) Kim, MD & CEO, Doosan Bobcat India, had this to say, "We are the market leader in this product category. We expect the demand for SSL to grow at a steady pace at 10 per cent CAGR mainly driven by rapid urbanisation and mechanisation of certain labour-intensive work is expected to increase."
Bobcat SSLs can be used for multiple applications including material handling, grading and levelling, road cleaning, erection of road crash barriers, pavement repairs, brush cleaning in road sideways, and many other jobs. This versatility of Bobcat SSL increases the utilisation of machines at road construction job sites and helps in covering a wide range of job site requirements with a single machine.
Bobcat's strength is its wide range. Says Kim, "We have two main categories based on the geometry of the lift arm, which is radial and vertical lift path. Also, the different models we offer are based on the engine power and the rated operating capacity. We have a total of around seven different models."
Manitou in India is manufacturing SSL and its attachments in mini construction equipment segment. "We are manufacturing one model of SSL, 1340. SSL 1340 is equipped with Yanmar 49.5 HP engine having rated operating capacity of 612 kg," said Amar Chauhan, National Head - Construction Equipment Products, Manitou India.
Added Chauhan, "Our SSL is a compact and versatile machine that comes with a variety of attachment. The same machine can be used as loader, fork lift, graber, trenching machine, sweeping machine, garbage cleaning, compaction and many more."
JCB India is seeing continued growth in urban projects where SSLs find more applications. JCB India is positioning its two models of SSLs—JCB 135 and 155—as a highly application-driven, material handling, productive machine, featuring high safety standards. The JCB SSL 155 is a compact wonder that is designed to work efficiently. This SSL has the best-in-class fuel efficiency, lowest maintenance cost, and very high productivity among SSLs in India. This resourceful Loader also offers unmatched safety and operator comfort in any condition. This SSL has IP 67/69 certified dust and waterproof electrical connectors. It is also designed to work efficiently for any kind of application and designed to give maximum returns with the lowest cost of maintenance.
The JCB 135 and 155 SSLs have best-in-class performance and fuel efficiency, and lead in performance with its ability to enter narrow lanes. With unique zero turning radius feature, this machine is designed to perform in restricted areas effortlessly. The versatile machine comes with 25+ attachments for different industrial jobs. It has an increased fuel efficiency of up to 5 per cent in SSL 135 and up to 10 per cent in SSL 155. The machine also has a side door entry with easy accessibility by improving 50 per cent door opening. These models are also equipped with JCB's advanced telematics system Livelink enabling to monitor and manage machine and a four-inch informative LCD display with information like HMR, aux hour, error code, service reminder, time and ambient temperature display, etc.
Built tough with more power and torque, CASE SSLs boost productivity and increase operator comfort. The cabs feature increased headroom and lap-bar width, along with improved forward, side, rear, and overhead visibility. Ergonomically positioned controls, industry-first side lighting, and improved reliability and serviceability help you get more work done daily. To deliver CASE-specific performance and productivity to an ever-wider range of customers, CASE Construction Equipment has developed the SSL SR130 with the radial boom.
Challenges
While lack of awareness among the users about the advantages of SSLs is a major challenge for SSL's consolidation in the market, winning over this challenge is the major opportunity. Kim adds, "The awareness of the end-user about the versatility and concept of a SSL is the key to succeed. And this is both our challenge as well as opportunity. The price for renting an SSL for a day is higher when compared to other machines. This is mainly because of low hour utilisation which is again due to lower awareness. However, there are certain working conditions and applications where SSL is the best machine for the job and cannot be replaced. In construction segment, basement works, working between pillars are few examples. Today, in building construction segment there is awareness for SSL and we have a stable rental demand."
He also points towards some other challenges that can be turned out to be opportunities, "Besides awareness, some conventional products being abundant in supply in the hiring market is one of the challenges. Next would be the availability of low-cost manpower which still poses a challenge for mechanisation of jobs. SSL as a product is slowly and steadily reaching the hirers segment looking to add new products and we hope it's just a matter of time and effort towards creating awareness which will shift the hiring segment's attention to SSL."
Some of the major challenges faced in the mini equipment industry are:

Cost and affordability: Mini equipment, although smaller in size, can still be relatively expensive for small and medium-sized enterprises (SMEs) and individual entrepreneurs. The affordability of these machines, especially for start-ups and smaller businesses with limited capital, can be a challenge.
Limited infrastructure: Many regions in India, particularly rural areas, may lack adequate infrastructure to support the mini equipment market. This includes factors such as power supply, transportation facilities, and storage capabilities. Limited infrastructure can hinder the efficient operation and distribution of mini equipment.
Access to finance: Availability of financing options and access to credit is essential for businesses to invest in mini equipment. However, SMEs may face challenges in securing loans or funding due to stringent lending policies, lack of collateral, or limited financial resources. Limited access to finance can hinder the growth of the mini equipment market.
Technological advancements: The mini equipment market relies heavily on technological advancements to improve efficiency, productivity, and functionality. Keeping pace with rapid technological changes can be a challenge for both manufacturers and buyers. The need for continuous research and development, along with the high cost of adopting new technologies, can pose obstacles in this market.
Competition from unorganized sector: The mini equipment market in India faces competition from the unorganised sector, which includes local manufacturers, small workshops, and informal channels. These entities often offer cheaper alternatives or refurbished equipment, affecting the market share and profitability of organised players.
Lack of skilled workforce: Operating and maintaining mini equipment requires a skilled workforce. However, the availability of skilled labour can be a challenge in India. The gap between industry demand and the skilled workforce supply can limit the adoption and utilisation of mini equipment.
Quality and reliability: In the mini equipment market, ensuring quality and reliability of products is crucial for customer satisfaction and long-term business success. However, maintaining consistent quality standards can be a challenge, particularly for small-scale manufacturers who may face resource limitations and lack of quality control mechanisms.
Regulatory environment: Compliance with regulatory standards and certifications can be a challenge for mini equipment manufacturers. Meeting safety, environmental, and quality regulations requires investment in resources and adherence to specific guidelines, which can be demanding for smaller players.
Addressing these challenges requires collaborative efforts between the government, industry stakeholders, and financial institutions. Measures such as promoting access to finance, developing infrastructure, supporting skill development programmes, and streamlining regulatory processes can help overcome these obstacles and foster the growth of the mini equipment market in India.
Conclusion
The future of the mini construction equipment market in India appears promising. The government's focus on infrastructure development, affordable housing projects, and initiatives such as "Smart Cities" is expected to drive the demand for mini construction equipment. Additionally, the growing trend of mechanisation and the need for efficient and cost-effective construction practices will further fuel the market's growth. However, it's worth noting that market conditions can be influenced by various factors such as economic fluctuations, government policies, and industry dynamics.
Types of mini construction equipment

Mini excavators: These are compact excavators used for digging, trenching, and demolition tasks. They are suitable for small construction sites and urban areas where space is limited.
Skid-steer loaders: Also known as mini loaders, these machines are used for material handling, loading, and lifting operations. They are highly maneuverable and versatile in tight spaces.
Mini cranes: Compact cranes are used for lifting and moving materials on construction sites. They are commonly used in urban areas where larger cranes may not be feasible.
Mini concrete mixers: These machines are used for mixing and transporting small quantities of concrete. They are suitable for small construction projects or areas with limited access.
Mini compactors: Mini compactors are used for compacting soil, asphalt, or other construction materials. They are commonly used in road construction, landscaping, and small-scale paving projects.