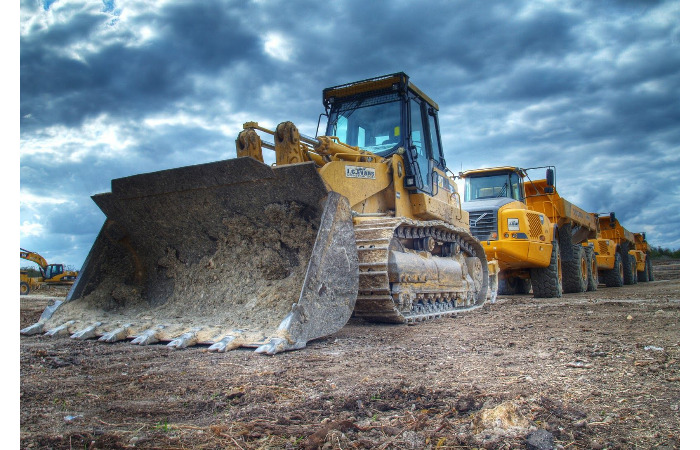 Earthmoving machines comprise a large set of industrial machines used in construction, mining, forestry, agriculture, cleaning and many other industries. Such machines generally include a vehicle (i.e., a main body) and a robotic mechanism mounted on the vehicle. Many types of earth-moving machines are available with different combinations of vehicle and robotic mechanisms. The robotic mechanism typically consists of a robotic arm (a combination of links and joints) powered by a hydraulic system and a tool designed for tasks such as loading or excavation of materials. It is often possible to change the tool to adapt to different tasks. Wheel loaders and excavators are two common examples of mobile earthmoving machines.

According to Off-Highway Research, "Construction equipment demand peaked at 68,193 units in 2011, but sales declined successively for the next three years to 44,514 units in 2014. The trend reversed and the market started to grow as a result of the government's renewed focus on infrastructural development and related policies and administrative reforms. The construction equipment market grew by 2 per cent to 45,371 units in 2015, 37 per cent to 61,965 units in 2016 and 18 per cent to 73,031 units in 2017, breaching the earlier high of 2011."

Sales grew by an impressive 35 per cent to peak at 98,286 units in 2018 but fell 15 per cent to 83,470 units in 2019. Demand declined a further 12 per cent to 73,593 units in 2020, a much less severe fall than the industry's expectation at the start of the pandemic. The market mitigated the impact of the Covid-19 well and despite a severe second wave of the pandemic, registered a 12 per cent growth with sales of 82,218 units in 2021.

Among large volume equipment, crawler excavators grew 33 per cent in 2021, mobile cranes 34 per cent and wheeled loaders 31 per cent. Mini excavators witnessed an impressive rise of 50 per cent, while rigid dump trucks registered very strong growth of 70 per cent in 2021. Telehandler market also expanded by 30 per cent, motor graders sales increased by 5 per cent and skid-steer loaders by 4 per cent in 2021.

However, demand for backhoe loaders declined 2 per cent in 2021, compaction equipment fell 4 per cent and asphalt finishers market shrank 1 per cent. Crawler dozers registered a highest drop among all with its sales dipping 17 per cent in 2021.

The Indian construction equipment market will primarily be driven by construction, mining and other infrastructural development activities, which will be supported by the macro-economic situation, policy and reforms, and availability of funds.

The general atmosphere for the infrastructural development in the country is conducive for growth in construction and mining activity. The highly ambitious National Infrastructure Pipeline (NIP) with an investment of Rs111 trillion during 2019-2024, will change the landscape of infrastructure development in the country if it is implemented with the same zeal in the way it has been planned. Energy (24 per cent), roads (18 per cent), urban development (17 per cent) and railways (12 per cent) will together account for over 70 per cent of the projected capital expenditure for NIP.

Said Himanshu Sharma, Head – Marketing & Corporate Communication, B&R Industrial Automation, "The current innovative trends in this industry are exponentially high, looking at the new buy out strategies and the development of newer machines, changing the old-fashioned way of equipment and inculcating innovations to it, it is very clear the industry is boosting high. Also, the construction sites have newer projects, developments seen in industrial sector of manufacturing construction equipment has given new dimensions in manufacturing and in turn the upliftment of urbanisation is rapidly changing the face of the city. It is seen as per recent reports that the growth of the earthmoving equipment market will significantly contribute to the growth of the construction machinery market, which is expected to increase exponentially in coming years. Thus, as the consumer demand is increasing there has been a significant uplift of market size too."

He added, "Also, it has been seen manufacturers are more engaged towards building multifunctional tools, this reduces your expenses and uplifts the demand of the product as this is the need of the hour. Companies are investing more from where they can reduce the overhead expenses and invest on tools and software which can perform more than one function and reduce the load of the overall equipment. Thus, manufacturers worldwide are investing on their design, research and development teams to bring out a product that is sustainable, provides fewer breakdowns and has multi utility."

"To accelerate infrastructure development as well as implement execution and holistic planning to improve logistics efficiency, the government announced the Gati Shakti- National Master Plan in 2021. The focus on infrastructure continued in 2021-22 too. However, the CE industry contracted by 11 per cent mainly due to the impact of change in emission norms for wheeled construction equipment to CEV4, while the excavators segment continued to grow," said BKR Prasad, Head – Marketing and Product Development, Tata Hitachi Construction Machinery.

Technology: On the rise
Arvind K Garg, Executive Vice President and Head – Construction & Mining Machinery Business and Industrial Machinery Business, Larsen & Toubro, said, "Komatsu's NextGen, Dash 10M0 "truly efficient" hydraulic excavators, developed especially for Indian customers, have pushed the efficiency to the next level. These machines with technologies like viscous-fan clutch have enabled the customers to get all the power developed by the engine at the hydraulic pump with nil/negligible amount of energy loss on account of peripherals on the engine (Gross hp ~ Net hp). Improved hydraulics and load sensing variable horsepower configuration have enabled these machines to provide unmatched fuel efficiency while ensuring the highest productivity, to our customers."

He added, "While at the core our machines are hydrau-mechanical systems, digitalisation is used for enabling machine health and performance monitoring and reporting. Komatsu's next-gen Komtrax systems on their range of hydraulic excavators have enabled the customers to look at the way the machine is operated, working load condition, machine utilisation including various modes and selection by the operator. This system also comes with a host of tools to guide the operator on optimum utilisation, machine health, and safety."

Speaking on the offerings for the Indian market, Hyunsoo Kim, MD and CEO, Doosan Bobcat India, had this to say, "Doosan Bobcat India introduced B900 CEV stage IV backhoe loaders for the Indian market in 2021. With the rising market demand for advanced machinery and the enhancement in technologies due to mandates to adapt to newer emission norms, the associated cost for such advancements is borne by customers. Doosan Bobcat with its customer-centric approach ensures the Made in India Bobcat backhoe loaders paybacks customers with value addition right at the product design level. For instance, the B900 backhoe loader comes with a highly fuel-efficient Ashok Leyland engine, besides the largest fuel tank in its class, coupled with 10 per cent better fuel efficiency to ensure an approximate 40 hours of uninterrupted work giving us a competitive edge of around 12 hours. So once the tank is filled, the machine idle time is also relatively reduced to avoid refueling."

He added, "Remote monitoring has become a vital parameter for the selection of equipment. At Doosan Bobcat India, every B900 backhoe loader is equipped with an exclusive Bobcat i-Connect Telematics Solution. This integrated solution helps our customers with all essential alerts on the machine's health, track live location, and remotely monitor information that enhances maintenance, security, and performance. Our customers can always stay connected with their Bobcat machine, anytime, anywhere from any smart device. The key machine parameters can be monitored remotely through mobile applications and the key benefits Include live machine location tracking, trip records, monitoring of engine RPM, fuel and temperature level, fuel contamination, battery disconnect alert, and fuel theft alerts."

Said Sharma, "Technological advancements are the need in present times within every industry. Newer technologies give boost to new opportunities and developments, this in turn uplifts the market opportunities and a significant growth can be seen in the market size. As the technology and products gets updated, there is more space for new designs and advancements in machine build up, this gives new dimensions to the technology trends. It is seen the emerging technology, or the innovations gives rise to new ideas of product upgrade too. Market is continuously exploring for newer technologies but recently multifunctional earth moving equipment are in higher demand such as a backhoe loader, which can be used in many applications like material handling, excavating, and re-filling. As the consumer demands are increasing manufacturers are turning towards implementing advanced automation. Thus, the manufacturers are introducing new models of earthmoving equipment with multiple functionalities."

He added, "Automation has become vital at present in every stage of construction equipment industry, from design and planning till maintenance. The evolution of automation has given rise to a mass spectrum of different options in handling the equipment. More of that it has refrained human dependency, thus reduced the faults and errors. The alarm and remote monitoring systems has eased human dependency and machine errors rectification. Under the Make in India scheme, as per reports it is expected that Billions of investments for infrastructure sector would be accomplished in years to come. Today the construction industry has evolved exponentially with the rise of automation need awareness. The importance of construction automation has grown rapidly in developed countries but in developing countries like India, the construction industries rely on automation technologies mainly to automate new machineries, electronic devices, the automation of road, tunnel, and bridge construction, earthwork, etc."

The recent growth in consumer demands positioned on earth moving equipment has evolved dramatically over the years. With requirements for operating efficiency and quality, the heavy equipment need an automation system that is both powerful and scalable. B&R Automation's proven mobile automation lineup provides all the tools needed to build and defend the competitive edge as a technological leader in this rapidly growing market.

Added Sharma, "With an innovation-driven technology partner at your side, the technology embedded mobile equipment brings the best to overcome any challenges with your electronics and software. The X90 mobile system also offers PLCs, safety controllers and I/O modules for mobile applications. They can be expanded using a variety of option boards. The comprehensive set of standardized components is perfect for implementing flexible automation concepts. The heart of the X90 mobile control system is a powerful ARM processor and multifunction I/O channels. Basic features include interfaces for CAN, Ethernet and the real-time POWERLINK bus system. In the age of Industrial IoT, concepts like modeling, simulation and virtual commissioning are quickly becoming standard procedure in the development of automation technology. Seamlessly networked development tools, unprecedented flexibility and highly efficient resource management promise to optimize the development process and get projects up and running significantly faster. B&R supports model-based development at whatever level of detail it is implemented with modeling, simulation, and virtual commissioning available into its entire product portfolio."

Tata Hitachi is a pioneer in introducing the latest technologically advanced equipment in the Indian market. Tata Hitachi's TL340H wheel loader is India's first and only hydrostatic wheel loader. It is designed with efficiency at its core and is equipped with a variable displacement pump to further its fuel savings advantage.

Said Prasad, "Our latest offerings in backhoe loaders are SHINRAI PRIME and SHINRAI PRO. These have been designed to meet demanding Indian customer requirements. The major segment of the Indian backhoe loader market is hiring; hence fuel consumption is the major criterion. Tata Hitachi's SHINRAI series boosts fuel efficiency with its EHS (Excellent Hydraulic System), wherein the flow is regulated by sensing the pressure of the system. Apart from low fuel consumption, SHINRAI PRIME also has high bucket forces, dump height, and good reaches for customers looking at cost-effective performance and productivity."

Mahindra Construction Equipment has undergone rigorous testing in the harshest of terrains and for the toughest of applications. Jalaj Gupta, Business Head, Commercial Vehicles, says, "With BSIV introduction, the EarthMaster range of loaders is powered with a 74 HP CRi Mahindra engine, and now has 13 per cent higher torque compared to BSIII leading to improved machine's loader efficiency. With quintennial and unique features as banana boom, joystick lever, robust design, and bigger buckets, EarthMaster is available in two variants – SX and VX. SX Smart50 is a product in a new low range HP category which is optimum for the hirer segment. The product is created with proven Mahindra 50HP Ditech BSIII engine and optimized hydraulics to provide equivalent backhoe productivity as 74HP."

The road ahead
Said Garg of L&T, "India is poised to become the second-largest market for construction and mining machinery by the year 2030. L&T, along with Komatsu, will continue to invest in superior technology and products that shall deliver higher value and fleet solutions to our customers. We have been partnering with the nation for the last 75 years with a valuable contribution to the core sectors and will continue to be committed to achieving higher levels of growth."

Based on all the foreseeable factors at the moment, the Indian construction equipment market is expected to follow an upward trend in the next five years. Off-Highway Research forecasts it to grow by 11 per cent to 90,950 units in 2022 and a further 8 per cent to 98,550 units in 2023. Sales of construction equipment are predicted to fall 7 per cent to 91,800 units in 2024 but will bounce back with a 9 per cent growth to 100,100 units in 2025 and a further 6 per cent to peak at 106,200 units in 2026. Above forecast assumes that no further wave of Covid-19 will hit the country.

Almost all types of equipment will witness growth, though the market will continue to be dominated by the five most popular products: backhoe loaders, crawler excavators, mobile cranes, compaction equipment and wheeled loaders. Backhoe loaders will continue to remain the largest selling type of equipment, but crawler excavators would grow at a faster pace. In addition, the market for mini excavators and skid-steer loaders will expand significantly from current levels.