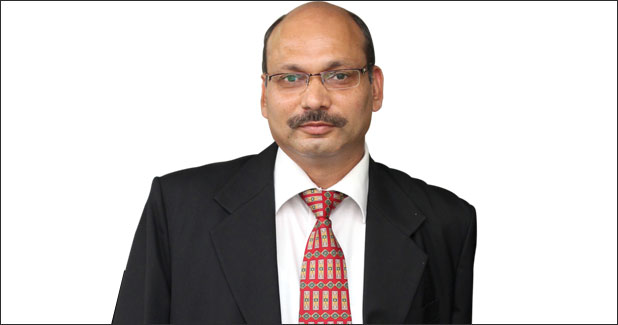 Amit Bansal, Sales & Marketing Director-Building Construction Products-India Region, Caterpillar
elaborates on the reliability of the Hindustan 2021 wheel loader.
Hindustan 2021 Wheel Loader has been serving Indian customers for over four decades and has earned the reputation of the most reliable machine in the industry. It has been the market leader in the 3-tonne category.
Reliable and durable
Launched in India as 7221 in 1971, Hindustan Wheel Loader has evolved as the perfect solution for material handling requirements. Subsequently, it underwent upgrades and feature changes as applicable for the market. The machine was renamed 2021S in 1986. The current version of Hindustan 2021Z carries this legacy, offering unmatched reliability and durability at lowest operating cost. The machine has been designed with the appropriate level of technology to suit the Indian working conditions and has demonstrated unmatched performance under rugged and extreme sites conditions in different applications. It provides customers with the highest machine availability and utilisation of typically over 6,000 hours in a year.
Legacy machine
With the above legacy inbuilt in the machine, Caterpillar India launched the new 2021D - a legacy machine with modern upgrades in April 2017. The new machine comes with all the features and its unmatched customer benefits that it has been providing since its inception along with the newly added features as below: Efficiently powerful: Experience improved fuel-efficiency with an optimised power train. The new Ashok Leyland, Bharat Stage III, six cylinder inline turbo-charged, after-cooled diesel engine gives better fuel-efficiency and optimised performance. The complete power train system has been redesigned and customised to meet Hindustan 2021D working requirements.
Work made easy: Move more with quick loading Performance Series Buckets and optimised Z?bar linkage that significantly improve productivity. Customers will experience high fill factors and reduced fuel consumption per unit of material handled. Optimised steering hydraulics and less wheel turns reduce operator effort.Optimised structures with increased lift height facilitates faster and easier loading. Best-in-class design of fluid filtration integrated circuits results in extended service intervals. The implement joystick is designed as single lever, providing smooth and efficient control of the machine during application. Large mechanical doors provide excellent access for daily service of engine and cooling system components. Conveniently located hand operated parking brake adds to safety.
Enjoy all-day comfort: Enjoy low sound levels, all around visibility and smooth joystick controls in the 2021D Wheel Loader. The spacious cab and wide platform at the top make the transition from cab to ground easy, safe and comfortable. The controls and displays have been designed to be adjustable and within reach of all sizes of operators. Ergonomically placed grab rails, handles and steps allow operators to have three point contact for safe entry and exit from the machine. Two rear working lights add to better visibility in low light conditions and night operations. One internal and two external rear view mirrors enhance rear visibility.
Configured for success: A complete range of optional equipment gives the versatility to configure the 2021D Wheel Loader to make customers successful in their businesses. Among the multiple factors that help reduce fuel consumption and operating costs are the patented Cat Performance Series Buckets.
These utilise a system approach that balances bucket shape, linkage design, weight, lift and tilt capacity. The results are improved bucket load ability, higher fill factor, better material retention and shorter loading time. There are several options available to suit customer requirements.