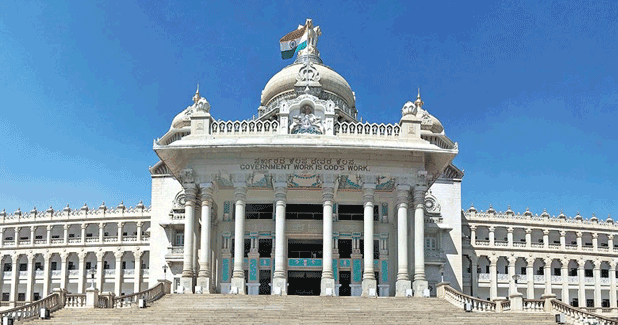 Traditionally known for aerospace, engineering and IT, Bengaluru is fast emerging as a construction equipment (CE) hub in India with major players expanding their base in the city.
Unlike other cities in India, Bengaluru has a rare mix of various factors for its overall growth. Pleasant weather, cosmopolitan culture, good civic infrastructure and logistically convenient location with good connectivity are some of the specialities of this city. Today, Bengaluru has emerged as the knowledge and technology capital of India with a strong presence of aerospace, defence, engineering and IT. Strong growth of IT industry has gifted it with the recognition of the Silicon Valley of India.
Amarnath Ramachandran, President, LeeBoy India Construction Equipment, elaborates, 'The city is hub for the aerospace and machine tool industry. There is also a skilled workforce and vendor base available. Bengaluru has well-stationed logistic layouts because it is very close to Chennai Port and there are very good highways linking to the port. Transporting goods to the port is virtually an overnight drive from here. We have also an Inland Container Depot (ICD) here from where we can export goods. There aren't too many big ticket infra projects in Bengaluru city other than the Metro and the Bangalore-Mysore Highway. But there are many NHAI projects in Karnataka, which has driven growth for the construction industry as all the highways are under expansion. We sell our products all over the country like our fellow equipment manufacturers.
Setting CE base
Aerospace, defence, engineering and IT are the traditional strongholds in the business prospects of Bengaluru. A new trend in the making is the emergence of the infrastructure equipment space in a big way. Many big players of the industry made Bengaluru as their business or manufacturing base. What more, Bengaluru hosts the South Asia's largest construction equipment exhibition EXCON. Thus infrastructure construction equipment segment is making its presence felt in Bengaluru in a big way. Vivek Hajela, General Manager - Construction Equipment Business, Larsen & Toubro adds, 'Bengaluru has had a history of large construction equipment companies establishing manufacturing base there. It probably started with BEML in mid-sixties, followed by L&T which pioneered the hydraulic excavator technology in India and started manufacturing them at Bengaluru in 1973 in collaboration with Poclain, a French company. Subsequently, Ingersoll Rand, Volvo CE, Scania and others came into being. Their advent has enabled in the creation of a pool of specialised vendors catering to CE, and also helped develop the skills and capabilities among the workmen. These are essential when a company wants to put up a manufacturing facility. Besides, pleasant weather, cosmopolitan culture, good civic infrastructure, rail/road/air connectivity had its own advantages, especially for expats, since most CE majors are multinational companies.'
According to Sandeep Singh, Managing Director, Tata Hitachi Construction Machinery Company, the continuously evolving construction equipment ecosystem in the region led to attracting significant amount of highly skilled manpower in the region supporting the development of business.
Evolving CE business
Bengaluru and the surrounding region in Karnataka is home to manufacturing facilities and business head quarters of some key CE players. BEML, which started the legacy of construction equipment here, offers a comprehensive and diverse range of mining machinery for both opencast and underground mines. The company manufactures its mining and construction equipment products at its Mysuru facility.
Volvo CE got its first production footprint in India after the company's acquisition of Ingersoll Rand's road machinery division in 2008. The facility at Peenya manufactures road machinery to cater primarily to the Indian market and also exports.
L&T Construction Equipment Ltd, a wholly owned subsidiary of Larsen & Toubro, owns a sophisticated manufacturing plant in Doddaballapur, on the outer Bengaluru. This plant incorporates multimodal assembly lines and arc welding robots, and rolls out wheel loader models L&T 9020/9020Sx, vibratory compactor models L&T 1190/990/491 and hydraulic excavator model L&T 300. The plant is now taking up new products like hydraulic paver, skid steer loader and pneumatic tyred roller. These products have been fully designed and developed by the in-house design team and propels the Make in India initiative.
Hajela states, 'Our machines incorporate robust design and are the best in class. They are built tough and work with reliability and durability across user segments and provide long life to the customers. Our customers are highly satisfied with the performance of our machines and often look forward to placing repeat orders for their future projects.'
L&T's Construction and Mining Machinery Business markets Komatsu and Scania machines besides their own equipment manufactured by LTCEL. L&T has its marketing division in Bengaluru with 25 sales and service outlets spread across the country.
Hajela adds, 'We also have 30 dealers with a nationwide footprint of parts depots. We are supported by six Service Centres located strategically to handle equipment repairs and component overhaul activity. Besides, our after sales team is spread across the country with site engineers operating from equipment clusters.'
Tata Hitachi has its manufacturing facility based in Dharwad that is being continuously expanded to meet the growing demand from the surrounding areas. The facility manufactures hydraulic excavators of 2T and 7-20T and backhoe loaders. It has modern feeder warehouse for supply of parts to dealers. The company has been investing in capex in the last few years to upgrade the facility. The company recently upgraded the facility to manufacture its new backhoe loader SHINRAI.
LeeBoy India Construction Equipment has its head quarters and manufacturing facility located at Bommasandra, outside Bengaluru. The company manufactures its whole range of products here. According to Ramachandran, LeeBoy is looking for a bigger premise to shift their operations. On the future plans he adds, 'We plan to move into larger premises with more capacity. We plan to ramp up exports, while expanding our domestic market. Today, the market is volatile so that we don't want to focus on one market. We'd rather distribute our business in wider markets. We are focusing on India, CIS, Africa, Middle-East, USA, and South-East Asia. The idea is to build a presence in these markets so that fluctuations in one region will not really impact the overall business. That is the long term intent. We are also expanding our product portfolio to get additional business from the same customer.'
Advantage Bengaluru
The gradual development of CE base in and around Bengaluru was influenced by many factors, which include, research and development, availability of talent pool, IT industry, vendor base for machinery and components, and infrastructure development, and of course the progressive government policies.
Research & Development: According to Hajela, Bengaluru has a strong R&D base encompassing various engineering products. 'We also have reputed agencies which can provide expertise in value engineering and validation of prototypes.'
Says Ramachandran, 'The city is home to the R&D facilities of Airbus, Boeing, GE, etc. There are many big engineering houses, which do a lot of R&D activities. There are huge companies also where a lot of high-end engineering services such as crash analysis, FEM services, and multi-body dynamics are carried out for many overseas companies.'
'The technological/educational ecosystem and opportunities attract the best of talent to the city. To take advantage, many CE companies have established their R&D centres in Bengaluru,' says Singh.
Talent pool: Says Hajela, 'Bengaluru has undoubtedly one of the largest and talented pool of engineers who form the backbone of the CE industry. The skill development has happened over past many decades. The talent is extremely dexterous and knowledgeable with CAD/CAE tools and turn out robust designs and with faster lead times.'
About the talent pool that is helping his company in the overall development, Ramachandran states, 'We have a young team of talented people in our design and development activities. They are from in and around Bengaluru who have studied and gained knowledge working in different areas. At LeeBoy, we design our products in Bengaluru and the engineers get to work on the entire product line and watch it roll out on the shopfloor. Their exposure continues when they travel to sites to observe the machines in action and collect performance feedback. This year, we are launching a variant to the drill rig and two large graders. Our machines have many parts sourced from Europe. But the proper matching, selection, installation and assembly are done here. All these activities are carried out with the available talent pool.' According to Dimitrov Krishnan, Vice President, Volvo CE India, people are attracted to Bengaluru because of the opportunities here in the manufacturing of construction equipment. 'There is a strong talent pool to supply the construction equipment industry here,' he adds.
IT industry: With the digital revolution is spreading across the industry, construction equipment industry is no exception. IT and digital technology have played major role in the modernisation of the industry in design, development, manufacturing, sales and aftersales areas. 'Software companies would work on large data and provide analytics for us to effect improvements in design methods and delivery of new products,' says Hajela. Availability of IT solutions has been a major help to LeeBoy in updating its systems in real time. Says Ramachandran, 'Bengaluru, being an IT hub, we have the advantage of sourcing IT solutions in real time and close proximity of service providers is an advantage. For example, we work with SAP for ERP solutions. It has a lot of add-ons coming in, which we can integrate with the main system faster.'
According to Singh, influence of IT is visible in CE industry in Bengaluru. He adds, 'Being the technology capital of India, IT has an important influence on innovation in the CE industry. Wide use of technology and smart phones has led to the development of Telematics to be used in construction equipment benefiting the customers.'
Close proximity to vendor base: Presence of machine tool and engineering companies in and around Bengaluru has made easy access for the construction equipment players based in this region to the vendor base. For eg, says Krishnan, 'Peenya industrial area, where we have our manufacturing facility, has a good vendor base to support manufacturing operations. Large-sized vendors like L&T Hydraulics and Wipro Fluid Power are based here as well.'
According to Hajela, Bengaluru already has a strong base of vendors who have been associated with CE majors. He adds, 'They have moved up the value chain in terms of quality, complexity and delivery. Large PSUs like BEML and HAL have also helped develop mature and reliable supply chain base, through their integration of industries. Now the focus is on cost-effectiveness to compete with the best in the world. The industries encompass heavy engineering, electricals, hydraulics, machine tools, electronics, and earthmoving equipment.'
Ramachandran is of the view, 'Bengaluru is a great place to build equipment as there is a good vendor base to source parts from. So, we can get different categories of components as there are good fabrication and machinery vendors here. Other critical products like cylinders, valves, and hoses are also manufactured here.'
Singh elaborates on the advantages of Bengaluru for vendors, 'Bengaluru is famous for machine tools, electrical components being exported the world over, it is but natural to expand the vendor base to include components of CE. Vendor base for automobile manufacturers is already existing here. Many vendors for many CE companies are based out of Bengaluru and surrounding region.'
Infrastructure development: Construction and infrastructure development has always been opportunity for construction equipment. Looking at the amount of infrastructure development in and surrounding areas of Bengaluru, Hajela says, 'We are witnessing integrated development of infrastructure like stepping up irrigation canal works, desilting and redevelopment of lakes, peripheral road widening, concretisation of arterial roads, building of flyovers and grade separators, cleaning up sewage system, solid waste management and augmenting pipelines for drinking water project. Work is already on for metro lines expansion that can accommodate huge intra-city commuting, airport capacity expansion to handle double the traffic volumes and smart city initiatives.'
Says Ramachandran, 'There is a huge push to improve infrastructure such as airports, roads, metro etc. But this is not enough to cope with the growth rate. So building infrastructure is a challenge, at the same time it is an opportunity. We want more metros, bigger roads and highways, elevated roads, etc, which means business for construction equipment players.'
Singh elaborates on the infrastructure development happening in Bengaluru, 'The Government of Karnataka has been at the forefront in investing in infrastructure, hence impetus was given to development of roads through KSHIP, KRDCL etc, irrigation (through various govt arms like KBJNL, KNNL etc), water supply, involving funding from ADB, WB etc, as well involving private participation. Focus has also given to urban, rural developments and watershed development throughout the state. Growth and infrastructure development of Bengaluru city itself is another project. All these initiatives have led to the growth of CE business.'
On the infrastructure development projects in Bengaluru, Krishnan says, 'The volume of activity here in Bengaluru is high but not significantly more so than other parts of the country. As Karnataka has generally been a progressive state, infrastructure development is naturally high, leading to a healthy demand for construction equipment.'
Government policies: The previous governments in Karnatak have given due importance for the industry development in the state. Also, at a time when most of the state governments are in a healthy competition of attracting investments to their states, Karnataka has also organised global investors meets in the past. The current government is also following similar path with progressive policy for the growth of the industry here. Ramachandran is positive on the government's role in infrastructure development. He says, 'We see a lot of efforts from the government in trying to get things into shape. They have set up a big manufacturing hub in Tumkur and more work has been done on decentralisation. Today, there are people from all over the country coming to Bengaluru because of opportunities. There is healthy competitions amongst states to attract investments at various sectors.'
According to Krishnan, the state government, like the Union Government, has been supportive of industrial activities. It provides support to a lot of manufacturing activities.
Singh elaborates, 'The government has been making policies that aid the development of CE business. Policies have also been made to encourage investment in CE manufacturing by adopting industry friendly practices that also aid development through employment generation.'
Challenges
In spite of a host of advantages mentioned above, the city is facing many challenges also on different aspects. According to Hajela, one of the biggest challenges faced by the industry is to supply the application-specific machines for various requirements. 'This would help in accelerating the job and provide faster solutions. The other aspect is the cutting down of longer lead times owing to disruption of the schedules due to locational hazards and operating in densely populated areas. Another reason is the low availability of trained operators to handle construction equipment in constrained spaces, urban locations and in safe environments,' he adds.
'Challenges are not local as such,' comments Ramachandran. 'While there is a focus on infrastructure, it is not enough to cope with the growth rate. Bengaluru has 25 per cent more population than New York. But, unlike New York, we don't have an established metro, 3-4 airports, bigger roads, and well-settled laws of town planning.
We have laws but have not been properly implemented or followed. It's high time to take a decision on de-congesting the city by vertical expansion or spread out from the current location. Since the population is 4-5 times compared to similar cities around the globe, we need to have transport systems that can carry maximum capacity.'
He adds, 'Currently, the challenges faced by the city are lack of proper planning, the basic philosophy of what we are aiming at, and involvement of public opinion in the development plans to move forward. We need good town planners who can suggest and guide for proper city development, while taking into consideration other cities across the globe as well as in India. The Niti Aayog has forecasted very high urbanisation over the next 10-15 years. So, we need to be prepared.'
Singh highlights the major challenges as: transport infrastructure - reduced mobility and increased transit times in the city, higher cost of living, lack of trained operators for operating CE in view of better aspiring avenues, and teething problems in the implementation of GST.
Looking ahead
Bengaluru has many advantages as a destination to do business at the same time, challenges on various fronts are pulling back the growth prospects. However, Construction equipment industry based here is bullish on the future growth.
Ramachandran explains, 'Bengaluru is a good and politically neutral place to work in where you have a very good vendor base and talent pool. The traffic problem will get sorted out once the peripheral ring road is completed as trucks and traffic not coming into Bangalore will bypass the city. The city is convenient for a customer who visits to buy a set of machines.
While in the city, he has the options of visiting multiple OEMs for a wide range of construction equipment as there are many manufacturers based here.'
Looking at the future prospects, he adds, 'We expect more companies to come in and set up business in the coming days. Exhibitions such as Excon will also help the development of business in Bengaluru. The Bangalore International Exhibition Centre is home to many national and international exhibitions. We have many component vendors also in Bengaluru for cylinders, valves, hoses, etc. Once we get ahead of the infrastructure curve, many people will head to Bengaluru to set up equipment businesses.'
On the further growth possibilities at Bengaluru, Singh observes, 'CE business in Bengaluru is poised to take advantage of the growing innovation in the tech ecosystem here, to integrate future information and technology tools that lead to greater efficiency in the operation of the machines. Given the regulatory changes expected in the CE industry, leading to implementation of most modern technologies in CE to improve safety, reliability and cut emissions, Bengaluru is poised to be a key driver of using the established ecosystem to enable development of the above. Growing investment in infrastructure around Bengaluru will also further aid the development of CE business here.'
In spite of the present challenges of infrastructure bottlenecks, increasing population, lack of planning, the CE segment has emerged as one of the important industry in Bengaluru. Going forward, after effectively addressing the current challenges and a forward-looking policy approach of the government can further lift the CE business in city to newer heights.
EVOLUTION OF INDUSTRY IN BENGALURU

Establishment of Indian Institute of Science (earlier, Tata Institute)
Focus given to education by the maharajas of Mysore made it a leader in the field of education and development.
Post-independence, become the aviation hub with the establishment of Hindustan Aeronautics Ltd (HAL) and associated R&D arms.
Post liberalisation in the 1990s saw the establishment of software firms which made Bengaluru the tech capital of the country.
Establishment of Bharat Earth Movers Ltd (BEML) for developing mining, defence, rail and construction equipment, establishment of their unit at Kolar near Bengaluru with head office in the city. With growing demand, another unit established at Mysuru.
The establishment of Larsen & Toubro operations in Bengaluru.
Convenient location to serve large and fast-growing CE requirement of the southern peninsula.
Subsequently, Tata established office here in 1999 with forming the JV between Tata Motors and Hitachi Construction Machinery with the plant at Dharwad, near Bengaluru
Volvo bought out Ingersoll Rand's (IR) operations globally and IR plant in Bengaluru became part of Volvo who already has its commercial vehicle establishment here.
'Today, we are aggressively promoting our machines across India. We have just launched Komatsu PC300-8M0 and Komatsu PC350-8M0 machines built with Komtrax tracking system, reinforced structures and efficient engine to address the specific needs of granite, stone and marble segments. We have a huge portfolio of machines to address requirements - hydraulic excavators from 7 ton to 45 ton, dozers and motor graders for the road construction segment. We also have Scania P440 tipper truck that is recommended for the mid-mining segment. L&T brand machines cater to the complete line of road construction spectrum from start to finish.' - Vivek Hajela, General Manager - CE Business, Larsen & Toubro
'We started with two motor grader models of 13 tonne and 15 tonne. Then we came out with the 25 tonne excavator and two backhoe loaders. Last year, we introduced two models of large graders (20 tonne and 25 tonne). We also produce concrete batching plants of 30 cu m/hr, 60 cu m/hr and 90 cu m/hr capacity. A 120 cu m/hr capacity batching plant has also been introduced recently. Next year, we are planning to come out with three models of front-end loaders and small graders. As per our product development plans, we launch new products every year. We introduced concrete batching plants mainly to tap the road construction sector. With the road and highway projects picking up, we are aiming at a varied range of equipment for road construction for our customers.' - Amarnath Ramachandran, President, LeeBoy India Construction Equipment
'We have a very developed sales and after sales service network in the state. We have two branch offices and four dealers who look after the four parts of the state. All sales and after sales service is executed by them so that the customer gets the best and fastest response to his needs.' - Sandeep Singh, Managing Director, Tata Hitachi Construction Machinery Company
'Currently, we have enough capacity at our manufacturing facility in Bengaluru. We are consistently rolling out new models. In the last one-and-a-half years, we've added four models (the EC210D excavator, the SD110DA soil compactor, the DB90B asphalt compactor, and the P5320B ABG tracked paver). We have more new models in the pipeline and will announce them when we're ready to launch them.' - Dimitrov Krishnan, Vice President, Volvo CE India
- Sudheer Vathiyath