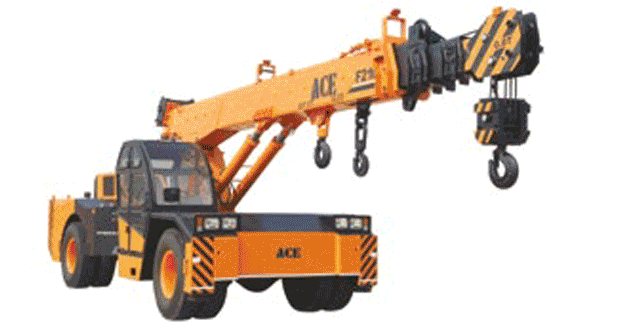 BAUMA CONEXPO INDIA 2016
was the right platform for the exhibitors to unveil their cutting-edge products, technologies and solutions. Many exhibitors launched their new technologies and products at the expo, while others showcased their industry leading solutions.
ACE
Action Construction Equipment (ACE) has launched first 20 tonne 4 x 4 machine - F-210 model - a robust structure and compact geometry which features 20 tonne lifting capacity with a four-section box boom. In addition, F-210 boom structure has been provided lifting capacity of 16 tonne using the snatch block with best-in-class winch. It comes with a luffing range of -10o to 65o, enabling easy assembling of the fly jib attachment within no time and providing easy access for service and maintenance. The working height achieved through F-210 is 19.4 m, which goes up to a height of 22 m with the fly jib attachment. F-210 incorporates 101 hp High Torque Engine with heavy duty tipper axles that enable the crane to achieve maximum speed of 35 kmph (unladen) and a creep speed of 2.5 kmph for load handling. The special feature of ACE NextGen Crane is that the full-rated capacity of 20 tonne is available even in articulated or steered condition.
Ajax Fiori
In keeping with its commitment of delivering innovative concrete equipment solutions to its customers, Ajax Fiori unveiled the latest addition to its product range. The JSP 50 concrete pump was launched by Jagadish Bhat, CEO of Ajax Fiori, on the inaugural day of the exhibition, in the presence of customers and various stakeholders. The newly introduced JSP 50, with a pumping capacity of up to 50 cu m/hr, features the robust ?S? valve technology, durable components and upgrades such as auto lubrication, remote control etc. Ajax Fiori has around 8,000 plants and machines working across the country.
CASE India
CASE extended its range of dozers and entered the 12-13 T, 16-18 T and 20-21 T classes with three new models. It also upgraded the 1107EX soil vibratory compactor, further raising the bar on its performance, fuel economy, comfort and safety. The three new models, 1150L, 1650L and 2050M, are powered by a 6.7 litre 6 cylinder engine engineered by FPT Industrial, the sister powertrain brand to CASE Construction Equipment within the CNH Industrial group. This Tier III FPT Industrial engine introduces new features and upgrades that raise the bar on performance, and deliver market leading fuel economy and power.
The CASE 1107EX soil compactor features a new FPT Industrial S8000 3.9 litre engine that delivers 100 hp at 2,200 rpm and torque of 435 Nm at 1,300 rpm. The turbo after cooled engine with internal Exhaust Gas Recirculation ensures best-in-class fuel economy.
Caterpillar
Caterpillar launched of two new products - Cat?320D2 GC hydraulic excavator and 950L wheel loader. The Cat 320D2 GC hydraulic excavator will be produced at Caterpillar India?s manufacturing facility at Thiruvallur in Tamil Nadu. The product introduction reflects Caterpillar?s commitment to the Indian market and the Government of India?s ?Make-in-India? program. The other Cat products on display included Cat 216B3 skid steer loader, 424B backhoe loader, B20 breaker and 120K2 motor grader.
The new Cat 320D2 GC hydraulic excavator features a fuel-efficient Cat C4.4 ACERTTM engine and a powerful hydraulic system that uses an energy-saving design for optimum fuel consumption, while its optimised main structures are built to perform flawlessly year after year in construction and other applications. The 320D2 GC can also be equipped with Cat AccuGrade? Grade Control System options. Its in-cab guidance features allows the operator with real-time bucket tip guidance so as to reach the target depth, grade and slope faster without traditional survey stakes. AccuGrade Grade Control system simplifies digging, improves accuracy, increases productivity, minimises material usage and lowers operating costs.
LiuGong
LiuGong India unveiled H series wheel loader 856 H, 936 E excavator and B230 bulldozer and displayed 836 wheel loader, 922D HD excavator, 414 motor grader, CPCD 30 fork lift and given live demonstration of 818 wheel loader with multiple attachments in demo area all four days. Wheel loader 856 H is next generation machine powered with Cummins QSL 9.3 engine specially developed for LiuGong, It has variable hydraulic system, three operating modes-Economy mode/Neutral mode/Power mode. The LiuGong Wheel loader 856 H is equipped with 3.0 cu m bucket capacity and wide range of attachments for multiple working conditions, new ZF power train of 4WG208(F4/R3) gearbox and wet axles ideally matched to perform the perfect harmony and ensure optimised performance.
JCB India
JCB India unveiled seven new products. In excavators, it launched the JCB 30Plus (3T mini excavator), the JCB 220LC Xtra (22T tracked excavator), the JCB 305LC (30T tracked excavator) and the JCB 370LC (37T hydraulic excavator). It also launched the 5.5T wheeled loader, the 455ZX and the 11T soil compactor, the VM116. Further, the company also launched the new and versatile 2DX backhoe loader. In addition, JCB India also exhibited its existing range of world-class backhoe loaders and the recently introduced material handling equipment comprising of telehandlers, skid steer loaders and super loaders. JCB also showcased its diesel gensets and attachment range, its best-in-class diesel engines, axles and gearboxes, handtools, powertools and range of consumer products.
KYB-Conmat
KYB Conmat launched its new generation rack and pinion construction elevator for the benefit of super high rise buildings. It was inaugurated by Rajesh Garg from Kalyan Toll Infra, Indore, one of the leading road contractors in India. The new models are far better than the previous generation models in terms of speed of operation. The increase in speed is more than 30 per cent over the previous generation models. This helps in carrying the load faster than before. KYB-Conmat has also introduced VFD for smooth start and stop operation. A load cell has been introduced to check the amount of load carried. Additionally, floor selection system has been introduced to allow the operator to stop at a desired level. For ease of service, HMI PLC control system has been introduced to show machine fault diagnosis.
Liebherr India
Liebherr unveiled a series of its product ranges at BAUMA CONEXPO INDIA 2016. These included top-slewing cranes with a flat-top design (the NC-B cranes), LTM 1250-5.1 five-axle mobile crane, and the Liebherr wheel loader L 550. The new NC-B series was specifically developed to meet the requirements for use in conurbations in emerging countries. L 550 is an example of its expanding wheel loader product range for India and less/non-regulated countries. The LTM 1250-5.1 is the most powerful mobile crane on five axles on the market. It is the third crane model on which Liebherr uses its innovative single-engine concept. In addition to a multi-functional folding jib, a 50 m fixed jib is also available.
L&T-Komatsu
L&T and Komatsu have launched GD535 motor grader and PC350 hydraulic excavator. Komatsu GD535 motor grader is the new generation machine and upgraded version of GD511, which was a highly popular machine in the contractor segment. The machine meets the emission norms of Bharat Stage-III and has several key features that makes it the best-in-class machine for the road segment. The machine is fitted with 145 HP engine and has operating weight of 13,820 kg.
MAN Trucks
MAN Trucks India unveiled the CLA EVO range of heavy commercial vehicles. The CLA EVO 25.300 6x4 BS4 construction tipper and the CLA EVO 49.300 6X4 BS4 tractor head were unveiled on the inaugural day of the expo. The CLA EVO range marks 10 years of MAN Trucks? presence in India and have been manufactured indigenously at the company?s plant in Pithampur, Madhya Pradesh which caters to both Indian market requirements as well as export to Asian, the Middle East and African countries. MAN Trucks India and Total Oil India jointly launched MAN branded genuine lubricants exclusively for MAN vehicles in the Indian market. The product range includes high performing engine oils, transmission and axle oils for various types of trucks manufactured by MAN Trucks India.
Schwing Stetter
Schwing Stetter launched 14 new products. This include: Heavy duty stationary pump SP 4507; Transit mixer with pump TMP 32.6; Batching plant M30Z with Inline Silo; Smartec sludge pump; Recycling plant RA20; Flat top tower crane XGT T80; Wheel loader LW180K; Truck mounted crane QY85KA-Y; Piling ring XR130E; Scissor aerial lift platform GT JZ10; Crank arm type aerial work platform GTBZ14J; Horizontal directional drilling machine XZ450 plus.
SP 4507 is a new development for the present trend of high rise pumping requirement. This new age pump bridges the gap between SP3800 and SP4800 capacity pumps. This will cater to high rise segment where the present challenges of pumping the mix with stiff consistencies at a faster rate to around 300m vertical.
SDLG
Two new machines were formally launched at the expo, the new L933 wheel loader and G9138 grader. The introduction of the units is timely, with pressure growing on contractors to ensure projects stay on schedule as the Government of India targets 30 km of new road construction per day. With an overall working weight of 12,100 kg, the G9138 is powered by a Deutz BF4M1013-15T3R/2 Tier III engine that has an output of 111 kW at 2,100 rpm. Complemented by a fully automatic ZF 6WG 200 transmission system which has seven forward and three reverse gears, the G9138 is able to reach maximum forward and backward velocities of 39 km/h and 24.5 km/h respectively. Equipped with a Weichai Deutz WP6G125E331 turbocharged BS III engine, the 3 ton-rated L933 satisfies the regional requirements for emissions levels in India, while offering users reliable performance and excellent durability.
Trident International
To augment the capability of skid steer loaders, Trident has developed over-tyre-tracks (OTTs) that significantly increase traction and flotation to enable skid steer loaders operate in virtually any service environment. Trident?s OTT consists of pivotally; interconnected reinforced steel segments that are looped over the tyres and the open ends are fastened to make an endless track chain/belt thus providing tracked mobility with high flotation, usually within an hour. OTTs thus bridge the gap between wheeled and tracked mobility by converting the wheeled skid loader into a tracked loader.
Wacker Neuson
Great emphasis has been placed on the Wacker Neuson Zero Tail excavator EZ17 with an operating weight of 1.7 tonne. This mini-excavator is compact on the outside and spacious on the inside. It operates ideally even on confined job sites such as in urban areas. Wacker Neuson concrete technology solutions were also on display, which included the IREN and IRFU high frequency internal vibrators, where the latter possesses an integrated frequency inverter. The modular HMS internal vibrators were also be on display in addition to a range of external vibrators and frequency inverters. Wacker Neuson compaction equipment were another highlight. The company exhibited the popular BS60-2i two-cycle rammer, which comes with separate oil lubrication: two separate tanks are filled with fuel and two-cycle oil. Also, the reversible vibratory plates DPU2550, DPU3070 and DPU4545 with centrifugal forces of 25 to 45 kN were displayed.
Volvo CE
Volvo CE underlined its full line capabilities at BAUMA CONEXPO INDIA 2016. The machines showcased included new introductions to Indian market as well as existing ranges.
The new Volvo P5320B ABG paver is designed to achieve optimal power, efficiency and quality in medium and large-scale projects where paving widths range from 2.5 to 7 m. The best-in-class power of the 88 kW (118 hp) D5 engine is capable of pushing 25-tonne trucks and pulls the Volvo screed with ease, even at maximum paving width. Furthermore, this high power is delivered with minimal noise and low fuel consumption, making the P5320B ABG paver an environmentally-conscious choice. The new DD90B asphalt compactor from Volvo CE was one of the highlights from the company at the expo. The unit is designed with versatility in mind, offering unbeatable fuel efficiency and powerful performance across a range of applications in India. Another display from Volvo CE, the new EC210D crawler excavator is equipped with a range of robust features to ensure a superior performance, shift after shift. It is designed with Volvo?s extensive experience and expertise for ultimate productivity and efficiency in a wide variety of tasks. This machine features a robust frame combined with optimal engine power and hydraulic pressure to provide superior digging forces and fast cycle times. Another excavator range on display was the EC250D from Volvo CE. The new SD110BA single-drum compactor showcased encapsulates the skills and knowledge gained from decades of working in India to deliver a new category-leader.
IndianOil?s SERVO lubricants was conferred the award for ?The Best Lubricant Company for Construction Equipment Industry? at BAUMA CONEXPO INDIA 2016. The award was received by KL Murthy, Executive Director (Lubes). He also addressed a session on ?Capitalising on Make in India Opportunities? during the exhibition.