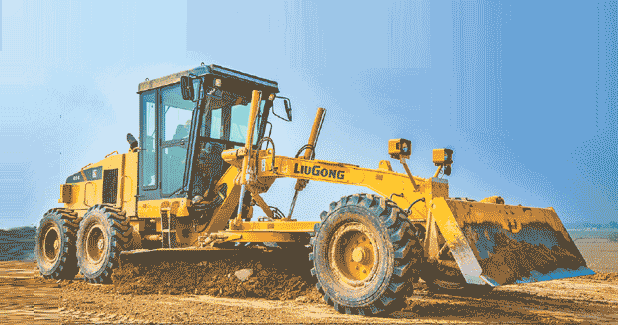 Motor grader market has seen growing in the past couple of years with applications spreading into rural road projects as well as in highways. The market is expected to pick up further in the coming years.
Demand for motor graders is picking up with the road projects on fast track. Rural road projects are also now using motor graders with many motor grader manufacturers offering customised products suiting the applications. With more airport and urban infrastructure projects in the pipeline, use of motor graders is expected to pick up in the coming years. Off-Highway Research estimates the sales of motor graders in 2018 at 1,300 units which are expected to reach 1,500 units by 2022.
Demand to sustain
Motor grader market demand is largely driven by roads and highways. Though the road sector is facing hurdles such as land acquisition and liquidity issues, in the long run, roads and highways will lead the growth of infrastructure industry. According to Nischal Mehrotra, Director-Sales, LiuGong India, the continued upsurge in road projects is boosting the demand for motor graders.
Manish Arora, Business Head, Mahindra Construction Equipment sees motor grader as one of the fastest moving products with the government focus on road infrastructure. "For us, within 1.5 years of the launch, we have captured 25 per cent market share," he claims.
Motor graders as a heavy-duty equipment plays a major role in the construction of roads and highways.
Ajay Aneja, Brand Leader, CASE India, explains, "As per iCEMA, 1,100 units were sold till December 2018. According to industry estimates, the overall demand is likely to grow by 15 per cent in 2019 and is expected to be around 1,200 units in FY19 in the 100+ hp category." About the company's sales performance he claims, "We have witnessed a growth percentage of around 20 per cent in graders and further expect a positive trend to sustain in the market."
VG Sakthikumar, Managing Director, Schwing Stetter India sees the growth to be at least 25-30 per cent for motor graders and is expected to reach 2,500 units by 2020 in India.
Apart from roads and highways, motor graders find applications in mining and general construction also. Surat Mehta, Business Head, SDLG India observes, "SDLG expects the demand for motor graders to be strong in the next couple of years thanks to the government's ambitious infrastructure plan, in particular its road building program. This will be a major growth driver as developers are in need of more powerful machines to meet construction deadlines. Additionally, coal mining activity is also picking up. Therefore, in the short to medium term, we expect to see an increase in demand for motor graders."
On the sales trend, Mehta elaborates, "Between 2014 and 2017, in a short span of three years, sales of SDLG motor graders have surged as customers demanded reliable specialised road construction equipment. Both the G9190 and the G9138 are poised to help Indian customers boost their productivity during the country's construction boom. We expect overall sales of our motor graders to continue growing in the coming years. Contrary to popular belief, many of the rural development projects in India actually require smaller and lighter motor graders for narrow road constructions. Our motor graders are readily available and in stock to cope with any surge in demand."
With the demand picking up, major players see a steady pick-up in sales for their motor graders. Mehrotra claims, "LiuGong had a decent market share for 2018 wherein we were among the top three."
Technology leads
Motor graders find applications in mining and general construction as well as in roads and highways. Each application needs motor graders of different capacities, technologies and attachments. Accordingly, technologies vary and customisations happen. According to Mehrotra, higher hp, automated transmission, fuel-efficient engines, bigger blades, GPS enabled and AC cabins are a few of the latest trends in motor graders.
Typically, rural infrastructure assumes great importance in India because of the country's predominantly rural nature and the crucial linkages of rural infrastructure to economic growth, poverty alleviation and human development as a whole in the country. Mahindra CE's RoadMaster G90 is best suited for small and medium roads, state highways and national highway expansion projects in the country, according to Arora. "It can play a pivotal role in construction of roads and highways, which connect each and every part of the country. This product has been designed and developed in India after an in-depth understanding of the needs of the road contractor fraternity."
According to Aneja, automatic blade guidance in motor graders is becoming cheap and gaining popularity in terms of upgradations in design and applications.
Mehta elaborates on some key technology trends, "Swing frames offer greater flexibility in a variety of work scenarios. The articulating swing frame's movements allow the blade to generate more power and carry a heavy windrow. It also allows the unit to make turns at more acute angles for close-quarter work or work on smaller roads. For greater durability and easier operations over its lifetime, the swing frame"s composite bearing should be lubrication- and maintenance-free. Our G9138 motor grader features this type of swing frame. The G9138 also features a fully-digital panel offering the operator precise control over the highly-manoeuvrable machine."
According to Sakthikumar, engine with electronic control for easy trouble-shooting, GPS systems for remote monitoring the location and performance of the machine, mold board material with improved wear resistance and automatic blade levelling systems are considered to be the emerging technologies and features that have to be made cost-effective to be affordable to any end user.
Products and features
Leading manufacturers have come out with motor graders of different features that meet the requirements of fuel efficiency, productivity, operator comfort and safety. According to Arora, the G90 offers a host of benefits to road contractors and is the ideal machine for spreading and grading applications for the entire road and railway contractor fraternity. He elaborates, "It offers an optimised solution and precisely caters to the road contractor's grading needs for government's flagship programs, as well as for major district roads, state highways, border roads and expansion of national highways."
The G90 is powered by a 91 hp DiTEC engine developed by Mahindra, coupled with a 3 m (10 ft) wide blade. This equipment is optimised to deliver zero compromise grading at a fractional 40 per cent cost as compared to conventional motor graders. "The product comes with a one year, unlimited hours warranty, eliminating the customer's anxiety when it comes to expensive repairs. The G90 is equipped with apt technology that is optimal and coupled with unmatched quality, superior style, operator comfort and its innovative telematics technology, DigiSense," Arora adds. Aneja explains, "CASE India has an active fleet of close to 400 motor graders in India, supported by its 70 dealers and three company-owned dealerships. CASE 845B,14-ton and CASE 865B, 15.5-ton graders imported from Brazil are equipped with Fiat FPT, CRDI, electronic engines with variable hp which results in best-in-class fuel efficiency. The engine assures higher productivity, reliability and significant amount of availability to contractors, with lesser maintenance costs. The electronic FPT engines enable on-board diagnosis of the varied operating parameters which enable the operators to undertake timely preventive and predictive maintenance for better operator safety.
On the operator's comfort hand, CASE India's motor graders are equipped with closed air-conditioning ROPS cabins whereas most of CASE India competitors provide open canopy. The operator can also customise all the working parameters of the machine to achieve excellent controllability and faster cycle times. The automated functions in the cab, which includes an electrohydraulic joystick to customise the reversing and steering sensitivity, makes the drivers' job easy, allowing them to achieve shorter cycle times and boost their productivity."
SDLG offers the G9138 and the bigger G9190 motor graders, both built in its manufacturing facility in Linyi, China. Mehta adds, "The highly-productive G9190, powered by the 148 kW Deutz Tier III engine, features a hydraulically controlled movable blade for ultimate precision and performance on any terrain - from highways and airports to construction and agricultural applications. The G9138, on the other hand, is powered by a Deutz BF4M1013-15T3R/2 engine that has an output of 111 kW. Its blade can cut depths of up to 575 mm and create bank slopes of up to 90-degree. The sliding range of the blade is 500 mm, while it can be inclined up to 47-degree forward and 5-degree backward. Maximum gradeability in travel is 20-degree."
Sakthikumar elaborates, "XCMG motor graders are powered by Cummins BS III engine with double fuel filtration system and turbocharger which provides the best fuel efficiency even at high load. For maximum productivity, XCMG motor graders GR150 and GR1605 come with a width sufficient to grade the road fast and smooth.
The turning radius provided by XCMG motor grader is also smaller than most of the competitors in the market which provides single-cut turning on two-lane roads. Blade cutting angle from 54 to 90-degree provide clean grading. The deluxe closed cab with air-conditioning system in all models provides comfort to the operator in dusty environment. Spacious cabin with front and back lights is made for great visibility during nighttime operation. The box-welded, high strength structure is provided to withstand tough working conditions. Patented design of XCMG for limited slip mechanism which saves mold board from sudden jerks during blade movement is provided in all machines.
Digital push
With technology is picking up fast across the construction equipment segment, digitalisation is gaining momentum. According to Arora, Mahindra's motor graders are supported with its telematics solutions, DigiSense to track performance on real-time."We are also carrying out various technological enhancements through improvisations in few key aggregates to enhance fuel efficiency and increase the productivity of our machines thus helping them deliver even higher output."
Mehta explains, "We pay attention to every detail of the machine and look for ways to maximise its productivity. The G9138, for example, is highly manoeuvrable. Through a fully digital instrument panel that includes electronic monitoring, the operator has precise control of the machine and can easily navigate it through a variety of work scenarios. The integrated access panel also offers straightforward inspection and maintenance."
Sakthikumar elaborates, 'In our machines, the telematics offered are an optional feature and in fact it is in the developing stage only. It calls for a dedicated server set-up in India.
Aneja says, "The advanced Eagle-Eye telematics solution used for tracking of machine using GPS technology which is well-equipped in CASE India's backhoe loaders is being liked by our customers and this is also a rising technology for motor graders as well."
Rentals: key growth driver
Being capital-intensive equipment, users are more dependent on rental market for motor graders. Aneja terms rental companies as the backbone of India's infra development. He adds, "Growth of CE rental business offers the dealers as well as customers major advantages of cutting down on equipment acquisition cost, protection from market fluctuations, eliminating storage and transportation issues. With all these issues resolved, it becomes inevitable for customers to support their business with CE rental. At CASE India, we understand that heavy-duty equipment like motor graders requires major capital investment. Rental basis would definitely act as a helping hand to the customers. CASE India with its financial arm CNH Industrial Capital aims at strengthening the rental and finance market for future construction growth."
According to Sakthikumar, the market demand for the used motor grader is growing since the corporates are trying to clear their old machines. This is because of the bidding criteria formulated and set by the Ministry of Road Transport and Highways (MoRTH) for road contracts wherein there is certain age limit for the machine, so those machines which are very old will find a place in the second-hand rental market. "Rental penetration and rental business is slowly now picking up. This is mainly because of the fact that in construction equipment rental, contractors have the major advantage of minimising the maintenance and inventory cost when a contractor has two or more projects running simultaneously."
Mehrotra says, "We already have rental players as our customers. Furthermore, our dealers also are engaged in rentals at local level."
Overcoming challenges
The roads and highways, and other infrastructure segments are on growth path. This has demanded more equipment at the projects to meet the tight execution schedule. The growing demand has put the equipment market in a lot of challenges in different ways, be it making available the machines at reasonable cost and time, trained and skilled operators and others. Mehrotra highlights, "Some of the common challenges faced are scarcity of trained operators and lack of knowledge regarding the proper application of the machine. At LiuGong, we organise operators meets every quarter at our dealers' end. Also, we provide certified training to operators from across India at our plant twice in a year wherein we give them hands-on training on different equipment and on different applications."
Aneja says, "CASE India's motor graders are imported from Brazil, which in turn becomes challenging for us as importing further increases the price whereas the competition manufactures these locally. Hence, there is a huge difference in pricing. Skilled service manpower for understanding the machine design and working, skilled operators to operate on such technically advanced machines is another challenge we face in the market." To resolve this issue, CASE India has dedicated training centres that host training programs all-round the year for operators and customers to constantly keep them updated with the latest practices and techniques.
According to Mehta, the Indian construction industry has not evolved to the same level of developed countries. This means that the use of specialist machines which are engineered for specific applications is not as widespread. This generally accounts for the slower uptake in the use of motor graders. "This, however, is changing and we foresee a much stronger pick-up in the usage of motor graders across India," he adds.
Sakthikumar elaborates on the challenges, "Untrained operators and lack of awareness among contractors to use motor graders with different attachments for varied applications are the common challenges manufacturers face. We offer training program to both operators and customers to overcome these hurdles. We are currently selling the motor grader assembled in the final stages with an Indian engine at our factory in Irungattukottai, Sriperumbudur, Kancheepuram. However, our endeavour is to offer top of the class specification and quality. We will launch a localisation plan to indigenise components in India to meet the customer expectations of high quality products at competitive prices, at a later stage."
Setting the future
Looking at the market potential for motor graders, most of the manufacturers are planning new products and expansion of existing product lines. Mehrotra explains, "Commercial launch of our new model CLG 4180 has planned in May 2019. The new variant comes with patented electronic Cummins engine with gross power of 180 hp. We foresee a growth of 10-15 per cent in 2019."
Looking at the future, Arora says, "Innovation is order of the day and we believe to provide the products and services which help the industry to rise. In fact, when we entered the road construction equipment industry with our motor grader, Mahindra RoadMaster, it had many firsts. We were the leaders to provide optimised solution in the traditional motor grader segment. Continuous improvement drives us forward and we believe in providing solution which makes the real difference to our end customer. As a serious player in the construction equipment industry, you should expect to hear about our new innovative products soon."
Aneja sees a progressive market however a flattish phase could be experienced due to general elections. "Currently, we are focusing on the ongoing projects and further we expect a sustainable growth in sync with the industry growth," he adds.
According to Mehta, motor graders have become one of the fastest-selling equipment categories in India as contractors look to speed up project schedules and as the government ramps up road building.
Sakthikumar says, "Schwing Stetter India has increased the production capacity for most of the products from moving away from batch production to line production. We are moving on an aggressive path to bring in more products and services for the industry in the near future. We have plans to expand our after sales network within India to ensure our customers are serviced and supported best at the site."
With the slew of projects coming up in roads, railways, airports, urban infrastructure and the revival in mining will further improve the growth prospects of motor graders in the coming years.
- Sudheer Vathiyath