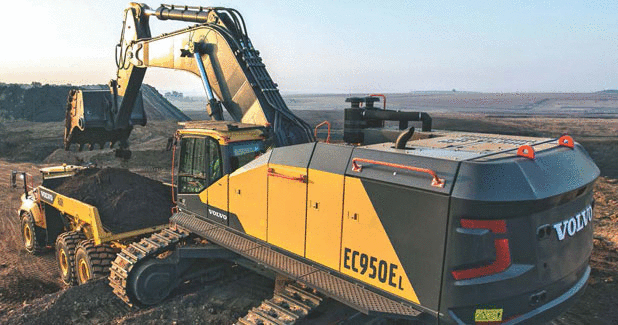 Government's high spending on infrastructure projects drives the demand for construction equipment while earthmoving equipment being the largest used equipment category leads the growth. EQUIPMENT INDIA explores how earthmoving equipment OEMs are taking up the challenge of offering productive and value-for-money products to meet the emerging needs of infrastructure development.
While earthmoving and mining machines constitute for over 60 per cent of construction and mining equipment (CME) market in India, earthmoving equipment contribute to majority of the total infrastructure equipment sales. Rapid urbanisation, creation and revival of rural roads and highways, improving railway infrastructure; and revival of mining segment have created surging demand for earthmoving equipment. OEMs are coming out with customised solutions and advanced technical features in their equipment to meet the increasing requirements of more infrastructure creation.
Earthmoving: inevitable
In construction and mining, earthmoving is the primary job to be done before getting into the core of the project. Though it is an elementary job, when it comes to earthmoving in large scale, it becomes complex that demands a lot of skill and advanced technology. Earthmoving involves excavation of soil/earth, hauling the excavated soil, dumping and spreading, treating such as mixing, grading, and compacting in mining as well as in construction work.
Equipment involved
There are six major equipment used for eathmoving jobs. These include excavators, backhoe loaders, skid steer loaders, dozers, motor graders, and trenchers. Indian construction equipment industry is dominated by earthmoving equipment with leading global players having significant market share.
Tata Hitachi is the market leader in hydraulic excavators with a vast range on offer. Hemant Mathur, Senior General Manager, Sales and Marketing, Tata Hitachi Construction Machinery Company, elaborates, "Our comprehensive range of excavators include 2 to 40 tonne hydraulic excavators for the infrastructure sector, 45 to 120 tonne for the mining sector and the ultra large 190 to 800 tonne excavators for specialised heavy-duty mining."
Volvo Construction Equipment (Volvo CE) offers earthmoving machinery for mining, road building and general construction. Dimitrov Krishnan, Vice President and Head, Volvo CE India says, "We offer high quality and productive equipment that delivers the best levels of fuel efficiency in the industry." On mining applications, he adds, "We offer close to 10 different models of equipment that are ideal for coal mining. Our machines feature cutting edge technology that helps customers maximise productivity and minimise downtime. I am sure these are qualities that customers in India appreciate."
The Chinese equipment major LiuGong offers a wide array of equipment for earthmoving applications in construction and mining applications. Nischal Mehrotra, Director-Sales & Marketing, LiuGong India, adds, "For road construction and infrastructure development, we have excavators, graders, wheel loaders and compactors, whereas we offer higher capacity wheel loaders, excavators and dozers for mining application."
Another active player in the market is Larsen and Toubro. The Construction Equipment Business division of the company offers Komatsu range of earthmoving equipment in India, along with its own products. L&T offers a comprehensive range of construction and mining machinery which includes excavators, dozers, wheel loaders, motor graders, and dumpers from Komatsu. L&T also supplies a full line of equipment for the road construction segment such as vibratory compactors, pneumatic-tyred rollers and hydraulic pavers which are essentially used in the compaction and paving of road surfaces. "All these are robust machines which have set new benchmarks in performance and productivity," says Vivek Hajela, General Manager and Head-CEB, L&T.
CASE India offers an extensive range of earthmoving equipment suitable for both construction and mining sites. These include crawler dozers, backhoe loaders, motor graders, soil compactors and skid steer loaders.
Mahindra Construction Equipment division has come out with its EarthMatser range of backhoe loaders for earthmoving and general construction applications. According to Manish Arora, Business Head, Mahindra Construction Equipment, the Mahindra EarthMaster is available in the market in six different variants namely VX, SX, SX 4WD 6-in-1 bucket, SXL and SX90.
JCB, the market leader in backhoe loaders in India, has come out with vast range of excavators ranging from 3 tonne to 38 tonne capacity.
Demand drivers
Earthmoving equipment is the largest used construction equipment category in Indian infrastructure construction market. In a broader sense, any demand pick up in infrastructure projects will drive the demand for earthmoving equipment. All equipment players see demand from key infrastructure segments such as roads and railway, while mining is also showing some demand. According to Mathur, a spurt in roads and railways construction has led to an increase in the demand for excavators. "There is also a significant demand from major and minor irrigation projects from some of the South Indian states. The focus on "Make in India" and the commissioning of Smart Cities, have led to a demand for a range of versatile equipment for various civic utilities applications."
Krishnan also highlights roads and bridges, urban rail and airport expansion projects as demand drivers.
According to Hajela, there has been sharp increase in fund allocation for infrastructure development in the last three budgets. "Steps have been taken to improve the regulatory environment and funding avenues," he adds.
Ajay Aneja, Brand Leader,
CASE India sees more demand coming from roads sector as he highlights, "The amount of policies and schemes which are being targeted at highway development is immense. Looking at that, the machines being called in this direction are also more in comparison to the other sectors."
Value for money
Various market studies reveal that earthmoving segment is growing with equipment such as excavators and backhoe loaders leading in the demand trend. While the number of infrastructure projects is increasing, the timeline for project execution is reducing and becoming stringent. This has created requirements of machines with higher efficiency and productivity which ultimately provides value for money. Major equipment players claim features associated with their products that provide value for money invested on these machines.
Krishnan explains the scenario, "While cost remains one of the most important factors for buyers in India, the purchase price is only part of what constitutes a machine's overall lifetime cost. Equipment owners and contractors in India have developed quite sophisticated models for calculating "cost per tonne' or "cost per km' for equipment, and this considers a range of factors, including purchase price, operating costs, productivity levels, anticipated maintenance, depreciation, resale value and more."
According to Krishnan, Volvo CE is heavily focused on productivity and lowering the cost of operations, or cost per tonne, for customers. He adds, "A big contributor to this is fuel efficiency. It's not unusual for a Volvo CE customer to report fuel savings of 10 per cent or more for one of our machines versus a competitor model."
Mehrotra elaborates on the features in LiuGong range of earthmoving equipment, "Since most of our machines are fitted with our own manufactured Cummins engines, we are able to give a saving of about 10-15 per cent on fuel consumption to our end-users. Our machines are most economical in their respective segments, thereby making it most affordable."
Arora says, "Mahindra Construction Equipment has always strived for providing the best to its customers. It is for the same reason that we came up with the backhoe loaders after four years of research and over 20,000 hours of machine testing. This resulted in better technology and design enhancements enabling our equipment to lower lubricant refilling requirement with extended service intervals, thus reducing the overall maintenance cost and improving total cost of ownership. Moreover, our indigenously developed and proven Mahindra DITEC engine offers best-in-class fuel efficiency which implies saving of 10 per cent in standard evacuation cycle to the customer."
According to Hajela, today, most CE models incorporate digital tools in some form or the other. Premium class equipment have sophisticated and advanced health monitoring systems that allow both the manufacturers and the users to track almost all major performance parameters remotely, online. He says, "Overall, information and communication technology (ICT) and digital technologies help reduce operating cost and increase productivity of CE. Soon, we may see advent of Smart machines and Smart construction which will be supported with Drone technology."
Hajela adds, "Komatsu equipment are inbuilt with Komtrax, the advanced machine monitoring system, that allows the users to access data in real time and remotely monitor the equipment on a number of parameters. This helps in improving the equipment performance as well as push up the operator efficiency. Komatsu components like undercarriage and structures are known for high quality and reliability and have a longer life giving an edge over competitor models. Machines are well engineered to take on the challenge of handling varying applications."
According to Aneja, CASE India focuses on continuous product development along with use of fuel efficient FPT engines and regular maintenance to improve the equipment's performance and increase fuel-efficiency and durability. "One testimony to our similar approach is the recent technical upgrades we have offered in our entire product range. We expect and believe that if the customer desires the best output we provide the best solution," adds Aneja.
Minimising wear and tear Earthmoving equipment works under extreme conditions varying from soft soil to hard rock to dusty conditions. How are OEMs meeting the requirements for earthmoving equipment to work under these conditions?
Mathur explains, "Tata Hitachi's earthmoving machinery are designed, manufactured, tested and validated for performance in tough working conditions. We use a host of techniques to ensure performance in harsh working conditions such as use of pre-cleaners in air intake of engines, improved metallurgy steels in wear parts and ground engaging tools, protective dust guards and seals to prevent dust entry into cylinders and bearings. Special reinforcement is also provided to enhance the life of parts such as the track shoes which work on rocky terrain and bear the load of the entire machine."
According to Krishnan, Volvo excavators are designed to withstand rugged terrain and unforgiving conditions, but on top of that the way an operator operates the machine can play a huge role in extending machine lifespan. "In order to keep our earthmoving equipment in pristine condition, we often advise operators to keep up with regular maintenance checks. Our products are reliable and enable our customers to easy access their check points."
Mehrotra explains the features to withstand wear and tear, "We are using centralised lubrication system in selected models which helps end-users to extend the life of bush and pins with routine maintenance. We use Hardox material for cutting edges and wear plates. Moreover, we provide extra ribs in excavator buckets to save mother sheet from wear and tear."
L&T offers complete repair and maintenance options to suit specific requirement of its customers through its after-sales support network of skilled service engineers.
According to Hajela, L&T has six fully equipped state-of-the-art service and training centres which undertake skill development among customer personnel, dealer engineers and in-house skilling. "Besides, we undertake programmes on skill enhancement for "Young India'," he adds. These centres provide lifetime care of the equipment and help in the remote management of assets. Apart from periodic maintenance, regular preventive inspection, and component repairs and overhauls, L&T also undertakes complete Maintenance & Repair Contracts (MARC) where the user pays on per hour of machine used.
Supporting customers
Customer support is the most important factor for the smooth operation of a machine. The support can vary from providing finance to the customer to buy the equipment, updating the skill sets of the customer to operate the machine, and maintenance support to keep the machine life up to the mark.
Financing: According to Mathur, financing is an important component that drives growth - availability and easy finance schemes help expand the market and bring new customers into the industry. Various products from the financiers are also tailor-made to large customer requirements depending on the demands of the projects. "We are engaged with a large number of financiers to offer assistance to the entire spectrum of customer requirements at very affordable interest rates as well as solutions like leasing etc. We also actively engage with financiers to offer channel finance to our dealer partners so that they are able to offer readily available stock of equipment as close and fast to the customer."
Mehrotra says, "For equipment finance, we have tie-up with all the major financiers of banks and NBFCs. Our long association with the financial institutions enables our customers with ease of financing."
According to Aneja, construction financing services cater to the capital financing needs of almost all types of earthmoving equipment. As the segment requires large capital expenditure, financing accounts to 80-85 per cent of equipment purchased. He adds, "Over the last six years, disbursements to the sector have grown at a CAGR of 10.9 per cent and are expected to grow further at a rate of 20-21 per cent for the next three years until fiscal 2021. On the other hand, CE business gives a major advantage of cutting on higher equipment cost, protection from market fluctuations, eliminating storage and transportation issues. Currently, the business accounts to 7-8 per cent and is expected to grow rapidly."
Skill development: Skilling becomes the fulcrum to take maximum benefit from technological advancements. The industry needs to absorb additional skilled operators, estimated at about five million by 2020, over and above the blue and white collar workforce in the plants. They need to be capable to maintain and handle advanced technology machines. ICEMA, in collaboration with National Skill Development Corporation, has set up Infrastructure Equipment Skill Council (IESC).
This has been imparting training and its target is to have around two million skilled operators and maintenance personnel in the next 7-8 years. As machines become more technologically advanced, availability of skilled personnel to operate and maintain is critical and hence skill development is paramount to faster as well as cost-efficient execution of projects. "We have set up skill development centres and operator training schools at Kharagpur and Dharwad. Way before the current government focused on the Skill India initiative, we had set up skill development centres to provide hands-on training for new recruits and refresher courses for our factory and service personnel to sharpen their skill sets and keep them abreast of the latest technologies. Also, as a part of the company's CSR activity, the operator training school at Kharagpur imparts safe operating and servicing skills for excavators and backhoe loaders," Mathur elaborates on Tata Hitachi's skill development activities.
Krishnan explains, "We have a team of skilled professionals who understands the market and customer needs. Their expertise is dedicated to serving the needs of our customer and making sure they receive excellent aftermarket service support." Mehrotra explains on LiuGong's skill development initiatives, "For skill development we have joined hands with Infrastructure Equipment Skill Council (IESC), backed by ICEMA wherein we are providing in-house training to machine operators for graders and loaders. Furthermore, we keep on organising periodic operator training, zone-wise."
Hajela highlights L&T's skill development initiatives, "L&T has taken a lead in preparing trained personnel by imparting structured programs for operators and technicians in this industry on troubleshooting and diagnostic skills under the Pradhan Mantri Kaushal Vikas Yojana (PMKVY). L&T CMB is one of the earliest OEMs to get accredited as a training partner and uses its resources to not only enhance the skills but changing the mindset of operators and mechanics as well. Its Central Training Facility at Kanchipuram, accredited by IESC, conducts courses under PMKVY and non-PMKVY scheme. Subsequently, the regional training facilities in North (Bahadurgarh), East (Durgapur) and West (Nagpur) have been accredited by IESC, thus creating a pan-India presence in skill building."
L&T CMB started its interaction with IESC from inception stage, and contributed in the drafting of Qualification Packs (QPs) and National Occupational Standards (NOS) for each job role. L&T CMB is the only OEM to conduct National Skill Qualification Framework (NSQF) level 4 programmes for dump truck operators, according to Hajela.
Service and maintenance support: Customer service is very important as without it, OEMs will not exist. Mathur elaborates, "Investment by OEMs is very critical to come closer to customer, offering the best possible service and availability of spares to sustain continued operations. Hence, coverage and expansion of networks and touch-points are very important. Customer support also involves offering customised solutions to customer depending on their needs like Annual Service Contract (ASC), Annual Maintenance Contract (AMC), Full Maintenance Contracts (FMC), Cap Contracts etc. At Tata Hitachi, we cover all the above with focus on each."
Tata Hitachi has support network of 43 domestic and three international dealers having over 200 touch-points to be close to the customer. It also offers the unique Field Diagnostic Vehicle (FDV) to reach fast to the customer site, diagnose and offer quality/efficient service to customers.
Mehrotra adds, "We have a network of 22 dealers with 60 touch-points pan-India, thereby keeping us close to our customers."
Rentals: A promising market
As the largest used construction equipment in India, earthmoving equipment has a created good business to rental market. Given the focus of construction companies on execution, more and more companies are using rented equipment. It is important to note that the proliferation of construction equipment far and wide has helped increase the confidence of the companies to source this equipment locally to cut costs as well as generate employment, wealth and touch the lives of the community where they operate. Organised rentals are still evolving, given the various challenges involved, but are likely to grow further in the future, as commitment to timelines as well as complex construction and faster execution demands grow. Mathur says, "Nearly 80 per cent of customers are from the hiring segment and therefore are looking for value solutions. We have the EX Super+ series of excavators, SHINRAI backhoe loader and the highly fuel-efficient hydrostatic wheel loader to meet their requirements. For customers who want to offer superior services, we have the premium Zaxis GI series of excavators offering the latest and advanced technology and productivity from Hitachi."
Mehrotra says, "Though we are not directly into rentals, our dealers hire out the machines amongst the prospective customers. This in turn gives them a user experience, thereby helping us in selling the machine."
Looking ahead
Several projects have been announced in the last year opening up new avenues for the construction machinery industry. Therefore the long term growth for construction and earthmoving equipment is intact and positive. According to Mathur, construction and earthmoving equipment demand is very strong till now and expects to grow by at least 25 per cent this year. He adds, "There is continuous growth in investment in these areas over the next few years and hence we see that the demand for construction equipment to be sustained in the near term. Having said this, there is new emission regulations for wheeled equipment kicking in October 2020. This will increase the price of machines by a significant amount and hence there could be some effect on the growth of the industry around that time before we recommence the growth trajectory." Mehrotra comments on the market outlook, "2018 had been phenomenally good wherein we achieved a growth of about 40 per cent year-on-year. The growth has primarily come from newly launched excavators. The year 2019 being election year, the growth may be minimal, but keeping in view the ongoing projects there may not be any negative growth too, thereby keeping it a flat market.
Aneja explains, "We observed a growth of over 30 per cent as an average across all products and segments. We have witnessed major sales in the loader backhoes with a percentage equivalent to almost 40 per cent. We have also seen around 20 per cent growth in graders and 25-30 per cent when it comes to compaction range." About the coming year, he comments, "The year 2019 looks promising; we expect and believe that the positive momentum will continue, whereas we might experience some fluctuations, due to elections. The government has been quite supportive and we are hoping for a construction-friendly government next year as well."
Krishnan says, "We believe the industry has enough momentum to continue growth for the next three to four years. But with 2019 being an election year, which typically slows decision making in the government, we are expecting slightly reduced demand. We do believe, however, that the growth cycle that has started in India is not reversible. There will be continued growth in India and we expect the new government to commit to growth." On the challenge, he adds, "The potential challenge could come from the global developments; for example, a spike in oil prices, which could impact economic growth in India."
Mehrotra is positive about the future market here as he comments, "There is a great boom for earthmoving equipment in India as we are a developing nation and a lot needs to be done in terms of infrastructure development of the country."
Arora is of the view that the increased spend on infrastructure would drive the growth in construction equipment sales. The trend is already evident as Indian CE market has been on a strong recovery track after an ebb of four years and is slated to increase by 50 per cent to around 75,000 units by 2019."
For Hajela, the upcoming business scenario across sectors appears buoyant for the years to come. He adds, "The fact is that there is a massive amount of construction work yet to be undertaken in the country, which would create huge requirement of various types of equipment for the infrastructure development. This in turn results in increased opportunities for the construction equipment industry."
According to Aneja, 2018 has been a significant year with maximum demand in infrastructure and construction segment, simultaneously helping the private players to grow. "We have grown in sync with the industry in some segments maybe faster. If we go by the recent trends, the future holds quite a lot of open opportunities for CE sector. With road and construction targets getting revised to newer heights, we are hoping for a positive trend to sustain," he adds.
Technology can add momentum to project execution with optimum utilisation of the machines. While OEMs are coming out with new features in their machines, other stakeholders in the value chain should create the environment for the utilisation of these technologies to the fullest.
- Sudheer Vathiyath