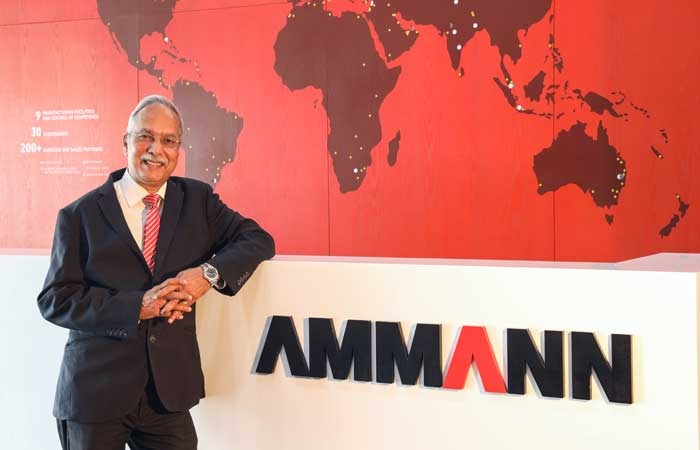 Anand Sundaresan Managing Director, Ammann India
Excon is returning after a gap of two years. What has been the past experience at the event?
We are happy that the construction equipment fair is returning. As in the past, this fair will give us an opportunity to have face-to-face interaction with the customers and showcase our latest technological development. This will also be an excellent opportunity for knowledge sharing, learning, and networking.
What are the key products on display during Excon? Explain in detail.
Ammann India has exhaustive plans to participate in Excon and leverage the opportunities by exhibiting asphalt plant, concrete plant, sensor pavers, mini pavers, soil compactor, baby rollers and tandem rollers, digitalisation products and other maintenance solutions
Ammann ABC Value Tec-180 With AS1 control system:
Ammann had a presence in the asphalt plant industry for energy saving. The latest technologies in plants such as recycled asphalt, warm mix, enhancing productivity and quality, besides reducing emissions and saving fuel consumption.
The lowest product life cycle cost of all plants in this segment
Fully modulating burner for efficient combustion and pollution control
Direct coupled geared motors at most places that reduce maintenance costs
An efficient burner and bag house that ensure suspended particulate matter (SPM) levels are within limits and the carbon footprint is minimal
A future-ready design that enables seamless addition of upgrades
Remote assist that is available at any location
Customized options that include utilisation of up to 60 per cent RAP
Ammann Elba CC-60 concrete plant with AS1 control system: The Ammann Elba CC60 plant is a linear and transport-optimised concrete mixing plant. Fast installation times and with ease to relocate – as well as favorable transport dimensions – were the engineering goals of the new plant concept. The result is the new CC plant, which is extremely fast to set up due to its folding mechanisms and compact plant design.
The compact plant is equipped with a specialised design CEM 1000 S Elba single-shaft mixer in operation globally with an integrated linear bin for storing between 2 and 4 aggregate types. Cement, water, aggregate scales and all other electric and pneumatic plant components are pre-installed and ready for operation.
The integrated control cabin houses the switching cabinet and offers additional space for the control system. With a theoretical hourly output of 60 m³/h, the new CC 60 is the ideal plant for a wide range of applications. No foundation is required for plant installation.
Optional solutions are available as per project requirements. Customers will appreciate the exceptional service and maintenance accessibility designed into the CC 60.
AS1 control system: All control systems in Ammann plants are equipped with microprocessor control, which is 1,000 times faster than PLC control systems offered by most of our competitors.
The system helps to enhance fuel economy.AS1 control system, provides fully automated mix production, plus the flexibility to work in safe manual mode. The system offers a host of other benefits including the use of unlimited recipes, automatic burner control, dynamic in-flight correction abilities and full integration of bitumen storage tanks. It also enables

Locking of silo loading based on bin content to prevent material from being mixed up
Composite or individual adjustment of the feeder proportions during production
Automatic optimisation function for aggregate-to-bitumen ratio
Dynamic switch point from coarse to fine batching
Automatic batch reduction during warm-up phase
Automatic loading bin control
Remote maintenance access and online diagnosis and many more features
Such advanced technologies in our plants helps our customers to achieve high quality mix, energy and fuel savings and high reliability, thereby improve productivity and TCO. AS1 software is specially designed to improve efficiency and is compactable with all asphalt batch plants
RAH-50 thermo drum: Ammann RAH50 is "New generation" drying drum retrofit to improve fuel efficiency and recycling capabilities over old drier drums. Ammann dryers with different zones heat and dry raw materials of different compositions, material properties and moisture contents. They have exceptional wear resistance, are easy to maintain and highly efficient, according to the manufacturer. The Ammann RAH50 is a popular retrofit because it allows customers to work with recycled asphalt.
Apollo AP600 paver powered with CEV IV emission standards: The reliable and durable AP 600 wheeled hydrostatic sensor paver comes with a variety of features that enable quality, productivity and easy operation. Among them: hydrostatic drive, fingertip controls, a swinging console, a hydraulically extendible screed with vibration and tamping, and best-in-class sensors. Double-axle design provides greater stability on difficult terrains, with zero flexing – even at the widest paving width.
Additional features for even paving results include:

Auger lifting/lowering
Separate drives for both auger and conveyors
Sensors for material feed in augers and conveyors
The AP 600 is offered with the TV 4900 and TV4500 screed, featuring a basic width of 2.5 m that is hydraulically extendible to 4.9 m. Bolt-on mechanical extensions of 850 mm or 1050 mm on either side of the screed offer a paving width of 6.5 to 7 m. The paver's tamping and vibration arrangement is in line with Ministry of Road Transport and Highways and accepted international specifications. Ammann offers either LPG burner or diesel burner for screed heating.
The pavers come equipped with sensors. The result of all these features, an impressive paving performance along with excellent compaction values.
Ammann ARS-110.2: The ARX 110.2 Heavy soil are powered by engines that meet CEV IV emissions standards. Applications include medium and large jobsites, transport construction (municipal and town roads, motorways, airfields) and building construction (houses and industrial zones). The rollers all utilise the highly respected Ashok Leyland engine (Model H4C410122). The differences between models results in reducing pollution and NOx. Newly released models are equipped with the most technologically advanced electronic engine.
ARX90.2 heavy tandem roller: The ARX 90.2 heavy tandem rollers are powered by engines that meet CEV IV emissions standards. Applications include medium and large jobsites, transport construction (municipal and town roads, motorways, airfields) and building construction (houses and industrial zones). The rollers all utilise the highly respected Ashok Leyland engine (Model H4C47422). The differences between models results in reducing pollution and NOx. Newly released models are equipped with the most technologically advanced electronic engine.
Apollo KLM1200 Kerb paver: The KLM 1200 is an ergonomically designed, easy-to-operate, slip form curb-laying machine. The machine, which can lay continuous curbs of 600 mm by 800 mm, is mounted on steel tracks to ensure maximum stability and gradeability. It can work at a pace of 180 m per hour
The engine is a 58-hp, fourcylinder, four-stroke water-cooled diesel engine perfectly suited to the application. Manual override enables operator control under all conditions. The machine can be transported with a standard trailer and a pickup truck.
Operation is easy with the KLM 1200's fingertip controls. The operator has exceptional sight lines to the formed concrete, enabling quick adjustment of speed and vibration when necessary. The machine's design enables easy access to machine components.
How do you look at the market in India for your products?
Undoubtedly, India offers a huge opportunity for the growth of construction equipment industry, due to the government's focus and trust on infrastructure development. The recent budget has been quite encouraging for the CE industry. The budget is an investment-oriented budget with over 35 per cent increase in capex outlay for infrastructure development covering road, river linking, railways and affordable housing amongst others.
The Prime Minister Gati Shakti master plan for express way for faster movement of goods and people will spur road construction activity.
Further, the announcement of the growth of highway network by 25,000 km in 2022-23 will help the CE Industry. So overall there are huge opportunities for the CE Industry to grow including our products.
What are the various challenges faced in the sector you are in?
The crazy rise in steel and commodity prices between end 2020 till now has substantially increased the input cost. The situation is highly unpredictable with regard to input cost increase. Added to this, rise in petroleum prices, non-availability of container for export have also increased both the domestic as wells as export freight cost. Further, funding of construction equipment is another challenge, which smaller contractor is facing leading to delay in execution of orders
Please share more information on the investment made in the Indian market in terms of the manufacturing facility, etc.
Ammann Schweiz AG has invested about Rs 200 crore and have set up the state-of-the-art manufacturing facility in Mehsana, near Ahmedabad. The old production halls were completely dismantled and replaced with newer buildings, additional structures and production halls. The investments included state of the art fabrication facility with modern cutting and welding machines, robotic welding machines etc. For producing the entire range of asphalt plants, pavers and vibrated compactors. Due to this investment, our dependency on external source has reduced substantially. Probably, Ammann India is the only asphalt plant manufacturer having such a modern facility which will help us to maintain quality performance and reliability of our product.