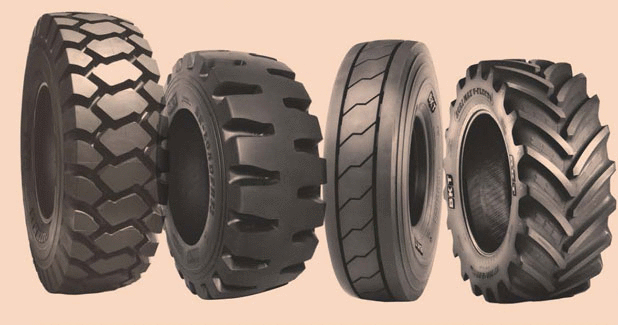 The Indian off-the-road (OTR) tyre market is becoming more competitive in the global space with the presence of a mix of national and international players. Global players are consolidating their presence in Indian market, domestic players are widening reach to international markets.
The Indian OTR market is likely to grow at a CAGR of 9.05 per cent in volume terms in the coming year. The growth is attributed to the revival in construction, mining and agriculture sector. Tractors and earthmoving equipment will be driving the overall growth. In construction equipment sector, backhoe loaders and cranes are driving the demand. Mining and construction segment contributes to more than half of OTR tyre sales in India. For OTR tyres, agriculture is the biggest segment due to the growth in tractor population especially in rural region. There is almost equal demand from OEM and after-market for OTR tyres in India.
The market for OTR tyres is largely driven by bias tyres as radial tyres constitute a very small percentage. However, in the recent years, the usage of radial tyres has seen picking up gradually, especially in construction and mining sectors.
When it comes to size, the Indian OTR tyre market is largely driven by demand for <25-inch rim size as the vehicles and machines used are of low to medium capacity in agriculture, construction and mining sector.
Market trends
Overall, the OTR tyre industry is divided into industrial construction segment and the large mining segment. The industry continues to be dominated by backhoe loader segment while other equipment such as graders and compactors have grown, while some growth is now visible in the skid steer loader segment as well.
There is increased mechanisation happening in infrastructure and construction activities, as new equipment are being introduced. Earlier, there had been only a few large multinational players in the market. Now we have domestic players who are standing up and introducing new products. This increased mechanisation is good for the tyre industry as well as the equipment industry.
In the construction equipment segment, the OEMs are expected to try out new things as they have not moved towards tubeless tyres yet, while radial tyres is growing slowly. In mining, large earthmoving equipment segment is now moving very fast as the machine sizes have grown bigger.
Growth drivers
Major growth drivers of OTR tyres in India are agriculture and construction/mining equipment market. Increasing tractor population is supporting the growth prospects of tyres in agriculture segment. In construction equipment market, earthmoving equipment segment dominated in FY17. The trend is likely to continue with the growing demand for backhoe loaders and hydraulic excavators in the country. The infrastructure sector in India is growing with many segments such as roads, railways, ports, airports, irrigation, urban infrastructure etc seeing many projects in the pipeline. This has necessitated construction equipment in big numbers, which is indirectly helping the OTR market to grow.
In construction equipment, backhoe loaders are the major demand drivers for tyres. In mining, dump trucks offer major opportunity for OTRs where good demand is coming in for bigger size tyres. Ports is one of the key segments especially as per Indian market perspective. The entire Sagar Mala project to develop ports and connectivity will provide opportunity for construction equipment segment prompting the use of new range of tyres. In fact, the existing ports are seeing more demand coming in.
Opportunities and challenges
The growing infrastructure construction and mining sector are opportunities for OTR tyre market. Also, growing demand for bigger OTR tyres with bigger capacity dump trucks being introduced in the market will open up a new growth avenue.
There are also challenges faced by the industry from the cheap import of tyres from China while introduction of anti-dumping tariffs on Indian OTR tyre manufacturers by US government will hamper the export market.
Looking ahead
In spite of the challenges in terms of increasing input costs and duty impositions in certain export markets, the demand for OTR tyre is on the rise. While the domestic market is growing with demand coming from construction, mining and material handling equipment segments, OTR tyre segment is likely to see a reasonable growth in the coming years. With more actions are happening in mining and construction sectors, the replacement market demand seems to be on the rise. Growing mechanisation in agricultural industry is further increasing demand for agriculture equipment. Government support is also necessary in terms of reducing GST rate for new tyres, export promotions, curb on import of cheap products, availability of raw materials at reasonable price, etc.