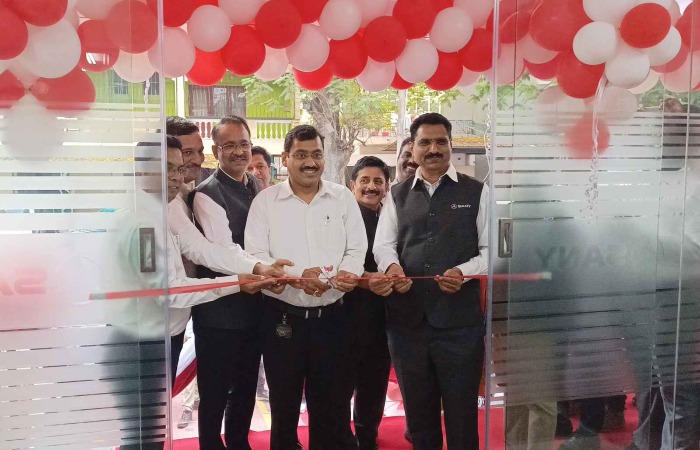 SANY India, a leading manufacturer of construction equipment, comes up with a new dealership in Bengaluru (Karnataka) in association with Masany Infra Equipments and further strengthens its presence in the region taking the total count of touch points to 15 in Karnataka. The new state-of-the-art dealership will offer sales, service, and spare parts to all esteemed customers in the region.
This dealership will play the role of the frontline office of Sany India in Bangalore offering excavators and motor graders for our customers and will also prove to be a crucial connect between the company and customer and further strengthen the service delivery of SANY India.
Masany Infra Equipments LLP will also cater to territories of Chamarajanagar, Chikballapur, Chikkamagaluru (Chikmagalur), Hassan, Kodagu, Kolar, Mandya, Mysuru (Mysore), Ramanagara, Tumakuru (Tumkur).
The inauguration took place in presence of Deepak Garg, Managing Director, SANY India and South Asia along with Dheeraj Panda, Chief Operating Officer (COO) (Sales, Marketing & Customer Support) SANY Heavy Industry India and Sachin Raj PK, Managing Director, Masany Infra Equipments LLP. The new dealership will cater to a large potential customer in the region. This new facility will offer more opportunities to the company for enhancing their future scalability plans.
Speaking on the occasion, Garg said, "We are delighted to inaugurate the new dealership office in association with Masany Infra Equipments. We hope that this new facility will pay the role of catalyst in pushing our market presence towards leadership position in the region and for which we will extend our complete support. And also, with this new 3S office, SANY India tends to provide loftier support and service to its customer who have shown their trust for the brand."
Sachin Raj PK said, "We are extremely happy to inaugurate our Head office in Bangalore, the new facility will offer SANY India's best-in-class products equipped with global technology We are pleased to have SANY India's support which will help us to capitalise on this opportunity and grow as an organisation.