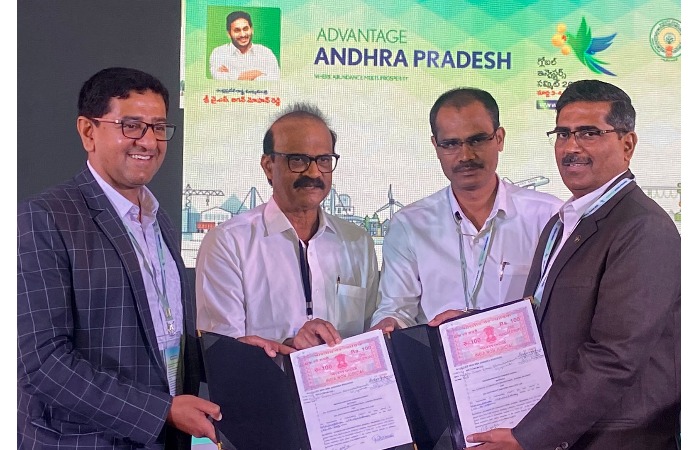 SANY India, a leading manufacturer of construction equipment, heavy machinery, and renewable energy solutions, has partnered with Andhra Pradesh's National Academy of Construction (NAC-AP) to train the state's youth and prepare them for skilled employment opportunities.
SANY India strives towards its vision to cultivate first-class skilled workforce pioneering enterprises making a greater contribution to the society. This collaboration aims to provide skill development training working at the bottom of the pyramid by training the trainers and developing a skilled youth for Andhra Pradesh and further marking a stepping stone towards a larger contribution to the nation in sync with government's skilled India programme.
In the presence of senior leadership of Sandeep Laroiya, Senior Vice President (Customer Support) and Shri K Dinesh Kumar, Additional Director General, The National Academy of Construction, Andhra Pradesh along with the management of both SANY India and NAC-AP, the MoU was signed.
Speaking on the association, Laroiya said, "We are proud to be associated with NAC-AP in building and skilling the nation's youth through our experienced engineers trained to operate some of the quality engineered global products. With this agreement, we aim to make a stronger contribution to the government's vision of skilling India, which we consider to be an equally essential endeavor with a more skilled young workforce the sector and the country will witness a stronger growth prospect in terms of more skilled, efficient quality human resources. This association is just a stepping stone towards making India a global hub for skilled manpower."
K Dinesh Kumar, Additional Director General, The National Academy of Construction, Andhra Pradesh (NAC-AP), said, "We are pleased to announce our partnership with SANY India to provide training and skill development of unemployed youths in Andhra Pradesh. We are excited to start on this journey to close the unemployment gap in the state."
The company through this association highlights its responsibility and enthusiasm towards enduring excellence in collaboration with NAC-AP. Under the Memorandum, SANY India will train the institute's trainers on the operation and maintenance of hydraulic excavators. Also, an Excavator (SY140) will be provided to the Nation Academy of Construction, Andhra Pradesh for training purposes on a returnable basis. The machine will be kept in NAC-AP custody for two years to allow NAC-AP to experience the product's global quality and technology.
The National Academy of Construction, Andhra Pradesh will provide the training infrastructure, such as dedicated classrooms and requirements, in association with SANY India for practical trainings. The trainers will be certified by IESC to train new operators in accordance with IESC standards.