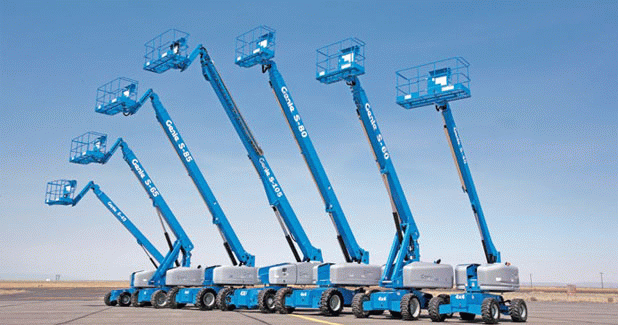 Working at heights involves a lot of risks which in turn reduces overall productivity. Use of Aerial Work Platforms (AWPs) takes care.
The developed market saw the use of AWPs decades ago. Such machines were in demand by users, for two reasons: safety and speed of work. Indians, initially did pay any heed to safety, as such these machines were not considered essential. However, nowadays, safety is paramount in the country, to such an extent that most corporate companies present safety statistics, as a part of their Annual Balance Sheets! As such, use of AWPs is an established norm for any working personnel at heights above 6 m. All industrial segments ranging from oil & gas, power, steel, infrastructure, manufacturing, FMCG, food & beverages, hospitality, commercial buildings, shopping malls, automobile, manufacturing, general engineering, maintenance and inter modal logistic hubs for redistribution of the produce, are prolific users of this equipment. Since the equipment is expensive to acquire, the rental industry is flourishing by providing multiple options of AWPs in many user friendly configurations and engine or battery powered, eco friendly solutions.
Trends
For the past two decades use of AWPs in India had been very low. Knowledgeable contractors and organisations are now recognising the value of this equipment and their positive contribution to safety and in turn the overall productivity of the personnel working at heights. High initial acquisition cost is a constraint which still drives people to use unethical or unsafe work tools or systems like bamboo and steel scaffoldings etc.
?Although AWPs? presence has been for more than two decades, the awareness and acceptability of access equipment has increased substantially in the last few years only and this is moving upward. In the last few years there has been a steady increase in rental segment for AWPs and the same is likely to strengthen further. As per global trends, the major contributions for AWP business come from the rental segment only,? says Rakesh Kumar, Country Manager-AWP, India, Terex India Pvt Ltd. AWPs came to India when the foreign companies started setting up projects here and thus opened up the market for AWPs. At the time of construction they wanted their own method and technologies to be followed. In construction methods anywhere across the world in developed economies, vertical access equipment formed an integral part. So they are the people who brought in the concept of access equipment in India. According to Souma Ray, Director, Haulotte India Pvt Ltd, there is now a major change in the industry as people know that these equipment are necessary across all segments to work safely and faster. ?And the change in awareness is bringing in the requirements,? says Ray.
Technologies that work
Says Kumar, ?Presently the AWP market in India is at a very initial and introductory stage, but there is huge potential for access equipment ahead. Major demand is from sectors like power, industrial construction, plant maintenance, aviation, shipyard, ports, metro, commercial constructions, etc. All the major companies working in these sectors select such access products depending on their application and usage. Generally in construction activities bigger booms and rough terrain scissors are being used while for maintenance activities smaller booms and scissors are preferred.?
AWPs comprise equipment such as scissor lifts, fixed and articulated booms, telescopic booms, vertical masts, etc, and all leading AWP players offer these equipment at different specifications. Haulotte offers a wide range of AWPs and telehandlers in access equipment. According to Ray, the company has the new Star range of vertical masts, articulated booms, telescopic booms, and scissor lifts. Says Kumar, ?We have solutions for reaching various heights, ranging from 20 ft to 186 ft. We provide a complete range of products to our customers to meet their requirement for both indoor and outdoor applications and usages.?
He adds, ?Normally the selection of a particular product depends upon the various site factors and usage, but in general self-propelled scissor lifts, vertical masts and small articulating booms are most sought equipment for warehousing operations.? ?Truck-mounted machines will be more in demand because of mobility,? says Giriraj Dave, Vice President (Sales), Prasad Multi Services Pvt Ltd. He adds, ?We have truck-mounted double articulated machines and self propelled double articulated machines with rubber tracks.?
There is an increased requirement for AWPs with infrastructure development, especially in urban infrastructure. Says Kumar, ?Airports, commercial malls, etc, have always been a potential segment for access equipment. There has been increased demand for AWPs in both construction and maintenance of airports apart from demand for such equipment from various airlines. There has been steady rise in demands from commercial realty; and with the focus on Smart Cities we expect a sharp increase in demand.? He adds, ?Mainly higher booms and scissors are being used at the construction stage of such applications and vertical masts and smaller articulating booms are being preferred for maintenance.?
Ray agrees, ?The government has a renewed focus on urban infrastructure development: Smart Cities, airport development etc. Our AWPs are working at Mumbai?s Terminal 2. The Navi Mumbai airport project is another major opportunity for these equipment. So we see a lot of scope for AWPs in the future also.? Elaborating on the product ranges, Dave says, ?We have self-propelled double-articulated machines with rubberised tracked wheel which are ideally suitable for indoor application. It can be operated either by single phase electricity or a petrol engine.?
New vs used equipment
According to Kumar, there is no difference with regard to the product specification but the difference is in the age, condition and residual life of the used machines being brought here and which makes their use very critical. He says, ?The uncontrolled import of second hand equipment is a point of concern mainly because of condition of the equipment and its residual safe usage life. The continuous use of second hand equipment having crossed its normal usage life is always a potential safety concern. In the best interest of safety at workplace and industry, there must be some discouragement towards use of such equipment at work sites and some controlling mechanics should be in place to avoid such situations or else it will defeat the main aim - ?Safe Working at Height?.?
The ease with which one can import the used equipment, in any condition and age, is a major hindrance faced by the AWP manufacturers. Ray cautions, ?If some kind of restriction happens in terms of age of the machine, it will propel the growth of the industry. Now the small-time buyers who are not serious about the safety and productivity of the machine, are benefited with the availability of cheaper used machines in the market which has brought down the rental rates drastically. This has affected the business prospects of the regular rental companies who own a fleet of new machines with better performance and life.?
Rental market
In India, the rental market is unorganised as there are very few organised rental players in the market now, in terms of volume, supporting equipment, technicians, service, etc. At the same time, the number of unorganised rental players is much more. Says Ray, ?World over, the growth of access equipment is driven by rental companies. They revamp their fleet every year by replacing old machines with new ones. For a manufacturer like us, India is an end-user driven market as of now. Rental market is mainly made up by used equipment. This trend will change once the market matures and the rentals will go up.? Ray is optimistic when he says, ?In the future, the rentals will play a major role because when the market matures, people will buy more machines and the rental activity will increase. With the new policies by the government, in the next three years, we will see a major change and for this major change, a proper legislation needs to be in place which will propel the growth of this industry.?
According to Kumar, presently hiring and rental of access equipment is at a very initial stage. ?But there is huge potential for growth of this sector in coming years. As there are a lot of opportunities and possibilities in infrastructure development/warehousing, manufacturing in our country; the growth of hiring and rental of access equipment is bound to grow multifold,? states Kumar. He adds, ?The upcoming areas such as warehousing operations, etc., are going to boost the rental segment in real terms.? Dave also sees a bright future for rental market for AWPs when he says ?The growth rate will be in double-digits.?
Challenges
Even though there are signs of further development of infrastructure and manufacturing in the future, the growth rate of AWPs is not in line with this development. There are various reasons behind this situation. Says Kumar, ?There has been continuous increase in awareness about safety at construction sites but we still have no policy/standard towards safe working at sites. We are hopeful that the safety regulations in this area will not only be in place at the earliest but will also be followed strictly by all stakeholders. It must be a united effort to make our workplace safer and of course, government can take a lead in this regard.?
According to Ray, legislation is very important. He says, ?If we are trying to compete with the world, we must follow the global best practices. In the western countries, there is legislation which ensures that if you are working above a certain height, you need to use an access platform for the safety of the people.?
Says Dave, ?European and other imported branded machines meet safety requirements. Local players will have to upgrade products to meet safety standards. Government should be strict in implementation with zero tolerance on safety.? He also feels that more focus is needed on skill development programmes for operators, technicians, maintenance crew as there is an acute shortage of trained manpower in this field.
Opportunities
The focus of government on infrastructure development - especially projects such as Smart Cities and urban infrastructure like airports, power installation, etc - provides a great opportunity for AWPs in future. Major AWP players foresee opportunities from various sectors. Says Ray, ?This is growing already as you would see access equipment being used in hotels, malls, airports, etc., not only during construction but also for maintenance of glass facades. Aviation is another sector the government is focusing more with plans to develop more airports which will drive the demand for more AWPs,? says Ray.
Kumar also sees opportunities in the future as he says, ?There is a huge growth potential for access equipment in our country. As we expect the next five years to be the most happening years with a lot of industrial and infrastructure activities lined up, the substantial growth of access equipment is also expected. In short, I am highly optimistic, that next 5-10 years are likely to be the years for access equipment,? says Kumar.
Need of the day
It is a fact that a lot of infrastructure development projects are underway and in the pipeline so that the growth prospects for allied equipment segments is bright. AWP players also see a bright future ahead, considering these projected developments. However, to accelerate the pace of growth it is imperative to overcome the challenges of the level of awareness among the users, not enough importance given for safety and productivity, and uncontrolled import of used equipment. A proper legislation from the government for working at heights is the need of the hour, supported with other progressive steps of increasing awareness about the use of AWPs, operator training facilities and control over the import of used equipment. If these issues are addressed effectively, this industry will grow exponentially.
- SUDHEER VATHIYATH
For growth:

Awareness has to increase multifold
Operator training and certifying
Proper legislation for safety at heights
Restriction of used machinery imports