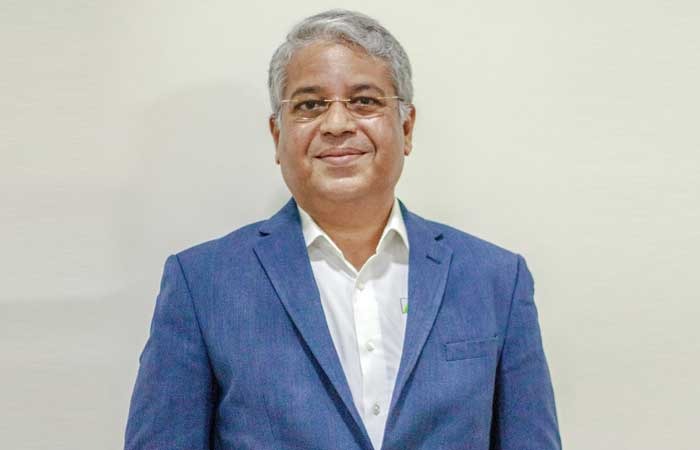 Bauma Conexpo is returning after a gap of almost four years. What has been the past experience at the event?
We have always been a vivid supporter of BC India since its debut in India. We look at it as a platform for us to bond with our customers in the North and eastern region. We are looking forward to this edition as a big event after four years, to connect with our customers and also to showcase our latest range of products.
What are the key products on display during bauma CONEXPO? Explain in detail.
Schwing Stetter India will be launching 14 new products in the BC India Show along with our regular products such as batching plants, concrete pumps, recycling plants, TSRs, self-loading mixers wheel loaders, excavators, piling rigs, truck cranes, horizontal directional drilling machines. How do you look at the market in India for your products? Schwing Stetter India is a leading provider of construction equipment in the Indian market, offering a comprehensive range of products including concrete batching, concrete transport, concrete pumping, earthmoving, and road construction equipment. The company is known for its world-class product range, customised and complete package offerings for projects, and a wide range of variants to suit the needs of all customers, from small real estate developers to large construction conglomerates.
In addition to its state-of-the-art manufacturing facilities, Schwing Stetter India also provides unbeatable after-sales support with a pan-India presence and a commitment to continuous innovation through in-house R&D. The company's latest offerings feature cutting-edge technology to ensure maximum efficiency and productivity on the job site.
With the Indian government now fast-tracking infrastructure projects, the CE sector is expected to get increasingly busy. How do you look at the market for your products in India?
The National Infrastructure Pipeline programme is an excellent initiative by the Government which had an outlay of Rs 111 lakh crore, exclusively for infrastructure development. The Bharatmala and Sagarmala projects are one of the biggest investments in the NIP which has been reinforced by the Gati Shakti project under which the government aims to build a robust high-speed road network across the country. The progress of these schemes will result in India becoming the world's second-largest road network with a total of over 62 lakh km of road connectivity.
SCHWING Stetter India is proud to have supported many construction companies with the finest concreting and construction machinery in this endeavour. SCHWING Stetter India has been a synonymous brand name when it comes to concreting and construction machinery. Our record-breaking engineering has helped us retain a top position in the construction equipment industry in the past two decades. Our concrete batching plants in H2.25 capacities, M30 and other variations along with transit mixers and concrete pumps have been heavily inducted in large-scale projects. Our 36- and 43-m boom pumps have also been in demand for Bharat Mala projects and hydropower projects across the country. Apart from the concrete machinery, our earthmoving equipment from XCMG like excavators, wheel loaders, motor graders and piling rigs have found a huge space in projects that come under NIP.
What are the various challenges faced in the sector you are in?
There are certain sectors in the construction industry where electrical and hybrid systems can be a part of the construction equipment but there lie many challenges such as optimum battery availability in mass quantity, power-to-weight ratio calculations, price constraints, mass producing constraints, and technological know-how transfer from the peers. SCHWING Stetter is continuously innovating and we are looking to bring out a fully built electrical version of our shotcrete pump very soon. When this EV version is launched, it will remove the effects of operating fuel-based vehicles in tunnels.
Our global manufacturing facility in Chennai was built to offer a wide range of machines and equipment locally as well as globally. With this facility, the supply chain management has become efficient due to the proximity of the various vendors and the challenges faced earlier have become redundant. The addition of GmH to our production facilities has provided us with the answers to all challenges related to our industry while also adding to our production capacity and our endeavour to create an industry 4.0 inducted manufacturing facility.
Please share more information on the investment made in the Indian market in terms of the manufacturing facility, etc.
Schwing Stetter has invested around Rs 350 crore in the Chennai global manufacturing hub and is planning to invest additionally. The investments made so far are as per the requirements prescribed by Global Investor Meet (GIM) and the memorandum of understanding signed with the Tamil Nadu government. With this facility addition, Schwing Stetter has become the biggest subsidiary in the group and its parent company. With this, we do have huge plans to innovate on new products and equipment.
How was the year 2022 in terms of performance? What is your company's plan for 2023?
Last year (in 2021), Schwing Stetter India witnessed its highest turnover since its stint in India, notwithstanding the pandemic and global slowdown. But the steep hike in steel prices and other allied cost increases are a worry which has been to an extent addressed through the lean manufacturing process, JIT practices, and the digitalisation of aftersales support networks such as e-commerce platforms for customers. We expect our turnover to increase by 53 per cent this year based on the sales projection, and due to an increase in the product portfolio of the Schwing Stetter table. Close to 28 dealers have been appointed pan India to reach this target and we have crossed this target as of December 2022.