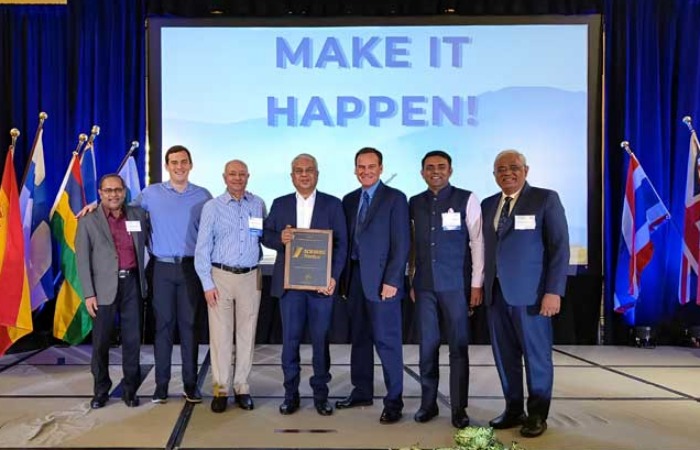 Schwing Stetter India, one of the country's leading construction and concreting equipment manufacturer, was recently honoured as the "World Client of the Year" at a conference held by Leadership Management® International (LMI), a world leader in organisational and leadership development.
VG Sakthikumar, Chairman and Managing Director of Schwing Stetter India accepted the award from Randy Slechta, Chief Executive Officer of Leadership Management® International, at a ceremony in Las Vegas, USA.
Speaking at the event, Sakthikumar shed light on the significance of such awards for the industry, "We are truly honoured to receive this global honour and are grateful Leadership Management® International and Carpe Diem. Schwing Stetter India has been evolving over the years, and it is wonderful to see our work, and our employees receive such industry recognition. This allows us to further aid our employees with the right tools for their skillset. It is a boost of morale for our employees, and it shows the pathway that we, as a company, are heading towards."
Through LMI collaboration, Schwing Stetter India is creating effective leaders within the company and preparing them for the next phase of advanced manufacturing. Schwing Stetter India has marked a remarkable milestone of turning 25 this financial year. And is planning many such employee engagement programs to perform at their highest capability.
Incorporated in June 1998, and commencing its manufacturing operations in 1999, Schwing Stetter India is a 100 per cent subsidiary of Schwing GmbH, a $1.30 billion German concreting machinery manufacturer and a part of the XCMG group. Schwing Stetter is a pioneer in manufacturing equipment for concrete preparation, placement, transportation, and recycling. Schwing Stetter (India) Private Limited manufactures concrete batching plants, concrete placing booms, concrete pumps, concrete truck mixers for transporting readymade concrete to construction sites, concrete truck mixers with concrete pumps, and concrete recycling plants, plastering pumps, self-loading mixers, and sludge pumps.
Schwing Stetter (India) sells and services equipment like concrete pavers, aerial working platforms, all-terrain cranes, cold milling machines, crawler cranes, excavators, horizontal directional drilling, motor grader, rotary drilling rig, tower crane, truck cranes, and wheel loader are our various newer range of equipment that has been launched recently from GOMACO and XCMG. We cater to the requirement of infrastructure developers and act as an OEM supplier to various cement companies that offer ready-mix concrete. Schwing Stetter has its manufacturing units in 12 countries including Germany, Austria, USA, Brazil, Russia, Ostrava, UK, and India supported by sales and service centers in France, Netherlands, Austria, and Sweden as well as representations in more than 150 countries worldwide.