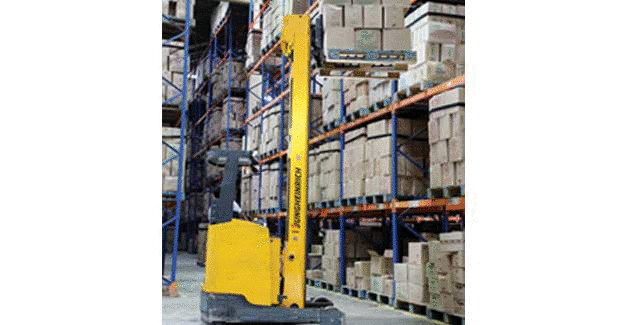 Growth in warehousing and logistics sector is picking up with the introduction of GST and infrastructure status to logistics. In this scenario, the warehousing and material handling equipment players are gearing up to meet the emerging demand for advanced equipment.
India is emerging as a key market for material handling equipment with the number of warehousing facilities is growing. Large e-commerce retail and distribution players as well as other logistics players are expanding their warehousing and distribution operations across the country. This will, in turn, boost the demand for material handling equipment in a big way. India's overall logistics market growth rate is pegged at 18-20 per cent YoY, according to research reports. Rapid industrialisation, huge government investments, and strong growth in the foreign trade in India demand the availability of enhanced logistic and warehouse services, fuelling the material handling equipment market growth.
Emerging trends in warehousing and logistics
Indian logistics sector broadly comprises the road transport sector (consisting of unorganised small businesses, trucking, fleets and large transport companies), the storage and warehousing sector and finally third-party logistics (3PL). The sector has come a long way from its difficult situations. Sunil K Gupta, President, KION India says, "Complicated networks, higher coordination costs across the supply chain coupled with deficient infrastructure, different entry taxes and poor vehicle-load-carrying capacities were now way behind. The roll-out of GST addressed many of these problems resulting focus on 'operational efficiency' rather than tax efficiency.
The infrastructure status to logistics was a catalyst for logistics sector."
Cavas Dumasia, Vice President, Marketing & Sales, Godrej Material Handling, also feels that the introduction of GST has made a transformational shift from a complex multi-tiered tax structure to one that is unified and consistent, making the movement of goods and materials across country far smoother and hassle-free. "This in turn has seen a growth in the traffic of goods and materials, which are now going around the country in greater numbers and at a faster pace, which is welcome benefit for the material handling industry," he observes.
The government has given infrastructure status to logistics sector, covering cold chain and warehousing facilities, a move that is likely to attract more funding at competitive rates for these segments. This will lead to capital expenditure in the logistics sector thereby providing growth to the warehousing and material handling equipment sector. According to Manojit Acharya, Managing Director, Jungheinrich Lift Truck India, GST was a game changer for the industry as the market experienced a turnaround from the mid 2017. He adds, "From around 12,000 units in 2017, the equipment business volume has started picking up and reached around 16,500 units in 2018, with a whopping 39.4 per cent growth compared to 2017. The warehousing market has also picked up with many players started moving into larger and taller warehouses, opening up new opportunities for more mechanisation and high-end equipment."
He also points out that recently, many real estate investors had diversified their focus towards building warehouses. Thus, more investments are coming into the warehousing and logistics space. "The retail and ecommerce segment has become more competitive with new players entering the market while the existing players expanding horizons, opening up new growth avenues for warehousing and logistics sector," Acharya adds.
The warehousing and logistics sector has been progressing well in the past decade spurred by the growing demand due to steady economic growth. Dharmesh Salian, Managing Director, KAUP India Material Handling, elaborates on the changing phase of the industry, "Logistics in India has always been a challenge, be it transportation, storage or handling. GST, coupled with infrastructure status to logistics has given it the much needed impetus for growth as well as improvement. In spite of the initial glitches in implementation, the situation has now been brought under control as far as GST is concerned. GST has helped the logistics industry to become more organised and with many unorganised players migrating to GST, it has brought in some sort of standardisation in terms of quality of offerings."
MHE gaining momentum
The introduction of GST and infrastructure status to logistics had a positive impact on warehousing and material handling equipment industry also. Gupta points out, "GST has removed the cascading impact of multiple taxes, which is very positive for our industry as overall cost of machine reduced, hence better return on investment (ROI) for the customers. Material handling equipment had witnessed a very high growth of ~40 per cent in 2018 year-on-year (y-o-y) basis. The growth in logistic sector has given positive impact on warehousing segment. Warehousing machines had witnessed a very high growth of more than ~41 per cent y-o-y basis. Indian warehousing machine market size reached to more than 6,000 units in 2018 compared with ~3,000 units in 2014. The market is expected to cross 10,000 units milestone in the coming years."
Dumasia is optimistic when he asserts, "We do predict progress in the warehouse sector which will definitely have a positive effect on the growth of warehousing equipment.
The warehouse sector is looking at attracting investments of about Rs 430 billion and creating job opportunities of approximately two lakh at different levels of specialisation and specification. This will solely be driven by the implementation of GST."
Industry experts have attributed the implementation of GST and the rapid growth of e-commerce as two important factors that have created significant growth prospects in warehousing sector. Of all the categories, warehousing will be witnessing the highest investment of over Rs 350 billion in the next three years, mostly in creating storage facilities for retail and consumer goods.
The size of the Indian warehousing industry (across commodities and modes) is pegged at about Rs 560 billion (excluding inventory carrying costs, which amount to another Rs 4,340 billion). The industry is growing at over 10 per cent annually.
Warehousing owners and operators are upgrading their handling equipment as the facilities are being scaled up in size and quality. Says Acharya, "With the warehousing operators are improving their facilities, the use of equipment is growing to the next level. The use of basic equipment is slowly replaced with the next level equipment. As the warehouses are growing vertical, more racking systems are being introduced, which need equipment like stackers and forklifts. Going forward, customers will go for equipment such as reach trucks and double reach trucks to meet the demands. And those who are already using these equipment, are now looking at automation and autonomous solutions. Thus, the entire value chain is moving up."
It is a known fact that GST has helped industries to consolidate their distribution activities and made it more cost-effective with abolition of multiple taxations and complex time consuming tax filing procedures. This has eventually led to improvement in speed and ease of service to the customers. In this scenario, Salian is also bullish on the market opportunities for handling equipment. He says, "Though the size of material handling equipment market is incomparable to markets like China, US and Europe, India is slowly gaining pace in this segment. Indian market size for equipment alone was around 16,000 units last year when the material handling equipment market in India grew by over 30 per cent over the previous year with imports contributing a major chunk to this growth. If the trend continues, we estimate that India could be a 50,000 units market in the next 4-5 years."
Demand drivers
India has tremendous business potential in MHE business as we are now becoming more proficient in logistics. According to Gupta, ground storage and manual material handling is still common in the country with high share of small warehouses and logistics providers. However, the trend is now shifting towards advance and reliable ways of material handling to improve the productivity and reduce losses, customers are now moving towards powered material handling warehouse equipment.
He adds, "With the increase in cargo traffic and overall space crunch, efficiency has become a major factor in determining business growth and profitability. Huge spending on ports infrastructure and a surge of e-commerce, increase in containerisation and palletisation, growth in durable manufacturing are among factors that are leading to increase in demand for warehousing equipment."
Industry experts have attributed the implementation of GST and the rapid growth of e-commerce as two important factors that have created significant growth prospects in warehousing sector. Dumasia highlights, "Of all the categories, warehousing will be witnessing the highest investment of over Rs 350 billion in the next three years, mostly in creating storage facilities for retail and consumer goods."
Acharya comments, "Retail and ecommerce segment is the latest demand driver for warehousing and material handling equipment where large warehousing facilities use advanced equipment and solutions. Also, the traditional segments of food and beverages, FMCG, pharmaceuticals, chemical process industries, automobiles, etc are also driving demand for handling equipment. We provide the complete warehousing solution, including equipment, racking and automation."
Salian highlights segments such as automobile, retail, 3PL, FMCG, white goods, engineering, infrastructure and food and beverages as the major demand drivers of material handling equipment.
Being safe and productive
With the increase in industrial growth, rise in demand of consumer goods and services augmented by increase in disposable income and focus on efficiency and safety, market is shifting towards automated, reliable and safe products and solutions. Gupta explains, "Practically after a certain volume, manual material handling is beyond human control and requires advance and automated solutions. As much we move towards large capacity warehouses, automated, smart and safe warehouses become vital for efficient operations. With the environment awareness as well as safety compliances and government push towards green and clean energy, future smart warehouses are likely to be based on non-pollutant, energy efficient and safe material handling equipment."
He further adds, "KION India MHE follows all the safety norms as well as environmental regulations and are customised based on customer requirements. We are a customer-centric organisation and continuously working towards evolving our products in terms of features, safety and bringing future ready products."
According to Dumasia, safety is of paramount importance in material handling because this is moving equipment in a plant or a warehouse. He adds, "Godrej material handling equipment are safe as they adhere to the relevant IS standards. Yet it is a material handling equipment driven by contract workers. Hence, we try to go beyond the standard to provide additional safety features such as automatic speed reduction of equipment while equipment is turning, anti-rollback, curve speed control among others. Godrej brings a wide range of safety accessories for material handling equipment which can be offered along with the main equipment or can be retrofitted post-delivery. For example, travel alarms. Blue and red safety beam lights alert pedestrians and other operators on incoming traffic. Various access control options such as biometric access control ensure that equipment is accessible to only authorised personnel."
Acharya says, "We are the technology leaders in the global material handling equipment industry as we offer technologies that fit for the market. Safety, reliability and productivity are basics for our range. We are pioneers in Li-ion battery technology as we introduced our first Li-ion battery in 2011. In India, we introduced the Li-ion battery operated lift trucks last year and so far we have sold more than 100 Li-ion battery-powered lift trucks."
Salian points out a sea change in the material handling equipment segment, not only in volumes but also in the acceptance of latest technology in this segment. He adds, "Warehouses are getting denser and taller with equipment such as Automated Storage and Retrieval System (ASRS), Very Narrow Aisle (VNA) equipment, robots, automated loading platforms, Automated Guided Vehicles (AGVs) and numerous other high-end equipment replacing conventional systems which have been in India for a long time. This has brought in all the major foreign players to India and the segment is gaining tremendously from their experience and expertise. In addition, there is a greater awareness for safety across industries, which has brought into focus many safety features getting introduced in the equipment."
Contributing to safety, productivity and emission
Business in India is continuously working towards innovations, development or improvement of cost competitive products or processes or services. Gupta adds, "Based on business dynamics, our R&D team at Pune is continuously working towards evolving our products in terms of productivity, emission and safety to provide value for money to our customers. KION India understands our responsibilities towards environment and we are continuously evolving our products accordingly. Our products follow the guideline of emissions and we are already geared up to handle the upcoming emission norm. Our IC trucks comply with BSIII emission standards and are most fuel-efficient in their class, hence higher productive. Our popular 3T automatic transmission IC truck is the only fully automated version among Indian manufacturers with single forward and single reverse speed selection."
He claims,"We are the first company to produce cleaner technology-based reach truck in India. We launched an environment-friendly electric forklift with advanced twin motor drive technology providing very small turning radius."
Salian elaborates on the safety and productivity features,"KAUP being a German company, safety has been the prime consideration in all the products that we design and manufacture. The steel that we use, manufacturing practices that we follow and the stringent safety norms that we adhere to, help build us safety and productivity into all our products. Our R&D department keeps improving our products regularly by introducing new features, mainly addressing safety and productivity concerns. KAUP telescopic forks, for example, have forced parallel movement of both the forks, thereby preventing accidents while handling loads at over 10 m levels. You will find such features being built into all our products, be it paper roll clamps, rotators, multiple pallet handler, appliance handling clamps or any others. Forklift attachments by itself do not have any emission issues but by its efficient designing contributes to reduction in emission from the forklifts."
Challenging, though positive
A growing industry always encounters with challenges from different directions. According to Gupta, the major business challenge is to remain cost competitive while offering improved technology solutions to the customers in the dynamic business environment. He says, "Customisation of cost-competitive technology as per requirement of Indian customer is the most important aspect to remain competitive in the market in long term. The other major challenge faced by the MHE industry is on the low market volumes compared with other heavy industries causing low attractiveness for our vendors, channel and towards technology investments. As compared with any developing economy, Indian market for material handling is still very small market considering our sizeable population. However, double-digit growth projected in the coming years and market size is increasing every year."
He also highlights other key challenges, "With the high pace of growth, business becomes more dynamic and less predictable. Hence, organisation needs to be more agile without any cost inflation. Price competitiveness due to presence of various local and international players, and material management for shorter delivery period of machines are the other few challenges faced by the organisations currently."
Dumasia relates the major issues and challenges faced by material handling equipment players with the low level of demand and volume as compared to major foreign markets such as China, US, Japan and Europe. Due to these reasons, Indian manufactures face a cost disadvantage because of economies of scale as compared to foreign manufactures from other countries, he feels.
Dumasia further adds, "The availability of components from ancillaries and other suppliers is at a much lower level in our country as compared to the others. We also have a lot of administrative and infrastructural bottlenecks related to power cost, delays in transportation, and delays in import and export clearances, administrative problems, high taxation limits, high interest rates, and so on. These issues make the equipment manufactured in India expensive vis-a-vis machines imported from low-cost countries. Many global majors dump in India, products made in their factories in low cost countries. These issues have already been addressed to the relevant government agencies. We are hopeful that these will be sorted. In spite of all these issues, the government's emphasis on "Make in India" campaign has spurred growth across the manufacturing sector, thus increasing the demand of MHE considerably. Another challenge is lack of standardisation in pallet sizes, truck bodies etc, that makes adoption of automation in material handling difficult for companies used to manual handling of SKUs (stock keeping units)."
Acharya highlights technology vis-a-vis cost as one of the key challenges encountered with by the company. He adds, "We are now developing new models which are fit for the applications, rather than loaded with latest features which are not much of use for the customers here. We have our factory in China where we are working on developing models which are matching the requirements of Indian market. The warehousing and material handling equipment market is becoming more competitive as more players are coming in. This is a challenge which in turn an opportunity."
According to Salian, lack of awareness in the market, customers compromising with cheaper unsafe products and unstable demand patterns are a few challenges faced currently.
Being sustainable
The Indian industry is growing at faster pace. With the high pace of growth, business becomes more dynamic and less predictable. Hence, an agile approach with quick responsiveness is the key business requirement. According to Gupta, market is clearly shifting towards more reliable, safe and high performing products. "KION India is a customer-centric organisation and our R&D team at Pune is continuously working towards evolving our products and bringing future-ready products to provide value for money to our customers. Our vast sales and aftersales network with more than 100 touch-points take care of our customers with day-to-day maintenance of our equipment.
The challenge of lower volume could be overcome only by driving the concept of "efficient way of material handling' through palletisation and containerisation change approaches in the market," he says.
According to Dumasia, there is a greater focus on environmental sustainability and convenience. He adds, "Technology plays a big role in cutting energy down consumption. It also improves ease of handling of materials. There is automation and computerisation of equipment that ensures these machines require the least amount of human intervention. The latest trends that are shaping the future of the material handling industry are: enhancing efficiency, reducing cost, quicker timelines, reduce human intervention, and less scope for error." He adds on the company's plans, "Currently, Godrej is investing in digitisation for enhancing customer experience by Telematics to remain connected with customer's truck. This shall enable empower our customers to manage their fleet at multi-location with real-time information of their Godrej equipment. It will facilitate our customers to enhance their productivity at lesser cost by maximising utilisation of their assets."
Acharya says, "As mentioned earlier, most of our equipment are battery-operated and we have come out with Li-ion battery-operated trucks which are environmentally friendly. A Li-ion battery has an average life of 10 years and we give a five-year warranty for our batteries. We have now designed new truck models with integrated Li-ion batteries which are compact in size. These equipment will occupy less space, providing more space for storage."
Salian elaborates, "KAUP assumes responsibility as a manufacturing company and makes contribution to the protection of environment and climate. Therefore, KAUP has voluntarily introduced certified environmental and energy management systems."
Market growth
The warehousing equipment market is definitely growing with the new developments in the logistics and warehousing sector. The MHE players are bullish on the growth in future. Gupta highlights, "Warehousing equipment market is growing with a CAGR of ~15 per cent in the last five years from 2014 to 2018. This trend is continuing in 2019 and the market is growing with the rate of ~19 per cent y-o-y basis. The market projections are in line with the past trend and warehousing equipment market is expected to reach the benchmark of ~30,000 units by 2030."
Acharya says, "We have seen a steep growth of the warehousing equipment industry last year. The growth trend is expected to continue, unless there are any unexpected market fluctuations. We foresee the market to have a steady growth of 15-20 per cent in the coming years. As our market is very small compared to the developed markets, there is a huge space to grow further with our products and solutions."
The market growth trend in warehousing and handling equipment is very encouraging, according to Salian. He observes, "With a stable government at the Centre and conducive environment for both Indian and foreign companies to invest in India, we foresee the growth in this segment would be higher than what we have seen before. Once all the key industry segments adopt the good practices of their peers in other countries, they will naturally tend to invest in efficient and quality equipment to render their operations not only productive but also safe.
We hope to see the market growing at a rate of at least 15-20 per cent y-o-y for the next 8-10 years."
Expanding horizons
Warehousing and material handling equipment players are working aggressively in the market to offer the best solution to their customers to stay in the competition. Gupta elaborates, "Being the market leader, we always set new benchmark for ourselves and for the industry. We keep challenging ourselves for better products and service offering to our customers. We have solutions for each and every customer segment." He adds on the product range, "Our OM Voltas and OM have catered to the economy and lower value segment of Indian material handling market and has been the dominant player through the years. Linde and Baoli are prominent import brands. Linde brand is well established in the higher value segment and premium segment, respectively, while Baoli is a key player of lower economy segment of Indian MHE industry. We are offering automated warehouse systems and solutions through our brand Dematic. We are continuously investing to improve our product features and bringing up new technologies, empowering sales and service network to satisfy customer needs. We are looking forward to ramping up automation technology in India. KION India is fully geared up to become the preferred material handling solutions provider for Indian customers."
Gupta also explains on the digital technology, "The Indian market is also developing and moving towards Industry 4.0 and automation has to be adopted in the coming years. In Indian MHE segment, a fully automated, software-controlled warehouse is the future milestone. We are serving our technology-savvy customers who are looking towards high technological solutions for their MHE requirement through our premium products under the brand Linde and Dematic. We are looking forward to ramping up automation technology in India."
On the investment plans, Gupta adds, "KION India has invested heavily in the last 7-8 years and we are in the process of expanding our production capacity considering the market projections. Our new factory will be fully functional by end of 2019 and we are committed to produce best-in-class products for Indian customers.
Dumasia elaborates on future plans, "Godrej is investing in digitisation for enhancing customer experience by Telematics to remain connected with customer's trucks. This shall enable empower our customers to manage their fleet at multi-location with real time information of their Godrej equipment. It will facilitate our customers to enhance their productivity at lesser cost by maximising utilisation of their assets. Godrej Material Handling plans to further empower its wide-spread dealer network through sales and service training to facilitate prompt response to customers in any part of our country.
Acharya adds, "Jungheinrich is traditionally a direct selling company. But, this does not stop us from choosing channel partners at certain location or region in the country, if needed. However, we prefer to retain the service part with us as we are focused on quality service to our customers. As we grow in the country, we plan to set up more warehouses. We have started a warehouse in Bengaluru to cater to the southern part of the country. By the end of this year, we plan to set up another warehouse in the north to cater to the region. These warehouses will majorly focus on reaching the spare parts to the customers faster."
Elaborating on the company's future plans in India, Salian says, "Make in India seems to be the way for us to remain sustainable in this highly competitive environment. We are constantly adding resources in terms of manpower and infrastructure. KAUP India has two stock points: one in the west and the other in the north. We will soon have a fully equipped service and refurbishment centre where we will cater to repairs and damage of the attachments and even offer customised solution to industries. Our most important objective is to serve our customers faster and better. KAUP India's vision is to be the market leader in India."
The warehousing and material handling equipment market is bullish on the future of the industry. With the new government taking charge at the Centre focusing on more infrastructure development, the logistics and warehousing sector has a big opportunity for upgrading operations. With all the favourable circumstances, the market is sure to excel.