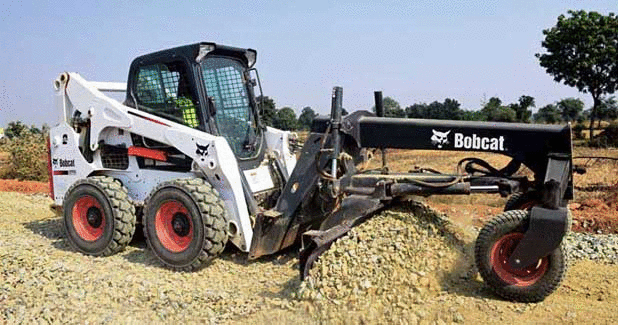 Growing urbanisation and mechanisation of manual jobs are driving the demand for compact equipment such as skid-steer loaders in India. Going forward, awareness among end-users about the real advantages of the equipment is expected to push the growth further.
The"jack of all trades" as known popularly in the market, skid-steer loaders (SSLs) have been recognised as an effective and conveniently used machine in construction and infrastructure development activities, especially in urban development. Skid-steer loader is a compact machine designed to operate in restricted areas. This highly versatile machine with wide array of compatible attachments makes it suitable for a wide range of applications such as agriculture, industry, construction, demolition, material handling and maintenance. Furthermore, its tight turning radius makes it especially suitable for use in confined areas with limited access.
With growing urbanisation and mechanisation of manual jobs, skid-steer loaders are getting more traction in the current market scenario. The market for SSLs has evolved in developed economies in Europe and the US. However, in India, the population of SSLs is very low compared to these developed markets. The SSL demand is slowly improving over the past few years.
The impact of economic slowdown has been visible in the overall construction equipment market in India with the popular equipment witnessing a steep downturn in sales. However, the SSL market looks stable this year with the sales remaining almost flat.
Market dynamics
According to an Off-Highway Research report, the sales figure of SSLs in 2019 is estimated at around 700 units. There is a dip in sales visible in most CE segments what it was estimated during the beginning of the year. But skid-steer loaders have sustained estimates with the sales going steady in India. Hyunsoo (HS) Kim, Director Commercial, Doosan Bobcat India, says, "The market for skid-steer loaders has been more or less steady over the last few years. In 2018, the market was around 600 and in 2019 also the market size remained the same. Being the market leader, we have more than 50 per cent market share in retail segment of Indian SSL market."
Puneet Vidyarthi, Brand Leader, CASE India also observes similar market trend as he adds, "SSL market in India is driven mainly by government tenders, used for municipality works and the civilian sector. In the last few years, the total industry demand of skid-steer loaders has remained in the range of 500-600. In 2019, the total industry demand was around 500 units. We are expecting a similar growth in the coming year with the sales to touch 550 units in 2020."
According to Amit Bansal, Director-Sales & Marketing, Building Construction Products, Caterpillar India, Government of India's push on infrastructure, housing and development of both rural and urban areas is expected to give impetus to demand of skid-steer loaders by 2020. "If you look at the current market trends, the customers are looking for machines that are not only efficient and value-driven, but also score high on versatility and safety," he adds.
Jasmeet Singh, AVP-Corporate Communications and External Affairs, JCB India is seeing a continued growth in urban projects where SSLs find more applications. "With significant increase in the number of urban rejuvenation projects, we also see a considerable opportunity for further demand growth for skid-steer loaders. As the development of India's infrastructure gains momentum, the need for modern material handling equipment like SSLs is also expected to rise. The Swachh Bharat Mission is another segment where these machines are becoming vital in solid waste management. Municipal bodies are utilising its 6-in-1 shovel for waste handling or for general cleaning purposes as the machine can be converted into cleaning equipment with the sweeper collector attachment."
Manish Handa, Business Head-Earthmoving Equipment Division, Action Construction Equipment, says, "The market for skid-steer loaders is still in nascent stage and needs strong concept selling, moving ahead."
What drives demand?
As urbanisation is growing in the country, there is an increased need for compact equipment at project sites with limited space. Skid-steer loader is the most suitable equipment to perform jobs in such sites. Also, in the waste management and rural construction segments, skid-steer loaders are gaining traction for various jobs. According to Kim, construction segment, industries and waste management are predominantly the growth drivers for smaller capacity skid-steer loaders, whereas for bigger SSLs, process industries have been the traditional growth drivers. "We also feel that the rural road development and road widening projects can be the new drivers," he adds.
Singh elaborates, "Skid-steer loader is an ideal equipment in the material handling applications where there is a restriction in terms of space or maneuverability. It can lift, place and handle material with high productivity. These machines are best suited in applications where space is a constraint or in situations where frequent changes of utility-attachments are required to suit a wide range of applications. Thus, as modern infrastructure or best practices in other segments are introduced, skid-steer loaders are expected to find tremendous utility."
On the demand drivers, he adds, "Given its versatility and loading output, SSLs are being used in wide range of applications such as agriculture, industry, construction and maintenance. Its compact size provides enhanced mobility in projects such as multi-level parking. The smart innovative features of the machine and its versatile, safe and efficient nature have always been the key demand driver for JCB skid-steer loaders. Moreover, government's plans for infrastructure development and announcement of big-ticket projects also drive growth for this multi-utility product. The compactness and manoeuvrability makes it best suited machine for solid waste management, construction and industrial applications in compact area."
Bansal elaborates, "Though SSL finds use in a wide variety of application and segments, the major ones would be general construction (residential and commercial) and industrial applications like steel, cement, foundries, paper, sugar etc. Of late, opportunities have also risen in the waste handling application in government bodies such as corporations, municipalities and local bodies. The key demand drivers continue to be general construction and waste management."
"The SSL demand is witnessing growth from all municipal/urban development bodies, besides industries," says Handa.
Advantage SSL
Compactness, versatility and maneuverability are the key advantages of a skid-steer loader. Kim elaborates, "Skid-steer loader is a truly versatile equipment developed to work in confined spaces as an alternative solution to increase productivity by reducing manual labour and expenses. For compact equipment needs, SSL is a one-stop solution for various jobsite requirements. Maneuverability of skid-steer loader, i.e. the ability to rotate 360-degree on its own axis makes it the right machine to work in constrained space. Doosan Bobcat provides more than 80 different attachments for skid-steer loaders, making it capable of performing various jobs without changing base machine. With one-time investment of skid-steer loader, attachments can be added based on job requirement to make it ready to perform different jobs."
On the advantages of SSL, Singh adds, "It is a perfect combination of strength, durability and performance. To make the machine even more versatile, JCB offers a wide range of attachments such as industrial grappler, industrial fork, muck fork and grab, shovel, dozer blade, snow blower, rock breaker, and sweeper collector thus, further enhancing its productivity. With its ability to enter narrow lanes and its unique zero turning radius feature, this versatile machine is designed to perform in restricted areas effortlessly."
Handa adds, "We offer our SSL with reputed aggregates at very competitive and affordable prices to customers. Also, we offer various attachments with the machine, like backhoe, 6-in-1 bucket, ripper tooth, rock breaker, auger/stump planer, snow blower, sweeper collector and pallet fork."
According to Bansal, the main advantages of SSL are its compactness and the variety of applications in which it can be used. "Given this advantage, SSL has potential in industries where space and speed of operation are crucial for success."
Importance in the emerging scenario
The government is currently focusing on projects and segments such as urban infrastructure development, rural development, and Clean India. According to Kim, skid-steer loaders are already proven in Indian market for city cleaning and construction jobs. He adds, "It is now time to utilise the unique features of skid-steer loader for a variety of jobs related to construction and cleaning. Unlike higher investment on large tonnage heavy equipment, investment on SSL is less and makes it more attractive for mechanisation of small-scale needs in rural projects as well. With capability to work for various applications, SSL is an ideal equipment for Indian market. Using SSL for applications like rural road construction and maintenance and cleaning jobs are some of the best examples. This provides an opportunity to save time and money with SSLs instead of investing on multiple equipment for each job."
As the pace of the world is increasing so is the need to finish the work as quickly as possible. According to Vidyarthi, not every construction requires heavy-duty equipment, which at times slows down the process than reducing it. He continues, "During such circumstances, SSL comes handy and ease the construction process with the compact size and ability to perform multiple tasks at once. To avoid heavy-hauled equipment and get work easily and quickly done, there are different heavy-duty attachments available in the market. These heavy-duty attachment parts help in performing various construction processes. It avoids limiting our equipment for doing one particular job work, hence saving time and cost."
CASE India's SSL range comes with different attachment parts such as trenchers, breakers and augers that help the users to do multiple tasks at one time, minimising the machine and work load.
Innovations
With the construction and infrastructure development activities are growing in the country, contractors are looking for machines of better efficiency and productivity to meet the escalating demands. In order to meet the emerging demands from customers for better productivity and efficiency, equipment manufacturers are introducing innovative features and technologies in their products. Skid-steer loaders are also seeing similar innovative developments. Kim explains, "In terms of innovation, we are the first and only manufacturer to offer an I-phone (smartphone)-based remote control operation for our skid-steer loaders. This is currently available only in the US. But work is going on to look at the possibility of making it available in other regions as well."
Vidyarthi says, "CASE research and development (R&D) and product teams are working constantly in tandem to provide our customers with world-class technology and machines. We will keep you posted on further developments."
Singh describes the features in JCB's skid-steer loaders, "The JCB 135 and 155 skid-steer loaders have best-in-class performance and fuel efficiency, and lead in performance with its ability to enter narrow lanes. With unique zero turning radius feature, this machine is designed to perform in restricted areas effortlessly. The versatile machine comes with 25+ attachments for different industrial jobs. It has an increased fuel efficiency of up to 5 per cent in SSL 135 and up to 10 per cent in SSL 155. The machine also has a side door entry with easy accessibility by improving 50 per cent door opening."
These models are also equipped with JCB's advanced telematics system Livelink enabling to monitor and manage machine and a four-inch informative LCD display with information like HMR, Aux Hour, Error Code, Service Reminder, time and ambient temperature display etc.
Singh elaborates on the other features, "The JCB skid-steer loader range is also the safest in the world as it comes with a unique side-door entry. This enables the operator to enter the machine from the side in a conventional manner. The machine also comes with three emergency exit options with servo isolator switch for operators' safety. Additionally, the machine offers 270-degree visibility which is 60 per cent more than the products presently available in the Indian market. With 46 per cent bigger cabin volume and capacity, the machines are best suited for enhanced productivity, comfort and safety of operator. Operator-friendly joystick control enables the user to operate a wider variety of hydraulically-driven attachments. Its tilting cab design provides easy access for better machine servicing."
Bansal explains on the Caterpillar product range, "Cat-®skid steer loader 216B3 with many work tool options, is ideal for construction, landscaping, agriculture and other applications. It delivers traditional Cat reliability and durability with excellent productivity. Comfort and ease of operation have been designed into every aspect of the operator station. The 216B3 comes with a wide, spacious interior and uncluttered floor which provides a comfortable work environment with excellent head, shoulder and leg room to keep productivity high and fatigue low."
He adds on other features, "The SSL 216B3 comes with high power and reliability. In addition to providing power to the wheels, the hydraulic system also provides loader lift and tilt functions, powers the auxiliary circuit to drive work tools and drives the engine cooling fan. Our product is also instilled with Cat Tough Guard hoses for increased reliability and durability. Caterpillar's 216B3 SSL has a spacious and ergonomically designed cabin with low effort joysticks which are used for driving and operating. Furthermore, its tight turning radius makes it especially suitable for use in confined areas with limited access. The operator gets excellent visibility to edge of the bucket and the static is standard and suspension seat is available as an option. Each Cat machine is crafted with utmost focus on operator comfort, resilience, quality, safety and performance."
Training imperative
Only a trained operator can operate the machine to its optimum efficiency due to his knowledge about the technical features of the machine. So it is imperative for an operator to be updated and trained on the new features and technologies going into the machine. Kim explains the importance, "Effective operation of equipment plays key role in developing more opportunities for skid-steer loader. An experienced operator plays a major role in this. Though it is not the case pan-India, operator availability is one of the concerns in Indian market. Doosan Bobcat conducts various operator training programmes at regional level to equip Bobcat operators with updated information about product, operation, safety and support systems. Meanwhile, focusing on operator comfort features is one of the major considerations on product development at Doosan Bobcat."
Vidyarthi sees lack of skilled labour still a prominent and persistent problem in India. He continues, "To curb this problem, we are skilling the manpower with a multi-combo approach. First approach is to train the operator. We have an operator training school which brings in unemployed youth and provide hands-on training and understanding of the machines and its application in a better way. The second approach is for heavy line machines like graders and dozers, which are more technological, sophisticated and need specialised operator. Here we provide trained operators to the customers and try to bridge the skill gap. The third kind of approach is in design change in the machines. Design change is a way that it becomes easy for even a semi-skilled operator to run the machine. The machines are designed in such a way that even a semi-skilled operator can easily make out the critical parameters and coordinates of the machine."
Singh is of the view that trained operators are definitely the need of the construction equipment industry, with innovation and technology integrating into the traditional dynamics of the construction industry. "Being one of the leading players in this industry, JCB India takes conscious efforts to educate and train its existing and newly on-boarded operators through regular workshops. Every customer who buys a JCB machine is briefed about its features and is trained to operate it. We are also a part of the industry's sector skill council, Infrastructure Equipment Skill Council (IESC)."
According to Bansal, trained operators are in abundance for other construction equipment like backhoe loaders, small wheel loaders and excavators. He adds, "The operators who operate such equipment can quickly adapt and become productive on a skid-steer loader. That said, to fill any void, including for skid steer loaders, both our dealers in India (GMMCO and Gainwell Commosales) have invested in infrastructure as well as resources to ensure that the right equipment operating, and maintenance curriculums are designed to cater to any needs from the customer."
In fact, Gainwell's in-house operator training programmes have been utilised by organisations like ONGC, Oil India, L&T, HCC, IOCL, Eastern Coalfields, and Hindustan Zinc, and others enlist Gainwell's services to train and upgrade the skills of their machine operators and maintenance teams. "Using a pool of certified instructors, Caterpillar along with its dealers trains the operators and periodically measure the training effectiveness through certification at different levels," says Bansal.
Low market penetration a concern
Despite being useful in a wide range of application, the market for skid-steer loaders in the country is still very small. Major reasons for this are attributed to lack of awareness, popularity of equipment such as backhoe loaders and mini excavators, lack of after-market support, lack of trained operator availability and relatively higher cost of the machines and attachments.
Kim attributes the major reason to the lack of awareness about the versatility of the skid-steer loader. He elaborates on the other reasons, "Certain products like backhoe loaders have much more visibility in terms of street presence and as a result, there is a tendency to utilise those machines even though they may not be apt and skid-steer loaders are perfect for that. And the other factor would be that even now, barring developed states, there are many regions in the country where manpower cost is still low and the cost economics still favour manpower."
He further adds, "Followed by backhoe loaders, mini excavators are also popular in most part of India and less operating cost of a mini excavator makes it more attractive investment for rental segment customers. Due to the compactness and accessibility of mini excavators, it is getting more familiar for specific jobs like working in plantations, excavation trenching in confined space, demolition etc. Whereas in the case if skid-steer loaders, its key value is the versatility. So, the more we explore new applications that can be replaced with skid-steer loaders, the more will be the need of skid-steer loader in market and its growth."
Vidyarthi explores the reasons for the lack of market penetration, "Skid-steer loader because of its compact structure, is used only for specific job works designed for confined space applications. Whereas, loader backhoe is a multipurpose machine with the ability of performing two different tasks simultaneously. However, with increased mechanisation and the scarcity of skilled labour, the skid-steer loader market is expanding now more than ever. Demand from government sector is likely to continue, especially in the civic bodies."
According to Singh, demand for each equipment is different in India and depends hugely upon the type of operations it is being used for. He adds, "While backhoes and excavators have a significant demand and popularity in India market, skid-steer loaders are also making their way into the construction ecosystem. As the need for functionalities similar to that performed by the skid-steer loaders rise, the penetration rate of SSLs in the India market is going to increase."
Bansal observes, "Demand for SSL is gradually increasing and currently the major buyers for SSL are civic bodies, biomass power plants, construction companies (real estate), cement industry and others. With increasing manpower cost and focus on efficiency and safety, we expect SSL demand to grow in India, though it may not be comparable to developed markets, as the usage patterns are very different."
How to mobilise growth
It is a fact that skid-steer loaders have many advantages compared to other construction equipment that can well go into the current market requirements, such as compactness, versatility and maneuverability. However, the user market is not fully aware of these advantages. There is a need to bring in more awareness among the customers about the advantages of SSLs to mobile their growth. Kim adds, "We have introduced a Segment Application Market Management (SAMM) concept wherein a designated SAMM demo truck which could carry skid-steer loaders with different attachments has been developed. This demo tuck is used to give demonstrations at all significant potential pockets to provide awareness to customers about the versatility of SSL. This is one of the initiatives we are doing for market reach and creation in India. Another aggressive step is providing attachments to customers on rental basis through our dealers."
Singh, says, "At JCB, we are hopeful of creating a customer base for the machine in the compact segment who look for different applications in one machine. Operator's comfort and safety are of paramount importance and we have made significant advancements in product design to enhance operator productivity. JCB offers the world's safest skid-steer loaders with a unique single loader arm layout of the machine."
According to Bansal, the main challenge is lack of awareness. "Given this challenge, Caterpillar is working with its dealers to increase awareness level by demonstrating the machine's applications on real sites, road shows, displays in exhibitions, and training of operators," he adds.
He also feels that skid-steer loader being a multi-purpose utility machine should be in demand in the emerging scenario of growing urbanisation and boost the trend for mechanisation. In this scenario, the way the SSL market can pick up its growth momentum is to identify the growth opportunities providing the much-needed awareness about the advantages of the machine among the user fraternity.
"Caterpillar focuses on solving customer problems by making machines that address customer needs around the world. When it comes to manufacturing, we have GÇÿCaterpillar Production Systems' which allow us to streamline and improve our internal manufacturing," Bansal adds.
Turning challenges into opportunities
While lack of awareness among the users about the advantages of skid-steer loaders is a major challenge for SSL's consolidation in the market, winning over this challenge is the major opportunity. Kim adds, "The awareness of the end-user about the versatility and concept of a skid-steer loader is the key to succeed. And this is both our challenge as well as opportunity. The price for renting an SSL for a day is higher when compared to other machines. This is mainly because of low hour utilisation which is again due to lower awareness. However, there are certain working conditions and applications where SSL is the best machine for the job and cannot be replaced. In construction segment, basement works, working between pillars are few examples. Today, in building construction segment there is awareness for SSL and we have a stable rental demand."
He also points towards some other challenges that can be turned out to be opportunities, "Besides awareness, some conventional products being abundant in supply in the hiring market is one of the challenges. Next would be the availability of low-cost manpower which still poses a challenge for mechanisation of jobs. SSL as a product is slowly and steadily reaching the hirers segment looking to add new products and we hope it's just a matter of time and effort towards creating awareness which will shift the hiring segment's attention to SSL."
Vidyarthi sees opportunities in the market despite the current challenges. "Skid-steer loaders despite their versatility have limited demands due to popularity of the loader backhoes and the availability of cheap labour. However, with increased mechanisation and the scarcity of manual labour, the market should expand in the future. Demand from government sector is likely to continue especially in the civic bodies. With the government policies at the start of the year to give the construction sector a boost, we can assume 2020 as a good year for the CE market which will provide a lot of opportunities for the mini equipment sector as well."
Bansal adds, "The major challenge faced by the SSL market in India is limited awareness among the customers about the real advantages and benefits of using an SSL and lack of operators who understand the machine capability. Despite their versatility, SSLs have historically been in limited demands due to the popularity of the backhoe loaders and the traditional reliance on manual labour. However, we believe, with increased mechanisation and the scarcity of manual labour, the demand should expand in the forthcoming years. In spite of the vast opportunities available, SSL is still in its infancy in India."
Handa points out, "One of the major challenges is the high import content of components like motor and hydraulic pump. Besides, most of the attachments are not localised and imports are very expensive. With the focus of the current government on schemes like Swachh Bharat Abhiyaan and applications in municipalities and gram panchayat (rural development), we foresee a big opportunity for SSLs."
On a positive outlook
In its recent report of Indian construction equipment market, Off-Highway Research indicates the SSL sales to reach 950 units in 2023 in the normal market conditions. New developments in rural infrastructure and more urban development projects in the pipeline are expected to drive the demand for SSLs in future.
Kim adds, "We expect the demand for SSL to grow at a steady pace to become 750 units by 2020 and grow further to reach 1,000 units by 2022. While exploring new applications for effective utilisation of versatility in India market, one of the key focuses will be introducing various ranges of new Bobcat skid-steer loaders and new attachments in Indian market. Since we have set up our own manufacturing facility in Chennai, in the long run, we will also be looking at localisation of some of the skid-steer loader models.
Vidyarthi says, "Looking at the boost in the infrastructure sector activities, we aim at supporting the government and ready with our offering for the construction projects. There is a lot of scope this year for all our equipment due to the government's keen focus on the construction equipment sector."
Handa adds, "SSL holds good potential in the market, however it requires extensive concept selling to come to its full potential. We would like to become a dominant player in this product category by localising most of the components/attachments and offering best return on investment for our valued customers."
According to Bansal, the future is going to be of more projects, construction and developments. "Opportunities exist for construction equipment and skid-steer loaders are no exception. Caterpillar is continuously working to improve our products as per Indian customer requirements. Having said that, we are also working with our dealers to improve support of existing units and provide unmatched service to our customers."
Going forward, need for skid-steer loaders will definitely be on the rise due to the kind of demand going to be there in various construction, waste management and urban infrastructure applications considering their compactness, multi-utility and maneuverability. Once the primary challenges of awareness and dependance of imports are effectively addressed, this mini construction equipment will definitely become a major contributor to India's growth story.
- SUDHEER VATHIYATH