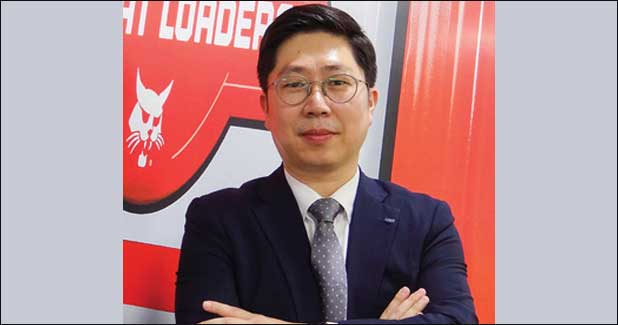 Doosan Bobcat India has been the consistent performer, winning the EQUIPMENT INDIA Bestseller Award in Skid-steer loaders for the past five successive years.

"We aim to become the market leader in compact equipment segment"
With over 60 per cent market share in Skid-steer loaders (SSLs) and moving fast in the compact excavator market, Doosan Bobcat aims to become the Number One player in compact equipment market in India. Hyunsoo (HS) Kim, Director - Commercial, Doosan Bobcat India, elaborates more on the company's future plans and vision for Indian market.
Doosan Bobcat has been the market leader in skid-steer loaders. What is your strategy for success in India?
Bobcat has been the pioneer in Skid-steer loaders (SSLs). Globally, Bobcat offers a wide range of Skid-steer loaders and compact track loaders. For Indian market, we have five variants of Skid-steer loaders, S70, S450, S590, S650 and S770 and two models of compact track loaders T650 and T770. Besides, we have more than 80 attachments that cater to 450 different applications. Our flagship S450 model has been the largest selling Skid-steer loader in the country. This makes us the strongest solution provider in the industry. We have more than 60 per cent market share for skid-steer loaders, but we are increasing our penetration continuously by educating customers through trials and demonstrations. Skid-steer loader is our core product and we keep enhancing the value of our offerings to our customers through constantly improving designs by listening to their feedback. This has helped us to remain the first choice of customers and maintain our leadership position.
What was your experience in maintaining the leadership position over the years? How are you prepared for the competition in the market?
As a pioneer, we are continuously improving our existing products and introducing new products, thus creating a pull in the market. We are penetrating the existing market strategically with our channel partners and expanding our reach to new market and applications. We are educating our customers through SAMM (Segment Application Market Management) where the demo truck carries our popular S450 Skid-steer loader with seven attachments. Key potential pockets are visited with well-made plan to understand the challenges faced by our customers and promote the solutions we can offer. Being customer driven, Doosan Bobcat ensures that the customer gets the best product available and can work with maximum efficiency. Another step is providing attachments to customers on rental basis through our dealers so that they can increase utilisation of their machines thereby making more money.
How has been the market for Bobcat in the current fiscal? What are your plans for 2019 and beyond?
The current fiscal has been a milestone for us as we sold the maximum number of machines in compact machines sales. The single most important event for us would be our new backhoe loader launch towards end of this year. Also, we have recently launched two new compact excavator models, E27 and E37, for Indian market replacing our existing models to further strengthen our compact range. We also have E64, a 6-ton operating weight capacity. We are looking at achieving a 35 per cent growth. Having set an ambitious target, we have our manpower, dealer development, sales and marketing initiatives planned towards achieving this.
What is your vision for India?
With India moving towards becoming a developed economy, development of rural area, increase in urbanisation and labour cost will be inevitable. All these are bound to drive demand for compact equipment. Globally, Doosan Bobcat is an unbeatable Number One player in compact equipment market and our vision is to become Number One in India as well. We are continuously looking for products from the global portfolio that can meet India's growth ambition.
We have already invested in a manufacturing plant for producing Backhoe Loaders at Chennai and commercial sales would commence from October 2019. We also have plans to localise Mini excavators and SSLs in future. Our aim is to develop our engineering and manufacturing capabilities to make this facility an export hub. All these are aimed at becoming the Number One player in Compact CE market in India.
Committed to Indian Market
Doosan Bobcat is an industry leader in the engineering, manufacturing and marketing of construction equipment with a turnover of US$3.6 billion in 2018. The world-renowned Bobcat, Geith, and Doosan Portable Power are part of Doosan Bobcat brands.
Bobcat Company was incorporated into the Doosan group in 2007 to strengthen its global construction equipment business. Headquartered in Seoul, Korea, Doosan Bobcat has its manufacturing facilities strategically located across the world to serve the various markets. In the US, which is its birth place and also the largest compact equipment market, there are three facilities in North Dakota and one each in Minnesota and North Carolina. Besides this, it has facilities in Dobris in Czech Republic, PontchGteau in France, and Suzhou in China. Doosan Bobcat has maintained its leadership position in the compact construction equipment market, backed by its extensive network of over 1,000 dealers worldwide that sell tough and versatile products paired with more than 80 attachments that can cater to 450 different applications. Globally, the product range (besides its flag ship Skid-steer loaders) includes compact track loaders, compact excavators, all-wheel steer loaders, mini track loaders, and Toolcat. Doosan Bobcat strives to empower customers to do their jobs efficiently and effectively across the world.
The brand With more than 60 years of rich history, the Bobcat brand that introduced to the world the highly versatile Skid-steer loader remains one of the widely recognised construction equipment brands. The brand Bobcat stands for durability and dependability. The tough, versatile, and agile Bobcat® equipment - with its time-tested reliability - has rightly earned the nickname "One Tough Animal".
Doosan Bobcat India (DBIN), established in 2007, is a subsidiary of the Doosan Bobcat Inc. Head quartered in Chennai, DBIN serves through six direct regional offices across India. Backed by more than 20 channel partners, DBIN has an extensive customer reach and touch-points across the country and the effort is on to continuously keep expanding. Focused on the Bobcat Skid-steer loader and compact excavator business, DBIN has established itself as the market leader with over 60 per cent market share in the SSL product category and has quickly become the leader in the 2-3.5 tonne compact excavator product category.
To achieve the vision of becoming the Number One player in compact equipment segment in India, DBIN has embarked on its journey of expanding its product portfolio by introducing new products.
DBIN has acquired a 21-acre manufacturing plant in Chennai, Southern part of India, to produce backhoe loaders. Work has been going on in full swing to design and develop the new backhoe loader, specifically for Indian market and getting the facility production-ready. The commercial launch and sales would commence in the third quarter of 2019. DBIN is highly committed to Indian market and has laid out significant investment plans up to 2030. In the long term, Skid-steer loaders and compact excavators also would be localised and Chennai facility would become a hub for exports as well.
Doosan Bobcat aims to be a significant player in backhoe loaders that will help achieve its grand vision of becoming the Number One player in compact equipment segment.
Skid-steer loaders
Bobcat® Skid-steer loaders feature a superior design that outperforms other brands while maximising uptime and delivering unmatched operators' comfort. Globally, Bobcat offers 13 models of SSLs and 10 models of compact track loaders in the product portfolio. Besides, there are more than 80 attachments which can cater to around 450 various applications.
In India, S450 is the largest selling Skid-steer loaders and it has a rated operating capacity (ROC) of 608 kg, powered by 49 hp engine. Bobcat SSL line-up in India starts from the smallest S70 which has an operating capacity of 318 kg with a 23.5 hp engine and it goes all the way up to the largest S770, which has a rated operating capacity of 1,570 kg powered by a 92 hp engine. Other models in the line-up are S590 and S650. Being highly versatile, they work in various applications, including building construction; infrastructure projects like bridges, tunnels and metros; process industries; Municipality; demolition; landscape; agriculture; rural road construction and many more.