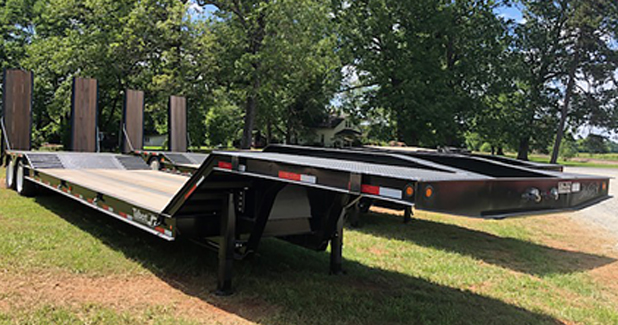 Talbert Manufacturing has introduced the 35FG-BVTL, a fixed-neck, drop-deck trailer for small- to mid-size equipment machinery movers operating in oil fields, agriculture and construction and demolition.
The 35-ton trailer is rated at 70,000 pounds concentrated in 20 ft and features hydraulic ramps for safe, efficient loading and unloading in confined spaces. The 35FG-BVTL is part of Talbert's Double Drop Series. The overall length of the 35FG-BVTL is 48 ft, which includes a 22-ft long deck that is 8 ft, 6 inch wide, and an 8-ft 6-inch rear bridge section.
The trailer's fixed neck provides an economic alternative compared to removable gooseneck designs for operators that do not require a front unload option. Talbert designed the 35FG-BVTL with an 84-inch swing radius and 18-inch kingpin setting for increased maneuverability and versatility. The gooseneck features 2-speed landing gear with standard sand shoes.
The 36-inch sloping beavertail features a 14.98-degree load angle, coupled with full-width plate with traction bars outside the main beams for optimal rear loading. Hydraulic ramps also allow for increased safety during loading by removing the need to manually lower or raise the equipment.
Contractors can use the 35FG-BVTL to haul a variety of small- to mid-size construction equipment, making it economic and versatile choice for millwrights, riggers, and general freight contractors. The deck flooring is 1.5-inch Apitong, which provides exceptional strength for long-term durability under heavy loads. The unit has one of the lowest loaded deck heights in the industry - 30 inch, 40-inch for the rear bridge - and a 10-inch road clearance to maximise headroom.
Talbert manufactures all its trailers with heavy-duty T-1, 100,000-psi minimum yield steel for extreme durability and longevity. Like all of the company's trailers, the 35FG-BVTL comes standard with Valspar R-Cure 800? paint to prevent corrosion for a long-lasting finish and better return on investment.