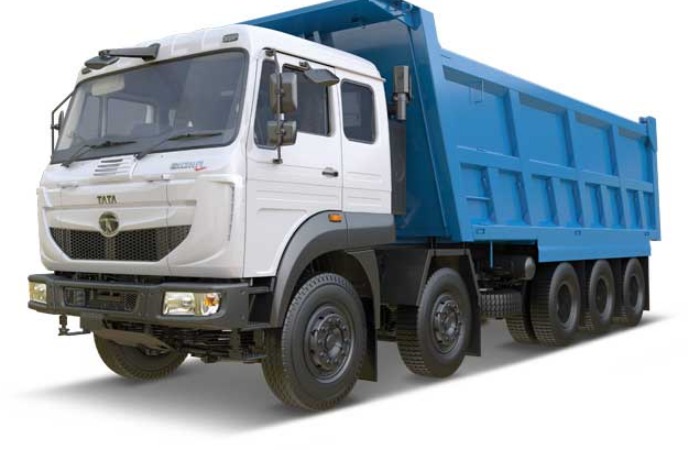 In spite of a challenging global pandemic environment during last fiscal, the construction application range of MHCV trucks witnessed a positive growth. In FY2021-22, driven by the strong demand from infrastructure and construction projects, focused push for inter-state connectivity and NIP implementation, enhanced production of coal, ore and minerals on the back of increased industrial output and a good monsoon forecast are the lead indicators for the continued rise in growth rate. With on-road movement of raw material on the rise, the requirement for tippers built specially for surface transport applications with higher productivity and lower operating costs would be need of the hour.
The Tata Motors Construck - Surface Transport Tipper (STT) range has always been the preferred workhorse for on-road material movement. These tippers have been involved in the movement of construction aggregate, M-sand, coal, ore, minerals, fly-ash and other raw materials with varying lead distances and unique business and load requirements. Tata Motors have been in the forefront in anticipating the market needs and fulfilling these requirements with innovative products. The technologically superior BS6 Construck STT Range, is built to maximise profitability across all surface transport applications. Customers can choose the best-suited tipper—from the wide range of products and load body configurations—befitting their application and business requirements, thus the selection provides the best optimal solutions enhancing revenue and containing cost of operations.
This range features high performance tippers with 250/220 hp options, powered by the world-renowned Tata Cummins ISBe 6.7 L / 5.6 L BS6 6-cylinder engines respectively. Their high torque being available at low rpm coupled with a wide flat torque curve ensures less downshifts, superior driveability and propels the fuel efficiency of the tippers. They also features three unique technologically advanced drive modes—light, medium and heavy—which allow the driver to pick from the best power-torque combinations based on the load-terrain-speed requirements. These inherent features enhance vehicle performance, maximise productivity, ensure faster turnaround and minimise the fuel consumption for the vehicle, thereby ensuring higher revenue and lower operating costs.
A wide range of load body types and sizes, available as fully-built solutions those are tailor made for specific raw applications. These high strength load body options suits to varied range of tonnage platforms ensures higher productivity. The Signa 4825.TK, the country's largest tipper, features the large 29 m³ load body. The Signa 4225.TK with 24 m³ load body, Signa 3525.TK/Prima 3525.TK with 23 m³ load body, Signa 2825.TK with 18 m³ load body and the Signa 1923.K with 12 m³ load body – all these ensuring the highest load capacity in their respective segments.
Heavy-duty clutch and gearbox paired with proven rear axle configurations with customised gearbox and rear axle ratios ensure a superior performance and driveability along with higher fuel economy. Heavy-duty bell crank and 37-tonne Bogie suspension options ensure enhanced driveability and high dynamic stability. The Ultimaax suspension – an advanced severe-duty rubber suspension offered in select models, is greasing-free with 4,000 hours warranty and provides high stability with lower maintenance costs. The unitised hub bearing – Truck Hub Unit (THU), offered in select models, is a sealed wheel hub bearing which could run up to 5,500 hours/five lakh km* without greasing thus reducing maintenance costs and most importantly, enhancing the uptime. The all new iCGT and NGT brake systems ensure cooler braking operations thereby improving the brake life by up to 40 per cent. They also result in enhanced tyre life. A choice of long lasting tyres options viz. 11R20, 295 90R20, 295 95D20 ensures right traction and faster trip-times for the applications. Technologically advanced features like Hill start assist – for safer uphill drive and Engine Brake – for superior downhill control, ensure enhanced safety and reduced maintenance costs. These reliable vehicle aggregates and features reinforce the power of lower total cost of ownership, through sustained lower operating and lower maintenance costs and at the same time ensure higher uptime and higher revenue for the business.
The series offers the premium Prima Cabin and Signa Cabin options which provide a fatigue-free driving experience for its drivers amid sustained and continuous operations in varied traffic conditions. The adjustable tilt and telescopic steering wheel and the self-adjusting driver seat provide the appropriate seating posture and comfort for long drives through city traffic and also on bumpy semi-urban and rural roads. Conveniently placed blind spot mirror and rear view mirrors ensure high visibility and utmost safety at work sites.
The Construck STT range comes with the standard fitment of Fleet Edge – Tata Motors' next-gen digital solution for optimal fleet management, to further increase the uptime and reduce the total cost of ownership. Owners and operators can remotely track their vehicle location, the vehicle performance, driver's performance, fuel economy and get instant notification in case of fuel theft. The Fleet Edge is offered with a free subscription of six years.
The Construck STT range comes with the best-in-the-industry warranty of six years/6,000 hours*. This range also offers the first of its kind warranty of six years/six lakh km* warranty on 47.5-tonne, 42-tonne and select 35-tonne tippers. Tata Motors also offers Sampoorna Seva 2.0 and Tata Samarth – the company's commitment to commercial vehicle drivers' welfare, uptime guarantee, on-site service, customised annual maintenance and fleet management solutions. These services can be suited to the customer's unique business requirements.
*conditions apply