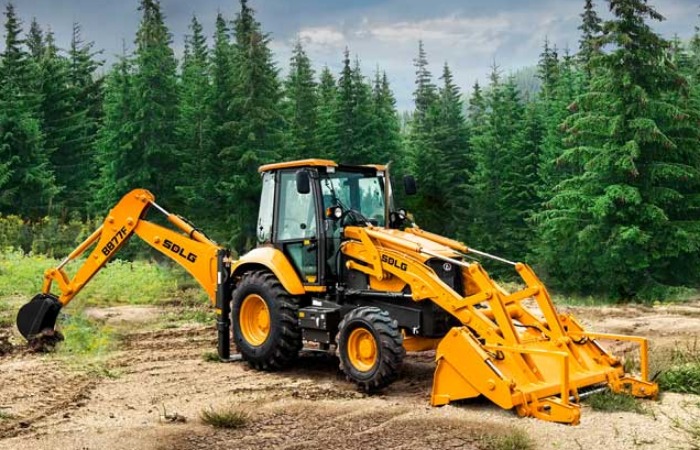 After a dismal performance in the quarter ended June 2020, it was expected that the construction equipment market would decline by over 30 per cent in 2020. However, a strong economic recovery and postponement of the implementation of the new emission standard CEV Stage-IV applicable to wheeled construction equipment to April 1, 2021, resulted in a dramatic turnaround. Sales of backhoe loaders have recovered much rapidly in the second half of 2020 compared to other construction equipment.
Nitesh Jain, Director, CRISIL, sees huge opportunity in the construction equipment market in India. He adds, "We expect a capex growth of 30-35 per cent in construction in the current fiscal. Central government capex was up 26 per cent, and national highway construction posted growth of 30 per cent, and rural road construction around 18 per cent. Construction GVA was 8.1 per cent of GDP, the highest in the past 12 quarters. All these are clearly indicating that construction activities have resumed post-pandemic. The impact of the Covid-19 second wave was not as impactful as the first wave. The government envisages a significant spurt in infrastructure through National Investment Pipeline (NIP). Under NIP, Rs 111 lakh crore is to be spent by FY 25. If we look at key sectors, infrastructure is the biggest one that would be contributing to the growth of this segment, followed by the road, energy, and railway sector."
Adds Jain, "The construction equipment market is Rs 45,000 crore industry. On average, 80,000 to one lakh equipment are sold annually, employing three million people directly or indirectly. Earthmoving equipment is the leader in this segment, contributing 70 per cent share in the construction equipment market."
Market to improve
Giving more insights on the industry scenario, Pavethra Ponniah, Vice President and Sector Head, ICRA, says, "Apart from the impact of the lockdown during March to May 2020, Covid-19 has crippled several industries and eroded livelihoods. Weakness in government revenues streams, more so at the states; redirected government support to healthcare, possibly at the cost of all other capital spends; the need for structural changes incorporating social distancing in several industries like construction; movement of labour and material; and the cost of restarting the economy – all these thwart the ability to make forecasts for sectors intrinsically linked to the underlying economy. Unforeseen headwinds will be many in the coming months."
Sandeep Mathur, Brand Leader – India and SAARC, CASE Construction Equipment, thinks that backhoe loaders are one of the most popular and in demand construction equipment currently, accounting to nearly 65 per cent of the construction equipment segment in India. He adds, "The multi-functionality of backhoe loaders makes it a viable choice for many, as it can perform various functions such as construction, digging, excavation, landscaping, breaking asphalt, paving roads etc. India is the largest backhoe loader market using the product in a wide range of construction and infrastructure activities. While backhoe loaders have always enjoyed a good market share in India always, but due to the Pandemic, just like all other construction equipment, the market performance and growth of backhoe loaders was also impacted, considerably."
"The Indian backhoe loader market had been growing year-on-year for four straight years till 2018-19. It grew with a CAGR of more than 20 per cent per year, peaking in 2018-19. In 2019-20 the market shrunk by 20 per cent due to factors such as elections and constrained liquidity post the ILFS crisis," says Rahul Shorey, National Head – Construction, Tata Hitachi Construction Machinery.
Shorey thinks that the market started to recover in the last quarter of 2019-20, before Covid-19 lockdowns hit demand. However, in the last financial year, the market recovered sharply and grew by 19 per cent to over 43,000 units sold. "This was primarily due to the increased thrust of the government last year on rural infrastructure, supported by a strong monsoon leading to increased investment in agriculture and record procurement of farm produce. This was also aided by the deferment of implementation of CEV4 norms to April 1 this year," he adds.
According to Rahul Joshi, Head - Product Planning, Marketing & PMO, Mahindra Construction Equipment, infrastructure development in India is seen as the underlying factor driving backhoe loader sales. He adds, "Though the outbreak of Covid-19 has already impacted the two quarters of the construction equipment industry, the impact on backhoe loaders is much less. Overall, the backhoe loader industry will close this year with growth."
Covid-19 has been an unprecedented crisis and has severed a dent in the Indian economy in a major way, as also for the construction equipment industry. According to Manish Handa, Business Head – Earthmoving & Road Equipment Division, Action Construction Equipment, and the first quarter of the financial year 2020-21 bore the brunt of the negative impact of Covid. "However, we have seen some traction in the next two months (June-July 2020), which may be a factor of pent-up demand. The Q3 FY 2020-21 will be crucial and the demand revival will depend on the government push for infrastructure spends. We are getting positive indicators as the government is pushing the on-going projects for timely execution."
SP Rajan, Head - Plant & Machinery (Roads, Runways & Elevated Corridors), L&T Construction, said, "Today's construction environment revolves around adjectives like the largest, tallest, longest, the most complex and most importantly the fastest, thus throwing challenges to the engineers on daily basis. The only way forward is the use of advanced construction equipment technologies to meet these never-ending challenges. Worldwide, there is a constant search for innovative approaches towards automation. While there are many, one of them, the advanced guiding system in construction machines, proves to be shortening the time cycles and improving quality. Obviously, such technologies come at a cost and the Indian market, being highly price sensitive, takes time to adopt. The basic cost, import formalities, after-sales support, government regulations, lack of knowledge and lack of interest are a few deterrent factors preventing voluntary adoption of advanced equipment technologies."
He added, "Megaprojects like greenfield airports, SEZs, and dedicated freight corridors consume huge quantities of construction materials like aggregate, cement, steel, bitumen etc. Advanced construction equipment capable of processing these raw materials faster with minimum wastages and better quality is a dream for every construction firm. Further, a typical road project that consumed 36-42 months five years ago for concept to completion, now stares at just 18-24 months. This apart, various socio-economic and political environment exclusive to the country also reduce the time effectively available for production. Such situation automatically leads to search for alternative solutions and better practices. Every engineering and construction (E&C) stakeholder, thus, is keen on building his execution capability."
Atul Bhobe, Managing Director, TPF Engineering, said, "NIP is well underway. The government will spend Rs 111 trillion on infrastructure and about 40-50 per cent of projects are under various stages of implementation. We have almost doubled the speed at which we are constructing highways. The metros too are being constructed at rapid pace. The railways too are rapidly expanding – both the zonal railways as well as the PSUs that are implementing projects."
Said Amitabha Bhattacharjee, AVP & Head Asset Management (Urban Infra) of TATA Projects, "On the ground, especially the roads sector and also metro, is doing well. Overall, the infrastructure sector is doing well, predominantly the transport sector. The power or energy sector is a bit sluggish; solar and wind is the next ting to come. Urban development projects such as water treatment, sewage collection, etc., are some of the areas coming of the ground. Apart from government spending, some private investment is happening, mainly because of the digitisation push."
Bhattacharjee feels that in the construction industry world over, automation has not taken place because of project uniqueness and geographical conditions. "There has been a jump in the kind of equipment we are using today as compared to in the previous years, for example, there have been upgradations in telematics, GPS, sensors, geofencing, mobile applications, etc, which is helping us analyse real-time data and reduce the cost. Another area we are seeing a jump in is surveying with drones and monitoring of construction activities."
Leading the pack
JCB India pioneered the concept of backhoe loaders in India for almost four decades ago in India. Given its versatility and mobility, the machine finds great use at almost every construction site, in both urban and rural India. This multi-purpose machine performs a variety of tasks at sites and is primarily used for digging, dozing, levelling and in general site applications.
JCB India offers the widest range of backhoe loaders in India with five different variants – 2DX, 3DX, 3DX Xtra, 3DX Super, 4DX. This range is developed to suit different user segments for different applications. The world class range of backhoe loaders is manufactured at its Ballabgarh facility, which is the world's largest backhoe manufacturing plant with the production capacity of 110 machines per shift. All our products are manufactured on company's global manufacturing policy of 'One Global Quality'.
JCB India launched the industry's first dual-fuel CNG backhoe loader in India. Called the JCB 3DX DFi, this new machine can operate on CNG and diesel simultaneously using the Homogeneous Charge Compression Ignition (HCCI) technology.
On upcoming digital technologies in backhoe loaders, Mathur says, "With increased focus towards newer technologies, digitisation is going to be the biggest trends in the construction equipment sector in near future. Companies are working towards leveraging digital technologies such as IoT, big data, automation, artificial intelligence, etc. and integrating the same in the upcoming machines. Moreover, with the fourth industrial revolution, we can use these emerging technologies to create smart tools and factories for the future which will help us increase the productivity and efficiency."
Adds Mathur, "Our loader backhoes are powered by an FPT Industrial S8000 engine, which delivers powerful performance and fast response time. They're re-engineered from the ground-up and comes with higher loader lift capacity/reach and has bigger buckets which go up to 4.5/ 4.7 m with an extendable dig depth of 5.9 m. It has a robust, robotically welded two-piece structural frame design which results in great stability, performance and serviceability."
The S-styled backhoe boom delivers excellent breakout forces. It has a superior working range and reaches deeper than any other backhoe loader. 770EX- Magnum has an optional 15 feet backhoe; one foot longer than what is available in the market. It also has a bigger pump for more flow and speed which means higher productivity for the customer. CASE 851 EX "THE KING" is enhanced with a centre pivot version against the side shift. The centre pivot sitting machine gives the operators the flexibility to stabilise the machine and hold the machine steady even on uneven grounds. It is equipped with new and efficient hydraulic absorbers and advanced telematics technology in association with Bosch.
"In the backhoe loader segment, we recently introduced our CEV4 compliant SHINRAI PRIME with superior features and technology, offering better fuel efficiency and enhanced performance," adds Shorey. "Our backhoe loaders come equipped with InSite, our in-house a suite of telematics solutions. InSite provides information on aspects like location data, asset utilisation, geo fencing, operations monitoring, health alerts and fuel level monitoring. This enables equipment owners to have better control over their operations and thereby realise a better return on investment."
Tata Hitachi has launched the MAX series of backhoe loaders, which are intended at MAXimizing customer benefits. The MAX series of backhoe come with an extended two year warranty on the drive line components, pump and valves. The MAX series continue to use the ubiquitous engines and proven world class transmissions.
Cat 424B is a great mix of some of the best global technologies with local flavour to meet Indian customer's requirements. High durability has always been part of our DNA. The excavator style boom which has better reach over obstacles is again a great feature of Cat backhoe loaders. Moreover, we are the only one in the industry to offer both the types of hoe operating levers which is interchangeable to 'x' and '+' very easily and quickly. In addition to that the components are designed keeping in mind the machine duty cycle so as to deliver better product life that exceeds customer's expectations. Some segments or applications demand higher productivity or performance as their job is time bound or the revenue for the job is based on the output. For that kind of applications, we have recently launched a "High Flow" variant where at operating range, higher performance is delivered. This results in higher performance at optimal fuel consumption.
ACE has introduced the rugged and reliable backhoe loaders. The all new AX124 is powered with the 76 hp and 96 hp Kirloskar engines. Handa explains more features, "These machines are equipped with improved hydraulic pumps and advanced structured loader arms with higher breakout force while digging or loading materials, ensuring 10-15 per cent higher productivity. Further, it is fitted with globally renowned transmission from Carraro and hydraulic pumps from reputed brands and is available in both two-wheel and four-wheel drive options."
The advanced engine technology in ACE backhoe loaders helps to maximise performance, minimise fuel consumption and the impact of emission regulations, while the advanced hydraulics provide higher productivity. To keep up with the modernisation of construction equipment, ACE also provides option of telematics. It helps the machine owners to remotely monitor and supervise the various functional parameters of the machine and remain updated of its health and maintaining the same to optimum levels for better performance.
The Indian infrastructure development sector is attracting more investments, creating a rise in demand for all related equipment. The construction equipment industry expects significant growth and is positive in terms of increase in volume by 2022. On a long term, infrastructure development, rural as well as urban, will be a continuous process in the country and backhoe loaders are going to play a vital role in future as well like today.
SP Rajan from L&T concludes, "Advanced equipment and technology comes at a cost and its economic viability relies on conducive ecosystem. Relaxed import formalities, corrections and updates in the codes, upgrading the skills to create awareness and interest among users will reap the benefits from the technology."